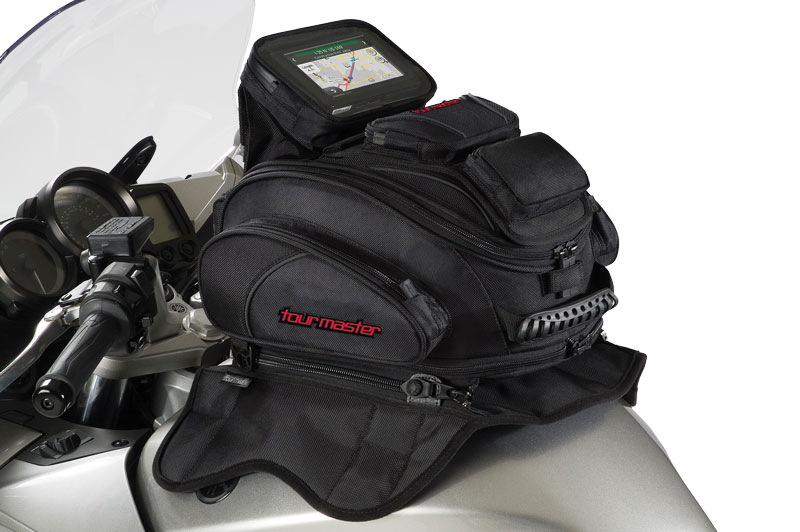 I love Swiss army knives, as they pack a lot of utility into a very small space. I have that same kind of appreciation for the Tourmaster Elite 14L Tank Bag, and for the same reason. I utilize a tank bag for carrying additional gloves, a spare face shield, shield cleaner and rag, a tire gauge and flat fix kit, maps or GPS and more, and really appreciate a tank bag that is this well thought out.
At base, the Tourmaster Elite seems like a fairly normal, sturdy bag made of 1680 denier ballistic polyester and 1800 denier patterned polyester. It measures 14 inches long, eight inches tall and its nine-inch-wide main compartment is flanked by a pair of zippered pockets that add another three inches of width.
Technology has changed, and Tourmaster has changed with it. Until recently, a tank bag would feature a clear plastic map pouch on top, but the Elite offers a clear pocket that includes a variety of foam cutouts to cradle various sizes of smartphones and GPS units; it also tilts upward for easy viewing. Note that this pocket can become quite warm in the bright sun.
Below it are two small pouches that may be used for items such as a helmet lock, earplugs and a pocketknife. However, if you still use paper maps, peel back the hook-and-loop to remove the pocket section, and in its place attach a rather small map pouch measuring eight inches long and four to six inches wide. Under the bag's lid are pouches for maps, pens and a cell phone. This versatile tank bag is also equipped with a visor bag, in which you can stow your clear or dark helmet shield while utilizing the other. And there are ports for wires and drinking tubes.
When you arrive at your destination and want to walk around, zip open a compartment at the bottom of the bag and out pops a pair of backpack straps. The bag also comes with a carrying handle and a rain cover with a clear plastic top.
Finally, should you own several motorcycles with steel and composite tanks, Tourmaster offers the Elite with your choice of a strap-on or magnetic mounting pad, which are also sold separately. Overall, for $129.99 (with either mounting pad) I found the Elite to be a feature-laden bag at a very reasonable price.
For more information, see your dealer or visit tourmaster.com.