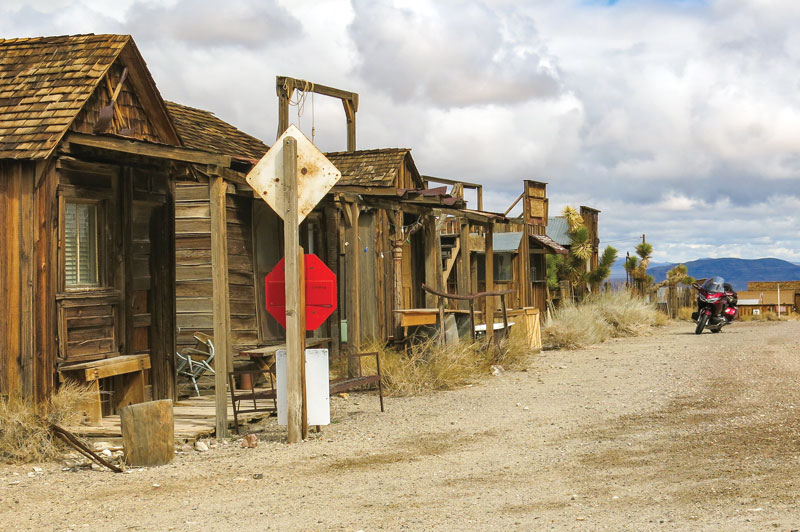 I like a bit of barely populated desolation—as long as there are roads going through. And Esmeralda is apparently the second-most people-less county in these 48 contiguous states, with less than 800 people living on its 3,589 square miles. That means each inhabitant has more than four square miles to him- or herself. That's a lot of room. No idea how many cell towers there are, as I foolishly left my cellphone at home.
Back when the area was part of New Spain, deep green gemstones called emeralds were found here. It has been noted that Nevada is the most mineralized state in the union, with lots of gold and silver. And now lithium, a mineral used in making more efficient batteries as well as a medicine for people with bipolar problems.
I'm on a 2018 Honda Gold Wing Tour, and my trip planning gets me over four minor mountain passes on the way to Esmeralda. Those are Temblor Range summit on California State Route 58, Walker Pass on State Route 178, and then Towne Pass and Daylight Pass in Death Valley. Good roads all.
I do like the lighter feel, as well as the look, of this new machine, and soon find myself diving into the twisties in a rather un-Wingy way. That new double wishbone front end works very well on pavement, and I have the preload adjustment indicator set at rider and luggage. Good cornering clearance. On the flats I run Tour mode, but in the mountains I click into Sport, and find quite a difference. There is also Econ and Rain, but they don't interest me on this ride.
The combined braking system is excellent, and I am used to always applying both front and rear at the same time, so all the pistons are bearing down on the discs. Quick slowdown. There is ABS as standard, which I tried out just for the fun of it, but never in need.
We, Goldie and I, get into Nevada via the small town of Beatty, and then head north on U.S. Route 95. Shortly after entering Esmeralda County we turn left at Lida Junction onto Nevada State Route 266, two-lane pavement. There used to be a brothel, the Cottontail Ranch, at the intersection, but now it's shut down and for sale.
Seven miles along I come to a sign put up by the state historical society announcing the turn to Gold Point, and informing me of the town's history. Miners had been in the area for years, getting silver out of the ground, but the big gold find was in 1927 and went on for some 35 years. After an accidental explosion caved in much of the mine in 1962, the town became rather ghostly.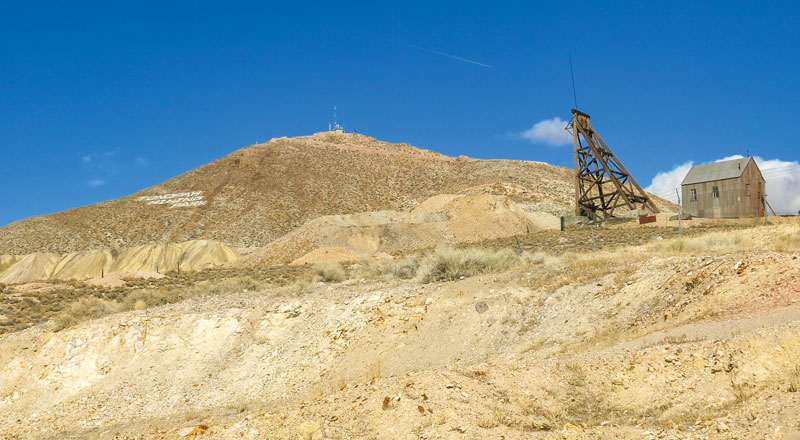 Another seven miles of narrow asphalt and we enter the ramshackle elements of this once-thriving mining community. Today it has around a dozen inhabitants, with numerous No Trespassing signs letting nosey tourists know that all those wood shacks and rusty bits of metal are owned.
I stop in front of a long building that has picnic tables out front, a Coors sign lit up in one window and radio music coming from inside. A knock on a locked door has no result, so I amble about for half an hour, the only noticeable activity being a jackrabbit cheerfully hopping along.
Run up Gold Point on your computer and you will see that some enterprising fellow runs a little operation there, providing visitors with food and accommodations in a couple of refurbished cabins. Be an interesting night.
Following the California Gold Rush of 1849, a lot of wannabe miners crossed Nevada on their way to California; some stayed to try their shovels in this desolate, often waterless, region. In 1861 Nevada became a territory, and Esmeralda a county.
Local Indians, like the Shoshone and Paiute, were around, but they moved with the seasons and probably wondered why these strange white men were digging holes in the ground. No big strikes were found in Esmeralda until the very early 1900s. And then thousands of miners poured in, followed by the big mining companies.
I ride over to another old mining center on State Route 266, Lida, which had its good times and bad, and essentially shut down following World War I. The post office, opened in 1873, closed in 1932. It is all private property now, and at the entrance is a total of three mailboxes. Not much to see, unless I want to trespass.
Dirt roads head every whichaway, but exploring them would be best done on an Africa Twin. Goldie handles OK on a hard surface, but soft stuff I worry about, as picking up 800-plus pounds is no easy task. And I have no cellphone.
Returning to U.S. 95 I have a look at Goldfield, the county seat, a few miles to the north. In its day, it was a booming place. Gold was discovered there in 1902, and by 1906 more than 20,000 people lived in the town.
After Prohibition came into being, a moonshine operation caught fire in 1923 and most of the wooden town went up in flames, leaving just the buildings made out of brick and stone burnt but still standing—only the courthouse has been refurbished.
Population is now about 300. The old gas station is long closed and there is only one small restaurant, the Dinky Diner, providing food.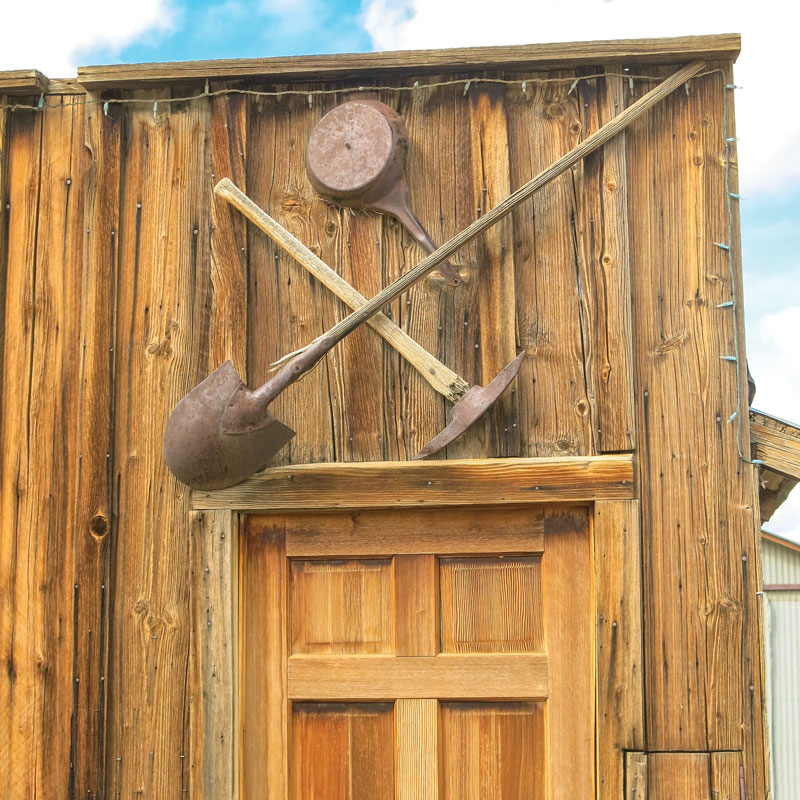 The local cemetery has some oddball gravesites, like the one for the man who apparently died after eating paste at the library; must have been hungry. The automotive graveyard is called The International Car Forest, but that is down a dirt road.
Daylight's waning, and I head off to spend the night in Tonopah, which is in Nye County. With more than 2,500 inhabitants, Tonopah, the largest town between Reno and Las Vegas, has two casinos, a half-dozen hotels/motels and a great outdoor mining museum. At 6,000 feet it can get a mite chilly during a winter night.
Next morning I find the electronic tire-pressure regulator flashing on the screen, telling me that my rear tire is down to 37 psi, from the approved 41. Riding to a nearby truck-fixing shop I get the bike up on its centerstand and find no strange object in the tire. A manual gauge tells me the tire is at 39 psi, so I put a couple of extra pounds in, seriously hoping that it was the cold and altitude that had caused the regulator to read low pressure. No more problems the rest of the trip.
On the road again, this time following a combination of U.S. 95 and U.S. 6, I headed for Silver Peak, another semi-ghost town. It's a chilly morning, and I do like the easily accessed buttons for the heated grips, heated seat and electric windshield, all of which work very efficiently.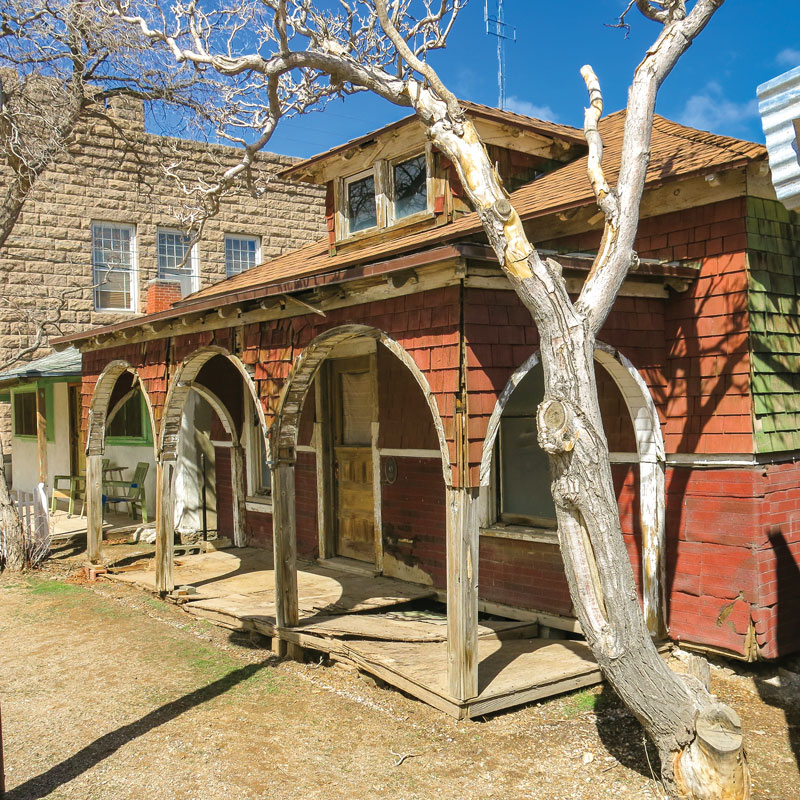 Some 35 miles west of Tonopah a sign indicates the road, State Route 265, south to Silver Peak, where minor silver deposits were discovered in 1863. The next 40 years were pretty slow, until gold was found and a major company moved in, acquiring a lot of properties, building a railroad and a large mill to process the ore.
The town boomed until the precious metals ran out about 1917, but was never fully abandoned. The last census (2010) reported some 100 inhabitants. However, the place is reviving due to a new market for lithium.
We come over a rise and before us is Clayton Valley, which seems to have several small lakes, which I think a bit odd in this arid place. Turns out there is briny water in the aquifer under the valley which has the lithium mineral; the water is pumped up to the surface, where it evaporates, leaving the lithium behind.
A company called Albemarle Corporation owns the mine(s) and is the only producer of lithium in the country. The electric car company Tesla appears to be very interested, having a large battery factory up in Reno.
The town is mostly a decrepit affair, with crumbling buildings, dozens of abandoned vehicles and a newish refinery where I presume the lithium is processed. There are more than 4,000 acres of evaporation ponds. The population is said to have doubled, and a small elementary school has nine students.
We head back to U.S. 95/6, go west to Coaldale, where U.S. 95 turns north to Reno, U.S. 6 west to Bishop, California. A small seam of coal was found near there around 1900, when railroads were being built and steam engines needed coal. It was very low-grade and the coal-mining business failed around 1920. However, roads were being built and after World War II a service station, store, restaurant and motel were prospering.
Leaking storage tanks put the gas station out of business in 1993, and soon the rest followed, creating a curious modern ghost town of disintegrating 1950s buildings. Fortunately the Wing's 1,833cc engine is pretty miserly on fuel, and when I run up the consumption rate on the instrument panel, it is generally about 40 mpg. So with the 5.5-gallon tank, I don't start to worry until we hit the 200-mile mark.
Running along U.S. 6, we soon turn south into Fish Lake Valley, a wide trough running for 25 miles in between the Silver Peak range to the east, the White Mountains to the west. Lots of snow up there, and Boundary Peak, at 13,147 feet, is the highest spot in Nevada.
Farmers and ranchers came to the well-watered valley in the 1860s, providing food for the nearby mining site at Palmetto. A post office opened in 1889, run by a postmaster named Dyer; the tiny town in the valley now goes by the same name. Unfortunately the lake has pretty much gone dry, but the valley still has some 200 year-round inhabitants.
There are hot springs, owned by the county and free to the public, with a concrete soaking tub that is tempting. However, since they are off to the east side of the valley, six miles along a dirt road, Goldie shook her steering head when I stopped at the turnoff.
A market with gas pumps constitutes the middle of town, and three rentable 100-year-old cabins, thoroughly modernized. The Boonies Bar, with food, is right across the road.
Gas up and I'm gone, with 10 miles of State Route 264 leading me to the non-existent mining town of Oasis—the Oasis Ranch has taken its place. We are just over the border into California, and State Route 168 is a superb back road leading to Big Pine, crossing over Gilbert Summit and Westgard Pass. Great way to end a trip…and Goldie goes into Sport mode.