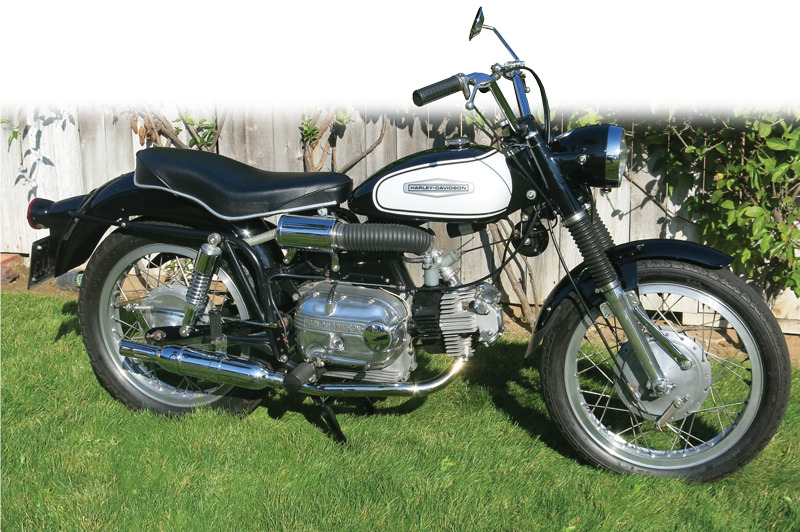 As Milwaukee settled into a long, cold winter late in 1959, the Harley suits were worried. Honda had just introduced half-a-dozen small bikes, ranging from the 50cc Super Cub to the 305 Dream Touring—with an overhead camshaft and electric starter, no less. All Harley was offering was the latest version of its 1948 125 two-stroke single, now the 165cc Super 10. What to do?
Maybe find some European import that could be rebadged? Like the 250cc models from Aermacchi, an Italian company that was building both motorcycles and airplanes. It had a very sexy 250 single called the Ala d'Oro—or Gold Wing—which was essentially a race bike with lights. Aermacchi had been building airplanes until Italy surrendered during World War II, and since the Allies forbade it from continuing in that line of work, Aermacchi started making three-wheeled trucks and motorcycles after the war, before being allowed to start up the aircraft business again. Harley bought half the motorcycle company in 1960 and began importing the 250s, in a less racy version that was initially called the Wisconsin.
Marketing types thought this was not wise. Would someone in California or Florida want to ride a Wisconsin? The name was soon changed to Sprint. Nevertheless many Harley dealers were not terribly happy to have these foreign-made bikes cluttering up their showroom floors.
What was this Sprint? By most non-Harley standards, it was a pretty conventional motorcycle, with fenders designed to keep the rain away, a large 4-gallon gas tank, a long, flat saddle and American-style bars, meaning mildly high. The engine had a nominal compression ratio of 8.5:1 and was said to push out some 18 horses at 7,500 rpm, giving the rider a quarter-mile time of a little less than 20 seconds, and 0 to 60 in about 15 seconds.
The unit-construction engine had been introduced in 1958, designed by engineer Alfredo Bianchi, who had previously worked for Parilla motorcycles. It had a single OHV cylinder lying almost flat, angled upward by maybe five degrees, with very easy access to things like valves and the Dell'Orto carburetor. One American magazine, obviously not terribly familiar with things Italian, cheerfully called it a Del Lorto in a 1962 test. The cylinder was iron, while the head was aluminum, or light alloy, as some preferred to call it. With a bore of 66mm, stroke 72mm, the design was relatively long-stroke. Crankcases were split vertically, and the crankshaft was properly supported, with roller bearings at each end. Lubrication was pressure-fed from the four pints of oil in the wet sump. Ignition was by battery and coil, charging done by a Bosch alternator.
Primary drive was by helical gears, with a wet, multi-plate clutch feeding power to the 4-speed transmission, a pleasantly precise gearbox with an overall gear ratio of 5.94:1. And chain final drive.
The chassis was simply a large diameter single strut, or tube, from which the engine was suspended, being held firmly in place by a mere three bolts. It was Bianchi who came up with both the frame design and the horizontal cylinder, understanding the advantages of easy access, especially for those interested in racing. At the back the swingarm held a pair of Italian shock absorbers, with a telescoping fork at the front. There was not much in the way of adjustability, but such sophistication was not common in 1960. Wheels were both 17 inchers, wearing 3.00 Pirelli tires, with 52 inches between the axles. Single-leading-shoe 7-inch drum brakes were large and quite adequate—especially compared to the drums on Harley's big twins.
Granted, the left-side kickstarter did not appeal to all, and the starting drill was rather precise—failing to faithfully follow all steps could result in a push start. However, at 275 pounds, that was easy to do. A very strange notion was when Harley decided to put a kickstand on the right side, so as not to interfere with the kickstarter. Another factor to be considered was this: "Seating position was good, however riders of other Harley models might find the footpegs a bit far to the rear."
In 1963 this became the C model, and a sportier H model was introduced, with dual-purpose pretensions, having 18-inch wheels and a large air cleaner. There was also an increase of compression ratio to 9.2:1 and a claimed extra three horsepower. In 1967 an R model was introduced for racing only.
The American market was focused on big bikes, like Harley V-twins and a slew of British twins. Was it ready for a 250, which was considered pretty much of a 'round-town tiddler by many? The American motorcycle world was changing, as commuters, Sunday riders and racers all grew to appreciate the smaller European and Japanese models. When a streamliner Sprint hit 150 mph at Bonneville in 1964, Americans looked at it with some respect; even more when it got to 177 mph the next year. Granted, the engine had been super-tuned to enhance the power, claiming 30 horses at 9,800 rpm, but it still aroused a lot of interest. And Sprints were doing quite well in AMA racing, road, dirt and scrambles.
In 1969 the engine was enlarged to 350cc, but Harley was nearing bankruptcy. To be saved by an outfit called American Machine & Foundry (AMF), which bought the H-D Company and obviously was not quite sure what to do with it. Three years later AMF/H-D bought the entire Aermacchi motorcycle operation, and then sold the whole shebang in 1978 to an outfit called Cagiva.