I was headed for the Cascade Range of mountains because of a vague memory of something I had read 30 years ago, about 60 miles of great riding road in the Willamette National Forest. These things get filed away in my confused cranial storage system, and sometimes pop up when I am planning a trip. I looked on a map and saw Forest Service Road 19, now listed as one of Oregon's scenic byways, and it was part of a whole series of roads that wander through the middle of the Cascades.
I had to be at a conference in Portland, Oregon, where more than 200 motorcycle safety administrators from around the country were gathering to learn about improving the instruction of rider skills. Essential work, but the lectures in these meetings are not high in entertainment. I think the only reason I had been invited to speak was for my amusement value, having the dubious distinction of crashing on six continents.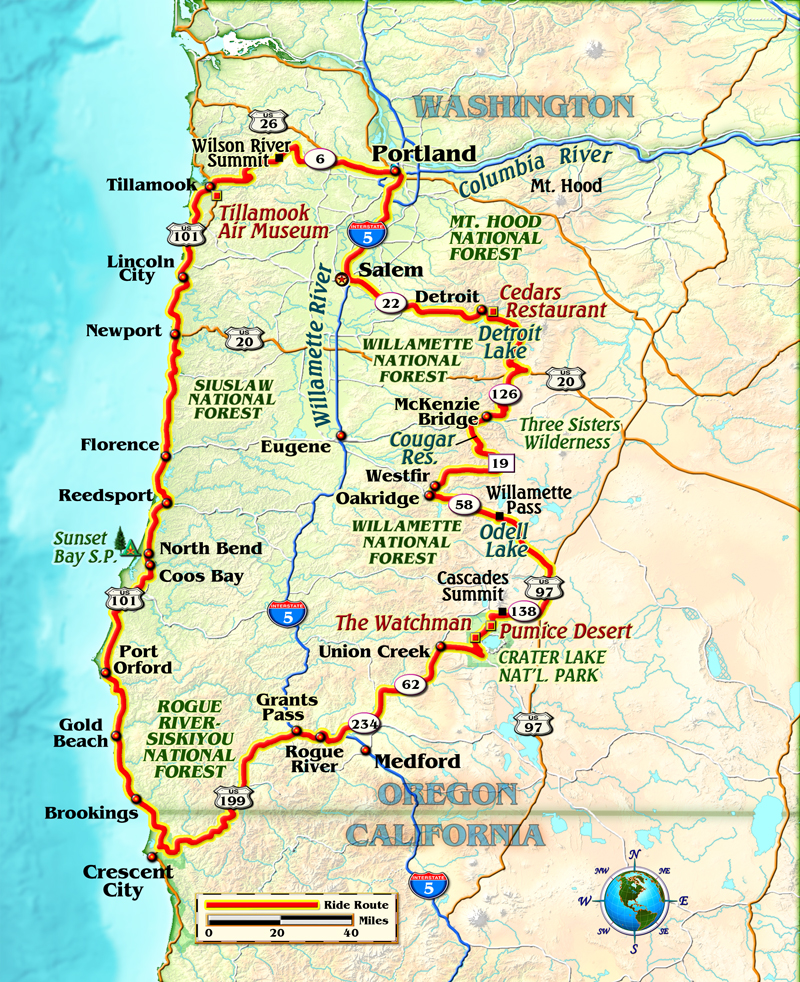 From Atascadero, California, I rode 500 miles north on U.S. Route 101 to Crescent City, where I left the sunny California coast and rode inland on U.S. Route 199 toward a possibly unsettled weather situation. At Grants Pass, Oregon, I saw dark clouds ahead, interspersed with patches of brilliant blue. Good raingear was in my duffel, but the day was bright as I rode through the little town of Rogue River and then followed the river north to Union Creek. At the Union Creek Resort a trio of Harley riders was drinking coffee on the covered porch, having just come south along Oregon Route 230. Cold, wet, foggy and miserable, they said, and they had to skip Crater Lake National Park. But they lacked the full riding suit that I had. I added a couple more layers and headed off; when I got to the turn for Crater Lake, there was a patch of blue sky to the east. The lake it would be.
There was no ranger at the ranger station to ask about the weather, but there were signs warning of road reconstruction in the park. Up ahead were dark gray clouds, and when I got to the rim of the lake, at some 7,100 feet, a very light snow was falling. On the first day of fall. The lake itself, a thousand feet below, was not visible. Heck, the five or so miles of road on the west rim should be no problem. Except I did not know that those few miles were the ones under reconstruction, with a rutted gravel surface. Soon it began to snow seriously, turning into a virtual whiteout, visibility down to just a few feet. No fun—but I was committed, not knowing if I could even turn the bike around on the roughed-up road. It would not be good to crash on my way to a safety conference.
A white pickup—not the best color in a snowstorm—was in front of me, taillights barely visible, moving at about 15 mph, a good speed for the conditions. At the Watchman Lookout we were at more than 8,000 feet, and then began a slight descent, the snow soon diminishing. And soon the pavement re-emerged. This wasn't quite the best road for a 670-pound, 128-horsepower motorcycle, but the FJR did well. At North Junction it was still snowing lightly; I headed downhill to the Pumice Desert. It appeared that the clouds were hanging directly over the lake, and blue skies were soon above me.
Leaving the park I turned right onto Oregon Route 138, headed east in a dead straight line, riding over 6,000-foot Cascade Summit, then dropping a bit as Route 138 T-boned into U.S. Route 97. Following that a few miles north, I then headed northwest along heavily-wooded Oregon Route 58, past Odell Lake, over 5,128-foot Willamette Pass and on into Oakridge, a small town smack dab in the middle of the national forest, with a couple of motels catering to fishermen and outdoorsy types. The Middle Fork Willamette River passes through here, a major lure for fly fishermen.
The sky above me looked somewhat threatening as I checked in, asking the clerk what the forecast might be. "Light rain passing through tonight," she said.
Right she was. Rain had left the roads wet when I got up in the morning, loaded up and headed for Westfir, a couple of miles up the road. Signs pointed toward the Aufderheide Scenic Byway, a.k.a. Forest Service Road 19. Robert Aufderheide was the national forest supervisor back in the 1950s and a much-respected man. His name now goes on 60 miles of bliss, good asphalt (mostly) leading through the endless fir trees. Damp leaves and pine needles kept my speed at a reasonable rate as I went up and around Chucksney Mountain, with the Three Sisters Wilderness on my right, the spotted owl safe haven on my left.
Turning eastward on Oregon Route 126, I went past McKenzie Bridge, then north over a 2,958-foot summit, leaving Route 126 by making a very sharp left turn onto Oregon Route 22. Lots of rain, lots of traffic. Route 22 is mostly a two-laner but it is also a major cross-Cascades road, crowded with trucks, motorhomes and the occasional wet motorcyclist. To contemplate my future I stopped in the tiny community of Detroit, which houses a half dozen eateries and not much else. There was a bigger town a long time ago, but after the Detroit dam was built and the valley flooded by the Santiam River in 1952, the original place got submerged. By the way, Detroit means "strait" in French, and this was at the narrowing of the river, so appropriately named. I dripped into Cedars Restaurant—which could house the entire town, population being about 250—ordered up a pastrami on rye, and looked at my map. Another scenic byway, Forest Service Road 46, went north from Detroit and on into Portland, but I did not think I wanted to do it in the rain.
So on into Salem, where the rain stopped, and onto Interstate 5 for the last 50 miles into Portland. Greater Portland houses more than two million people, which is about 60 percent of the Oregonian population. The city is so spread out and there are so many bridges that I was constantly afraid of getting misplaced. Eight bridges cross the Willamette River in the space of a couple of miles. I am most familiar with the old part of the city, on the west side of the river, where many of the fabled food trucks are to be found. And where parking can prove to be a problem. I solved that by going to Kelly's Olympian, which has been around since 1902; more recently the place has motorcycle-only parking out front and vintage motorcycles hanging from the ceiling inside. The food is OK and the ambience is great. A few blocks away is the John Helmer Haberdasher, opened in 1921, where I have been buying my berets for years. I lose one every year or so, and occasionally have to restock.
The State Motorcycle Safety Administrators (pronounced "simsa") conference was being held about five miles north of Old Town, at a Red Lion hotel backing up to the Columbia River. Meetings were going on morning and afternoon, and around 5:30 things would get relaxed and friendly. I saw a lot of people I see too seldom, and met many more.
I did my duty at the conference, and early on a Sunday morning headed for the coast, going west on U.S. Route 26, then cutting off on Oregon Route 6 to cross over the Coast Range and on to Tillamook. That road goes through the Tillamook State Forest, summiting at a lofty 1,586 feet, then follows the Wilson River all the way to the coast. Beautiful ride! I keep on mentioning rivers, and Oregon has lots of them, which means there are lots of trees. More than 30 million acres, almost half the state, is forested.
Leaving the state forest the road runs through open meadows, with lots of dairy cows eating the grass. Tillamook is famous for its cheese, and the Tillamook Cheese Factory hosts about a million visitors a year. Much less known is the air museum south of town, where a huge wooden blimp hangar, nearly 200 feet tall, houses an interesting collection of aircraft and memorabilia. The Naval Air Station Tillamook (NAST) was built in 1942 to house dirigibles, and closed in 1948. In 1997 the hangar became a museum. Outside sits a huge transport plane, officially called the Aero-Spacelines Mini-Guppy. Inside is a Chris-Tena Mini-Coupe, a kit plane powered by a VW engine. Back in the 1970s a competent craftsman could buy the kit, build the plane and go flying for a mere $2,400. On a more warlike footing there is a MiG-17, which saw considerable action above North Vietnam, flying against the Douglas A-4B Skyhawk, also on display. This is all part of our history, recently depicted in Ken Burns' series on Vietnam, and well worth a visit.
The key to happy traveling along the Oregon coast is not to stick to U.S. 101—although you will spend a lot of time there—but avail yourself of the little parallel excursions that go along the coast and inland. Although it is possible to find yourself at the end of some delightful dead-end road—like I did at Sunset Bay State Park, a little west of Coos Bay.
The coast naturally has lots of tourists, and traffic can be heavy. Which is why I recommend a post-Labor Day trip. Seaside towns like Lincoln City and Newport can be crowded any time the weather is nice, but the motorcyclist's pleasure is in rounding a curve and seeing miles of beach stretching off in the distance. Two large towns farther south are Coos Bay, a major lumbering port, and Brookings, with a big fishing fleet, as well as a climate very suitable for growing flowers, like roses and lilies for the Easter market. An interesting combination of industries. And then it is over the state line and back to California.
Cascades, Coast Range…I love the riding.