One day we happened to look in a darker corner of the Rider shop and realized that a number of smaller new motorcycles were back there multiplying, like tribbles. If it kept up, pretty soon there wouldn't be any room left for the bounce house and kegerator, so we sucked up our big-bike egos and got to work reviewing them. Surprisingly, we liked the Rally, GSX250R, TW200, VanVan and Vespa so much that instead of beaming them onto a departing Klingon ship, each of us has stashed one in our offices behind a desk or a plant. In addition to a lower initial cost and fantastic fuel economy, these machines are versatile, good looking and downright fun to ride. Every one would make a good second or third bike. Just be careful, they do tend to multiply….
Read EIC Tuttle's "Man on a VanVan Without a Plan" adventure
Essential Adventure: 2017 Honda CRF250L Rally
By Arden Kysely
My first ride on the CRF250L is documented in our February 2013 dual-sport 250 shootout, where Honda's new model drew down on the Kawasaki KLX250 and Yamaha WR250R. Though not as hardcore an off-pavement machine as the others, the CRF/L made its mark as a top-notch recreational motorcycle, perfect for daily duty in town and weekends exploring the boonies. This year brought a host of updates to the counterbalanced DOHC single: a 2mm larger throttle body, updated fuel injection, a new ECU and reworked intake and exhaust systems. Honda attributes lighter weight, better throttle response and beefier low- to mid-range power to the changes.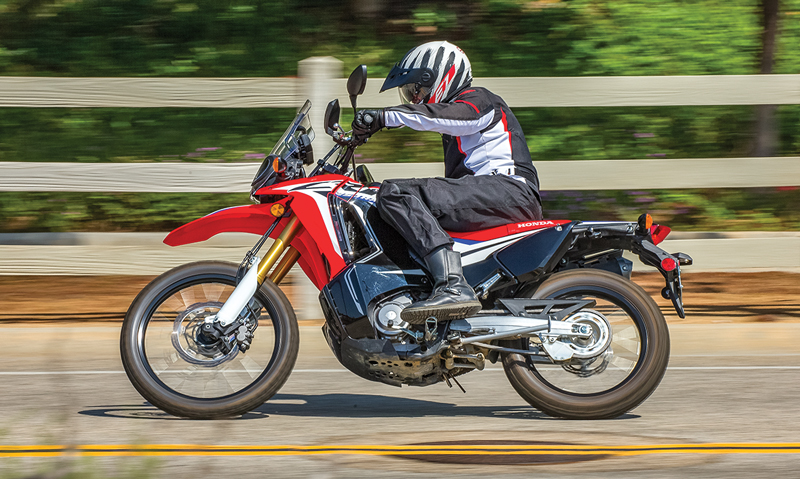 The new Rally model takes the CRF/L improvements to the next level for all-surface travel, adding better wind protection, longer-travel suspension, larger brakes, optional ABS ($300)—and 24 more pounds. Frame-mounted Dakar bodywork, hand guards and asymmetrical LED headlights earn it the Rally moniker. Judging by the many favorable comments I received, the new look is a hit.
The easy-to-flick Rally rules the twisties, in spite of the IRC knobbies sliding when pushed hard on the pavement. Rock steady on the freeway, it hangs with traffic but prefers two-lane highways and back roads (who doesn't?). And while it won't win off-road races, it will keep many riders smiling all day in the dirt—me included. With 11- and 10.3-inches of front/rear travel, the Rally soaked up bumps on a brisk ride over a rough two-wheel route, though the rear shock could use more rebound damping. The 43mm fork is impressive for non-adjustable stockers and key to the Rally's plush ride. Both single-disc binders are effective, but the ABS can only be turned off at the rear.
The Honda's 35.2-inch seat height, amplified by a near-vertical posture on the kickstand, may deter newer or shorter riders, who will be more comfortable on the lighter base model. Once aboard, it's easy to pile on the miles with upright seating and a comfortable saddle; bar risers would help for extended off-pavement riding and a buzz begins at 7,000 rpm. Packing more fuel than the standard model, the Rally has longer range, but fell short of my 200-mile comfort zone. No worries—a gas gauge and dual tripmeters on the compact digital instrument pod help maintain fuel awareness. Given the choice, I'd spend the extra $750 for the Rally over the standard CRF/L, partly because it looks so darn good—but mostly because it works better.
2017 Honda CRF250L Rally Specs
Website: powersports.honda.com
Base Price: $5,899 ($6,199 w/ ABS)
Engine Type: Liquid-cooled single, DOHC w/ 4 valves
Displacement: 249.6cc
Bore x Stroke: 76.0 x 55.0mm
Transmission: 6-speed, cable-actuated wet clutch
Final Drive: O-ring chain
Wheelbase: 57.3 in.
Rake/Trail: 28.1 degrees/4.5 in.
Seat Height: 35.2 in.
Wet Weight: 346 lbs.
Fuel Capacity: 2.7 gals.
MPG: 87 PON min. (low/avg/high) 59.8/60.1/62.2
Think touring on Vespa scooters is out of the question? Think again.
Approachable Sport: 2018 Suzuki GSX250R
By Jenny Smith
Whatever you do, don't call it a "Gixxer." Suzuki is making it clear that despite its nomenclature, the 2018 GSX250R carries more Katana DNA than it does superbike, with some dealer and press materials going so far as to call it the "GSX250R Katana." It's true that the GSX250R is a milder ride than its competition, but Suzuki figures anyone looking for true sportbike performance isn't going to be happy with anything less than a full-on 600cc or larger machine anyway. So with the GSX250R it focused on creating a fun, easy to ride, affordable, cool-looking bike.
The GSX250R is powered by the same 248cc, liquid-cooled, SOHC parallel-twin found in the GW250, but Suzuki says it incorporates several changes, such as new roller-type rocker arms and intake valves with a slimmer stem profile that optimizes airflow into the combustion chamber. Practicality takes precedence over performance—this is a bike designed to perform best at "real world" speeds between 15 and 55 mph—and the little 250 is pretty much wrung out at 80 mph on the highway. With its longish 56.3-inch wheelbase, manageable 31.1-inch seat and fairly stout 392-pound curb weight, the little Katana does convey a sense of stability, adding to its approachable nature.
Running through its six gears, the GSX250R is smooth and easy to ride. Like most 250cc-class machines, it takes some wrist twisting to urge it forward, with most of the fun happening above 6,000 rpm. With a 4-gallon tank, our 61.6 mpg average fuel economy and surprisingly comfortable ergonomics, as long as you're not in a hurry the GSX250R is a road trip-worthy ride. Fit and finish are good for a bike in this category, with cool surface-emitting LED position lights, a full LCD instrument panel and an LED taillight reminiscent of the GSX-R1000R. Dual petal-style disc brakes look the business and work well, but ABS is not an option. Now the question is: when will we see a GSX400R?
The 2018 GSX250R is available in Pearl Nebular Black or Pearl Glacier White, for $4,499.
2018 Suzuki GSX250R Specs
Website: suzukicycles.com
Base Price: $4,499
Engine Type: Liquid-cooled, parallel-twin, SOHC, 4 valves per cyl.
Bore x Stroke: 53.5 x 55.2mm
Displacement: 248cc
Transmission: 6-speed, cable-actuated wet clutch
Final Drive: O-ring chain
Wheelbase: 56.3 in.
Rake/Trail: 25.6 degrees/4.1 in.
Seat Height: 31.1 in.
Wet Weight: 392 lbs.
Fuel Capacity: 4.0 gals.
MPG: 87 PON min. (avg) 61.6
Diminutive Dual-Sport: 2017 Yamaha TW200
By Mark Tuttle
Yamaha has been cranking out this great little dual-sport for three decades. It even made world headlines in 1987 when Shinji Kazama became the first to ride a motorcycle to the North Pole on a Yamaha TW200. We spent a lot less time on the bike than Kazama, but a long loop down Highway 1 and through the local Santa Monica Mountains as well as some regular commuting—even a few dirt roads—on the fat-tired Yamaha was enough to make us appreciate its versatility. Although the TW200's SOHC 2-valve 196cc single is air-cooled and even carbureted, the engine is good for a 70-mph top speed. It takes a while to get there of course, it vibrates at high rpm and its vague gearbox and clutch make shifting more of an event than necessary. That 28mm Mikuni carb is also jetted quite lean and the engine takes a long time to warm up with the choke on.
Off-road the TW200's bulging 130/80-18 and 180/80-14 knobby tires grab the dirt and soak up bumps like foam rubber. Its 33mm fork and single-shock suspension are non-adjustable but firm and have enough travel to take a hit from ruts and rocks, making it a fun and competent plaything on the trails. Seating is low and roomy for a 200 and the TW200 is able to carry a passenger quite easily, but the long seat is typically dual-sport narrow and hard, so on-road I was ready to get off well before I had run the bike's 1.8-gallon tank down to its 0.5-gallon reserve at 86 miles. The hydraulic 2-piston disc brake up front and drum in back actually work quite well, and there's a toolkit under the right side cover and a flat deck on the rear fender for strapping on a small cooler or seatbag. The TW200 also wears enough tough styling to repudiate its size. Whether you're riding to the North Pole or just around the south 40, the TW200 is fun and gets it done.
2017 Yamaha TW200 Specs
Website: yamahamotorsports.com
Base Price: $4,599
Engine Type: Liquid-cooled single, SOHC, 2 valves
Bore x Stroke: 67.0 x 55.7mm
Displacement: 196cc
Transmission: 5-speed, cable-actuated wet clutch
Final Drive: O-ring chain
Wheelbase: 52.2 in.
Rake/Trail: 25.8 degrees/3.4 in.
Seat Height: 31.1 in.
Wet Weight: 280 lbs.
Fuel Capacity: 1.8 gals.
MPG: 87 PON min. (avg) 66.6
SaveSave
SaveSave
SaveSave