When it debuted nearly a decade ago, BMW's F 800 GS seemed like the answers to adventure riders' prayers. It had the durability and off-road prowess that had made the BMW GS a household name, but it weighed and cost less than the 1200 and had chain drive, an off-road-ready 21-inch front wheel with spoked rims front and rear. The middleweight GS impressed us so much, we named it Rider's 2009 Motorcycle of the Year.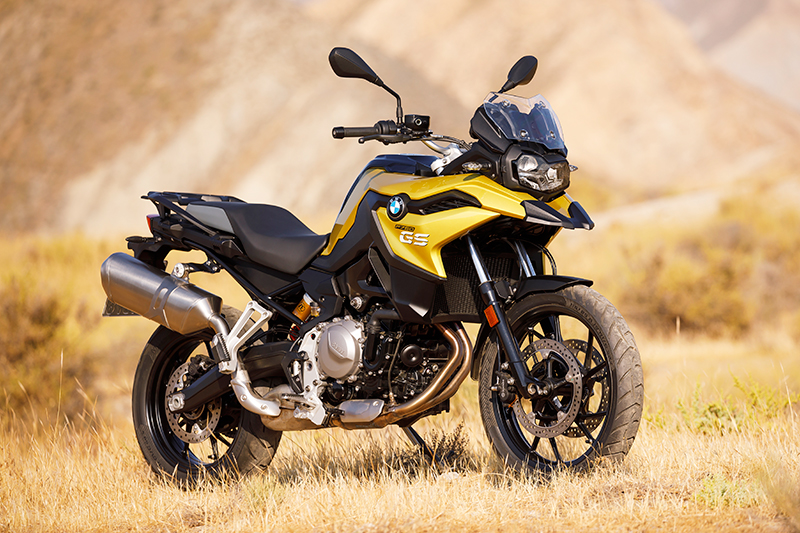 In the years since, there's been a lot of competition in the middleweight adventure touring segment, and other than minor updates and the addition of the F 800 GS Adventure model for 2013, the F 800 GS was getting long in the tooth.
Read our 2009 BMW F 800 GS road test review
For 2018, BMW has thoroughly revamped the street-oriented F 750 GS and the off-road-oriented F 850 GS. Despite what would seem to be a 100cc difference in displacement given their names, the F 750 GS and F 850 GS are both powered by an 853cc parallel twin, up from 798cc on the previous models. (The confusing model names have given us fits since the beginning.) The shared engine, which makes a claimed 77 horsepower in the F 750 GS and 95 horsepower in the F 850 GS, gets a more pleasing sound and feel thanks to a 90-degree crankshaft journal offset and a 270/450-degree firing intervals instead of the previous 360-degree interval.
Gone is the unique balancing system that moved a "dummy" connecting rod on a center crank journal in the opposite direction of the pistons, which never did a satisfactory job of quelling engine vibration. Instead, the new engine gets more conventional dual counterbalancers. Also new is a slipper clutch, and the 6-speed transmission sends power to the rear wheel via chain final drive as before, but the chain has been moved to the left side of the bike and the exhaust has been moved to the right side, preventing the rider from coming in contact with a hot exhaust pipe when maneuvering the bike from the left side.
Read our 2014 BMW F 800 GS Adventure road test review
Standard electronics include Road and Rain riding modes, ABS and ASC (traction control), and optional Pro riding modes and lean-angle-adaptive ABS and traction control expand the bikes' capabilities and safety margins.
Holding the F 750 GS and F 850 GS together is a new steel monocoque frame that uses the engine as a stressed member and has revised geometry, and the previous underseat gas tank has been moved to the traditional position in front of the rider for better weight balance. The F 750 GS gets a new male-slider fork and the F 850 GS gets a new upside-down fork, and both get revised rear shocks; Dynamic Electronic Suspension Adjustment (ESA) is available an a factory option.
Both models have updated styling with sharper lines and better wind protection. An optional 6.5-inch, full-color TFT display also offers various connectivity functions. A wide range of accessories are available for both bikes, including several optional equipment packages such as Comfort, Touring, Dynamic and Light.
The 2018 BMW F 750 GS, which features cast wheels in 19/17 inches sizes, will be available in Light White or Austin Yellow metallic, as well as in an Exclusive version with Stereo metallic matte paint, hand guards and special finishes. Pricing starts at $10,195. The 2018 F 850 GS, which features spoked wheels in 21/17 inches sizes, will be available in Racing Red and in Exclusive and Rallye versions with hand guards and special paint and finishes. Pricing starts at $12,895. Both models are expected to hit showrooms in Q2 2018.
Check out more new bikes in Rider's guide to new/updated 2018 motorcycles
SaveSave