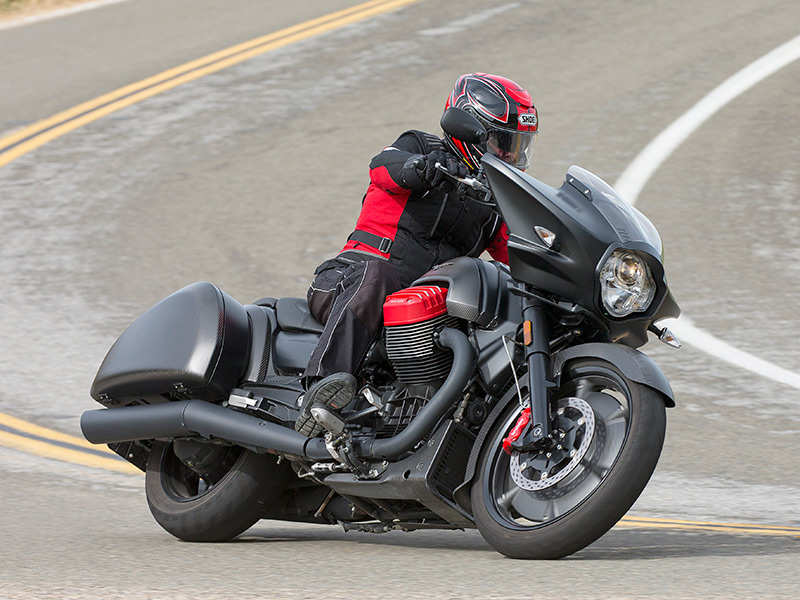 Moto Guzzi USA is promoting its new models with a national demo tour, including activities at Americade, Laconia Motorcycle Week at New Hampshire Motor Speedway and Thunder in the Valley. The popular events will allow consumers the opportunity to experience the latest from Moto Guzzi throughout the beautiful Northeast during summer.
Read Our 2017 Moto Guzzi MGX-21 Flying Fortress First Ride Review
Moto Guzzi staff will be on hand to introduce the range, answer questions and lead rides on the motorcycles, which include the new-for-2017 Moto Guzzi MGX-21 bagger, California 1400 Touring, V9 Roamer, V9 Bobber, V7III Stone, as well as the returning Eldorado and Audace models from the 1400 engine family.
Read Our 2017 Moto Guzzi V7 III Lineup First Look Review
AMERICADE
Celebrating its 35th year, Americade is a week-long festival of motorcycling, offering guided and unguided tours through the beautiful Adirondack Park and Green Mountains of Vermont, erecting Americade's Expo with nearly 200 industry vendors, and offering more motorcycle events than virtually any other event in the U.S. Demo rides will be available:
Tuesday, June 6, 9am-5pm
Wednesday, June 7, 9am-5pm
Thursday, June 8, 9am-5pm
Friday, June 9, 9am-5pm
Saturday, June 10, 9am-3pm
More information available at: americade.com
Read Our 2017 Moto Guzzi V9 Bobber and V9 Roamer First Ride Review
LACONIA MOTORCYCLE WEEK
The Katancha venue at New Hampshire Motor Speedway has become the demo destination during Laconia Motorcycle Week. Moto Guzzi will host display and demonstrations onsite. The week will include AMA and ASRA racing, the Loudon Classic, ride in bike show, Sick Boy pet run, fashion show, Wall of Death stunt show, and much more. Demo rides will be available:
Monday, June 12, 9am-5pm
Tuesday, June 13, 9am-5pm
Wednesday, June 14, 9am-5pm
Thursday, June 15, 9am-5pm
Friday, June 16, 9am-5pm
Saturday, June 17, 9am-5pm
More information available at: nhms.com/events/motorcycle-week-at-nhms/
THUNDER IN THE VALLEY
Celebrating its 20th annual rally this June, Thunder in the Valley Motorcycle Rally in Johnstown, Pennsylvania, has planned its best party yet. Just east of Pittsburgh, the rally feature live music, a host of vendors, stunt shows, and American Motor Drome Wall of Death. Thunder in the Valley is rally-goers chance to tour everything that beautiful western Pennsylvania has to offer—including Johnstown's aesthetic beauty surrounding National Parks-Allegheny Portage Railroad National Historic Site, Johnstown Flood National Memorial and the Flight 93 National Memorial. This is the year to experience Moto Guzzi and the beautiful Alleghenies region. Demo rides will be available:
Thursday, June 22, 9am-5pm
Friday, June 23, 9am-5pm
Saturday, June 24, 9am-5pm
Sunday, June 25, 9am-3pm
More information available at: johnstownthunder.com