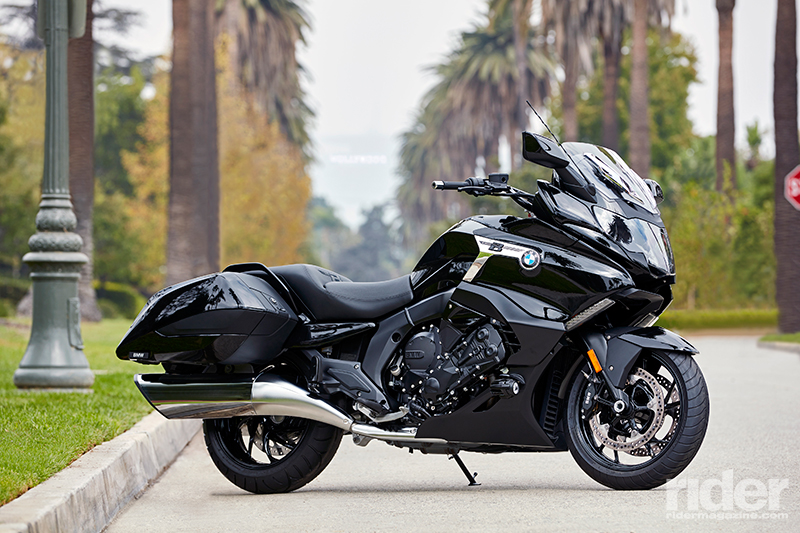 We've been watching updates on the new 2018 BMW K 1600 B bagger with greedy anticipation. A 1,649cc in-line six-cylinder making 160 horsepower and 129 lb-ft of torque? All the trick electronics and luxurious creature comforts of BMW's top-of-the-line sport tourer? Sign us up.
One major lingering question was: how much will it cost? BMW has answered that, providing an expected MSRP of $19,995 (plus the standard $495 destination fee). Considering that the K 1600 GT starts at $21,995, the new bagger is even more tantalizing.
BMW has also released more details on the K 1600 B's design and features. A new rear subframe creates a sloping, low and slender profile, and reduces the height of the passenger seat. The bagger comes standard with a host of features, including three riding modes (Rain, Road and Dynamic), Dynamic Traction Control, cornering-optimized integral ABS Pro, heated seats and hand grips, a power adjustable windshield, cruise control, a multifunction display with on-board computer and Dynamic Electronic Suspension Adjustment (D-ESA) with "Road" and "Cruise" damping modes.
Additional features are available in three packages:
Safety Package – Adaptive headlight, tire pressure monitor (TPM) and Hill Start Control
Comfort package – Gear Shift Assist Pro, central locking system, anti-theft alarm, Keyless Ride and LED auxiliary lights
Touring Package – Reverse assist, GPS preparation, and audio system with radio, Sirius XM and Bluetooth.
There is still no definitive word on when we might start to see them in dealerships.