Quick! List your top 10 places to ride in North America. Did Kansas make the cut? How about Nebraska? Iowa?
My thoughts exactly. So whenever a friend in Colorado Springs asked me to visit him from my home near Niagara Falls, Canada, I always found an excuse not to go. I mean, I had endured those flat, stolid stretches before, with little to do but ponder the meaning of life. What recently struck me out of the blue, however, was this incredibly obvious fact: the miles were monotonous because I had been in a cage on the Interstate, simply focused on getting from A to B. Was I a victim of prejudice that might well be cured by back roads and a deliberate exploration of the heartland? I decided to find out.
On my new-to-me 2006 Suzuki V-Strom, I set out riding through the countryside of Ontario and Michigan, an experience in rural revelry complete with brilliant sun and the smell of first-cut hay. I found the DL650 handled very smoothly, with more torque than I expected when fully loaded. The seat was particularly comfortable and the stock windscreen created a quiet "bubble" in which to ride. In Illinois, I rode into Dixon, where, on an unassuming street, I happened upon a white wood-frame house that turned out to be the boyhood home of Ronald Reagan. After a brief tour, I followed the sounds of music to the downtown core. On this particular weekend, Dixon was celebrating its 51st Annual Petunia Festival, complete with street vendors, a bluegrass band and a carnival. After enjoying an onion-covered hotdog near the stage, I followed the Rock River 10 miles north to Grand Detour, where a blacksmith named John Deere opened shop in 1837. A guide led me on a tour of the house, shop and grounds, explaining it was here that Deere took an old sawmill blade and forged the first ploughshare to cut cleanly through the thick Midwestern sod. This was arguably the invention that facilitated America's settlement of the Great Plains.
Well-paved roads led over hill and dale to West Branch, Iowa. I arrived with just enough evening light to make my way down an unmaintained, single-lane road where I found a secluded spot in a cornfield. The silence was rich, the sky a royal blue and the fireflies like magic. I slept in my bivy sack on top of my new Therm-a-Rest LuxuryLite mesh cot. The cot is very quick to set up and keeps you about 3 inches off the ground on a tight sling, eliminating those painful spots where your hips and shoulders grind against hard earth. It even makes it possible to sleep comfortably in a Walmart parking lot, if necessary—don't ask me how I know. I slept so soundly that when a racoon scrabbled across my chest at 5 a.m., he was gone before I was awake enough to be alarmed. And I was just drifting back to sleep, relishing the acapella chorus of early morning birds, when a wild turkey squawked and ruffled its monstrous feathers right by my head. When a mate called, he flew off, and I got up to a warm sunrise and dewy corn. Riding out the "B class" road, I stalled the bike at the top of a knoll where I needed to corner south—and south I went, heels over helmet! Picking up the heavy bike, I (mostly) avoided profanity and went off for coffee and assessment of the damage: a cracked turn signal and a maladjusted highway peg, easily corrected, and I was on my way. But not before visiting the Herbert Hoover National Historic Site in West Branch. Among several period buildings, the centerpiece was the tiny two-room house where the 31st U.S. president was raised.
It was the Fourth of July, and following Iowa State Highways 22 and 92, then U.S. Route 34, over gently rolling hills, I passed farmhouse after farmhouse surrounded by parked cars and trucks, where friends and family were gathered for barbecues and to celebrate the best of America. As I crossed the Missouri River and arrived in Beatrice, Nebraska, night was falling and the horizon all around me was bejewelled in glittering fireworks.
In the morning, I stopped at Homestead National Monument just outside Beatrice, where Daniel Freeman filed claim on the first day of the Homestead Act, January 1, 1863. From here I followed U.S. Route 136, the Heritage Highway, through Gilead and Fairbury. A road sign lured me into Hebron to see "The World's Largest Porch Swing," said to be capable of seating 24 adults. Then the bike and I continued past impossible expanses of corn, leaning into a continuous and powerful wind that made vivid the stories of the Great Plains and the 1930s Dust Bowl. It was just such stories that fed the imagination of Willa Cather, one of the greatest American novelists of the 20th century. The eldest of seven children, Cather was raised in Red Cloud, Nebraska—my next stop.
As I wandered about Red Cloud with my camera over my shoulder, following a walking tour of Cather's life, a couple emerged from the local newspaper office. The gentleman introduced himself as Ron and his wife as Carol. Glancing up the street, he asked me if the parked bike was mine. When I said it was, he unleashed a hundred questions, mixing in stories of his own. Carol left to get a few groceries, and we were still talking when she returned. He turned to her, pointing a thumb toward me, and said, "He has to be home by August 23rd because his daughter is getting married!" "Then, Ron," she replied, "you'd better stop talking to him, so he's not late!" To my surprise he wanted to take my picture, which is how my bike, my bio and my trip all ended up in the weekly edition of The Red Cloud Chief. As I pulled out of town, I thought, that would never have happened on the Interstate.
Crouched behind the windscreen, I raced a thunderstorm to Kearney (surprisingly pronounced CAR-nie, just as Beatrice is pronounced Be-AT-rice; I'm convinced it's a ploy to quickly identify outsiders), and spent a night in the rain. All the next day, the incessant wind felt like a hand pushing hard on my helmet. But there is always an upside: to dry out my camping gear, I wrapped the bivy around my top case and bungeed it like Houdini, allowing the high winds to be of some use. After an hour, I switched it out for the sleeping bag, and voilà, dry bedding!
I was very aware when I crossed the 100th meridian, which traditionally marks the beginning of the arid plains. Vegetation became sparser and the only crops grew in great round fields (seen as perfect disks from the air) due to center-pivot irrigation. When the map of Colorado found its way into my tank bag, I began to reminisce about my friend in "The Springs." And when I finally arrived, it was a great few days of catching up and seeing local sights. The time to return came all too soon, however, and I bade him farewell.
Still determined not miss out on the promise of back roads adventure, I took a new return route farther south, leading into Kansas and Missouri. At Great Bend, Kansas, I turned northeast toward Abilene, where I found another spot to camp amid some stunted corn. Apparently they needed rain. And apparently in the Bible Belt it rains in biblical proportions. Most of the night, it came in torrents far greater than the capacity of my bivy to repel. The only saving grace was the high ambient temperature that kept away any chill. In the morning, I laid out my wet gear while I toured the Dwight D. Eisenhower Presidential Library, Museum and Boyhood Home in Abilene.
In the afternoon, another road sign to the OZ Museum, appropriately located in small-town Wamego, Kansas, drew me in. Complete with life-sized displays of Dorothy and her friends looking for a heart, a brain and courage, the museum also displayed the entire "Wizard of Oz" book series, of which there are 40 volumes in all—something I never knew.
Nearing Kansas City, I crossed the Missouri River and followed it north to St. Joseph, Missouri, which in 1860 was the western terminus for the railroad—and the beginning of the Pony Express. After touring the restored stables, I was about to move on when I also came across the home of Jesse James and a sign that invited me to "see the bullet hole" in the wall where he was shot. I was definitely in the Wild West.
Gliding across the open plains, I stopped briefly in Marceline, the childhood home of Walt Disney, before arriving in the town of Hannibal on the banks of the Mississippi River. Near a modest clapboard house one block from the river, I dropped the kickstand and went inside. This had been the home of Samuel Clemens, who lived here most of his young life before becoming a steamboat pilot, silver miner, journalist and the quintessential American author Mark Twain (1835-1910). I also toured—and camped near—the caves of Clemens' youth, discovered in 1819 and featured in both "The Adventures of Tom Sawyer" and "The Adventures of Huckleberry Finn."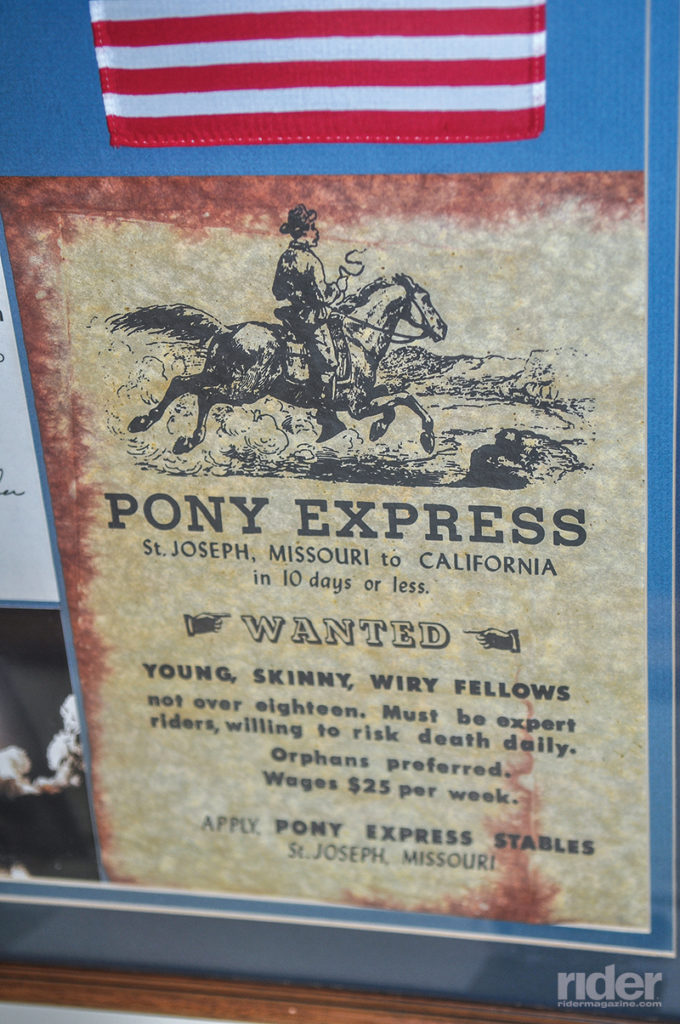 In the morning, under a brilliant sun, I noticed how the humidity had increased as I moved farther east. I was grateful for every single vent in my black helmet and jacket. The Great River Road led me along the flat floodplain between the Mississippi River on my left and the abruptly steep, tree-covered hills on my right. Arriving in St. Louis, I visited the Ulysses S. Grant National Historic Site. However, I needed to press on to make it home in time for a wedding—I had a commitment to my daughter (and a reporter in Red Cloud!).
As I set my sights on the Canadian border, I began to reflect on my journey. On the less traveled back roads, I had discovered beauty and inspiration where I'd thought there was none. At the many historic (and even touristy) sites, I witnessed the highs and lows of human endeavour and of human nature. And I came away with a genuine appreciation for the American Midwest's landscape and the people it has engendered.