It might seem incongruous to use a modern motorcycle, with fuel injection and ABS, to explore a canal built almost 200 years ago to move people and freight on the water in vessels powered by mules or horses, but that's exactly what I did. And it made for an enjoyable trip, matching good roads with pleasant scenery and some history.
Congress approved Ohio's boundaries and constitution in 1803, and the next year legislators began discussing how best to exploit the riches of the Buckeye State. In 1820, they chose a canal system and in 1825, work started on the Miami Canal, to tie Cincinnati on the Ohio River with Dayton to the north, and eventually with Toledo on Lake Erie. Renamed the Miami-Erie Canal when the final leg was opened in 1845, the canal carried goods from Ohio's interior to eastern ports via Lake Erie and New York's Erie Canal.
A series of floods, neglected canal maintenance and the coming of the railroads led to the canal's demise in the early 1900s. A 1927 ceremony marked the waterway's end just 30 years before I got into motorcycling in 1957. However, much of the infrastructure—locks used to raise and lower boats, aqueducts to carry the canal over creeks and rivers, and parts of the canal trough itself—still exists today, and seeing those features led me on this cross-state canal odyssey.
At the northern end, the first visible parts are in Maumee, a Toledo suburb. The Maumee Sidecut provides passage down a steep slope 63 feet to the river itself and a lock has been preserved at the Side Cut Metropark.
From Maumee, I headed southwest via the old U.S. Route 24 toward Defiance, where the canal route turns south on its way to the Ohio River. The highway is a delight to ride. It follows the winding Maumee River, resplendent with tree-lined sweeping curves, attractive vistas and ample pull-off points from which to view both canal remnants and vistas of the river, designated an Ohio Scenic River.
In November 2012, a bypass rerouted U.S. 24 on a straighter four-lane highway from Toledo to Fort Wayne, Indiana, and the old route was repaved, turned over to the various counties and renamed: it's known as River Road in Lucas County, County Road 424 in both Henry and Defiance counties, and Riverview Avenue through the city of Napoleon. It is curvy, well paved and very lightly traveled—a motorcyclist's nirvana. Stops along the route reveal a number of remnants of the canal, which ran parallel to the north shore of the river. Much of the original U.S. 24 was built on the former canal bed.
At Grand Rapids, about 10 miles from Maumee, parts of the canal and a canal-powered sawmill and gristmill have been restored. At Independence Dam State Park, about 45 miles southwest via the curvy River Road, is another lock, part of the canal bed and a dam built to provide slack water to allow canal boats to cross the river.
A pleasant diversion from River Road is to head west from Waterville (between Maumee and Grand Rapids) via State Route 64 to the village of Whitehouse, then west along the Archbold-Whitehouse Road about 15 miles to Township Road AC, a.k.a Adams Ridge Road. This road, while mostly flat, nevertheless contains a number of both sweeping and sharp curves as it follows the shore of a prehistoric lake carved by glaciers to Independence Dam. About 16 miles south of Defiance on State Route 66 is Delphos, home of the Delphos Canal Commission Museum, with the partially rotted framework of a canal boat unearthed in 1987.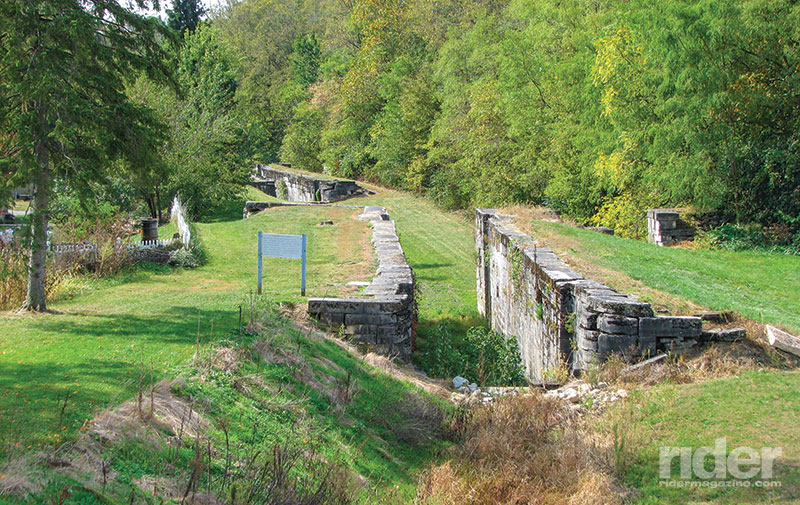 Along State Route 66, historical markers alert you to many canal features. One of the most fascinating is the titillating Bloody Bridge south of Spencerville, about 30 miles from Defiance. One night in 1854, the bridge was the scene of a lovers' triangle that culminated in the bloody beheading of one man by the other and the death of the woman who was the object of their desire.
Another 10 miles along curvy State Route 66 is St. Mary's, site of a preserved canal section complete with a restored canal boat. A side trip west on State Route 703 leads to the bulkhead and dam forming Grand Lake St. Mary's, one of several reservoirs built to provide water for the canal. A state park on the lakeshore is a good spot to park the bike and enjoy a nap, a restful picnic or an overnight camp.
Continuing southbound, stops at New Bremen, Lake Loramie, Lockington and Piqua reveal various locks and other canal structures, all noted on roadside markers. State Route 66 between Delphos and Piqua, some 50 miles long and designated the Miami and Erie Canal Heritage Corridor, is well worth the trip for scenery-starved Midwestern motorcyclists.
Continue on through Dayton to Lebanon, where there is a real historical gem worth any rider's time—the Golden Lamb Hotel. Papers establishing the canal system were signed here, and in 1871 there was an accidental shooting of a prominent attorney in one of the rooms. Lebanon is a reasonable day's ride from the canal's northern end, especially with stops to see the various artifacts, and would be a welcome spot to spend the night. The inn has a fine restaurant, and Ben Toney, the assistant general manager, welcomes motorcyclists.
If you want to traverse the entire canal route in one day, riding another 50 or so miles takes you to Cincinnati's Sawyer Point Park at the southern terminus of the canal on the Ohio River. There's a scale replica of a canal lock on display and a profile diagram of the canal.
While western Ohio's mostly flat topography lacks some of the scenery available to riders on more exotic mountain or seaside routes, it nevertheless proves that interesting, enthralling trips are available to every motorcyclist willing to search them out.