As you've almost certainly read on our website or in Kickstarts in the November 2016 issue, for 2017 Harley-Davidson has launched an all-new engine platform. Called the Milwaukee-Eight—a name that pays homage to its birthplace and its number of valves—it's the ninth generation of Harley's Big Twin, superseding the Twin Cam 88 engine that debuted way back in 1998 in 1999 models. The 88-cubic-inch Twin Cam has been refined and improved over the years, its displacement ultimately growing to 103ci and 110ci, depending on the model, and it continues to power more than a dozen models in Harley's lineup.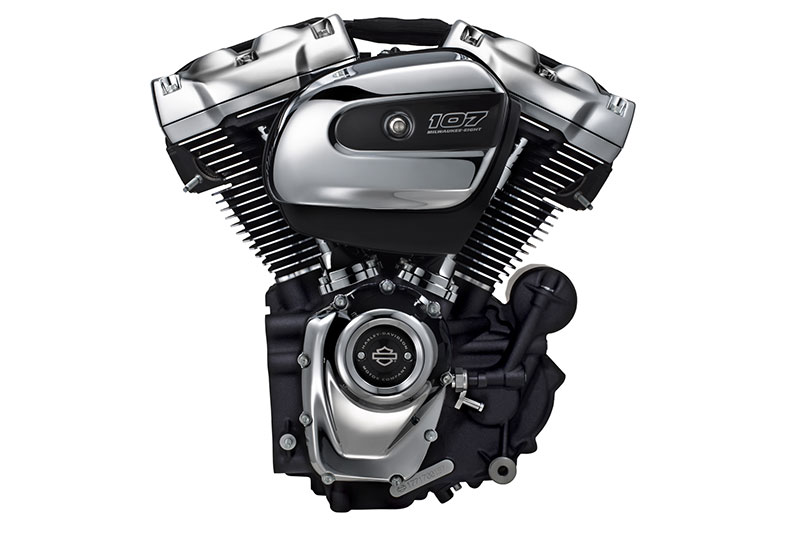 For now, the Milwaukee-Eight powers all Touring and Trike models, in two displacements and three variations: a 107ci (1,750cc) version with oil-cooled cylinder heads for models without fairing lowers, such as the Street Glide, Road Glide, Electric Glide Ultra Classic, Road King and Freewheeler; a 107ci version with liquid-cooled cylinder heads for models with fairing lowers, such as the Ultra Limited, Road Glide Ultra and Tri Glide Ultra; and a 114ci (1,870cc) version with liquid-cooled cylinder heads for the CVO Limited and CVO Street Glide (the CVO Breakout is powered by the air-cooled Twin Cam 110B).
After spending two days riding more than 400 miles on several 2017 Touring models, with most of my seat time on the Street Glide, I can confidently say that the Milwaukee-Eight is a home run. And even though the new engine gets most of the attention, the new Showa suspension in all Touring (but not Trike) models is just as impressive. The development arc for the Touring line, which started with the new chassis for 2009 and continued through the Project Rushmore campaign, is now complete. Harley has always had the styling part nailed, but in recent years it has put its considerable engineering resources toward creating an integrated package, one that honors the past, embraces the future, offers more performance and makes the rider's and passenger's comfort, safety and enjoyment a top priority.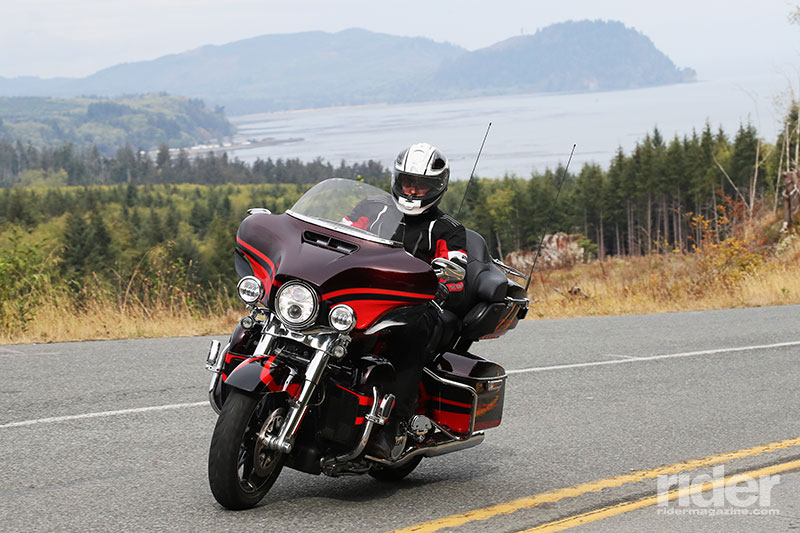 Harley-Davidson doesn't design an all-new engine very often, especially not a Big Twin that will come to dominate the company's lineup. There's a lot riding on the Milwaukee-Eight—the heavy burden of history, the strong expectations of core customers, the financial success of a multi-billion-dollar global company. Heading up such a project is a big responsibility, and the job fell to Alex Bozmoski, Chief Powertrain Engineer, a 34-year Motor Company veteran. Bozmoski isn't the pencil-necked geek sort of engineer; he's old school, a big, affable guy who clearly doesn't mind getting his hands dirty. When Bozmoski introduced the Milwaukee-Eight to the press and spent two days getting grilled with questions, he took it all in stride. Sitting next to him at dinner on the final night of the launch, clearly buoyed by the positive feedback he'd gotten from nitpicky journalists, he said, "It was exciting to work on a clean-sheet design." In addition to meeting design, budget and scheduling targets, a big part of his job was to make sure the entire team worked together rather than isolated in silos. No one was allowed to "hurry up" to finalize a particular component or system and "let the cement dry," forcing everyone else to adapt to something that couldn't be changed. "No one was done until we were all done," he said.
As with Project Rushmore, customer research established the design criteria for the Milwaukee-Eight. Keeping the faithful happy while also attracting new customers and meeting ever more stringent emissions and sound regulations (the new engine is Euro4 compliant, for example) is like aiming at multiple moving targets. With a global customer base and serious competition from Indian, Victory, Yamaha and others, Harley-Davidson can't be complacent. Customers wanted a new engine that has more power, runs cooler, vibrates less at idle and is narrower between the legs, yet still has the iconic look, sound and feel for which Harley is known.
Certain features of the new engine were set in stone before the project began. Historical precedent required it to be a 45-degree V-twin with air-cooled fins and pushrods. It had to have the characteristic rumble and potato-potato exhaust note. It had to make stump-pulling torque as soon as the throttle was cracked open. And it had to look "right." As one customer put it, the new engine should be instantly recognizable as a Harley Big Twin from 100 feet away, but look new and unique from 10 feet away.
Compared to the Twin Cam 103, the Milwaukee-Eight 107 gets its 4 extra cubic inches from a larger bore (100mm vs. 98.4mm) but retains the same 111.1mm stroke. Both have pushrod-operated overhead valves with hydraulic, self-adjusting lifters, but the 107 has four valves per cylinder instead of two, giving the new engine 50 percent more intake and exhaust flow capacity. Also, instead of the Twin Cam's dual camshafts, the Milwaukee-Eight has a single, chain-driven camshaft that's lighter, quieter, less complex and reduces friction. The compression ratio has been bumped up from 9.7:1 to 10:1.
Read our 2017 Harley-Davidson Street Glide road test review
Harley claims the new 107 makes 111 lb-ft of torque at the crank at 3,250 rpm, compared to 105 lb-ft for the 103, with more torque across the board. Bikes with the new engine are said to be quicker off the line (up to 11 percent faster at 0-60 mph) and in top-gear roll-ons (up to 12 percent faster at 60-80 mph). My seat-of-the-pants dyno backs up these claims. With minimal driveline lash and throttle-by-wire calibration that gives a very direct connection between the right grip and the rear wheel, twisting the throttle on any of the Touring models I rode made them leap forward with authority. There's a deep well of grunt to draw from, and I was surprised to have the back tire break loose when I goosed the throttle on wet roads. And the 110 in the CVOs? Pure hot rod, a real beast!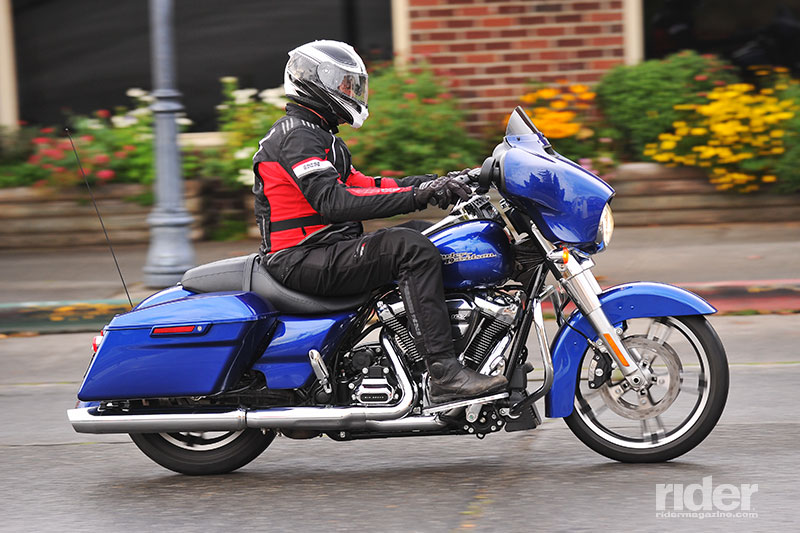 A new counterbalancer reduces vibration at idle by 75 percent, which Bozmoski said was a "sweet spot"—enough vibration to have character and keep core customers happy but not so much as to be unpleasant and turn new customers off. The Milwaukee-Eight is still rubber-mounted, which quells vibes throughout the operating range. Less vibration is all good in my book, and it gives the engine a nicely refined feel. At one point during the ride we were held up by a construction delay, and I sat there idling next to the leader at the front of the line. I was on a 2017 Street Glide with the oil-cooled Milwaukee-Eight 107, which rumbled along in a mellow fashion. He was on a 2016 Street Glide with the Twin Cam 103, which bounced around in the frame like a Mexican jumping bean. His mirrors were aflutter and the jiggling smartphone attached to his handlebar seemed determined to break loose from its mount.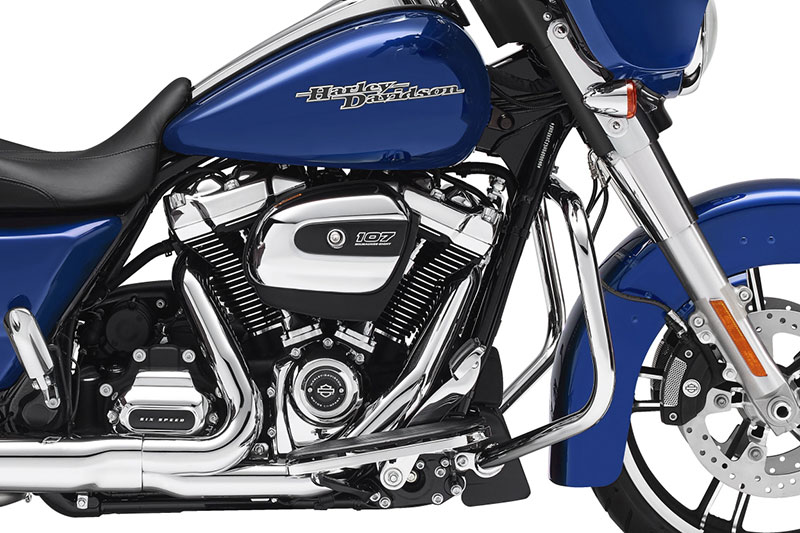 Reducing heat and improving fuel economy were major design criteria for the Milwaukee-Eight. According to Bozmoski, a major factor in reducing heat was more precise engine management, which prevents the creation of heat in the first place. New anti-knock sensors on each cylinder allow the ignition timing to stay right on the edge of detonation, providing the most power and best fuel efficiency. Lowering idle speed to 850 rpm also reduced heat and noise. Improvements to airflow and combustion, including using dual spark plugs for each cylinder, and precision oil or liquid cooling of the cylinder heads as well as repositioning the rear exhaust pipe and relocating the catalytic converter further reduced heat. Weather during our test ride around Washington's Olympic Peninsula was cool and overcast with a fair amount of rain, so the conditions were not ideal for getting a feel for the improvements in heat management. And Harley doesn't make any mile-per-gallon claims for the Milwaukee-Eight, but says total range is as good or better than with the Twin Cam.
Other improvements include lighter valves, optimized cover designs, driveline improvements and an anti-backlash gear in the transmission, all of which reduce mechanical noise and allow the rider to enjoy more of the rumbling exhaust note. To compensate for the lower idle speed, a new charging system provides 50 percent more output to the battery at idle, which also helps power accessory lights, audio, heated gear, etc. Slimmer primary and air cleaner covers reduce the bulk of the engine between the rider's legs, which helps those with shorter inseams feel more comfortable and more easily get their feet on the ground at stops. And redesigned covers for the rockers and air cleaner gives the new engine a more modern look.
As mentioned above, the Milwaukee-Eight is clearly the star of the show for 2017, but the all-new Touring suspension deserves a nomination for best supporting role. The new 49mm non-adjustable Showa Dual Bending Valve fork provides the linear damping performance of a cartridge-style fork but at a lower weight. And the new emulsion rear shock, also made by Showa, features a larger piston as well as a "set and forget" remote preload adjuster that provides 15-30 percent more range, depending on the model. Improvements in suspension performance allowed Harley to recalibrate the ABS system for more sensitivity since the wheels stay in better contact with the road. Even though suspension travel is unchanged—on the Street Glide there's 4.6 inches in front, 2.1 inches out back—the difference in ride quality is dramatic. When we last tested a Street Glide Special in 2014, we said, "the rear suspension beats you up on a bumpy road regardless of the [preload] setting." We maintained a pretty fast pace on the 2017 Touring bikes, and I hammered the Street Glide over rough pavement, dips and technical corners. It always felt planted, with good suspension compliance front and rear and never wallowed or transmitted big hits to my lower spine.
All of the Project Rushmore improvements return for 2017, such as the Reflex Linked ABS brakes, One-Touch latches, Splitstream vents and more. And all of the Touring models are equipped with the hydraulically actuated Assist & Slip clutch, which is said to be lighter and the lever and provide more positive engagement, but my clutch hand still got a workout when we were stuck in bumper-to-bumper traffic. Truthfully, I struggled to find much to complain about. It seemed more difficult to find neutral at a stop, but other than that, the new Milwaukee-Eight and the new Showa suspension make the 2017 Touring and CVO line some of the best motorcycles ever to come out of Milwaukee.
2017 Harley-Davidson Street Glide Specs
Base Price: $20,999
Website: harley-davidson.com
Engine Type: Air/oil-cooled, transverse 45-degree V-twin, OHV, 4 valves per cyl.
Displacement: 1,746cc
Bore x Stroke: 100.0 x 111.1mm
Transmission: 6-speed, hydraulically actuated assist-and-slipper clutch
Final Drive: Belt
Wheelbase: 64.0 in.
Rake/Trail: 26 degrees/6.8 in.
Seat Height: 27.0 in.
Claimed Wet Weight: 830 lbs.
Fuel Capacity: 6 gals.
MPG: NA
Watch our video interview with Paul James, Director of Motorcycle Product Planning at Harley-Davidson: