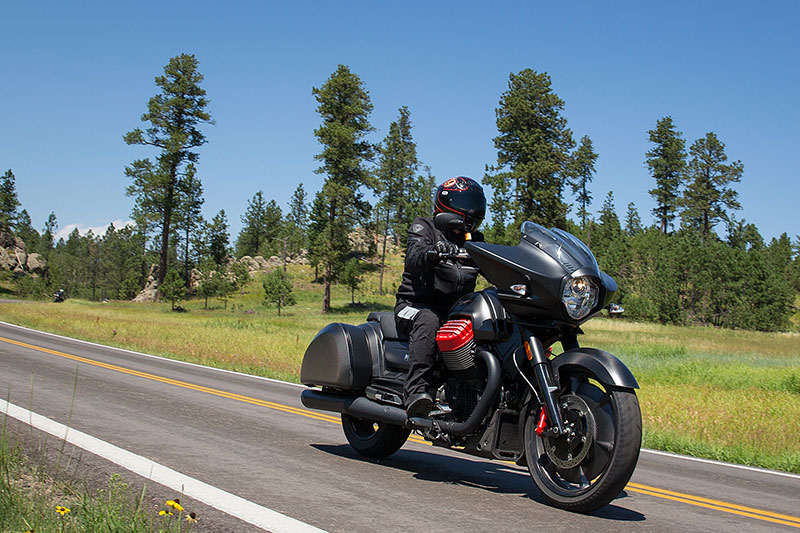 An endless crackling of unmuffled pipes fills the air, and the bitter stench of abused clutches is unmistakable. If it's early August in the Black Hills of South Dakota, then this must be Sturgis—and the onslaught of tens of thousands of baggers into this most American of bike rallies.
This year, there's a new player vying for a place in that V-twin-biased motorcycle segment—Moto Guzzi is officially appearing for the first time at the 76th Sturgis Motorcycle Rally. And the Italians have come to the party with a secret weapon: the new MGX-21 Flying Fortress bagger.
Crashing the seemingly monolithic North American cruiser market can seem like a Sisyphean task to outsiders, but Guzzi made significant inroads with its excellent California series, introduced in 2013. Then, at the 2014 EICMA show, Moto Guzzi rolled out a real eye catcher, the concept MGX-21. It was big, black and ostentatious, and people loved it, but nobody—including Moto Guzzi designers—thought it would ever see the light of a production line.
Read our Moto Guzzi California 1400 Touring road test review
Two years and many focus groups later, the new-for-2017 Flying Fortress is alive and well and in production (and in dealers now). The Moto Guzzi MGX-21 is powered by the same 90-degree transverse-mounted engine seen in the California 1400, with 104mm bore and 81.2mm stroke, keeping the 90-degree V-twin's displacement at 1,380cc. Guzzi claims 95 horsepower at 6,500 rpm and 89 lb-ft of torque at 3,000 rpm, tamed by a throttle-by-wire system with three modes, as well as switchable traction control, ABS and electronic cruise control. The cylinder heads jut out from the sides, while the crankshaft runs lengthwise, so you still get that familiar crankshaft rotation rocking the chassis at stops, with the bike leaning right as you throttle up, and the powerful pulses of the two big pistons reminding you they're lurking just up front.
You'll also find Guzzi's unique "elastokinematic" engine mounting system, the better to quell the MGX-21's requisite vibrations when on the throttle. The new blacked-out exhaust system is slightly different, with longer silencers to meet tighter new EU4 standards, yet it still puts out an impressive bark.
Surprisingly, the production model otherwise stays fairly true to the concept, with extensive carbon fiber bits mostly in the form of covers on the saddlebags and tank panels, front fender and case covers. Designers elected to ditch the solid-disc front wheel and flesh out the previously enclosed rear section, which morphed into something more practical: saddlebags. True, they're super-stylish, rigid saddlebags, but they provide 58 liters of functional cargo space nonetheless. (They're also removable, if you like). The MGX-21 also gained a 50-watt AM/FM audio system with smartphone/USB/SD inputs, because, say Guzzi reps, that's what many consumers around the country expressed great interest in.
To hear chief designer Miguel Galuzzi tell it, the MGX was always meant to be the first of the bikes in the California series. "When we were thinking of the California platform, it was always supposed to be many different bikes. The California was a traditional style and design. With the MGX, it really let us try something new and different."
Just how different? Well, the overall silhouette of the MGX doesn't look even remotely familiar, with its sleek sculpted lines (high in front, low in back) and carbon-fiber components. Even the alloy front wheel is covered with lenticular carbon covers. Out front is a distinctive batwing-style fairing with a short screen that bears absolutely no resemblance to a Street Glide. There's also a visually slick headlight cluster using bright LED daytime-running-light technology.
There's no escaping that big 21-inch front wheel, so Guzzi employed some technological wizardry in the form of a spring-loaded damper located behind the fork to help counterbalance the inevitable fork flop that comes from carrying all that extra weight. Finally, Guzzi tweaked the frame with beefier steel tubes and reinforced it out back to better suit the long-legged intent of the MGX-21.
Also distinct from its bagged American brethren is the lack of floorboards; the MGX sports midmount pegs for a more commanding seating position and greater lean angle. In fact, for such an extreme-looking machine, I found the Fortress' riding position surprisingly comfortable. Stretch a bit to reach the somewhat high handlebars, and settle onto the slightly forward footpegs and dished saddle for a neutral seating position that's comfortable for up to an hour or so. The two-piece saddle has a separate passenger pillion that's easily removed, too.
This bike isn't just about pumping out tunes and hauling luggage. Even with all the electronic doodads, performance is a hoot on the MGX-21. True, hustling the new Moto Guzzi around Mount Rushmore's Black Hills isn't a point-and-shoot affair at first. The initial turns force you to confront the elephant along for the ride—that 21-inch front wheel—and you'll need an extra helping of muscle to set the Flying Fortress onto its first line. Then just roll on the throttle and the prodigious torque easily pulls bike and rider through the tight pigtails on Iron Mountain Road, all that weight melting away. On the straights of Interstate 90, it was easy to open it up, with throttle response immediate (but not snappy) and very linear. The MGX somehow feels more midrange-biased than other Californias I've ridden, but the Magneti-Marelli electronically controlled fueling is predictable and smooth, even in Veloce (Sport) mode, which I used on several spirited sections. Even the cruise control, which uses a single button and single indicator, is simple elegance. Press the button and hold for on or off, then press the same button to set it. That's all there is to it.
The steel-tubed chassis soaks up road warts without complaint, the beefy 45mm fork offering 4.2 inches of travel and preload-adjustable shock out back providing 3 inches of give. Guzzi engineers nailed the settings out of the box, with a nice balance of comfort and performance. The slick-shifting 6-speed transmission is fairly smooth and engages easily, and the more you ride this new bagger, the more your confidence grows and the more fun your cruise becomes. Lean angle is far more generous than you'd expect, especially compared to the competition. Couple that with superior braking performance from the dual front discs and radial-mounted four-piston Brembo calipers with ABS, and after about 20 minutes, any performance anxiety I might have had completely vanished.
But even with clean lines and a couple of choice carbon fiber bits, any motorcycle called the Flying Fortress shouldn't be expected to be altogether nimble, and on that count, the MGX-21 doesn't disappoint. This is a bomber of a bike, heavy off the sidestand, 40 inches wide and tipping the scale at 752 pounds, and it can be a handful at parking lot speeds, especially at the front end.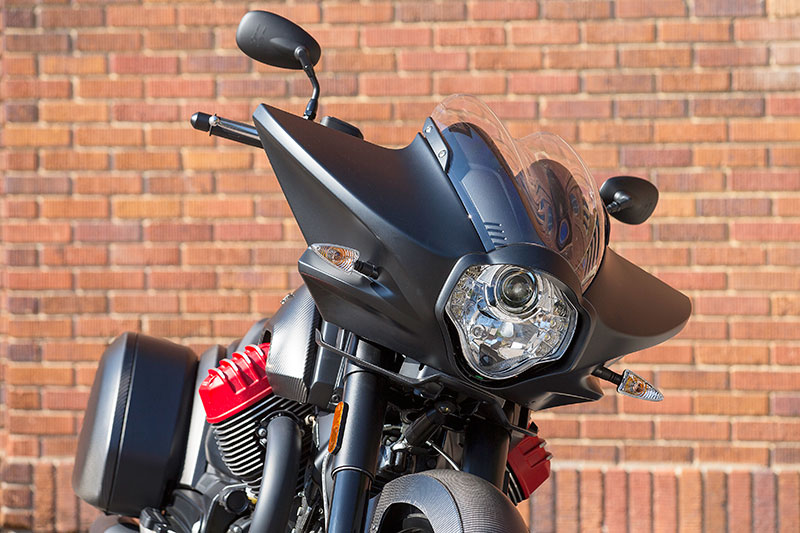 There's no denying, however, that Guzzi's new Flying Fortress is a unique entry into an established category. Its visual presence is arresting, and fit and finish are excellent, but what really makes this bagger twin stand out is its better-than-expected fun factor.
Among the available accessories Guzzi announced, add-ons include the Flyscreen XL, which offers better wind protection, and a Sports Exhaust, which gives the exhaust a throatier bark. You can also pimp your ride with rider floorboards, cylinder head protection, a rear rack and various accessory seats.
At $21,990 the MGX-21 isn't cheap, but it's in line with most American V-twin baggers. And it's got arguably better handling, with a smoother transmission and, most definitely, grippier brakes. This is a case where Guzzi's traditional charm is likely to be overshadowed by useful electronics, and a profile that's second to none on the boulevard. But if you don't want a me-too bike, that's OK, right?
2017 Moto Guzzi MGX-21 Specs
Base Price: $21,990
Website: motoguzzi-us.com
Engine Type: Air and oil-cooled, transverse 90-degree V-twin, 4 valves per cyl.
Displacement: 1,380cc
Bore x Stroke: 104.0 x 81.2mm
Transmission: 6-speed, hydraulically actuated dry clutch
Final Drive: Shaft
Wheelbase: 66.9 in.
Rake/Trail: 32 degrees/7.4 in.
Seat Height: 29.1 in.
Claimed Wet Weight: 752 lbs.
Fuel Capacity: 5.4 gals.
MPG: NA