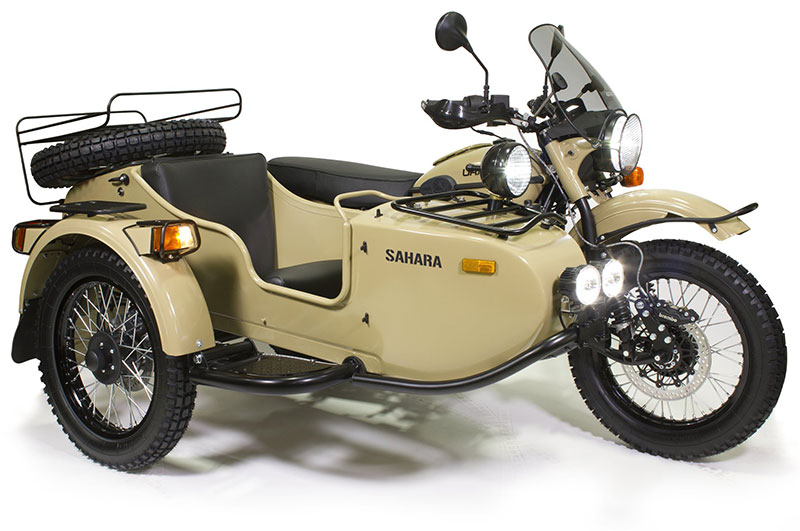 If you haven't ridden, er, driven, um, piloted a Ural sidecar rig in the last couple years, you might be surprised by how far they've come. For 2014 the Irbit, Siberia-based company brought the rugged but stone-simple machines into the 21st century with electronic fuel injection, Brembo disc brakes on all three wheels and some engine intake mods that bump horsepower from a claimed 40 to—hope you're sitting down—41. All kidding aside, the air-cooled, 749cc OHV opposed twin got a decent torque increase too, from 38 lb-ft to 42, and we found it to be quite tractable in our last road test. There's a new 16-position steering damper that improves handling, a new front engine cover with a standard spin-on oil filter, a new weather-tight wiring harness with an electronic service port and a redesigned instrument panel. The leading-link fork and triple clamps are stronger, and the machines have new kneepads and badging.
Read our review of the 2014 Ural Gear-Up
Today's Urals really do work much better, well enough that even those of us with most of our brain cells intact might consider taking one on a cross-country or even 'round-the-world adventure. It might take a while, but these rigs can conquer most everything…eventually. Especially the Gear-Up models with engage-able sidecar wheel drive, which Ural is offering in a special new limited edition called the Sahara. It has 2.3 cubic feet of trunk space, racks for loading up gear and groceries and a reverse gear for city parking. The on-demand 2WD gets it through dirt, gravel, mud, sleet, snow or dark of night, and there's a spare tire, luggage rack, sidecar accessories panel for charging devices, utility shovel, a sidecar spotlight and sidecar Cordura tonneau cover. The Sahara starts at $17,999.
For more information, visit imz-ural.com.