Honda may be late to the adventure-bike party, but it has shown up in a big way for 2016 with two new models, the VFR1200X, a 1,237cc V4-powered, shaft-driven, street-biased tourer that's been available in Europe for several years, and the CRF1000L Africa Twin, an all-new, off-road-ready machine powered by a snappy 998cc parallel twin, which is a reboot of a legendary dual-sport that never made it to the U.S.
Back in the late '80s, inspired by its success in the grueling Paris-Dakar Rally that Honda won four years running with its NXR750V prototype desert racer, the company decided to build a replica for production. When chief designer Tomonori Mogi and his team developed the original XRV650 Africa Twin, their goal was to build a dual-sport "capable of crossing the Alps and the Mediterranean, riding into the heart of the African continent." Built from 1988-2003, the Africa Twin, which featured rally-style bodywork and a massive, wraparound skid plate and grew to 742cc for 1990, became renown for its rugged versatility and bulletproof reliability.
That the latest Africa Twin shares the "CRF" model designation with Honda's line of off-road bikes makes clear that, like its predecessor, it was designed to be just as capable off the pavement as on it. It shares DNA with Honda's Dakar competition bike, the CRF450R Rally, with a stout semi-double cradle frame and 21-inch front/18-inch rear wheels (compatible with a wide range of off-road tires) with spoked aluminum rims and tube-type tires. It has extra-long suspension travel (9.1 inches front, 8.7 inches rear) to soak up big bumps and nearly 10 inches of ground clearance to clear rocks, logs and other obstacles.
During the Africa Twin's world press launch in South Africa's Great Karoo, a semi-desert region flanked by craggy mountains, it proved to be a highly capable and well-rounded machine. We covered 220 miles, about a quarter of which were off-road, and we split our time evenly between the standard model, which has a 6-speed manual transmission with an assist-and-slipper clutch, and the DCT model, which has a Dual Clutch Transmission with automatic and manual modes.
Watch our video review of the 2016 Honda CRF1000L Africa Twin here.
The CRF1000L looks like a big rally bike, ready to chase the horizon at full throttle, trailed by a cloud of dust. Its wide, flat seat is a lofty 34.3 inches above the ground (or 33.5 inches in the low position; the accessory low seat is 33.1/32.3 inches), with plenty of room to move around and firm, supportive foam. For my tall frame the seating position was nearly ideal: slim between the knees, generous legroom and a modest reach to the bars when sitting or standing. The small windscreen isn't adjustable, but it punches a good-sized hole in the air and small cutouts reduce turbulence in the cockpit. Wind-blocking hand guards, a small skid plate and a rear rack are standard, but for heated grips, a centerstand, 12V socket and other farkles you'll need to consult the accessory catalog. Hard-sided 30- and 40-liter saddlebags and a 38-liter topbox will also be available.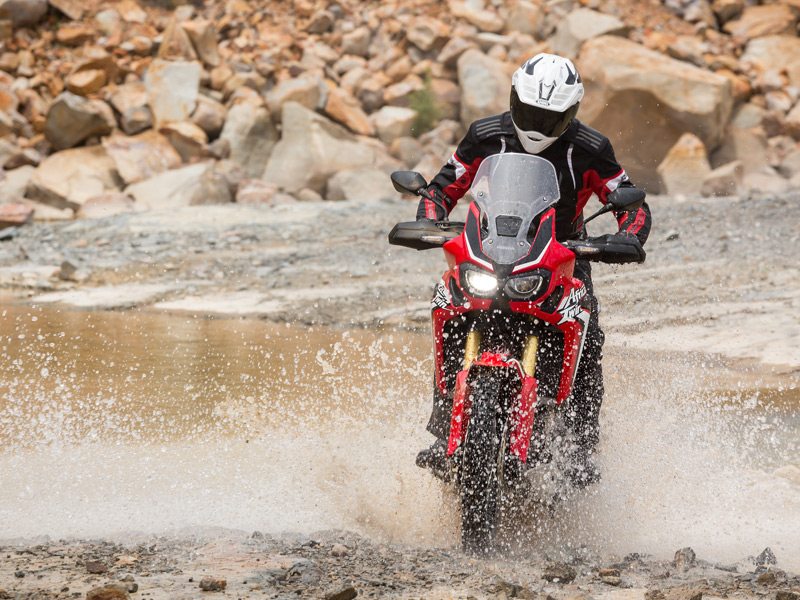 Although comfort is important, Honda really set the hook with the Africa Twin's engine. Its unique three-chamber, dual-outlet exhaust emits the booming brraaap of a big dirt bike that has grown richer and more mature with time, like barrel-aged bourbon. A 270-degree crank with irregular firing intervals gives a pronounced pulse feel to the liquid-cooled parallel twin, while dual balance shafts eliminate unwanted vibration. American Honda doesn't provide engine output, but the European-spec machine puts out 94 horsepower at 7,500 rpm and 73 lb-ft of torque at 6,000 rpm (claimed), slightly below that of the Suzuki V-Strom 1000. Throttle response is spot-on, power delivery is smooth and linear, and the torque curve is wide and flat. What really impressed me was how this all-new engine blends pulling-at-the-leash eagerness with robust character and overall refinement. There's nothing boring or bland or harsh about the Africa Twin. There's no throttle-by-wire either, which means no riding modes or electronic cruise control. But the CRF1000L does have Honda Selectable Torque Control (HSTC, aka traction control), which is easily adjusted among three levels or turned off via trigger button on the left handlebar.
In addition to its performance parameters, Honda went to great lengths to make the engine light and compact. A parallel twin is a dimensionally efficient configuration, and canting the cylinders slightly forward frees up space behind the cylinder head, which is where the battery and ABS unit are located. Honda used the same space-saving four-valves-per-cylinder SOHC Unicam head design found on its CRF250R/450R competition bikes, with a lightweight camshaft. Other engineering tricks include housing the water pump inside the clutch casing, using the same balance shaft to drive the water and oil pumps, and storing oil and locating the pressure-fed pump in the lower crankcase. Chain final drive reduces both weight and driveline losses, but requires regular maintenance.
Honda designed the Africa Twin's steel frame to be strong enough to withstand off-road abuse but also flexible enough to provide agile handling. I was able to negotiate the tight, technical pavement of Bainskloof Pass as well as rutted desert two-track with ease. Whether bombing down long asphalt straights at top speed or jumping whoops off-road, the Africa Twin also felt rock solid and well balanced, thanks in part to its 49.1/50.9 weight distribution. Fully adjustable Showa suspension is nicely calibrated for both street and off-road conditions, and the Nissin brakes—dual 4-piston radial calipers in front and a single 2-piston caliper out back—are powerful and offer subtle feel for precise modulation. ABS is standard, and a button on the dash turns it off at the rear wheel for off-road riding.
For those considering the Africa Twin, the big fork in the road is whether to choose the manual transmission (MT) model or the DCT model, especially since the latter adds $700 to the price and 23 pounds to the curb weight (Honda claims 511 pounds for the MT model and 534 pounds for the DCT). The MT is what comes most natural to most of us, and the 6-speed transmission, which uses the same shift cam design as Honda's CRF motocrossers, delivers quick, flawless shifts—it's one the best gearboxes I've ever used.
The DCT model, in lieu of clutch and shift levers, has up/down shift buttons on the left handlebar and buttons on the right handlebar for selecting automatic vs. manual shifting and among the four automatic modes: D (Drive) mode upshifts early to maximize fuel efficiency, while the three Sport (S1, S2 and S3) modes hold gears progressively longer to maximize performance. The CRF1000L also has a G (Gravel) switch, which eliminates the built-in clutch slip during gear changes to provide a more direct drive during off-road riding, as well as incline detection, which delays upshifts during ascents to maintain higher rpm and downshifts earlier during descents for more engine braking. Honda's DCT is an engineering marvel that has been steadily improved since its debut on the 2010 VFR1200F and it works very well on the street.
Off-road, however, I have some reservations about the DCT. During technical riding, such as slow, tricky hill climbs or weaving around obstacles, not being able to manually feather the clutch is problematic. Also, in the automatic modes gear changes can happen unexpectedly, which is less than ideal in low-traction situations. On the other hand, executing quick, pushbutton shifts in manual mode was a boon. And, no matter what, you can't stall a DCT bike since it automatically shifts into neutral when you come to a stop. With more off-road miles I'd probably adapt to the DCT, so I'll withhold final judgment until we can do a more thorough test.
Overall, Honda hit the mark with the Africa Twin's design, fit and finish. It feels cohesive and well sorted, a motorcycle with the sort of refinement for which Honda is known. Everything, from the layout of the hand controls to the digital instrumentation and LED lights, is clean, modern and uncluttered. And there are sensible details like cleated footpegs with removable rubber inserts and a wide kickstand foot that's less likely to sink into soft ground.
Honda says the Africa Twin strikes a "high-level balance" between off-road performance and touring capability. It certainly has the off-road part nailed, but we'll need to put more miles on it back home, particularly with luggage and a passenger, to assess its long-distance chops. The 4.96-gallon tank is supposed to be good for 250 miles of range, but we rarely see 50 mpg on liter-class bikes in real-world testing. Though modernized with more power and features, the new Africa Twin remains true to its dual-sport roots. It will appeal most to adventure riders who put a high priority on dirt-worthiness, who won't mind its tall seat, its lack of cruise control or having to deal with tube-type tires (though a standard centerstand would make repairs much easier). And what they'll get is a versatile, well-built motorcycle for a reasonable price—$12,999 for the standard model or $13,699 with DCT.
2016 Honda CRF1000L Africa Twin Specs
Base Price: $12,999 ($13,699 w/ DCT)
Warranty: 1 yr., unltd. miles
Website: powersports.honda.com
Engine
Type: Liquid-cooled, transverse parallel twin
Displacement: 998cc
Bore x Stroke: 92.0 x 75.1mm
Compression Ratio: 10.0:1
Valve Train: SOHC, 4 valves per cyl.
Valve Insp. Interval: 16,000 miles
Fuel Delivery: PGM-FI
Lubrication System: Semi-dry sump, 4.3-qt. cap. (4.4-qt. cap.)
Transmission: 6-speed, cable-actuated wet slipper clutch (Dual Clutch Transmission w/ fully automatic modes & 6-speed manual mode)
Final Drive: O-ring chain
Electrical
Ignition: Fully transistorized
Charging Output: 490 watts max.
Battery: 12V 11.2AH
Chassis
Frame: Steel semi-double cradle w/ steel subframe & cast aluminum swingarm
Wheelbase: 62.0 in.
Rake/Trail: 27.5 degrees/4.4 in.
Seat Height: 33.5/34.3 in.
Suspension, Front: 45mm USD fork, fully adj., 9.1-in. travel
Rear: Single reservoir shock w/ Pro-Link, fully adj., 8.7-in. travel
Brakes, Front: Dual 310mm floating discs w/ 4-piston opposed radial calipers & ABS
Rear: Single 256mm disc with 2-piston caliper & ABS (plus parking brake on DCT model)
Wheels, Front: Spoked aluminum, 2.15 x 21 in.
Rear: Spoked aluminum, 4.00 x 18 in.
Tires, Front: 90/90-21, tube-type
Rear: 150/70-18, tube-type
Claimed Wet Weight: 511 lbs. (DCT 534 lbs.)
Load Capacity: NA
GVWR: NA
Performance
Fuel Capacity: 4.96 gals., last 1.0 gal. warning light on
MPG: 91 PON min. (high/avg/low) NA
Estimated Range: NA
Watch our video review of the 2016 Honda CRF1000L Africa Twin here.