Motorcycling is often compared to flying, since riders and pilots both enjoy a special blend of freedom, maneuverability and grace. But motorcycles and airplanes are often loud, with their engine and exhaust noises—for better or worse—dominating the sensory experience. I love the pulsing cadence of a V-twin or the high-pitched howl of an in-line four as much as the next guy, but I also appreciate moments of peace and quiet.
Hop on an electric motorcycle, twist the right grip and the first thing you'll notice is…nothing. With minimal vibration and just the sound of wind rushing past, the sensation of speed, the texture of the road and the dynamics of the machine become more pronounced. At first it felt strange, as if something was missing, but I quickly came to enjoy flying through the air like a soaring bird.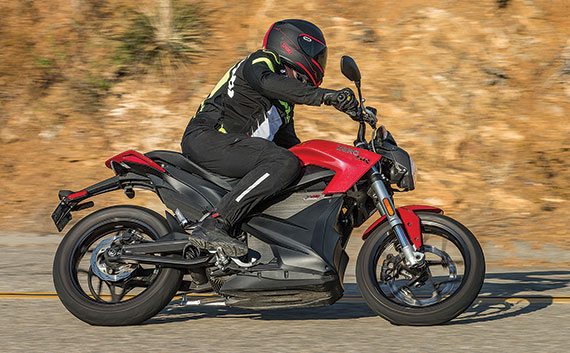 In the U.S., there are two dominant players in terms of production electric bikes. Zero has manufactured several street, dual-sport and off-road models since 2010. Polaris Industries, parent company of Indian and Victory and an investor in Brammo Inc. since 2011, bought Brammo's electric motorcycle business in January 2015. Brammo introduced the quirky-looking Enertia in 2009 (sold primarily through Best Buy electronics stores) and the sporty Empulse and Empulse R in 2012. In an effort to position Victory as its performance motorcycle brand—and, no doubt, to beat Harley-Davidson to the punch since its Project LiveWire electric bike has yet to enter production—Polaris gave Brammo's top-of-the-line Empulse R a light refresh, badged it as a Victory and renamed it the Empulse TT, in honor of Victory's third-place finish in the 2015 Isle of Man TT Zero electric bike race.
Compared to the Brammo version, the 2016 Victory Empulse TT has an upgraded lithium-ion battery with more capacity (11.4 kilowatt-hours, or kWh), lighter wheels, a narrower 160mm rear tire (down from 180mm), slightly restyled bodywork and a revised instrument panel. To convert its battery's stored energy into forward motion, the Victory uses a liquid-cooled, internal permanent-magnet AC brushless motor made by Parker that's rated at 54 horsepower and 61 lb-ft of torque and, to manage power delivery, a 550-amp SevCon Gen4 controller with regenerative deceleration, or "regen" (coasting and braking turns the motor into a generator that charges the battery). Although most electric motorcycles are direct drive with a single final-drive ratio, the Victory transfers power to its chain final drive via hydraulic clutch and a proprietary 6-speed transmission. Brammo incorporated a gearbox in the original Empulse because it felt that shifting was an integral part of the motorcycling experience, and it helps the bike reach its top speed of 100-plus mph. Use of the gearbox, with neutral located between second and third gears, is somewhat optional. The clutch is not required when pulling away from or coming to a stop, and you can start out in any gear and keep it there if you wish. A Victory representative compared the transmission to "a mechanical 'mode' switch in which the top speed of the bike is limited by the gear selected. Lower gears offer quicker acceleration, and the best gear for everyday riding without shifting is third." There is a tachometer, with peak efficiency between 4,500 and 6,500 rpm.
The Zero SR, which was introduced for 2014 as a high-performance version of the S (Street) model we've tested previously (September 2011, January 2014), is equipped with Zero's Z-Force lithium-ion battery with 12.5 kWh capacity, Z-Force 75-7R air-cooled, permanent high-temperature magnet AC brushless motor rated at 67 horsepower and 106 lb-ft of torque, and a 660-amp controller with regen. Our SR test bike also has the accessory Power Tank, a dealer-installed auxiliary battery that boosts capacity by 2.8 kWh, to 15.3, and accounts for 45 pounds of the SR's 456-pound, as-tested curb weight. The Zero has no transmission or clutch; power is sent directly via carbon-fiber-reinforced belt to a large-diameter sprocket on the rear wheel, with a claimed top speed of 102 mph.
In terms of size, weight and layout, the SR and the 472-pound Empulse TT are similar to other middleweight naked bikes such as Ducati's Monster 821 (which is rated at 112 horsepower and 66 lb-ft of torque). With a narrow, thinly padded, 31.5-inch seat that locks the rider in place, a longer reach to the handlebar and higher rear-set footpegs, the Victory has a more aggressive riding position and more cornering clearance than the Zero, which has neutral, upright ergonomics. The Zero's 31.8-inch seat has a supportive shape and good padding, and the lower, mid-mount pegs provide plenty of legroom, though it's easy to scrape your toes when leaned over.
Whereas previous Zero S models had rock-hard seats and budget components, the 2015 S and SR are more on par with gas-powered motorcycles, with fully adjustable Showa suspension with more than 6 inches of travel front and rear, disc brakes on both wheels with standard ABS and grippy Pirelli Diablo Rosso II tires. Likewise, the Empulse TT is fitted with fully adjustable Marzocchi/Sachs suspension with 4.7/5.4 inches of front/rear travel, triple-disc Brembo brakes (ABS is not available) and Continental SportAttack2 tires. Both bikes feel narrow between the knees and nimble in the corners, with aggressive steering geometry and short wheelbases (just 55.5 inches on the Zero, 58 on the Victory). With its Power Tank mounted where fuel would normally go, the Zero feels top-heavy and has a tendency to fall into corners. Although both bikes have regenerative coasting and braking, the effect isn't the same as traditional engine braking and takes some getting used to. Nonetheless, when riding these bikes, they respond and feel like other motorcycles but with less noise and vibration.
In road tests we often talk about power curves, throttle response and engine character. Unlike the variable powerbands of internal-combustion engines, electric motors generate maximum torque immediately and can maintain a high level of torque over their operating range. Electric bikes use motor controllers to dole out power gradually—the more you twist the "throttle," the more power you get and the faster you go. Both the Victory and Zero have very smooth and linear throttle response, with no peaks or dips. The Victory, however, is hampered by severe driveline lash, particularly at low speeds. Also, the Victory's transmission takes away a key advantage of an electric vehicle—the simplicity and lightness of direct drive—and replaces it with an unnecessary, heavy gearbox with notchy shifting and a stiff clutch.
| | |
| --- | --- |
| The Zero's air-cooled AC motor is much smaller than the battery pack (pictured), which takes up the space normally occupied by a gas-powered engine and transmission. | The Zero's air-cooled AC motor (pictured) is much smaller than the battery pack, which takes up the space normally occupied by a gas-powered engine and transmission. |
Even with the Power Tank installed, the Zero is 16 pounds lighter than the Victory and its motor generates much more horsepower and torque. In side-by-side acceleration tests, the Zero left the Victory in the dust. Although both claim a top speed in excess of 100 mph, the Zero's air-cooled motor limits the bike's sustained top speed. When the controller senses the motor approaching its maximum allowable operating temperature, it limits torque output and top speed. The Victory's liquid-cooled motor is less susceptible to spikes in temperature. Nonetheless, we found that running the bikes at sustained speeds above 70 mph quickly depleted their batteries—as much as 2 percent per mile on the Victory, which, at 11.4 kWh, has 25-percent less battery capacity than the Power Tank-equipped Zero.
That brings us to the three major challenges with electric bike ownership: range, recharge time and purchase price. Both bikes have acceleration-maximizing Sport and power-saving Eco modes, though in practice, during real-world riding like we'd subject any motorcycle to, the modes made little difference in range. What matters is how much you twist the right grip. We didn't achieve anything close to these bikes' claimed maximum range, which is 140 miles for the Victory and 185 miles for the Zero. Like measuring fuel economy, we diligently recorded battery usage and mileage, and in mixed riding we averaged 60 miles of range on the Victory (high of 81, low of 50) and 77 miles on the Zero (high of 121, low of 60).
| | |
| --- | --- |
| The Victory's J1772 connector plugs into a special socket in the "tank" that is compatible with Level 1 and Level 2 chargers. | The Zero's power cord plugs into a port in the frame, and can be coiled up and stored in the swingarm (black hole at right). |
When it comes time to recharge the batteries, both bikes can be plugged into standard 110V wall sockets. The Zero comes with a simple black power cord that weighs one pound, tucks conveniently into a tube in the swingarm and plugs into a socket in the frame above the left footpeg. Fully recharging the Power Tank-equipped SR requires 10.5 hours, which can be reduced to 6 hours with Zero's accessory 110V Quick Charger ($599.99; multiple Quick Chargers can reduce recharge time to just 2.8 hours). The Victory's "tank" has a special port that accepts a J1772 Level 1 charger that looks like a small hair dryer, which has a heavy-duty cord that connects to a control box and a cord that plugs into a 110V wall socket. To take it with you, the bulky, 5-pound charger must be carried in a backpack or tail bag; Victory will soon offer an accessory version so you can keep one at home and one at work (expect to pay around $400 for it). Recharge time is 8-9 hours, and for much of that time the bike's noisy cooling fan is running. A Level 2 charging station like you might find at the shopping mall and Victory's accessory 240V/Level 2 charger ($399.99) reduce recharge time to just under 4 hours.
Electric bikes have come a long way in the past few years in terms of performance, range and design, as both of these bikes demonstrate. The Victory Empulse TT has sportier styling and ergonomics and higher-spec components, but the Zero SR is the clear winner here. It's lighter, makes more horsepower and torque, is more comfortable, has smoother power delivery and more range, and comes with standard ABS. Zero also has a free smartphone app that connects to the bike via Bluetooth for tracking performance parameters and adjusting top speed, maximum torque and regen in Eco mode. With a base price of $15,995 and an as-tested price of $18,490 with the Power Tank (excluding dealer installation), the Zero also undercuts the Victory's $19,999 price tag. For 2016, Zero promises 10-percent more range, a new internal permanent magnet motor with better cooling and higher sustained speeds, and a Charge Tank accessory for use with Level 2 charging stations. The Victory falls short of the Zero for now, but we expect Polaris will put its significant financial and engineering muscle toward closing the gap.
| | |
| --- | --- |
| The Zero's LCD instrument panel shows speed, battery level, time, power mode, bar graphs for torque and regen, and trip/odo functions. | Analog tach shows peak efficiency in the green zone. LCD shows speed, gear position, battery level, range, recharge time and more. |
2016 Victory Empulse TT
Base Price: $19,999
Warranty: 5 yrs., 100,000 miles
Website: victorymotorcycles.com
Engine
Type: Water-cooled, internal permanent-magnet AC motor
Controller: 550-amp Sevcon Gen4 with regenerative deceleration
Battery: Brammo Power Lithium Ion
Max. Capacity: 11.4 kWh
Nominal Capacity: 10.4 kWh
Standard Charger Type: 3.6 kW
Input: Standard 110V or 220V
Transmission: 6-speed, hydraulically actuated wet clutch
Final Drive: O-ring chain
Chassis
Frame: Aluminum E-beam
Wheelbase: 58.0 in.
Rake/Trail: 24 degrees/3.8 in.
Seat Height: 31.5 in.
Suspension, Front: 43mm USD fork, fully adj. w/ 4.7-in. travel
Rear: Single shock, fully adj. w/ 5.4-in. travel
Brakes, Front: Dual 310mm discs w/ opposed 4-piston radial calipers
Rear: Single 220mm disc w/ 2-piston pin-slide caliper
Wheels, Front: Cast, 3.50 x 17 in.
Rear: Cast, 4.50 x 17 in.
Tires, Front: 120/70-ZR17
Rear: 160/60-ZR17
Weight: 472 lbs.
Load Capacity: 366 lbs.
GVWR: 838 lbs.
Performance
Claimed Peak Horsepower: 54
Claimed Peak Torque: 61 lb-ft
Claimed Top Speed: 100+ MPH
Claimed Range: 140 miles
Charging Time (110V): 8-9 hours
2015 Zero SR
Base Price: $15,995
Price As Tested: $18,490 (Power Tank excl. dealer installation)
Warranty: 5 yrs., 100,000 miles
Website: zeromotorcycles.com
Engine
Type: Z-Force 75-7 passively air-cooled, high
efficiency, radial flux, permanent high-temperature magnet, brushless motor
Controller: High efficiency, 660-amp, 3-phase brushless controller with regenerative deceleration
Battery: Z-Force Li-ion intelligent
Max. Capacity: 12.5 kWh (15.3 kWh with Power Tank, as tested)
Nominal Capacity: 11.0 kWh (13.5 kWh with Power Tank, as tested)
Standard Charger Type: 1.3 kW
Input: Standard 110V or 220V
Transmission: Clutchless direct drive
Final Drive: Belt
Chassis
Frame: Aluminum twin-spar
Wheelbase: 55.5 in.
Rake/Trail: 24 degrees/3.2 in.
Seat Height: 31.8 in.
Suspension, Front: 41mm USD fork, fully adj. w/ 6.25-in. travel
Rear: Single shock, fully adj. w/ 6.35-in. travel
Brakes, Front: Single 320mm disc w/ asymmetric 2-piston floating caliper & ABS
Rear: Single 240mm disc w/ 1-piston floating caliper & ABS
Wheels, Front: Cast, 3.00 x 17 in.
Rear: Cast, 3.50 x 17 in.
Tires, Front: 110/70-ZR17
Rear: 140/70-ZR17
Wet Weight: 456 lbs. (as tested)
Load Capacity: 320 lbs. (as tested)
GVWR: 776 lbs.
Performance
Claimed Peak Horsepower: 67
Claimed Peak Torque: 106 lb-ft
Claimed Top Speed: 102 MPH
Claimed Range: 185 miles (as tested)
Charging Time (110V): 10.5 hours (as tested)
| | |
| --- | --- |
| The Zero's single front disc is squeezed by a 2-piston J.Juan caliper that provides decent stopping power, and ABS is standard. | Dual front discs with 4-piston Brembo radial calipers are strong but feel a little numb. ABS is not available. |
| Twin-spar aluminum frame wraps around the large battery pack, which accounts for most the Zero's weight and cost (same is true for the Victory). | The Victory also has an aluminum frame around its battery. In front is a radiator for the liquid-cooled motor. |