Too much Sicilian sun? Kinda sounded like it in Senior Editor Greg Drevenstedt's sunshine-laden first take on Kawasaki's heavily revised Versys 650 LT (Rider, April 2015). Following a brief press ride in Italy, Greg wrote: "The Versys is putty in your hands, a flexible, user-friendly machine that will do whatever you ask of it." Really? Whatever you ask? Also: "The Versys is playfully light and easy to toss back and forth through tight corners." Playfully…hmmm. Finally: "Few bikes are so fun yet so affordable."
OK, that sounded maybe a bit blue-sky. So to prove a point, we lived with a Versys 650 LT for a good while back home, riding it hard on roads we know and love, testing loops that reveal the true character of a motorcycle. And now, point proven: Greg was right! The Versys 650 offers all the fine qualities he discovered, and even more.
Versatility and fun-factor run huge in the smaller of the two Versys models; this bike takes to longer freeway cruises, tight back-road mad-dashes and just about everything else you toss its way. We even checked its dirt-road manners, something most riders would avoid, given the first-rate pure-street Dunlop Sportmax tires. All good within the usual limits. This 650 indeed proved itself an impressive package.
Much credit goes to its light weight, 496 pounds fully gassed. Such lightness bestows an inherently agile nature, abetted by plenty of cornering clearance; the 650 dances down twisting roads with intuitive ease, the tighter the turns, the better. The man/machine mind-meld works overtime as the bike chides, "I told you we could have taken that corner faster…." It also allows the suspension to do its job without becoming overtaxed. The 5.9-inch-travel Showa fork and 5.7-inch-travel KYB shock deliver more suspension throw than most street-going setups, and that generous allowance allows for more leeway in loads and riding conditions.
Example 1: On the freeway, the 650 returns a firm yet comfortable ride while reserving enough travel to deal well with broken-pavement secondary roads. Going long with a heavy load? Feeding in more shock spring preload is simplicity itself, thanks to the handy remote adjuster.
Example 2: Trail-brake lightly with one finger through a corner supermoto-style and the long-travel front-end snubs down, effectively shortening chassis geometry to quicken steering and turning. However, if you're ham-handed doing so, the fork may pop back up a tad too quickly. So just dial in more rebound damping—a dime works perfectly in lieu of a screwdriver. The "TEN" marking on the right-side fork cap stands for "tension" or rebound damping. We did so to help compensate for rider weight and aggressive use. Very nice.
Over time, a very refined nature emerges; the 650's rough edges were honed smooth, yielding a well-damped, very controlled feel for a more expensive, luxurious character. Well-managed engine vibration, firm yet comfy freeway ride, confidence-inspiring brakes, smooth and linear power application; all build up the overall whole. There's no obvious cutting of corners, nowhere that the product-cheapening department took charge. The 28-liter saddlebags extend versatility and convenience; they're roomy—big enough to store a helmet—yet not too bulky. So there's no need to make any excuses about riding a bike that runs only $8,699 as tested.
Gripes? The seat's slight forward slope grows irritating and the big step halts rearward movement, making seating a bit cramped. A flatter, taller seat would be better but then it would challenge shorter riders, we suppose. Given my 31-inch inseam, I easily flat-footed the bike with both feet. The windscreen has doubled in size to create a shoulders-wide still air pocket. The lowest position created irritating buffeting for this 6-footer, but the easy-adjust screen pops up a couple inches to solve that.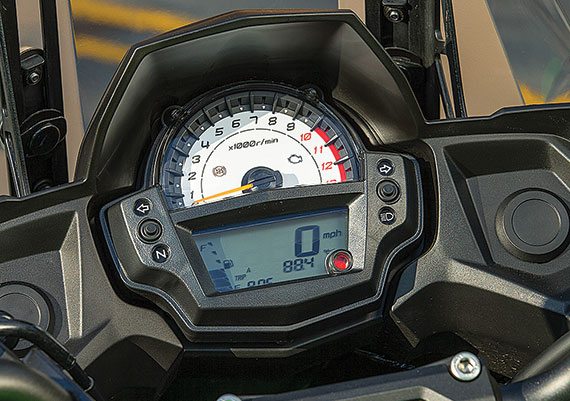 Power production is good but not overwhelming, yet it's really all you need, even for a cross-country tour. The engine spins up smoothly and stays comfortably calm even at elevated freeway speeds, with enough roll-on grunt to make downshifts optional. And steady cruising tops 50 mpg for a range of more than 250 miles. That's big-boy legs.
Understand, I love big engines and lean toward liter-plus machines. My failing. Because the Kawasaki Versys 650 LT serves as stark reminder that a well-executed light and compact bike can indeed be a joy all the time, everywhere.
And Greg, kindly forgive me for ever doubting you….
2015 Kawasaki Versys 650 LT
Base Price: $8,699
Warranty: 2 yrs., unltd. miles
Website: kawasaki.com
ENGINE
Type: Liquid-cooled, transverse parallel-twin
Displacement: 649cc
Bore x Stroke: 83.0 x 60.0mm
Compression Ratio: 10.8:1
Valve Train: DOHC, 4 valves per cyl.
Valve Insp. Interval: 15,200 miles
Fuel Delivery: DFI w/ 38mm throttle bodies x 2
Lubrication System: Semi-dry sump, 2.4-qt. cap.
Transmission: 6-speed, cable-actuated wet clutch
Final Drive: O-ring chain
ELECTRICAL
Ignition: TCBI w/ electronic advance
Charging Output: 372 watts max.
Battery: 12V 10AH
CHASSIS
Frame: Tubular-steel double pipe diamond frame w/ box-section aluminum swingarm
Wheelbase: 55.7 in.
Rake/Trail: 25.0 degrees/4.3 in.
Seat Height: 33.1 in.
Suspension, Front: 41mm USD fork, adj. for rebound damping & spring preload w/ 5.9-in. travel
Rear: Single shock, remotely adj. for spring preload w/ 5.7-in. travel
Brakes, Front: Dual 300mm discs w/ opposed 2-piston calipers & ABS
Rear: Single 250mm disc  w/ 1-piston caliper & ABS
Wheels, Front: Cast, 3.50 x 17 in.
Rear: Cast, 4.50 x 17 in.
Tires, Front: 120/70-ZR17
Rear: 160/60-ZR17
Wet Weight: 496 lbs.
Load Capacity: 443 lbs.
GVWR: 939 lbs.
TOURING PERFORMANCE
Fuel Capacity: 5.5 gals., last 1.5 gals. warning light on
MPG: 87 PON min. (low/avg/high) 43.7/47.1/52.3
Estimated Range: 259
Indicated RPM at 60 MPH: 4,500
The saddlebags are roomy without being overly
bulky.

2015 Kawasaki Versys 650 LT

Excellent front brakes deliver strong power and
good feel.

The engine revs willingly to nearly 10,000 rpm, but it's more about smooth, velvety feel and broad torque.