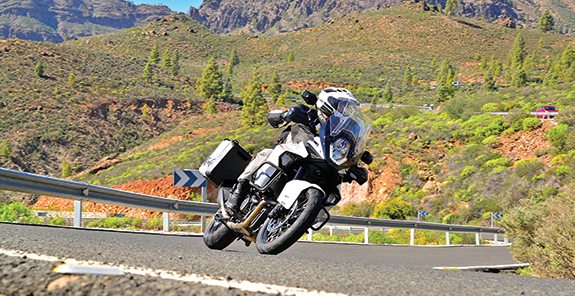 With triple-digit rear-wheel horsepower, state-of-the-art electronics and enough comfort, range and carrying capacity to make multiple 1,000-mile days seem easy, today's big-bore adventure tourers have put everything from sportbikes to luxury tourers on notice, with the added bonus of being remarkably capable off-road. Few bikes have threatened the position of BMW's R 1200 GS/Adventure at the top of the "travel enduro" pyramid as much as the KTM 1190 Adventure, which debuted for 2013. It performs like a sportbike on the street and a big dirt bike off-road, and was the first motorcycle available with Motorcycle Stability Control (MSC), integrating traction control with ABS that works when leaned over in turns. In our last adventure bike comparison (Rider, August 2014), the KTM held up well against the BMW and Yamaha's Super Ténéré ES in terms of performance, sophistication and value, but we struggled with its excessive engine heat, hard seat and firm suspension damping.
These issues have been addressed with the 1290 Super Adventure, which joins the 1190 Adventure and 1190 Adventure R in KTM's 2015 lineup. But there's a lot more to the 1290 than just a few tweaks. It raises the bar significantly in terms of performance, technology and touring capability. Its larger engine makes gobs of power; its comprehensive suite of electronics now includes semi-active suspension, cruise control, Motor Slip Regulation and Hill Hold Control; and it has more wind protection, better heat management, improved comfort, extended range and new safety features such as LED cornering lights. After spending two days riding the 1290 Super Adventure on Gran Canaria, a volcanic island off the northwest coast of Africa, I was left wondering if there's anything it doesn't do well.
To get more power, KTM borrowed the cylinders, pistons and con rods from the 1290 Super Duke R, bumping the LC8 V-twin's displacement from 1,195cc to 1,301cc with a 3mm larger bore and 2mm longer stroke. Claimed output at the crank is 160 horsepower (up from 150 on the 1190 Adventure) and 103 lb-ft of torque (up from 92), with more than 80 lb-ft of torque on tap from 2,500 rpm to the 9,500-rpm redline. To make the added grunt easy to handle, KTM gave the 1290 a new cylinder head, a heavier crankshaft and an anti-backlash gear between the primary and clutch. And to good effect. The extra power is immediately evident, but it's delivered in a very tractable, civilized manner. The 1290 purred smoothly on the highway, aided by a taller sixth gear, and on Gran Canaria's tight, technical roads the ride-by-wire throttle felt precise and predictable. There was so much torque everywhere that I often left it in third gear, crawling out of switchbacks with ease. Acceleration can be downright ferocious, especially when the tach needle sweeps past 6,000 rpm.
And in those moments, ladies and gentlemen, I thanked my lucky stars that KTM's engineers burned the midnight oil to develop such an effective and well-integrated electronics package. As with the 1190, the 1290 has four riding modes—Sport, Street, Rain and Offroad—that adjust power output, throttle response and Motorcycle Traction Control (MTC) for different conditions. And it uses the same Motorcycle Stability Control (MSC) system that combines MTC and front-to-rear linked ABS to prevent front or rear wheel lockup, excessive real-wheel slip and unexpected wheelies, and the amount of intervention varies by lean angle. MSC won't allow you to apply too much throttle or too much brake when banked over in a corner, though both MTC and ABS can be turned off, if desired. Even though the 1290 has a Power Assistant Slipper Clutch, the new, optional Motor Slip Regulation (MSR) further prevents rear-wheel lockup by increasing engine speed slightly if the throttle is chopped or the transmission is downshifted too aggressively. These electronic systems work seamlessly and harmoniously to prevent and nullify errors great and small. Usually the corrections are undetectable and you're likely to be blissfully unaware when the electronics save your bacon, as I'm sure they did when I overcooked a few corners. No drama, no slap on the wrist. Amazing.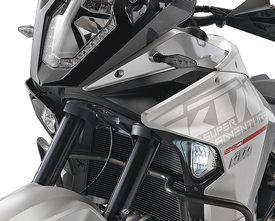 While MSC and MSR keep throttle and brake inputs within acceptable parameters, the 1290's new semi-active suspension does its part to keep chassis dynamics within the proper range. Designed and built by WP, the system includes fork and swingarm stroke sensors, front and rear accelerometers and a Suspension Control Unit (SCU), which integrates with the bike's CAN-Bus system to gather information from the engine, ABS, lean-angle sensor, etc.
The fork's right leg is the actuator, with electromagnetic damping valves for compression and rebound; the left leg houses the stroke sensor and the spring. The shock also has electromagnetic damping valves, as well as four electronically adjustable preload settings. There are four progressively softer damping modes—Sport, Street, Comfort and Offroad—and damping is adjusted in real time based on riding dynamics, such as stiffening the front under hard braking to prevent fork dive. As with the other electronics, the semi-active suspension works almost like magic, keeping the chassis well behaved and smothering rough pavement like a warm blanket.
To complement the improvements in power, electronics and suspension, KTM made the 1290 Super Adventure a more well-rounded machine for long-distance touring, especially when fully loaded with gear and a passenger. It has a larger, very effective windscreen that's manually adjustable over a 3.1-inch range and optional Hill Hold Control, which holds brake pressure to prevent rolling backward on an incline. When the fairing was redesigned to accommodate the larger 7.9-gallon fuel tank, ducts and heat shields were added to direct engine heat away from the rider. New rider and passenger seats are made of ergonomically shaped 3D foam and include separate heating controls. A clever new feature is a series of three LED lights on both sides of the fairing, which aid nighttime visibility in corners. One LED illuminates when the bike is leaned over 10 degrees, two at 20 degrees and all three at 30 degrees. Hand guards, engine guards, a centerstand and a luggage rack are all standard, as are big-but-boxy, 73-liter Touring cases, which add about 16 pounds to the bike's claimed dry weight of 505 pounds.
With its larger tank, the 1290 feels big from the saddle but certainly not enormous. The extra top-heaviness disappears at speed and doesn't diminish the sharp, agile handling that we love about the 1190 Adventure. Likewise, the 1190's many other strengths, from the strong, precise Brembo brakes to the lightweight spoked rims shod with grippy, tubeless Continental TrailAttack 2 tires, carry over to the 1290 Super Adventure. The two-position seat height is unchanged at a lofty 33.8/34.4 inches, which puts it out of reach for some.
Last year we put more than 6,000 miles on the 1190 Adventure and 1190 Adventure R (read our long-term report), flogging them on- and off-road from deserts to mountains to valleys across several states. The 1190 showed great promise, but felt raw and high-strung relative to the competition. The 1290 Super Adventure further expands the performance and technology envelope, but more importantly the overall package is more refined, complete and cohesive. It will cover longer distances in greater comfort and its electronics package allows the bike to be tailored to a wide range of conditions while providing the most complete safety package of any motorcycle we've tested. We look forward to thoroughly evaluating it on familiar terrain and riding it back-to-back with the BMW R 1200 GS Adventure so see which one will reign as king of the mountain.
Read our 2015 KTM 1290 Super Adventure vs BMW R 1200 GS Adventure comparison review
2015 KTM 1290 Super Adventure Specs
Website: ktm.com
Base Price: $20,499
Price as Tested: $20,924 (Motor Slip Regulation, Hill Hold Control)
Engine Type: Liquid-cooled, transverse 75-degree V-twin, DOHC, 4 valves per cyl.
Displacement: 1,301cc
Bore x Stroke: 108.0 x 71.0mm
Transmission: 6-speed, hydraulically actuated wet slipper clutch
Final Drive: X-ring chain
Wheelbase: 61.4 in.
Rake/Trail: 26 degrees/4.7 in.
Seat Height: 33.8/34.4 in.
Claimed Dry Weight: 505 lbs.
Fuel Capacity: 7.9 gals.
MPG: NA
| | |
| --- | --- |
| Gray buttons on left switchpod make it easy to navigate menus. Larger windscreen is manually adjustable.> | Radial 4-piston Brembo calipers are strong and precise, and MSC varies braking force by lean angle. |