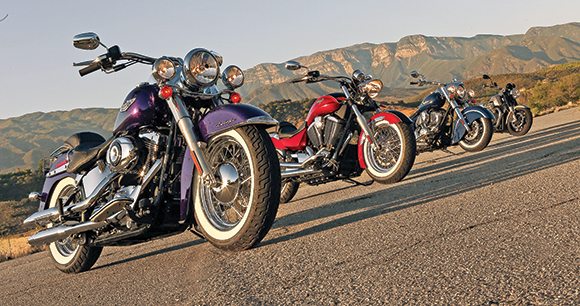 There was a time, not that long ago, when in motorcycle terms cruisers were considered something less—simpler machines that were somewhat inferior to other bikes in terms of function. After all, a touring bike's function is to deliver many miles of comfort while hauling riders and luggage, a sportbike excels in terms of power and handling reined in by great brakes, and dual-sport riders demand equal parts pavement and off-road function from their bikes. For a cruiser, however, function was often considered secondary to form, as many riders asked only that their cruiser be reliable and that its chrome and paint look good in the parking lot at the burger joint. Its comfort and functional aspects were often considered secondary to its visual appeal.
But in recent times, especially since the recession began, consumers have been asking more from the products they buy. No longer is it enough that motorcycles simply have style, but now we also want them to function well, too. As an example, we covered three touring cruisers (see American Baggers) in the February 2014 issue—bikes that not only have high style, but upon which one can also comfortably go touring.
The four V-twin cruisers we test here represent three similar (and one different) approaches to the cruiser concept, each with its own selection of components and features, with prices ranging from about $15,000 to more than $19,000. The three American brands are basically stripped variations of the baggers we tested in February, and the Moto Guzzi is a stripped version of the California 1400 Touring model we tested in our September 2013 issue.
These four are similar in that each is powered by a big-inch V-twin motor, fed by electronic fuel injection, three of which have the traditional transverse V-twin with the cylinders arranged fore and aft with a vee angle of between 45 and 50 degrees. The Italian Moto Guzzi, however, has its cylinders protruding to the sides for unobstructed air cooling, and arranged 90 degrees from each other. The resultant night-angle vee provides perfect primary balance, so the engine is relatively smooth.
Each bike has a 6-speed transmission, and the three American bikes transfer power to the rear wheel by means of belt final drive, while the Moto Guzzi utilizes a driveshaft. A belt has all the benefits of a chain drive in terms of simplicity and easy ratio changes, but is longer lasting, requires fewer adjustments and no lubrication. The driveshaft is generally bulletproof, requiring only an annual oil change, but is heavier and results in greater frictional losses so it transmits somewhat less of the motor's power. The three American-built bikes carry traditional wire-spoke wheels, while the Guzzi utilizes cast wheels.
Beyond that, each bike carries passenger pegs, but the small passenger seats are almost precarious on the Harley and Guzzi. While the Indian and Victory offer somewhat larger perches, they're minimal at best. A friend of mine quipped that each of these bikes has a "tiny heinie" seat. If you intend to carry a passenger regularly, we would suggest choosing either a similar model with a different rear seat, or a more plush aftermarket seat.
Several factors stand out about each of these bikes. While each is certainly acceptable overall, they tend to shine and point in slightly different directions. You'll find those conclusions in the individual evaluations. Just note that cruisers have come a long way in terms of addressing the function/fashion relationship, and they're becoming more functional all the time.
* NOTE: This article Cutting-Edge Cruisers: Function Meets Form Head-On was published in the September 2014 issue of Rider magazine. It was accompanied by sidebars on each of the four cruisers. You can read those sidebars by clicking on the links below: