Flashback to 1970. Richard Nixon is in the White House, American troops are in Vietnam and the AMC Gremlin is in dealerships. Little known in the U.S. at the time, Moto Guzzi captures a slice of the lucrative police market with a full-dress version of the Eldorado 850, which was more powerful, more maneuverable, lighter and less expensive than the dominant police bike at the time, the Harley-Davidson FLH (Retrospective, October 2012). A civilian version, the 850 GT California, was introduced in 1971 and some version of the California has been in Moto Guzzi's lineup ever since.
Like many Californians, Moto Guzzi's stalwart cruiser—now in its eighth model generation—has been cosmetically altered and technologically enhanced. New styling balances the past and present. Classic details like a buckhorn handlebar, police-style windshield, floorboards, driving lamps and plenty of chrome are complemented by modern touches, such as digital instrumentation and LED taillights and daytime running lights. The California's trademark longitudinal 90-degree V-twin now displaces 1,380cc, up from 1,064cc, making it the largest engine ever built by Moto Guzzi. And in the notoriously analog cruiser segment, the California stands apart with a full slate of digital goodies: throttle-by-wire, riding modes, traction control, electronic cruise control, dual trip computers and an anti-theft alarm.
Thumb the start button and the big V-twin rumbles to life, rattling the mirrors and sending seismic vibrations through the grips and seat. Blip the throttle and the longitudinal crank twists the bike to the right. Sounds and feels just like a cruiser should. That is, until you ease out the clutch and roll on the throttle. Beyond a walking pace, the California's shudder-n-shake melts away and the engine relaxes into a smooth, quiet cadence. At cruising speeds, barely a tingle creeps into the grips and floorboards, hardly a bellow emanates from the twin howitzer-size pipes. Grab a handful of throttle and the Goose will honk loudly, but otherwise it purrs like a kitten.
To reduce felt vibration, the California's V-twin is not a stressed member of the tubular-steel double-cradle frame, as it was on the previous model. It's isolated from the chassis by a kinematic support system that uses automotive-type elastic mounts. The system works well, almost too well. As much as I appreciate a silky smooth engine, on a big cruiser, especially one made by an Italian manufacturer revered for its throbbing V-twins, I want to feel something. And I want to hear something, too. But the California is no more menacing than a Vespa. At least your fussy neighbors won't complain.
Sound and fury may be muted, but the California's 1,380cc powerplant kicks some serious asiago. Throttle response is immediate, torque is generous, bursts of acceleration are a guilty pleasure. This is the first Moto Guzzi with throttle-by-wire, and the Marelli 7SM ECU does a superb job of managing engine modes, traction control and cruise control. In Veloce (Fast) mode, the California's air/oil-cooled, four-valve, twin-spark V-twin spun its 200mm rear tire up to 87.7 horsepower at 6,500 rpm and 78.5 lb-ft of torque at 2,900 rpm on Jett Tuning's dyno. Turismo (Touring) mode softens throttle response without changing output, but Pioggia (Rain) mode dials it back to 67.2 horsepower and 70.4 lb-ft. Selecting a particular mode also sets the degree of traction control intervention (levels 1-3), or it can be turned off. Power reaches the rear wheel by way of a hydraulically actuated, single-plate dry clutch, 6-speed transmission with overdriven top gear and a double cardan-joint drive shaft. Clutching and shifting is a clean, quiet affair, with little of the low-gear clunk common among cruisers.
Comfort and style peacefully coexist on the California 1400 Touring. A broad, flat seat, set just 29.1 inches above the deck (an optional 28.3-inch seat is available), provides a comfortable perch, and the pulled-back handlebar allows for straight-back posture—the perfect combination for long, contemplative rides. Because the cylinder heads jut out sideways at tank level, the floorboards are located more amidships than on most cruisers, which is a good thing since the result is a more neutral, less stretched-out seating position. Rubber-insulated footrests dull what little engine vibration reaches the frame, and the heel-toe shifter and brake pedal don't crowd the rider's feet. The police-style windshield diverts most of the windblast around the rider, with smooth airflow and minimal noise up to about 70 mph. On warm days, plenty of engine heat wafts back over the rider's legs, and because the windshield is short, wind enters the cockpit underneath—welcome on warm afternoons, less so on cold mornings.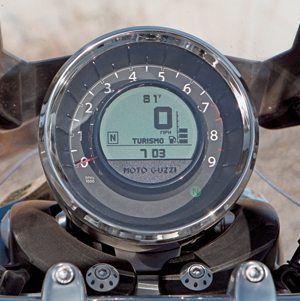 With a long 66.3-inch wheelbase, lazy-daze steering geometry and a wide rear tire, the California's steering requires effort. But, thanks to its wide handlebar and low center of gravity, not as much as you might expect. It glides elegantly through turns, has plenty of cornering clearance (replaceable plastic sliders under the floorboards prevent loud scraping when you reach the limits) and feels rock solid. Its 46mm fork and dual shocks, both made by Sachs, soak up bumps well and provide a smooth, well-controlled ride, with 4.7/4.3 inches of front/rear travel. The fork is not adjustable, but spring preload and rebound damping can be tweaked on the shocks. And the California's Brembo triple disc brakes, with radial-mount front calipers and standard ABS, are some of the best in all of cruiserdom, with the sort of stopping power and feel you'd expect from a sport tourer.
In stock form, the California 1400 Touring is ready for the long haul, with 35-liter, top-loading hard saddlebags that can be left unlocked, protection bars for the engine and saddlebags, and feature-rich instrumentation. Set within a chrome bezel, a single large, round instrument cluster has an analog tachometer with an array of indicator lights around the perimeter and an LCD display in the middle that's packed with info: speed, ambient temperature, gear position, fuel level, engine mode and numerous dual-trip functions. Use the Mode button on the left switchgear to change trip functions and navigate menus; press the starter button to change riding modes on the fly. The California's fenders may be plastic, but its 5.4-gallon gas tank is steel and easily accommodates a magnetic tankbag. Admittedly, the 34.5 mpg and 186-mile range averaged during this test are rather meager, but we rode this smooth, torquey beast pretty hard. And although we received the bike with 2,500 miles on it, after 4,000 miles the rear tire was pretty much toast.
Even though it has always been a niche player, the Moto Guzzi California's unique combination of character, style, comfort and performance has endured for four decades. With its gracefully reworked Italian lines, larger air/oil-cooled V-twin and modern electronics, the new California is better than ever. Honoring the early V7 models that gave rise to the California, the Touring model ($17,990) is available in Eldorado White with black pinstripes or Ambassador Black with white pinstripes. And if you prefer a more stripped-down look, the Custom model ($14,990) foregoes the windshield, saddlebags, protection bars, driving lamps and touring saddle. Either way, the California really is one of a kind.
Moto Guzzi California 1400 Touring
Base Price: $17,990
Warranty: 2 yrs., unltd. miles
Website: motoguzzi-us.com
Engine
Type: Air/oil-cooled, longitudinal 90-degree V-twin
Displacement: 1,380cc
Bore x Stroke: 104.0 x 81.2mm
Compression Ratio: 10.5:1
Valve Train: SOHC, 4 valves per cyl.
Valve Insp. Interval: 600 miles, then every 6,250 miles
Fuel Delivery: Magneti Marelli multipoint sequential EFI w/ 52mm throttle body
Lubrication System: Wet sump, 4.3-qt. cap.
Transmission: 6-speed, hydraulically actuated dry clutch
Final Drive: Shaft, 1:3.6
Electrical
Ignition: Digital electronic
Charging Output: 550 watts max.
Battery: 12V 18AH
Chassis
Frame: Tubular-steel double cradle
Wheelbase: 66.3 in.
Rake/Trail: 38 degrees/6.1 in.
Seat Height: 29.1 in. (optional low seat, 28.3 in.)
Suspension, Front: Sachs 46mm fork, 4.7-in. travel
Rear: Sachs dual shocks w/ adj. rebound damping & spring preload, 4.3-in. travel
Brakes, Front: Dual 320mm floating discs w/ opposed radial-mount 4-piston calipers & ABS
Rear: Single 282mm disc w/ 2-piston pin-slide caliper & ABS
Wheels, Front: Cast alloy, 3.50 x 18 in.
Rear: Cast alloy, 6.00 x 17 in.
Tires, Front: 130/70-R18
Rear: 200/60-R17
Wet Weight: 761 lbs.
Load Capacity: 445 lbs.
GVWR: 1,206 lbs.
Performance
Fuel Capacity: 5.4 gals., warning light on last 1.3 gals.
MPG: 90 PON min. (high/avg/low) 39.9/34.5/32.1
Estimated Range: 186 miles
Indicated RPM at 60 MPH: 3,000
(This article League of its Own was published in the September 2013 issue of Rider magazine.)
Unique headlight includes LED daytime running lights, a polyellipsoidal low beam and a separate
high beam. Separate driving lamps are also standard.

Each locking, hard saddlebag holds 35 liters. They aren't keyed to the ignition but they can be left unlocked, and the chrome protection rails are standard.