It's a smart company that studies the market, conducts research and builds its products based upon what the data indicate will be successful. In the case of Yamaha, its Star Motorcycles division (which builds its cruisers) is a very smart company indeed.
While noting that cruisers compose about 49 percent of the overall street market, the folks at Star also noted that the market is changing. To this point, it has been driven by Baby Boomers, riders 49-67 years old who appreciate tradition and want to look tough and cool on a bike, so they roll with lots of chrome and outrageousness. However, younger riders have now started driving the trend, and the research shows that they are anti-establishment and reject luxury and chrome. Instead, they are do-it-yourselfers who are looking for authenticity, simplicity and independence; this explains why simple, home-customized bobbers are the emerging trend.
With this in mind, Star has unveiled an early release 2014 model called the Bolt and has billed it as an urban performance bobber. It's a stripped-down version of Star's highly successful V Star 950 cruiser, but take one look at its stance, solo seat, bobbed fenders (hence the "bobber" designation) and the shape of its fuel tank and you'll realize that it's aimed squarely at the Harley-Davidson 883 market. When you note that its base price of $7,990 is $9 below that of the 883 Iron, well, it all falls into place.
The Bolt is powered by an air-cooled, 942cc (58 cubic inch), 60-degree V-twin motor with four valves per cylinder, roller rockers, and a bore and stroke of 85.0 x 83.0mm. With a compression ratio of 9.0:1 it will run happily on 86-octane fuel, which enters through a single side-draft Mikuni EFI throttle body with 3D mapping. Its forged aluminum pistons are attached to a single-pin crank for that authentic cruiser pulsing sound and feel, and its exhaust is routed through forward-facing header pipes with a single-element three-way catalyst and closed-loop O2 sensor. Power is shuffled through its 5-speed gearbox and reaches the rear wheel by means of a narrow 21mm belt final drive.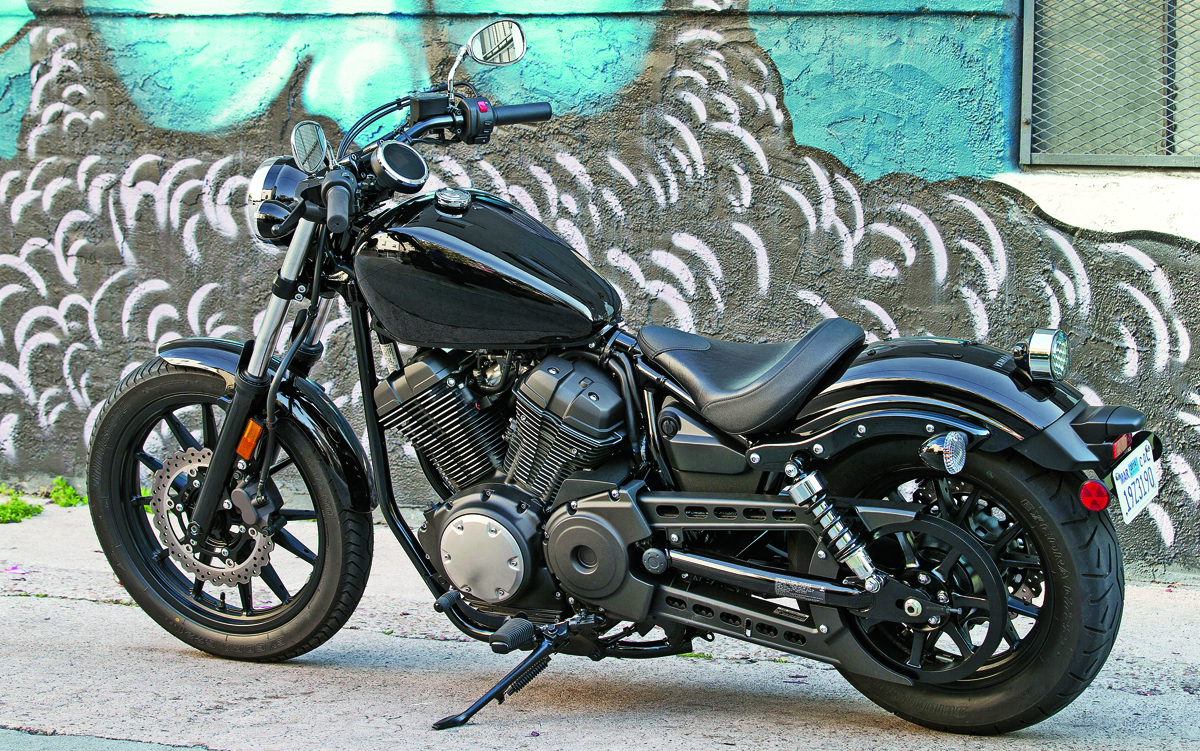 Star introduced the Bolt to the press in San Diego in April, where we were able to ride the bike for the day. It considers the Bolt an urban vehicle, and suggested various routes and points of interest around the city. Climb aboard, and with its seat height of 27.2 inches the Bolt feels low and solid, yet at a claimed 540 pounds wet is not overly heavy despite its steel tank and fenders.
I noted a light clutch pull and a single round gauge up front with a smoked screen, matched by a round LED taillight. Once underway with its short-travel suspension (4.7 inches in the fork and 2.8 in the shocks, the latter with preload adjustment only) the ride is taut, but not harsh unless the bump is unusually large. The double-cradle steel frame utilizes the engine as a stressed member, and while wheelbase is a relatively long 61.8 inches, the 29-degree rake makes up for it in terms of relatively quick steering with its 19-inch front and 16-inch rear wheels.
Star utilizes a wave-style brake rotor at each end, the front squeezed by a two-piston caliper and the rear by a single-piston unit. Both are easily controllable, and braking effort is moderate. The reach to the bars positions the rider relatively upright, and the only negative I noted about the Bolt was that out on the freeway the wind hits the rider full force and can soon become tiring.
In addition to the standard black and white colors, the Bolt is also available in an R-Spec model, an accessorized version that comes in either Camo Green or Matte Gray for $8,290. It includes a textured solo seat with colored stitching, remote-reservoir shocks and black mirrors. I rode a couple examples of both the stock and R-Spec models and could discern very little functional difference between the two. Yamaha offers many options for the Bolt through its Star accessories division including a taller handlebar, brass speedometer visor, custom seat, mini fairing, passenger seat with backrest, leather saddlebags, 40-spoke wire wheels, a lowering kit and reduced-reach solo seat.
Overall, it seems that Yamaha has a very well-focused and researched machine here, one that offers not only great style but function as well, regardless of the generation to which you belong.
2014 Star Bolt
Base Price: $7,990
Website: starmotorcycles.com
Engine Type: Air-cooled, transverse V-twin, SOHC, 4 valves per cyl.
Bore x Stroke: 85.0 x 83.0mm
Displacement: 942cc
Transmission: 5-speed, cable-actuated wet clutch
Final Drive: Belt
Wheelbase: 61.8 in.
Rake/Trail: 29 degrees/NA
Seat Height: 27.2 in.
Claimed Wet Weight: 540 lbs.
Fuel Capacity: 3.2 gals., last .8 gal. warning light on
Average MPG: NA
| | |
| --- | --- |
| A round LED taillight puts a modern touch on a classic concept. | The solo seat feels low and is comfortable enough. Optional seats are available. |
| The R-Spec model (left) has reservoir shocks, a stitched seat, black mirrors and alternative colors. | The single LCD gauge is also round and has a smoked lens. |