Motorcycles are not appliances. Even if your main goal in buying one is to accomplish a daily task like commuting with the lowest possible vehicle and fuel costs, few riders would be satisfied with a motorcycle that is as dull as a dishwasher. We still want performance that excites us, looks that fuel our passions and make the right statement, and an overall ride and features that are well suited to what we want to do, whether it's sport touring, adventure riding, cruising, commuting or all of the above.
Not a problem, sir, step this way. Check out this $12,000 beauty with 120 horsepower. It's fast, sleek and gets 40 mpg!
Forty mpg? That's so 10 years ago! My neighbor's Prius gets 42 mpg. $12,000, are you crazy? We're on a budget. What else ya' got?
And that's just it. There simply isn't much out there that ticks all the boxes for new riders today, or experienced ones who want an economical second bike. Most often if it's cheap and gets 60 mpg it's a boring slug, and if it makes our heart race the price and poor fuel economy give us a heart attack.
Honda has responded to this predicament by offering several new low-cost, high-value, appealing motorcycles and scooters—CBR250R, CRF250L, PCX150—to give new and returning riders more options. But its lineup still suffered from an enormous price gap between the $4,099 CBR250R and anything above it more full-sized that isn't a cruiser.
Enter the NC700X, and prepare to be gobsmacked. I kid you not—this is the bike many of you have been asking for…and more. The base model costs $6,999, weighs just 474 pounds gassed up and has appealing, adventure-bike styling and suspension travel with relatively low, upright seating that make it pretty good for just about any kind of riding.
And you won't find its full-face helmet-sized locking storage compartment on anything in this price range that isn't a scooter.
So what's the catch? Well, there isn't one really, as long as you're willing to spend all of your time riding the way we usually spend most of it—in the rev range below 6,500 rpm, the NC700X's redline. To put that limit in perspective, many large-displacement bikes and big V-twins have lower redlines of 5,500 rpm or so. But in the 650-700cc range, 6,500 rpm is unusually low—even air-cooled singles of this size rev to more than 7,000, most twins to 8,000 rpm and more. Unless you're a racer or sportbike rider, we rarely ride our bikes at those engine speeds, though. Putting the 6,500 cap on the NC700X parallel twin allows a number of things to fall into place—namely that fewer, lighter engine components can be used in a long-stroke design that maximizes low- and midrange torque, as well as fuel efficiency and cost.
That may sound like damning with faint praise, but even more like modern automotive engineering—which it is. Although calling its engine half of a Honda Fit car engine is a bit of a stretch, that 117-horsepower, SOHC 16-valve in-line four and the NC700X mill share similar architecture, like their undersquare 73.0 x 80.0mm bore and stroke. Accessing available technology cut costs and development time. Its long stroke and 270-degree high-inertia crankshaft with counterbalancer help the NC700X develop plenty of torque with a nice loping sound and feel without vibes. Other tricks like a single 36mm throttle body for the twin-cylinder engine and a unified exhaust port for both cylinders increase fuel efficiency and lower costs by allowing a single, shorter catalytic converter.
Canting the NC's engine forward 62 degrees gives the throttle body a straighter shot at the intake ports, and the bike a lower center of gravity for more nimble handling. Light, low-friction aluminum roller rocker arms with screw-and-locknut valve-lash adjusters are used for the first time in a motorcycle. The engine styling is simple but clean, with piping minimized and pleasing plastic covers hiding unstyled metal just doing its job. The bike is a global one, too, designed and built to meet the requirements and fill the model lineups of many countries around the world with one bike.
The idea is versatility, accessibility and fun, at a price that lowers the barrier to a do-everything, grownup motorcycle. Further to that goal, Honda offers the NC700X with an automatic dual-clutch transmission with Drive and Sport modes as well as manual shifting. A limited number of test bikes meant we asked for one to review with all the options, including the DCT, which also meant we couldn't dyno test it (the front wheel must be spinning to shift out of first). American Honda doesn't provide power specs, but in Europe the bike is rated with 47 horsepower at 6,250 rpm (51 for the standard transmission bike) and 44.2 lb-ft of torque at 4,750, similar to a mid-sized cruiser, so there's enough power for most solo riding, even with the full complement of luggage and accessories.
At the press intro, the standard NC700X we sampled had a light clutch pull and shifted smoothly and easily. We also spent a lot of time riding our test NC700X DCT ABS in manual shifting mode to get a feel for what the standard transmission bike is like. The engine is smooth and makes a nice burbling rumble under acceleration, and cruises at a mere 3,200 rpm in top gear at 60 mph. Ours lived up to the efficiency promise by delivering a whopping 59.8 mpg average despite being ridden quite hard and two-up at times. The low redline does take some getting used to, particularly when passing or during spirited, sporty riding, when you'll bang into the rev limiter if you don't upshift soon enough. Most solo riders will adapt to this easily, some never even notice it, but if you ride two-up regularly you will eventually wish for more power and revs.
For 2012, Honda revised the VFR1200F sport-tourer's optional DCT transmission to operate more smoothly, and the smaller, lighter 2nd Generation DCT for the NC700X works even better than it. Of the two auto modes, Drive is still quick to upshift, noisy and best used just for saving gas, but Sport works well and, in fact, closely imitates my own shift points. And in this bike, when it doesn't you can override it, which makes an enormous difference in the DCT's usefulness. Clutch and foot shift levers are absent, you can leave the throttle on when you shift, and the bike automatically downshifts to first at stops in any of the three modes. I ended up alternating between Sport and manual modes, using the up-down shift buttons on the handlebar with both on most rides, and enjoyed the combo enough that I missed it briefly after switching bikes.
At $8,999 for the DCT ABS model, offering the convenience of an automatic dual clutch transmission on an economy bike for an additional $2,000 strikes me as kind of a non-sequitur, though it does make the bike very easy to ride. You don't have to get DCT—except that in this country it's the only way to get ABS brakes, too. American Honda's explanation is that it chose the standard and DCT ABS model variants as having what it believes to be the broadest appeal for its customers. Translation? AH thinks riders who want ABS will probably want DCT, too. Hmmm, time will tell. Perhaps if the bike sells well, it can make room for the middling ABS, non-DCT version (NC700XA).
On either the standard or DCT ABS model, you'll enjoy a narrow but reasonably comfortable rider's seat that is low and narrow enough that I could get both feet flat on the ground, even with my 29-inch inseam. The NC looks adventure-touring bike big but is really about ¾ the size of most of them, with higher, more rearset footpegs and a slightly narrower but equally tall handlebar. Taller riders may find their legs a bit cramped, but those of us closer to the ground can ride in comfort all day. Passengers may have the same complaint about legroom, and will definitely want a better seat if they know any better, but the grabrails are great.
We were pleasantly surprised by the power and linear feel of the NC700X's brakes despite just having a single disc in front. They actually worked better than either bike in the comparison test that follows and inspire confidence, even two-up. On our DCT ABS test bike, the ABS worked smoothly and seamlessly when engaged, too, and is linked rear-to-front to assist with hard stops. We did miss having an adjustable brake lever, but I guess that's the price you don't pay. Suspension front and rear is basic and only has inconvenient ring-and-locknut preload adjustment in back, but once set for your weight, it handles most everything thrown at it well because it's damped and sprung on the stiff side. Handling is very good, with a light, flickable feel to the steering that helps it corner like a sportbike on its excellent Metzeler Roadtec Z8 tires. It has lots of suspension travel and decent ground clearance, so you rarely find the peg feelers, but that 17-inch front wheel really limits dirt riding to a slower pace on graded roads.
Decked out with the full 40-pound complement of Honda accessories for the NC700X, our DCT ABS test bike's wet or curb weight jumped from 505 pounds claimed to 545 pounds, knocking its remaining load capacity down to 390 pounds. The standard (non-DCT ABS) model only weighs a claimed 474 pounds and has the same GVWR of 935 pounds, so if you're looking to maximize its carrying capacity, start with the standard model. Both have that great 21-liter integrated storage compartment where the fuel tank would normally be, which has an auto trunk-like lid you can slam down on an amazing amount of stuff inside, including a large full-face helmet. The tradeoff is that the fuel filler is under the passenger seat, requiring that you remove a seatbag to refuel. No big deal really, since at 60 mpg you can ride more than 220 miles between fill-ups, and your mileage will probably be better.
Among the extensive accessories that were designed for the NC700X, the saddlebags, top trunk, wind deflectors, centerstand, heated grips and 12V accessory socket are especially functional and work well. The optional bigger windscreen can probably be improved upon by the aftermarket, since it's still quite small.
Therein lies the crux of the NC700X's matter, too—if it sells well, and it probably will, the aftermarket will answer any question that Honda has not. Thing is, this is one bike that already ticks all the boxes for a lot of riders. If you're not looking for a lot of speed and just wanna ride, the NC700X is the answer.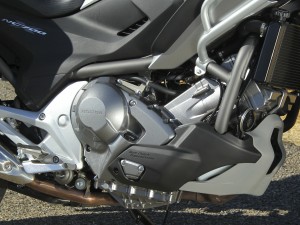 2012 Honda NC700X DCT ABS
Base Price: $6,999
Price as Tested: $11,598 (DCT ABS model, MSRP $8,999, plus Tall Windscreen, Fairing & Saddlebag Accents, Fairing Air Deflectors, Light Bar, 45-Liter Trunk, 29-Liter Saddlebags, Centerstand, Lower Cowl Deflector, Heated Grips,
12V Accessory Socket)
Warranty: 1 yr., unltd. miles
Website:
powersports.honda.com
Engine
Type: Liquid-cooled, transverse parallel twin
Displacement: 670cc
Bore x Stroke: 73.0 x 80.0mm
Compression Ratio: 10.7:1
Valve Train: SOHC, 4 valvesper cyl.
Valve Inspection Interval: 8,000 miles
Fuel Delivery: PGM-FI, 36mm throttle body
Lubrication System: Wet sump, 3.6-qt. cap.
Transmission: 6-speed, dual clutch automatic (as tested)
Final Drive: O-Ring Chain
Electrical
Ignition: Digital transistorized w/ electronic advance
Charging Output: 420 watts @ 5,000 rpm
Battery: 12V 12AH
Chassis
Frame: Tubular-steel diamond w/ engine as stressed member, box-section steel swingarm
Wheelbase: 60.6 in.
Rake/Trail: 27.0 degrees/4.3 in.
Seat Height: 32.7 in.
Suspension, Front: 41mm stanchions, no adj., 5.4-in. travel
Rear: Single linked shock, adj. for spring preload, 5.9-in. travel
Brakes, Front: Single 320mm disc w/ 3-piston pin-slide caliper & ABS (as tested)
Rear: Single 240mm disc w/ 1-piston pin-slide caliper, linked w/ front, & ABS (as tested)
Wheels, Front: Cast, 3.50 x 17 in.
Rear: Cast, 4.50 x 17 in.
Tires, Front: 120/70-ZR17
Rear: 160/60-ZR17
Wet Weight: 545 lbs. (as tested)
Load Capacity: 390 lbs. (as tested)
GVWR: 935 lbs.
Performance
Fuel Capacity: 3.7 gals., last 0.8 gal. warning light on
MPG: 87 PON min. (low/avg/high) 54.3/59.8/68.3
Estimated Range: 221 miles
Indicated RPM at 60 MPH: 3,200
(This article The Answer was printed in the November 2012 issue of Rider magazine.)