Afraid of heights? Set your worries aside with these two customs. The 2011 Harley-Davidson Sportster SuperLow puts your derriere a mere 25.5 inches above terra firma when you settle into the solo saddle. And though it towers next to the Sporty, the 2010 Honda Shadow RS model's 29.4-inch seat height is on par with many scooters. Proving that height isn't everything, these two machines serve up full plates of performance for the pint-sized and petite…and some medium-sized folks, too!
V-twins power these chariots of steel, the long-stroked Harley using a classic air-cooled, 45-degree, 883cc pushrod two-valve motor and the Honda running a liquid-cooled, 52-degree, 745cc three-valver with a single overhead cam. Electronic fuel injection controls the mixture, with each bike using a single throttle body. Metering is precise with no surging or snatchiness from either engine or drivetrain. What sets them apart is power—the Harley has more available everywhere. The Honda's power delivery is mild by comparison, though there's plenty on tap for freeway, town and twisties. But the Sportster digs deep when you need it to, powering through situations that require a downshift on the Shadow, like when freeway traffic slows to 55 mph before speeding up again. Fuel economy was better on the Honda, of course, but the Harley has a larger, more practically sized fuel tank.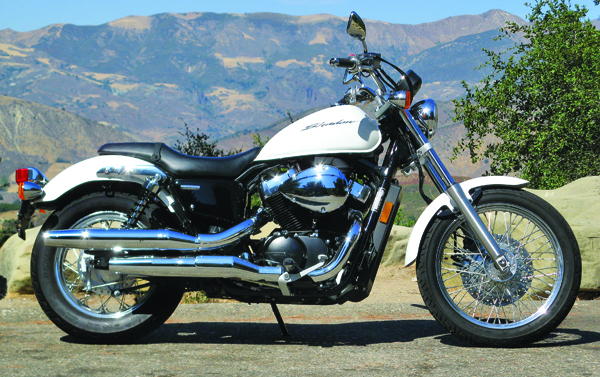 If the Harley wins the power contest, the tranny prize goes to the Honda's slick five-cog gearbox, which puts the next ratio in either direction an easy snick away. The Sportster's five-speed shifts up fine, but downshifts require a good stomp on the shift lever. Fifth gear is tall on both bikes and matches freeway cruising speeds to low-vibration rpm. Good thing, since these twins vibrate a good bit at other engine speeds. As you'd expect from the Motor Company, the Sportster has a lumpier idle rhythm.
The brakes on these machines are equally unexceptional. Two-piston calipers grab the Harley's 292mm and the Honda's 296mm front rotors; the Harley sports a single-piston/single 260mm disc in the rear while the Honda runs a 180mm drum brake. I managed some decent panic stops (closed course, professional rider, don't try this in your living room, etc.), but both machines require more effort for slowing and stopping in normal riding than I thought necessary. Maybe it's their weight: 507 pounds for the Honda and 563 for the Sportster.
Comfort is a personal thing, and personally I like the Shadow for its more upright riding position, more compliant suspension and better overall fit for my 68-inch frame (except for an air cleaner that hits my leg). Slouching is unavoidable on the Harley, and it's tough to get your rear off the saddle to prevent the short, stiff rear suspension from delivering bumps straight to your spine. The Sportster's compact configuration—a 59.3-inch wheelbase and 31.0-degree steering angle—helps it feel more stable and planted at freeway speeds and gives it a tighter turning radius than the Honda, with its 61.5-inch wheelbase and 32.5-degree rake. Wheel sizes vary as well. The Harley rolls on snazzy cast-aluminum rims carrying tubeless tires with front/rear diameters of 18 and 17 inches; the Honda's 19- and 16-inch laced wheels require tubes in the rubber.
The Harley could be a hoot in the twisties if it only had some cornering clearance, but the pegs dig in hard just toodling to the library on surface streets. Its sub-4-inch ground clearance and Clydesdale-wide footpegs make cornering a drag, literally. Riding high(er) with over 5 inches of clearance and narrower pegs, the Honda is a sportier mount—but add a little zest to your ride and its pegs touch down too soon as well. Ridden smoothly, the Honda's fun to toss around when the road tightens up, and is just as fun to knock around town on. The Shadow includes a toolkit and a pillion for carrying my gym bag; it's BYO tools on the Sportster and good luck finding a perch to carry anything.
In basic black the Sportster is only two bills more than the Honda's $7,799, but prices ratchet up for the Cool Blue Pearl shown here or a spiffy two-tone. As much as I like the 883 mill (and the blue paint), the Harley's lack of cornering ability negates its muscle advantage. There's no doubt it will provide the security of flat-footed control for those who want it, but for me the SuperLow is too low. Even though I'd miss the Sportster motor now that I've had a heapin' helping of its tasty torque, the Honda's ample portions of comfort and handling, plus its slight nod to utility, fill the bill for me.
2010 Honda VT750RS Shadow RS
Website: powersports.honda.com
Base Price: $7,799
Price as Tested: $7,799
Engine Type: Liquid-cooled fuel-injected, 52-degree V-twin, SOHC, 3 valves per cyl.
Bore x Stroke: 79.0 x 76.0mm
Displacement: 745cc
Transmission: 5-speed, cable-actuated wet clutch
Final Drive: O-ring chain
Wheelbase: 61.5 in.
Rake/Trail: 32.5 degrees/5.3 in.
Seat Height: 29.4 in.
Wet Weight: 507 lbs.
Fuel Capacity: 2.7 gals., last 0.7 gal. warning light on
MPG: 86 PON (high/avg/low) 52/50/48
2011 H-D XL883L Sportster SuperLow
Website: harley-davidson.com
Base Price: $7,999
Price as Tested: $8,289 (paint)
Engine Type: Air-cooled, fuel-injected, 45 degree V-twin, 2 pushrod operated overhead valves per cyl.
Bore x Stroke: 76.2 x 96.8mm
Displacement: 883cc
Transmission: 5 speed, cable-actuated wet clutch
Final Drive: Belt
Wheelbase: 59.3 in.
Rake/Trail: 31.0 degrees/5.7 in.
Seat Height: 25.5 in.
Wet Weight: 563 lbs.
Fuel Capacity: 4.5 gals., last 1.0 gal warning light on
MPG: 91 PON (high/avg/low) 45/44/43
| | |
| --- | --- |
| The Shadow's solo instrument features a speedo with electronic dual tripmeters, odometer, clock and seven indicator lamps, and is easier to read than the Sportster's. | The Sportster's indicator lamps are so small they're hard to see in daylight. Though you can't tell from this dashboard, the rev limiter kicks in at 6,000 rpm. |
(This article Entry-Level Excellence was published in the November 2010 issue of Rider magazine.)