Looks can be deceiving. The 2009 Yamaha FZ6R is styled like a supersport, and is even classified as such on Yamaha's website, but its relaxed ergonomics and user-friendliness make it more a riposte to the cry, "Whatever happened to the comfortable standard motorcycles of yesteryear that didn't focus so much on supersonic horsepower" letters that fill a large amount of space in our letters to the editor inbox.
The new FZ6R will satisfy those riders, and yet Yamaha's goal was to target new riders and welcome them into the sport with an affordable bike they won't soon outgrow. Yamaha may have blown the dust off an older YZF-R6 mold to create the FZ6R engine, but then the engineers came in and reworked just about every component. The cylinder head, crankcase, intake and exhaust system, clutch lever and shifter have been designed to give the bike all-new qualities. The FZ6R is tuned to optimize low- and midrange power, making it ideal for any rider who wants to enjoy the ride rather than race from one stoplight to the next. Our test bike registered about 66 horsepower and 39 lb-ft of torque at the rear wheel on the Jett Tuning Dynojet dyno, respectable enough for most riding. The newly designed diamond-shaped frame is made of high-tensile steel tubing and uses the engine as a structural member of the chassis. Need more power? The steadfast FZ6 (which makes about 84 horsepower at the rear wheel) is still in the lineup, but its high-strung nature may be too needy for first-time riders.
That's not to say that the FZ6R is lacking power; on the contrary. The liquid-cooled, 600cc, DOHC, 16-valve, in-line four kept nine motojournalists happily flying through the twisties on a cold February morning in Northern California, where we were invited to ride it for the first time before getting a test bike back in SoCal. Our 140-mile route included mostly two-lane tight, twisty roads and some long, sweeping turns that meandered alongside the Pacific.
At one point we were led on a narrow, bumpy road that looked like we could be riding through a rain forest. A canopy of trees dripped water onto the road and green patches of moss covered the pavement. Hmmm, this should be slick, I thought to myself. Not to worry, not once did I feel the Bridgestone Battlax 021 sport-touring tires, a 160/60-ZR17 rear and 120/70-ZR17 front, lose traction. Yamaha did not skimp on tires; these are high-quality radials mounted on cast-aluminum wheels on a budget-minded motorcycle.
Through the twisties, the 41mm telescopic fork in front and single shock in back, both with 5.1 inches of travel, did a good job of soaking up the many bumps and pavement irregularities. The 475-pound (wet) bike stays well-planted even when changing direction quickly for switchback after switchback. There's also ample cornering clearance so you can get well leaned over. Through all these twists and turns the FZ6R handled like a higher-priced, high-performance sportbike, and with its 26-degree rake and 4.1-inches trail, the front end turns in quickly at corner entrances. Much of the time I was riding along in second gear with the revs high, and it accelerated strongly out of turns. It also held a line well and felt stable despite its relatively light weight.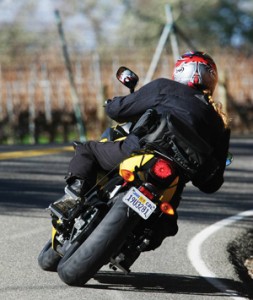 The suspension setup is better suited to twisty roads because on the highway pavement irregularities reach the rider with more intensity, or maybe it just feels more pronounced on the boring straights. This FZ6R really shines in the twisties, and overall ride quality is very good with little vibration reaching the rider. (I felt more buzziness come through the pegs and seat while I was a passenger.) The rider gets a ride conducive to going long distances, though if anything could be improved upon, the rider's seat could be wider and have more padding for serious distance riding.
The fork is nonadjustable and the ramped shock is seven-way adjustable for spring preload only. The shock can be adjusted by the side of the road with the spanner wrench that's in the toolkit. A toolkit and owner's manual are stowed under the passenger seat that comes off with a turn of the ignition key; the bolt-on rider's seat is a separate piece. I'd brought along electric gear for the intro ride so the rider's seat had to be unbolted to get to the battery to hook up the wiring harness. Also under the rider's seat is a plastic panel that slides forward and backward to adjust the rider's seat height. Move the bolts to the appropriate brackets, put the seat back on and you've now changed the seat height up or down by about an inch. The FZ6R comes from the factory with the seat set on the low position (30.9 inches) and can be raised to the higher setting within about five minutes, which is my preference. Cool feature? Yes. Attractive? Not so much. Viewed from the side, the higher seat position leaves a gap under the seat.
The tubular handlebar is also adjustable, and can be rotated forward 20mm. The ergonomics on this motorcycle are set up perfectly for this 5-foot, 10-inch rider. For me, Mr. R has ample legroom and an upright seating position that didn't put pressure on my wrists or shoulders. The grips are placed at a comfortable distance apart, and with the higher-mounted handlebar you get excellent leverage for tackling tight turns and a relaxed position for cruising along on the freeway. With some soft luggage attached, I'd be perfectly happy taking off on a vacation and riding lots of miles on the FZ6R. The small windscreen does a fine job shielding the rider from much of the windblast and also deflects some water while riding in a light rain. The shift lever is also adjustable so you can raise or lower it to the height you like.
Once back in SoCal with the test bike, I took Mr. R on a spin through my backyard, the Santa Monica Mountains, where you can ride a variety of twisty roads all day and still stay within 10-15 miles of the ocean. After an hour of riding, I stopped for nourishment at Neptune's Net, a popular motorcyclist hangout along the coast. Here I parked next to nine other motorcycles, all Harleys, all dark-colored, where the bright-yellow-with-stars FZR6 stood out like a jockey on a basketball court.
After lunch I headed back for the hills, which were lush and green from the recent rains, with the ocean as a backdrop. Some of the corners were littered with sand, and I felt the rear tire slide a time or two. I climbed up, up, up, flicking the bike left, then right, left, right. It felt light and agile and effortless through the twisties. Then I came around a corner at a swift clip to find a bulldozer occupying half my lane on the two-lane road. Nice. Fortunately, Yamaha didn't cut any costs with the brakes-two-piston calipers bite down on dual 298mm front discs and a single-piston caliper on the single 245mm rear disc, which stopped the bike strongly in its tracks.
I bid the 'dozer adieu and headed downhill, and then back up another. Matching the R's engine speed to lower gears when downshifting is easy so there's no jerkiness. Clutch lever feel is light, and an easy reach for my small hands. A 32-bit ECU controls the Mikuni four-hole, two-direction, high-dynamic-range type fuel injectors, and power is predictable and controllable. If I didn't keep the revs up going uphill through the canyons, there was sometimes a slight delay in response to throttle input. At highway speeds in top gear, heavier riders felt a brief hesitation when jumping on the throttle, too.
The FZ6R, especially in yellow, is one attractive motorcycle that rides like a more expensive machine than its $7,090 MSRP would suggest. The one odd design is the mirrors, which are perched on the ends of goofy-looking 10-inch stalks that protrude like snail's antennae. But hey, they work well, so how can you argue with that? I like the look of the four-into-two-into-one midship stubby exhaust that's positioned low to give the bike a lower center of gravity. Other advantages are that you don't have to worry about burning a set of soft saddlebags on a big muffler, and there's less pipe to accidentally lean against when gassing up.
More niceties include the large numbers on the easy-to-read digital speedo that takes just a slight glance downward to read. The FZ6R also starts up easily, has an exhaust note that's quiet without sounding wimpy, and the narrow, lightweight bike is easy to back out of parking spaces and such. The downside to the bike being light is that it gets blown around in the wind, which I was particularly sensitive to because my daily commuter before this was a 660-pound cruiser.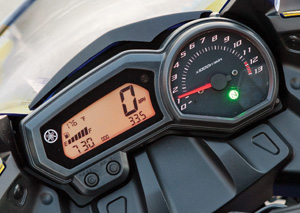 My ride as a passenger on the R's pillion seat was brief but my assessment is that unless your passenger is one of those Cirque du Soleil contortionists, he/she would be happier jogging alongside you on anything but brief rides. The passenger seat has a hump (What hump? With apologies to Marty Feldman of Young Frankenstein) that forces the passenger to either sit back, feeling detached from the rider and trying to hang onto a grabrail that's mounted so close to the bodywork that it's hard to get a gloved hand around, or so close to the rider that his or her body influences the rider's movements. My constant companion was a large Nelson-Rigg tailbag that stayed firmly secured and didn't shift around. The R's tank will accommodate a magnetic tankbag for more storage space.
If you've ridden a hypersport YZF-R6 (priced at three grand more!)-an older engine version of which powers the FZ6R-or the sport standard FZ6, you may think the '09 FZ6R lacks a little steam. Personally, I really like its ability to whiz me through the twisties and around town and keep me comfortable on the highway, with snazzy supersport styling and a low price. It delivers good fuel economy at 43.7 mpg average, and only requires lower-priced 87 octane. The FZ6R is also available in three other nifty color choices, all with slightly different graphics, with the Raven (black) model priced lowest at $6,990.
In this day of more gadgets, more horsepower and more, more, more, Yamaha saw fit to do less by introducing an enticing bargain blaster to attract new riders. And we're betting that the FZ6R's design and exceptional qualities will also attract seasoned riders and keep them happy for a long time, too.
2009 Yamaha FZ6R Review Specification Chart
Base Price: $6,990
Price as Tested: $7,090 (Cadmium Yellow)
Warranty: 1 yr., unltd. miles
Website: www.yamaha-motor.com
Engine
Type: Liquid-cooled, transverse in-line four
Displacement: 600cc
Bore x Stroke: 65.5 x 44.5mm
Compression Ratio: 12.2:1
Valve Train: DOHC, 4 valves per cyl.
Valve Adj. Interval: 26,600 miles
Fuel Delivery: Mikuni EFI, 4-hole injectors
Lubrication System: Wet sump, 2.9-qt. cap.
Transmission: 6-speed, cable-actuated wet clutch
Final Drive: O-ring chain

Electrical
Ignition: Digital TCI
Charging Output: 330 watts @ 5,000 rpm
Battery: 12V 10AH

Chassis
Frame: Tubular-steel double cradle w/ box-section steel swingarm
Wheelbase: 56.7 in.
Rake/Trail: 26.0 degrees/4.1 in.
Seat Height: 30.9/31.9 in.
Suspension, Front: 41mm stanchions, no adj. w/ 5.1-in. travel
Rear: Single shock, adj. for spring preload w/ 5.1-in. travel
Brakes, Front: Dual discs w/ 2-piston pin-slide calipers
Rear: Single disc w/ 1-piston pin-slide caliper
Wheels, Front: Cast, 3.50 x 17 in.
Rear: Cast, 4.50 x 17 in.
Tires, Front: 120/70-ZR17
Rear: 160/60-ZR17
Wet Weight: 475 lbs.
Load Capacity: 407 lbs.
GVWR: 882 lbs.

Performance
Fuel Capacity: 4.6 gals., last 0.9 gal. warning light on
Average mpg: 43.7
Estimated Range: 201 mi.
Indicated rpm at 60 mph: 5,300