Anyone who has ever owned a vintage motorcycle understands the deal. You pull your old iron out of the garage and dust it off, tinker with it, try to start it, tinker with it some more and then maybe, maybe, get it running and ride on down to the roadhouse. There, the guys on their high-tech bikes and exotic customs sidle over, poke around and appreciate the oldster's heritage—and your obvious devotion and skill in keeping it running. Old iron is cool…though it can be a pain because of oil leaks, meager performance, haphazard reliability and anti-stop brakes.
It's this heritage, this coolness from the classic days of motorcycling that has brought us such bikes as today's Ural, the Royal Enfield, Triumph's new twins and of course this 2007 Harley-Davidson Heritage Softail Classic. But while many may wish to experience the coolness of a bike with classic style, few actually want an old motorcycle with its hard starting, poor handling and incontinence. We want all the fun without the drawbacks…it must be like having grandchildren!
Obviously, the new Heritage Softail Classic is no remake of an old bike. Harley-Davidson relentlessly updates its models, and for 2007 has performed major updates across its entire Big Twin line. The Softail family gets its name from the fact it's been designed to mimic the classic appearance of an old hard-tail machine, though it actually conceals its horizontal twin rear shock absorbers beneath the engine. As a distillation of the concept, the Heritage Classic is a touring cruiser that incorporates classic-looking fenders, a black powdercoated engine with chromed covers, passing lamps, a windscreen and leather saddlebags. And while Harley-Davidson has simplified the engine and transmission styling of other model families, the Softails retain the more classic styling cues such as the horseshoe oil tank and exposed oil lines.
Sure, its air-cooled, 45-degree, pushrod V-twin engine looks much like its 88-cubic-inch Twin Cam predecessor, but the '07 now displaces 96 cubic inches (1,584cc) and is essentially a new engine. The displacement increase was achieved by stroking it from 101.5 to 111.25mm (4.0 to 4.38 inches), while using the same 95.2mm bore. Not only does allowing the pistons to gallop that much farther down the cylinders increase displacement, but when they sweep farther upward toward the heads they also increase compression from 8.9 to 9.2:1 and necessitate the use of premium fuel. To boost torque, the intake lobes on the new camshafts have been retimed.
Note that the Twin Cam features a new, lighter camshaft design for '07 that also replaces the old roller bearings with hydrostatic plain cam bearings. H-D states that there are more than 700 new part numbers associated with this new TC96 engine, and that it encompasses many other more subtle updates that contribute to greater reliability and lower maintenance; we'll cover those later.
Turn the switch up on the dash, hit the button and this big-incher starts with a sharp bark. There's no need to fiddle with a choke lever, as all 2007 Harleys get the improved Electronic Sequential Port Fuel Injection. The new injector nozzles cover 25 degrees, replacing nozzles that offered only eight degrees of coverage. They work very well and allow the rider to make fine throttle adjustments easily. While the system uses O2 sensors in the pipes, catalysts are not required.
Peak clutch lever effort was reduced by 35 percent on 2006 Big Twins through a redesign of the clutch's ball-and-ramp mechanism, and a lighter spring. This year, Softails and touring models get a new clutch cable and a further reduction of 7 percent in lever effort. All 2007 Big Twins are equipped with the Cruise Drive six-speed transmission, which debuted on the Dyna line last year. The new transmission case is beefier and features larger internal bearings and gears. The gears are now helical cut and offer a larger contact area than the former straight-cut gears, so they're not only stronger but quieter. Torque capacity of the transmission cases has been increased to 125 lb-ft. Nope, sorry…because of internal oil lines and such, the Cruise Drive does not retrofit to earlier Harleys.
Cock your head out on the road and notice that, for 2007, H-D has restructured its exhaust systems for a more pleasant sound. Rather than sounding strangled, the Classic's staggered duals now have a throatier note.
Unlike the other Big Twin families with their rubber-mounted engines, only Softail engines are rigidly mounted. The frames on bikes with rubber-mounted engines must allow room for engine movement. With a rigid-mounted engine the frame can be fitted more closely around the powerplant for a cleaner and more classic look. Solid mounting also ties the frame together, which strengthens it. Harley-Davidson solved the inherent vibration problem on its original TC88 Softails by utilizing an engine counter­balancer that neutralizes much of the shaking; these have come to be known as the /B engine. Lighter pistons and con rods reduce reciprocating weight on all '07 Big Twins. H-D says this reduces engine vibes, and we concur. We felt only a little vibration primarily at idle in the seat and grips, but it was quite acceptable.
Let out the easier clutch and the rider immediately senses the additional torque. In our experience at the Borla Performance dyno, Twin Cam 88 engines typically generated about 65 horsepower stock and less than 70 lb-ft of torque. Although our TC96B test bike actually made a little less horsepower at the rear wheel (62.3), torque output has been bumped to 79.1 lb-ft, which the rider can feel right off idle.
The Cruise Drive six-speed shifts much more cleanly and easily than its predecessor, as its moving gears have been replaced with much lighter sliding steel "dog rings." The heel-and-toe shifter on our Heritage required significantly less shift lever effort, and there was no clunking during shifts. Because of the additional torque H-D was able to use taller gearing in first through third gears, yet the new model feels quicker. Fourth gear's ratio is very similar in the two transmissions, and the new sixth cog is about 11 percent higher geared than the old fifth. While the Heritage Classic has no tachometer, H-D claims that the previous transmission turned 3,226 rpm at 75 mph in fifth gear, while in sixth gear the new tranny has the engine turning only 2,859 rpm. On the highway, the '07 model definitely feels more relaxed and should be easier on fuel, though our test bike returned an unimpressive 37.1 mpg.
If you have a moment to scan the speedometer while cruising the highway, note that the gauges are new this year and a little numeral "6" illuminates when it's in top gear. There's also a digital clock and low-fuel indicator. Yep, the fuel gauge still resides in the dummy left fuel cap.
The Heritage Classic is set apart from other Softail models by those leather saddlebags and the simple windscreen, which define it as a very suitable touring cruiser. Each bag is stiff, well braced and holds a good amount. To simplify their use, the buckles are backed by quick-release nylon fasteners that open with a squeeze and close by clicking back into place.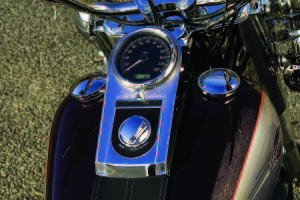 The windscreen detaches easily by grasping it from the front, tugging up and back and pulling it right off. To replace, set its slots into the appropriate rubber grommets, push down and back, and it snaps into place. I'm 6 feet tall and the top of the screen cut right across my line of vision, so I usually removed it for short rides. Otherwise, it offers torso protection. Likewise, the passenger seat removes easily with a flat-blade screwdriver, and the backrest by removing four Torx screws.
With its greater torque and lighter clutch pull, the Heritage is easier to control at low speeds, but the bend in the high handlebar splays the grips too wide for my liking, which tired my hands. On the other hand, the bar provides a good deal of leverage and helps at parking-lot speeds.
There won't likely be many complaints about the wide, well-padded, studded seat. It's so attractive I had to check twice to be sure it was the stock unit and not an upgrade. It's not so wide as to splay the legs and complicate reaching the ground, and with its seat height of just 27.4 inches the Heritage should not be too high for most riders. While the big seat was a cushy gem, I was wishing it had been set several inches rearward as its step pushed me farther forward than I wished. The rubber-mounted footboards are placed just right for me. On the road the 41.3mm fork with its chromed covers works very well, and the shocks are oriented toward a plush highway ride. Get rolling fast in the turns, however, and you'll soon overwhelm the shocks' damping ability and have the rear lurching around. You likely won't go there, as the lack of cornering clearance and inherent parts scraping inhibits backroad bombing. With rake and trail figures of 32 degrees and 5.8 inches, and a wheelbase of 64.5 inches, steering is slow and deliberate but always steady, stable and predictable. A single disc brake with four-piston caliper at each end provides firm, steady stops for this 755-pound motorcycle. We also loved the optional Profile Laced Wheels ($450) for their smooth style and simple beauty.
Let's say some Beavis-type guy has been bugging you, saying, "Hey, let me take your new Harley for a putt." So you toss him the key and smirk. "Sure, you can take it around the block—if you can get it started." Then you walk away. In seconds he's sitting on the bike, pushing the starter button, but all that's happening is the turn signals are blinking alternately. That will happen if the bike has been equipped with H-D's new optional Smart Security System ($325). It consists of a little plastic fob which fits in a pocket. When the fob is more than 8 feet from the vehicle, the system arms itself and disables the ignition system. It's automatic; no button pushing is required. When the bike is disturbed, the signals flash; a siren alarm is optional—which would be a real hoot when that Beavis guy sits down. Should you lose the fob, you can arm or disarm the system by using the turn signal controls to enter a PIN number.
If the additional displacement, power and six-speed transmission aren't enough, H-D provides significant detail improvements to the entire 2007 Big Twin line. The starter motor is now bolted to the inner primary, eliminating the need for the jackshaft. With a redesigned primary cover and case, maintenance is simplified as the need for primary chain adjustments has been eliminated; it will retrofit the TC88 engine. The durability of the cam-chain tensioning system has been increased. Oil pump capacity has been increased, as has scavenging capacity. The final drive belt has been re-engineered with carbon fiber strands and, though lighter than its predecessor, it's 30 percent stronger.
More displacement, more torque, easier operation, less maintenance, enhanced sound: Harley-Davidson has done a terrific job with its 2007 Big Twins. It all comes down to delivering more good stuff with less muss and fuss, and one can feel the difference. Sure, it comes with a price, but $19,230 is not outrageous for these changes. It's like having a vintage bike with all the modern stuff on it. Just because it looks old doesn't mean it has to act old.