No, you're not imagining things. Scrambler-style bikes are everywhere these days. Triumph arguably got there first with its eponymous Scrambler back in 2008, while Ducati's 803cc Scrambler has been selling like hotcakes over the two years it's been available. Heck, even BMW's ginned up a scrambler out of the R nineT platform. And that's just the OEMs; Bike EXIF is jammed with customs sporting knobby tires, high pipes and little or no bodywork. This year, not wanting to miss the enduro bandwagon, comes Moto Guzzi with its 2016 V7 II Stornello.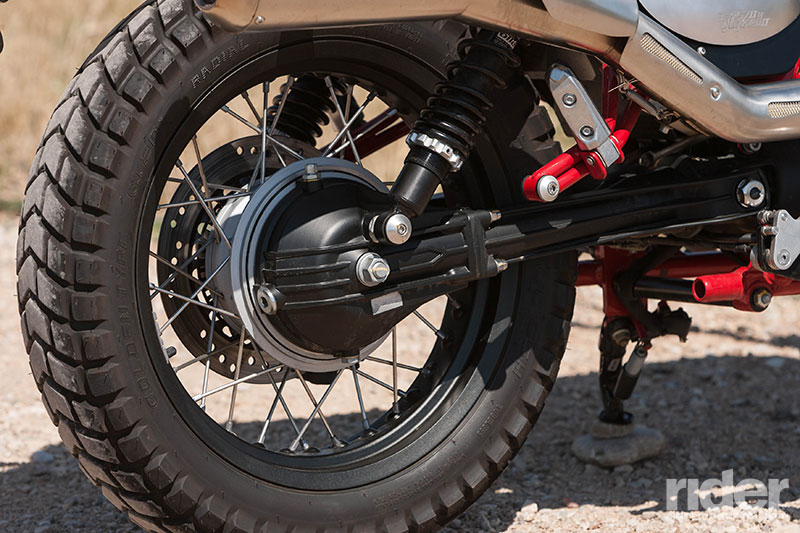 Essentially an accessorized V7 II, the Stornello joins the Stone, Special and Racer in Guzzi's 2016 lineup. It may be a bit late to the party, but the Stornello brings legitimate heritage, as it's based on Moto Guzzi's model of the same name from the '60s and '70s (there were several variations). The original 1972 Stornello Scrambler 125 was a competitive ISDT model of the time, while the new V7 II Stornello gets the same upgrades as the rest of the V7 II line, including dual-channel ABS, traction control and a six-speed gearbox, all powered by the latest edition of the 750cc Guzzi small block V-twin.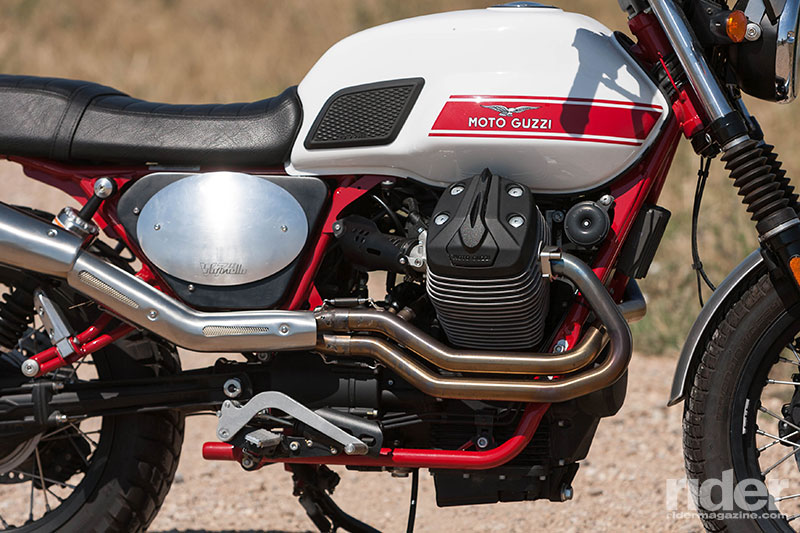 Did Guzzi nail the look? Pretty much. A white tank with red stripes, red frame and black engine pays homage to the 1972 Stornello, and the unmistakable two-into-one Arrow exhaust, wire-spoke wheels with semi-knobby rubber, long bench seat with stitched logo, knee pads, enduro-style footpegs, fork boots, hand-hammered satin aluminum fenders and number plates distinguish the Stornello from its V7 stablemates.
Ergonomics have also been revised, starting with a relocated engine that places the 90-degree V-twin's cylinders farther away and lower. The seat now sits at 31.4 inches, while footpegs were slightly lowered for more legroom. Unchanged are the claimed 48 horsepower, a 5.8-gallon fuel tank, and claimed curb weight of 419 pounds.
All that comes into play once you climb aboard; the first impression is how low and compact the Stornello feels, especially considering it's meant to be dirt-worthy. The mid-mount controls sit you mostly upright, though shorter pilots will be stretching slightly forward to reach the low bar. Even with my short 30-inch inseam, boots could be planted firmly on the ground.
Thumb the starter, twist the throttle and the fun begins with a rowdy growl and a snatch from the new 6-speed gearbox–not at all in a bad way, just the sounds of a busy, expressive engine that likes to be spun up. Shifting is fairly painless, but you'll feel (and hear) it pretty well. With quick throttle response (fueling is improved over the previous V7) and easy steering from the smallish 7/8-inch dirt-style bar, the bike's 400-plus pounds can be shoved around quite nimbly with minimal inputs from the pilot, thanks to a fairly compact 57-inch wheelbase. You can't help but paste a big stupid grin on your face; this thing is lively. The 40mm front fork felt mostly adequate, if a bit softly damped, and the dual coil-over rear shocks bring only 4.3 inches of travel to play with, but that's not a deal-breaker; for light, dirty work and fire roads—which is what most riders will see—it's just fine.
On the highway, you can cruise at 70 mph pretty easily, though the Stornello's 744cc lump will conjure up some vibrations at that point, and there's no windscreen to deflect the gusts, so I wouldn't recommend long stretches. The dash and two-dial gauge layout are mostly analog and pretty bare bones, but ABS and traction control come standard (and TC can be switched off, should you want to break the rear loose).
At the end of my brief 100-mile ride on the Stornello, I was grinning ear to ear; this is pure, kick-up-your heels fun, the way motorcycling used to be, with a peppy engine, simple design, exposed mechanics and clean, minimal styling. I do wish the $11,990 MSRP was more in line with the competition, however; both the Ducati base Scrambler and the Triumph Scrambler ring in at under $10K. Perhaps it's because the V7 II Stornello is being positioned as a limited-edition tribute bike, with a production run of only 1,000 units. Exclusivity has a price, yes, but fortunately the Stornello brings plenty of fun to the table, too.
2016 Moto Guzzi V7 II Stornello
Base Price: $11,990
Website: motoguzzi-us.com
Engine Type: Air cooled, longitudinal 90-degree V-twin
Displacement: 744cc
Bore x Stroke: 80.0 x 74.0mm
Transmission: 6-speed, single plate dry clutch
Frame: Tubular-steel double cradle
Final Drive: Shaft
Wheelbase: 57.0 in.
Rake/Trail: 27.0 degrees/4.6 in.
Suspension, Front: 40mm hydraulic fork, 5.11-in. travel
Rear: Swingarm w/ 2 preload adjustable shock absorbers; 4.3 in. travel
Brakes, Front: 320mm stainless disc, Brembo opposed 4-piston caliper w/ ABS
Rear: 260mm stainless disc, Brembo 2-piston floating caliper w/ ABS
Seat Height: 31.4 in.
Claimed Wet Weight: 419 lbs.
Fuel Capacity: 5.8 gals.
MPG: NA