story and photography by Paul Garson and courtesy of MC, OMC, SFMC, PMC
Setting goals keeps us focused, be they geographical or chronological in dimension. Being able to throw a leg over a motorcycle at age 100 (and getting the other one on as well) is one of mine. Four U.S. clubs have reached that century milestone and beyond, inspiration for us all.
Number 1 Oldest MC: Yonkers MC, New York, Founded 1903
How old is old? The year was 1903, notable for several important birthdays. Individual arrivals included Bing Crosby, Bob Hope and Eliot "Untouchables" Ness. Meanwhile those Wright brothers got it right at Kitty Hawk, and a new company called Harley-Davidson tried to sell its first motorcycles. Plans had progressed for the Panama Canal as well as the first tunnel under the Hudson River near Hoboken, closer to home for members of the new Yonkers MC.
Under the apparently far-seeing leadership of its first president, one George Eller, the Yonkers Bicycle Club morphed into the Yonkers Motorcycle Club. The club had already sponsored an endurance run before the Federation of International Motorcyclists (FIM) was formed a year later in 1904, some 23 years before the founding of the American Motorcycle Association (AMA) in 1927.
In fact, the YMC was chartered by the AMA as its No. 6 member, so it was there when it all began. Later on during World War II, club members served as Civil Defense messengers for the city of Yonkers, a long-standing tradition of community service in the club's history. It supports the work of the Yonkers Enrichment Center, a facility that cares for handicapped children, and comes to the aid of injured motorcyclists, recently donating an electric chair to a disabled rider.
The club currently sponsors an annual AMA-sanctioned Road Run; other events include a Toys for Tots Party, a Chili Party and a Spring Break Out Party. It still keeps links to the past in its YMC clubhouse, which sports a trainload of trophies, banners and memorabilia dating back to the 1920s, even a classic 1913 Pope.
Bob Stackhouse, president for eight of the last 15 years, said, "This year is our 105th, and the fact that people from all walks of life have held the club together for that period of time is a feat in itself, and we're very proud of our standing as the oldest bike club in the world." At the 2007 Sturgis Rally the Yonkers MC was spotlighted at the Sturgis Museum exhibit of famous motorcycle clubs with a photographic display of 100 years of two-wheeling history.
Yonkers Motorcycle Club, 152 South MacQuesten Parkway, Mount Vernon, New York 10552; (914) 663-2773; http://yonkersmotorcycleclub.net
Number 2: San Francisco MC, November 1904
The very first SFMC meeting, attended by 12 charter members, took place in November 1904 at A. Freed's Thor Motorcycle Shop near famous Fulton Street. A year later the club sponsored its first run, a five-miler from the clubhouse to the top of a hill in nearby Daly City, although rain bogged all 12 riders down in the muddy "road" after a couple streets. The infamous April 16, 1906 great San Francisco earthquake laid waste to the clubhouse, but as the story goes, one brave soul, J.L. Tormey, entered the burning clubroom and rescued the gavel, thought lost until presented at the club's 40th Anniversary party in 1944.
The club bounced back and has been rockin' and rollin' ever since. By 1911 it counted more than 500 members, including SF city mayor P.H. McCarthy. In 1913 the famous H-D hillclimb champion Dudley Perkins Sr. joined the SFMC, a year later opening his now iconic Dudley Perkins dealership. By 1927 SFMC was an AMA member, and 10 years later Indian rider Hap Jones, another famous club member, would be the first to ride across the Golden Gate Bridge.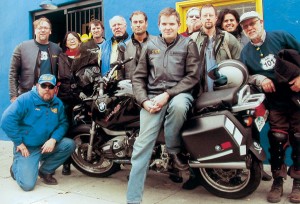 The club's award-winning Drill Team also made an appearance at the semi-infamous 1947 Hollister rally, another club milestone of sorts. In 1949 a club benefit auction included a 1904 Curtiss, but nobody bid on it so it went on display, still to be seen today. In 1987 Hap Jones returned to lead the 50th Anniversary Crossing of the Golden Gate Bridge. On June 17-20, 2004 the SF MC celebrated its 100th with a three-day event that included a street fair and ride to SF's famous landmarks.
The club actively supports the motorcycling community in San Francisco. Describing its members, one offered the following: "We have male and female members, members with Harley choppers, we have criminals and lawyers, we have members with dirt bikes, we have racers, we have members who commute to work on motorcycles, who like to take month-long trips on motorcycles, who like to work on motorcycles, who only have antique bikes, who only ride on weekends, etc. We all have motorcycle licenses and we get along about as well as most families."
San Francisco Motorcycle Club, 2194 Folsom Street, San Francisco, California 94110; (415) 863-1930; www.sf-mc.org
Number 3 (Tie): Oakland MC, August 1907
Three of the four oldest historic motor­cycle clubs were founded in California, including the Bay Area's Oakland MC "discovered" in 1907. The club celebrated its 100th last August with a series of events centered around its member-built Club Hall constructed in 1983.
The club's current events include the annual Three Bridge Run. The evening ride, often attracting some 400 riders, starts at the clubhouse and rolls over the Bay Bridge to San Francisco, then the Golden Gate Bridge to Marin County, and finally over the Richmond-San Rafael Bridge and back to the clubhouse.
Another popular activity is the two-day, 300-mile Sheetiron Dual-Sport run, taking a route from Fouts Springs to Fort Bragg over a choice of country roads, dirt roads, and for the hardcore off-roaders, single-track trails.
Number 3 on the menu is The Jackhammer Enduro, first run in 1971, a 100-miler through the Mendocino National Forest stepping off from Fouts Springs. Members have ridden far from home as well, including treks to the Antarctic and through Nepal, Russia and Turkey. In fact, a large percentage of the bikes owned by club members are BMW GS adventure tourers.
The club is open to all kinds of motorcycles and offers all kinds of strokes for different folks, from street to offroad. The 80-some member club is supported by a woman's auxiliary, the OMCA, which organizes its own rides as well. Speaking with OMC President Larry Stewart, himself a BMW and Gold Wing rider and a member of the club since 1993, he said, "The essence of the club centers around its diversity, the friendship and spirit of adventure that's made it last for 100 years."
Oakland Motorcycle Club, 742-45th Avenue, Oakland, California 94601; (510) 534-6222; www.oaklandmc.org
Number 3 (Tie): Pasadena Motorcycle Club, Founded 1907
The PMC was started by offroad and enduro riders, focusing on Hare and Hound races zipping around and through the local orange groves (now since paved over). By the 1990s it had evolved into a street-riding organization that focuses on monthly meetings and its two annual rides, one being the PMC Poker Run, the 30th annual event held February 2006. The other major club event, a more-than-60-year tradition, is the Green Horn Road Tour, but you don't have to wear green horns or be a newbie rider to join the fun.
Way back in 1911 the club took part in the annual Pasadena Rose Parade, entering its own club float. For many years PMC members rode their bikes as parade escorts, and then began piloting the giant flower-decorated floats via ATVs, now one of the club's honored traditions.
Activities include Saturday breakfast rides, summer Monday night rides and the annual June PMC Picnic, the October campout, Christmas Potluck dinner and the Officer's Installation & Awards Banquet held in January. Club membership is open to all brands of motorcycles, regardless of age, and you don't even have to be from Pasadena to join up.
Asked why he joined the club, President Paul Barber says, "I found out about it in a motorcycle magazine ad and then discovered it was really the only organization I've ever joined that I wanted to go to every week, because it's a bunch of people who aren't uptight about anything and the meetings are just great fun."
Pasadena Motorcycle Club, 21 E. Howard Street, Pasadena, California 91104; www.pasadenamc.com
[From the March 2008 issue of
Rider
]