[This 
2007 Kymco Xciting 500 Road Test
was originally published in the May 2006 issue of Rider magazine]
Scooters were big back in the 1960s when I was in high school, and began making a comeback in the '90s. Today, both young people and anyone who has become distressed at paying in excess of $60 for a fill-up on their four-wheeler can become enamored of these cute, multicolored, mobile jellybeans.
Another player in that field, freeway legal and offering all the amenities, is the 2007 Kymco Xciting 500. Kymco is the Kwang Yang Motor Company, a Taiwanese brand that first appeared in 1992, though its parent company has been around since '63. Kymco also manufactures mobility scooters for the disabled and a 250cc V-twin cruiser called the Venox. I toured the Kymco factory in Kaohsiung, Taiwan, in 2005 and found a very modern and well-kept facility (see Rider, May 2006).
Powered by a liquid-cooled, four-stroke, single-cylinder engine with a bore and stroke of 92.0 x 69.0mm, the 499cc Xciting 500 is Kymco's largest displacement scooter and quite well appointed. It has that modern crisp, ironed-and-folded look so popular today-a laid-back easy chair on wheels, but with attitude. Its orange upper body (blue or black is also available) looks clean and neat, nicely contrasting with its silver lower body.
Turn the key, hit the starter button and' nothing. Ah, you must simultaneously pull the right front brake lever. Grind, grind, grind' and, oh yes, the sidestand must be up (there's also a centerstand) for it to start. Learn the drill and the Xciting starts easily and settles into a muted idle. Though it's carbureted, the choke is automatic and requires no fiddling.
Turn the throttle and with its automatic clutch the Xciting 500 moves out smoothly and immediately, its CVT (constantly variable transmission) offering fuss-free riding. Acceleration is surprisingly sprightly off the line, even two-up, and its standard tachometer immediately swings (depending upon throttle setting) over to 4,000 to 7,000 rpm and holds mostly steady as the Xciting 500 accelerates with a determined purr. I found its power more than adequate for two-up scooting (every time I pulled the 500 out of my shop, my teenage kids came bounding up for a ride), and even a bit dashing and sporty solo.
This big scooter weighs 529 pounds fully fueled and carries its weight low. That, combined with its automatic clutch, shifting and step-through design, makes it extremely user friendly and non-intimidating in comparison with a motorcycle. Beyond that, however, scooter traits come into play. The rider sits on a soft seat in a slight slump with the feet on the floor. In turns it helps to splay the knees outward to avoid the wrists contacting the knees. Judicious application of the throttle while dragging the brakes makes tight turns easy.
Around town the 500 Xciting is a joy with sprightly acceleration, no shifting and surprisingly powerful linked brakes-if you provide the power for them. The left brake lever (it's where the clutch lever would be on a motorcycle) controls one front disc and is quite powerful, while the traditional right brake lever controls the other front disc and rear brake. It's a good thing that the triple disc brakes with twin-piston calipers are powerful because the Xciting's engine does not offer a great deal of engine braking. Secondly, as the bike slows to a stop the automatic clutch disengages at walking speed and the brakes are needed. My only concern is that heavy braking requires a strong pull on the levers-stronger than is usually required to stop a much heavier, more powerful motorcycle-which may be beyond the ability of younger or smaller riders. I would suggest that Kymco recalibrate its braking system to deliver more braking force with less lever effort.
Also, motorcycle riders who operate a clutch lever as second nature need to develop a healthy awareness of the 500's dual brake levers. Forgetting and pulling the "clutch" forcefully could result in heavy, unexpected braking, and possibly even a locked wheel.
Out on the freeway the 500 rolls along on its 62-inch wheelbase, suspended by a telescopic fork and a pair of rear shocks. Here the ride is choppy, with its 120/70-15 front tire and a 150/70-14 rear slightly smaller than motorcycle wheels; its suspension kicks back on abrupt bumps. Our test scoot's speedometer reads in kilometers, and while it indicated 140 kph (about 87 mph), I would estimate actual top speed at closer to 80 mph. Above 65 mph the tachometer is reading more than 6,000 rpm and the engine begins to sound and feel strained, which does not lead to a relaxing ride. Redline is 7,500 rpm.
Stop, turn the key counterclockwise and the seat easily pivots upward to reveal a large partially flocked storage area that will hold a pair of open-face helmets, or one helmet with jacket' or whatever. It offers impressive convenience.
While this machine performed flawlessly, we were originally given another Xciting 500 that failed to start and was returned to the distribution center. Upon its return it would start but ran raggedly, stalled frequently and occasionally refused to restart. I sent it back a second time and requested a different scooter' which ran fine.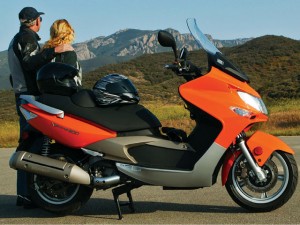 One reason people buy scooters is for their perceived fuel economy, and the Kymco delivered about 45 mpg, which with its 3.4-gallon tank would provide a range of about 150 miles. That's not stellar, but you must consider that it's the size and weight of a 500cc motorcycle, and that I rode it largely in town on short hops or screaming along on the freeway; neither is conducive to good fuel economy.
With its high level of fit and finish, comfort, easy running (except for the high-effort brakes), agile handling and generous underseat storage the Kymco Xciting 500 is a joy around town and was my choice for errands and short hops. Its ease of operation inspired me to go exploring the local streets and backroads of my town. However, its slightly twitchy handling at speed and straining engine beyond about 65 mph caused me to take the motorcycle for freeway jaunts. At $5,999 the Xciting 500 is affordable, stylish, fun and easy to ride, and its two-year warranty provides good backup. And for those who want a little less, Kymco also offers an Xciting 250.
If you're interested in the 2007 Kymco Xciting 500, you may also be interested in eight additional 250-1200cc Scooter motorcycle road tests and spotlights for new motorcycle riders.