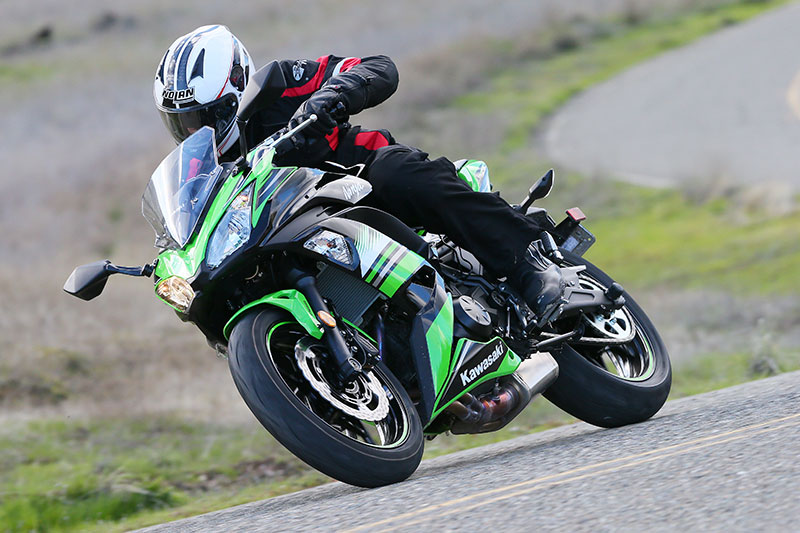 Forty-two pounds. That's about what a 5-gallon water bottle weighs. Ever hefted one of those when loading a new one atop a water cooler? Pretty darn heavy, right? Now imagine carrying that much extra weight on a motorcycle. The engine has to work harder, handling is less nimble and gas mileage suffers.
When Kawasaki gave its popular Ninja 650—Team Green's No. 2 selling street bike—an overhaul from the ground up, shedding weight was a major goal. Its new high-tensile, tubular-steel trellis frame saves 18.9 pounds. Its new hollow-press construction swingarm, which has an elegant gullwing shape on the right side to clear the low-slung exhaust, saves 6.2 pounds. Changes to the engine save another 4.4 pounds, new wheel assemblies cut 3.9 pounds in unsprung weight (a major boon to handling) and miscellaneous nips and tucks—lightening everything from the chainguard to the ABS unit—saves another 8.4 pounds.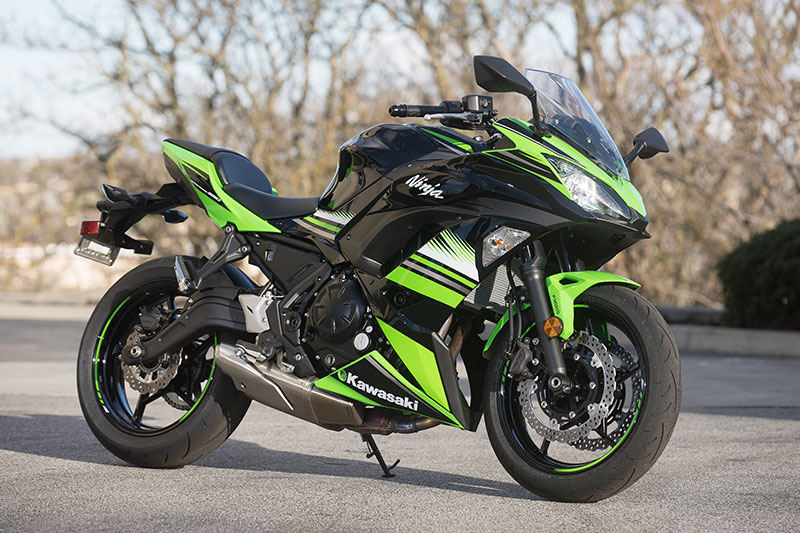 The new Ninja 650 is not only lighter, it has more aggressive styling that looks particularly sharp on the KRT (Kawasaki Racing Team) Edition you see here. Unlike Kawasaki's track-focused ZX-R supersport models, the Ninja 650 is intended to be an everyday street bike. It has more modest performance, price-point components, less extreme ergonomics and even a three-position windscreen with 2.5 inches range (adjustment requires an Allen wrench from the well-stocked, underseat toolkit).
Read our 2017 Kawasaki Z650 first ride review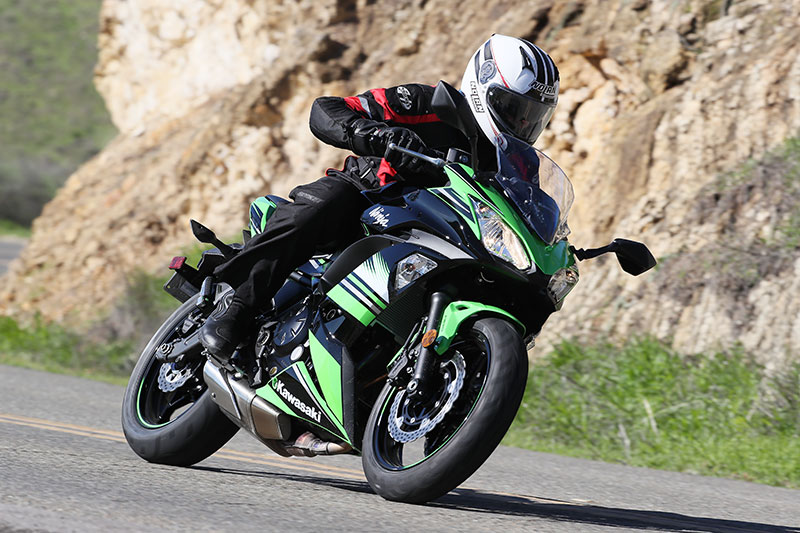 Bryan Smith's Flat Track GNC1 Championship-winning race bike uses the same engine platform as the Ninja 650—a liquid-cooled, 649cc parallel twin with DOHC and four valves per cylinder. For 2017, it has been retuned for more low to midrange torque and features open-deck, die-cast aluminum cylinders for less weight; plated, linerless cylinder bores for a more compact engine; fine-atomizing injectors for precise fueling and new engine cases that incorporate a mechanical gear-position indicator. Throttle bodies are smaller (36mm, down from 38), intake ports are slimmer, new camshafts have reduced operating angle and valve overlap, and a revised airbox and exhaust improve acceleration, sound and midrange power.
When we put the 2017 Kawasaki Z650, which has the same engine and chassis, on Jett Tuning's rear-wheel dyno, it made 60.6 horsepower at 8,100 rpm and 43.9 lb-ft of torque at 6,700 rpm. Compared to the 2016 Ninja 650, peak horsepower is down by 5, peak torque is about the same and redline has been lowered from 10,500 rpm to 9,500 rpm. Between 3,500 and 6,500 rpm, the 2017 Ninja 650 makes 0.6-2.5 more horsepower and 1.2-2.7 lb-ft more torque than last year's model, but above 6,700 rpm the 2016 makes more power and torque, and its advantage increases with rpm.
Numbers and specs are one thing, but from the saddle, the new Ninja 650 feels punchier and sounds rowdier. It still makes that docile chugga-chugga-chugga sound at idle, but a good twist of the throttle reveals a peppy intake noise and more vigorous exhaust note. After giving the bike a good flog among the rolling hills of California's Central Coast, I was impressed by its zesty attitude. The previous model always struck me as a bit flaccid and flabby, especially when compared to bikes like the Suzuki SV650 and Yamaha FZ-07. But a stronger midrange, significant weight loss, sharper steering geometry and more aggressive sound have given the Ninja 650 a new lease on life.
Read our 2016 Kawasaki Ninja 650 vs. 2017 Suzuki SV650 vs. 2016 Yamaha FZ-07 comparison test review
To complement its sportier look and performance, the seating position has been revised accordingly. The clip-on handlebars, which attach to risers that are well above the triple clamp, are an inch farther forward and 1.65 inches lower while the footpegs are 2.36 inches farther forward and 0.6 inch lower. To better accommodate newer/shorter riders, the seat height is 0.6 inch lower (31.1 inches) and is very narrow in front. The fuel tank, which has less capacity (4.0 gallons, down from 4.2), is noticeably slimmer as well, giving the bike a slender feel between the knees. For a tall guy like me (6 feet tall, 34-inch inseam), the Ninja 650 feels a tad cramped down low, but it doesn't put much weight on my wrists nor does it put an uncomfortable bend in my lower back. (Kawasaki makes an accessory "extended reach" seat that raises the height by an inch for more legroom.)
On the road, the new Ninja 650 feels compact and light, and it delivers a respectable level of performance for the price. With the engine used as a stressed member of the new trellis frame, the bike feels solid and well planted. During the press launch we did repeated photo passes on several curvy sections of road, and just like running through the same corners lap after lap on a track gives you a clear picture of how a bike handles, those photo passes gave me confidence in how well the Ninja 650 holds a line. It changes direction effortlessly yet never feels twitchy or unstable. Adding to that confidence is a new assist-and-slipper clutch that's light at the lever, and the 6-speed transmission shifts with enviable smoothness.
Suspension and brakes are basic, but they certainly fulfill the Ninja 650's multipurpose mission. The 41mm KYB fork with 4.9 inches of travel has no adjustability and the horizontal back-link shock, which provides progressive damping to prevent bottoming, has 5.1 inches of travel and spring preload adjustability only. They provide a fairly plush ride and only reveal their limitations when pushed hard on rough roads. The new 2-piston Nissin front calipers squeeze 300mm petal discs with surprising authority, but the 1-piston rear caliper is pretty spongy. New lighter, more responsive Bosch 9.1M ABS is optional and new 5-spoke wheels are lighter and shod with Dunlop Sportmax D214 tires.
Other nice features include the Kawasaki Air Management System (KAMS), a radiator fan duct that directs hot air down to the ground, away from the rider, as well as five-way adjustable clutch and brake levers, generous underseat storage and new instrumentation. An analog tachometer is joined by a programmable shift light and digital displays that show gear position, clock, fuel level, coolant temp, A/B tripmeters or odometer, fuel range or average/instant fuel consumption, and an eco-riding indicator. Available accessories include the extended-reach seat, 30-liter top case, tank pad, seat cowl, radiator guard and frame sliders, and the steel tank accommodates a magnetic tank bag.
The new Ninja 650 is a no-nonsense motorcycle that occupies the sweet spot between user-friendliness and performance. Its engine is smooth with strong midrange, a linear power curve and good throttle response, and it delivers excellent fuel economy (51 mpg so far, better than the 47 mpg estimated by the fuel consumption indicator). It is perfect for someone who doesn't want or need class-leading horsepower, sophisticated electronics or high-dollar components, but still wants a fully faired sportbike.
In addition to the Lime Green/Ebony KRT Edition shown, the 2017 Kawasaki Ninja 650 is available in Candy Burnt Orange, Pearl Blizzard White or Metallic Spark Black, for $7,399 for non-ABS and $7,799 for ABS.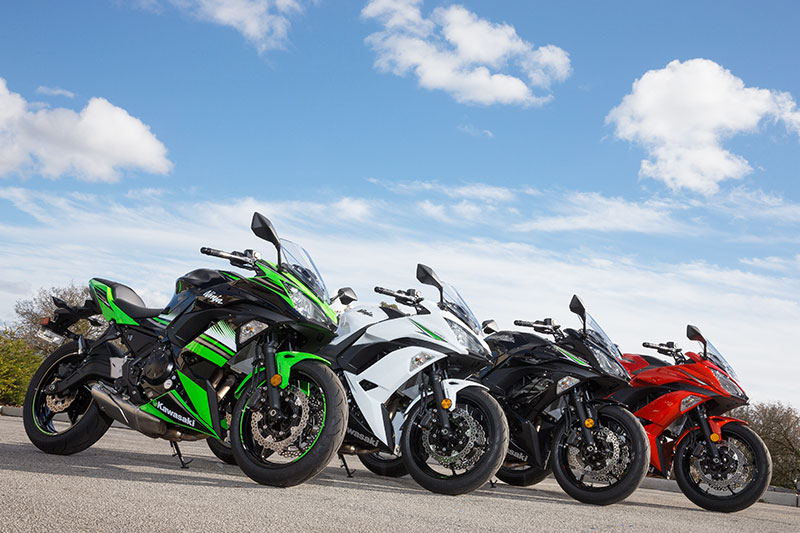 2017 Kawasaki Ninja 650 Specs
Base Price: $7,399 (non-ABS)
Price as Tested: $7,999 (KRT edition w/ ABS)
Website: kawasaki.com
Engine Type: Liquid-cooled, transverse parallel twin, DOHC w/ 4 valves per cyl.
Displacement: 649cc
Bore x Stroke: 83.0 x 60.0mm
Transmission: 6-speed, cable-actuated assist-and-slipper wet clutch
Final Drive: O-ring chain
Wheelbase: 55.5 in.
Rake/Trail: 24 degrees/3.9 in.
Seat Height: 31.1 in.
Wet Weight: 425 lbs.
Fuel Capacity: 4.0 gals., last 1.0 gal. warning light on
MPG: 87 PON min. (avg) 51.1