Take everything you think you know about cruisers, and toss it all out the window. Kawasaki's Vulcan S lineup, which includes the base-model S (available with or without ABS), the mid-range S ABS SE and the top-of-the-line S ABS Café, breaks a lot of cruiser rules—and has a lot of fun doing it.
For starters, with claimed curb weights starting at 498 pounds, these are cruiser lightweights. Combined with a low, 27.8-inch solo seat, you've got a trio of beginner-friendly machines. Each Vulcan S model also features Kawasaki's Ergo-Fit system, which allows the rider (free of charge via their dealer) to choose different seat shapes and customize the footpeg and handlebar positions to best suit their height and reach. Kawasaki offers three "suggested" configurations. Reduced Reach, recommended for those 5-feet, 6-inches and under, moves the handlebar and footpegs back one inch, while the seat scoots you forward for an easy reach. Extended Reach, on the other hand, pushes the footpegs and handlebar levers to their forward-most positions, and the seat rotates hip support back one inch, for riders 6-feet, 1-inch and taller. I fall right in the middle at 5-feet, 9-inches, so I went with the factory-standard Mid Reach configuration.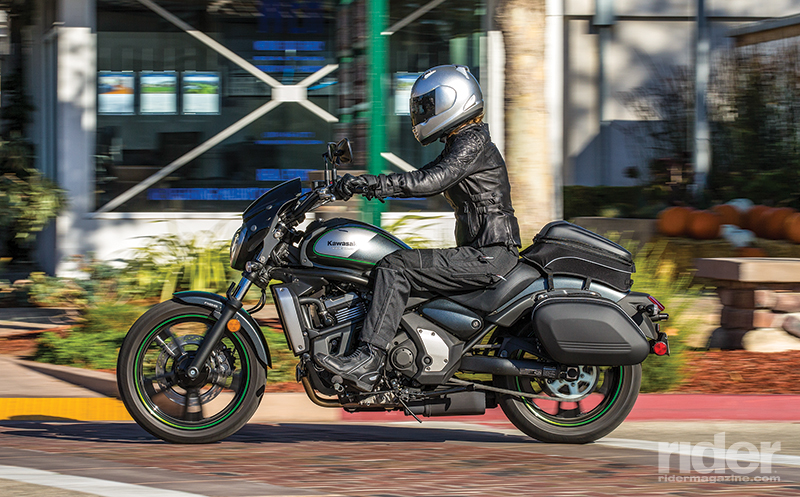 Beating at the heart of each Vulcan S is a rev-happy, 649cc, liquid-cooled parallel twin lifted directly from the Ninja 650 sportbike, encased within a high-tensile steel double-pipe perimeter frame. Instead of traditional dual rear shocks, each Vulcan S rides on a single offset lay-down shock, adjustable for preload and offering 3.1 inches of travel. Thanks to the perimeter frame (rather than the cradle type used on most cruisers) and the relatively high forward-mount footpegs, cornering clearance is surprisingly ample. It's a cruiser with the soul of a sportbike.
Or a café racer, if you prefer…as we did when we opted to test the Vulcan S ABS Café. In fact, you might call this Vulcan S a "café cruiser," with its solo seat, lack of passenger footpegs, flyscreen and racy look. Since we commute and travel on our bikes (even the racy ones), we also mounted up a set of Kawasaki's KQR Soft Saddlebags—which is a bit of a misnomer since they are actually quite rigid. The bags are small, at only 11 liters each, but they provide some storage and a wide platform for strapping a large duffle across the back if you fancy a road trip. Or, you can do as we did and use Kawasaki's Soft Top Case, which attaches to the rear fender using a bolt-on mounting bracket and D-ring straps. All three bags are easy to mount and remove, and incorporate handles to simplify carrying them around.
With its good looks and sporting nature, the Vulcan S Café proved to be an ideal ride for bombing around town and even hitting the canyons, where the stock Dunlop Sportmax tires and decent cornering clearance allow you to set a fairly brisk pace. The classic feet-forward cruiser riding position is comfortable for up to an hour, but the rear suspension proved harsh and jarring on uneven pavement. Day rides up the coast were a pleasure, however, and the Café's flyscreen diverts enough windblast to make highway speeds tolerable.
Despite its silhouette, the Vulcan S Café is more sportbike than cruiser. Thumbing the starter results in a low purr and almost unnoticeable vibration. Crack open the throttle, and instead of an instant hit of raw torque you get smooth, steady power—that just keeps coming. As on the Ninja 650 from which the engine is derived, the Vulcan S Café is happiest spinning at higher engine speeds above 5,000 rpm. It's a blast to run through its six gears, and the cable-actuated clutch has an easy pull that aids in all of that shifting. If you've been dreaming of a sportbike with the comfort of a cruiser, the Vulcan S Café might be your ride.
Hauling this lightweight to a stop is a single 300mm, two-piston caliper disc brake up front, and a 250mm, single-piston caliper disc brake in the back. Front and rear ABS is standard on the S Café. Brake performance and feel are quite good, especially for a cruiser in this price range.
While it's certainly fun to flog the Vulcan S Café through its gears, a bit of throttle restraint is rewarded with excellent gas mileage. We achieved a high of almost 61 mpg on one tank, so even with its smaller 3.7-gallon tank, that's a lot of cruising to your local coffee shop or highway commuting before needing to stop for a fill-up.
Loaded with luggage for a weekend getaway, the S Café returns good fuel economy, and thanks to its smooth, counterbalanced engine and large handlebar end weights, vibration is kept to a minimum. I noticed some buzzing in the footpegs, but it wasn't enough to annoy me. Longer rides and/or taking on some serious weather would be easier with more protection from the elements, but otherwise the Vulcan S is a capable traveling companion.
There's no denying the Vulcan S Café is a head-turner, with its unorthodox design and neon green accents. Throw in the Ergo-Fit customization and a spunky soul, and you have a fun, unique and surprisingly versatile ride.
Jenny's gear:
Helmet: Arai Defiant
Jacket: Black Brand Brazilian Waxed
Pants: AGV Sport Onyx
Boots: Fly Street Mile Post Air
2016 Kawasaki Vulcan S ABS Café
Base Price: $7,999
Price as Tested: $8,924 (KQR Soft Saddlebags & Top Case)
Warranty: 1 yr., unltd. miles
Website: kawasaki.com
Engine
Type: Liquid-cooled, transverse parallel twin
Displacement: 649cc
Bore x Stroke: 83.0 x 60.0mm
Compression Ratio: 10.8:1
Valve Train: DOHC, 4 valves per cyl.
Valve Insp. Interval: 15,000 miles
Fuel Delivery: DFI w/ dual 38mm throttle bodies x 2, sub-throttle valves
Lubrication System: Wet sump, 2.4-qt. cap.
Transmission: 6-speed, cable-actuated wet clutch
Final Drive: O-ring chain
Electrical
Ignition: TCBI w/ digital advance
Charging Output:  372 watts max.
Battery: 12V 10AH
Chassis
Frame: High-tensile steel double-pipe perimeter design, steel swingarm
Wheelbase: 62.0 in.
Rake/Trail: 31 degrees/4.7 in.
Seat Height: 27.8 in.
Suspension, Front: 41mm stanchions, no adj., 5.1-in. travel
Rear: Single offset lay-down shock, 7-position adj. spring preload, 3.1-in. travel
Brakes, Front: Single 300mm disc w/ 2-piston floating caliper & ABS
Rear: Single 250mm disc w/ 1-piston floating caliper & ABS
Wheels, Front: Cast, 3.50 x 18 in.
Rear: Cast, 5.0 x 17 in.
Tires, Front: 120/70-R18
Rear: 160/60-R17
Wet Weight: 520 lbs. (as tested)
Load Capacity: 420 lbs. (as tested)
GVWR: 940 lbs.
Performance
Fuel Capacity: 3.7 gals., last 1.0 gal. warning light on
MPG: 87 PON min. (low/avg/high) 46.9/52.6/60.7
Estimated Range: 195 miles
Indicated RPM at 60 MPH: 4,400