When's the last time you drove a car, van or truck with zero adjustability for the seat, steering wheel or foot controls? Yeah, that's what we thought. Adjustable ergonomics are a must for such vehicles nowadays. So why are we saddled with motorcycles offering no adjustability?
The answer to that question has been a long time coming. But now, one solution has finally arrived with Kawasaki's Vulcan S. Dubbed the Ergo-Fit concept, Vulcan S buyers can combine any of three footpeg positions, three seat shapes and an optional handlebar to create a custom fit that best suits a person's physical size and riding preferences. Or simply choose one of Kawasaki's preset configurations: Extended Reach (6-foot, 1-inch and over); Mid-Reach (5-foot, 7-inches to 6 foot); or Reduced Reach (5-foot, 6-inches and under). Better yet, at time of purchase, Vulcan S buyers can have their dealer bolt up various options for a personal fitting before riding away with their individually favored setup—all at no extra charge.
After spending more than 250 miles on a Vulcan S while sampling different seats and trying all three peg positions, we're here to report the system really works. The standard handlebar is well shaped and served us best; we didn't need that optional inch of pullback. The standard seat felt cushy and comfy, albeit with a bit too much constraint in back. So we chose the "extended reach" seat that lets the rider slide rearward an extra inch. This seat's also noticeably firmer in construction (up about 30 percent) via different foam plus a gel pad, since the targeted taller riders will typically weigh more, too.
We started with pegs in the forward-most location, for a relaxed, feet-forward position that will please many cruiser riders. However, after trying the middle spot we decided the rearmost setting, two inches back from the starting point, fit our preferences best—for my 31-inch inseam, and even for 6-foot, 2-inch Road Test Editor Greg Drevenstedt. Why? With pegs back, it's more conducive to active riding, such as hustling down twisty backroads.
And make no mistake; the Vulcan S is extremely capable when given the spurs on challenging roads. This liquid-cooled parallel twin is derived from the Ninja 650 and Versys (see page 50), which means there's a big dose of sporting DNA.
Retuned to boost low-end and midrange, the powerplant delivers broad-shouldered torque from 3,000 rpm past eight grand, and a power peak just shy of 55 horsepower at 7,100 revs with no dips along the way. Two new overhead camshafts, reworked intake tracts, more flywheel mass and new EFI and ignition mapping generate user-friendly characteristics. Taking off from a start is easy but the engine doesn't really like to work below 3,000 rpm, and low-speed driveline lash is a minor annoyance. So just keep the revs up. The engine zings right up to its 9,500-rpm redline while spinning with uncanny smoothness. At freeway speeds and higher, the Vulcan S keeps pulling well and stays delightfully smooth with barely a trace of vibration. Credit the engine counterbalancer and rubber engine mounts, which work in concert with the rubber-isolated handlebar and footpegs.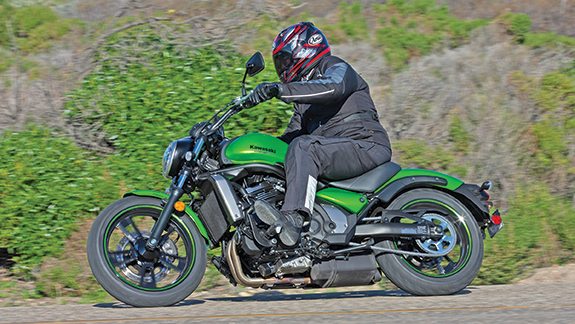 Despite its 62-inch wheelbase and 31 degrees of steering rake, the Vulcan S feels remarkably nimble and displays none of the front-end floppiness that sometimes hinders cruisers built long between axles. Steering is medium-light in effort and satisfyingly linear in action. That made it an absolute blast to hammer up and down Jalama Road, a rollercoastery path leading to the Pacific Ocean south of Lompoc. Notoriously pocked with patches, potholes, gravity dips and dirty sections, it's a great road for revealing a bike's upper limits.
While pushing the bike extra hard, we began to wish for a stronger front brake and more rebound damping in the rear shock. But this was during high-stress work well above and beyond the call of normal duty for any middleweight cruiser. Despite the flogging inflicted, the Vulcan S displayed excellent cornering clearance; all of the bits on the undercarriage are tucked in tightly so we only nicked the footpeg feelers. It feels decidedly stable and reassuring in long, fast sweepers too. All in all, it's exceptionally capable and lots of fun!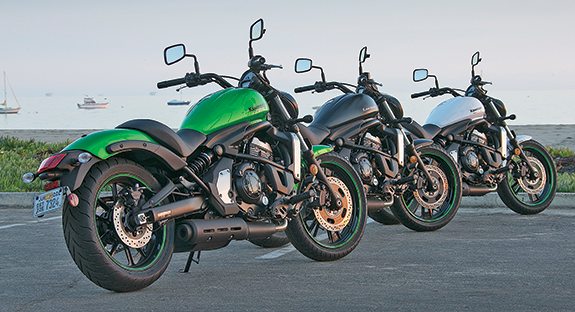 Such broad-ranging versatility was a key component within the overall plan. With the Vulcan S, Kawasaki focused on reaching out to new riders, drawing them into the sport. Extensive customer studies identified key concepts to help convert shoppers into buyers: fit, comfort and confidence in riding. That quest for pleasing fit led to Kawasaki's Ergo-Fit system. For comfort, there's a good seat and compliant suspension. To boost rider confidence, the seat is a compact 27.8 inches high and contoured especially narrow up front for easy ground reach, and wet weight is squeezed just under 500 pounds with the optional ABS brakes ($400) and standard solo seat (an optional passenger seat and footpegs cost $365). Kawasaki reps say these factors, along with the ability to grow with this cruiser for many miles to come, far outweighed any notion of incorporating a V-twin engine. In fact, engine layout hardly concerned buyers at all. Or so they claimed.
For now, we'll dodge the question of "To Vee or not to Vee" in a cruiser. Kawasaki's Ergo-Fit system alone gives consumers plenty of reason to buy this motorcycle. That the Vulcan S also proves to be such an excellent, all-around performer at a base price of only $6,999 makes it a clear-cut winner.
See more of the Vulcan S on your YouTube channel or by clicking here.
2015 Kawasaki Vulcan S ABS
Base Price: $6,999
Price as Tested: $7,399 (ABS)
Warranty: 1 year, unltd. miles
Website: kawasaki.com
Engine
Type: Liquid-cooled, transverse parallel twin
Displacement: 649cc
Bore x Stroke: 83.0 x 60.0mm
Compression Ratio: 10.8:1
Valve Train: DOHC, 4 valves per cyl.
Valve Insp. Interval: 15,000 miles
Fuel Delivery: DFI w/ 38mm throttle bodies x 2
Lubrication System: Semi-dry sump, 2.4-qt. cap.
Transmission: 6-speed w/ cable-actuated wet clutch
Final Drive: O-ring chain
Electrical
Ignition: TCBI with digital advance
Charging Output: 358 watts max.
Battery: 12V 8.6AH
Chassis
Frame: High-tensile steel double-pipe perimeter w/ box-section steel swingarm
Wheelbase: 62.0 in.
Rake/Trail: 31 degrees/4.7 in.
Seat Height: 27.8 in.
Suspension, Front: 41mm stanchions, no adj., 5.1-in. travel
Rear: Single shock, adj. for spring preload w/ 3.15-in. travel
Brakes, Front: Single 300mm disc w/ 2-piston floating caliper & ABS (as tested)
Rear: Single 250mm disc w/ 1-piston caliper & ABS (as tested)
Wheels, Front: Cast, 3.5 x 18 in.
Rear: Cast, 4.5 x 17 in.
Tires, Front: 120/70-R18
Rear: 160/60-R17
Wet Weight: 498 lbs. (as tested)
Load Capacity: 442 lbs. (as tested)
GVWR: 940 lbs. (as tested)
Performance
Fuel Capacity: 3.7 gals., last 0.8-gal. warning light on
MPG: 87 PON min. (low/avg/high) 38.8/48.3/56.1
Estimated Range: 179 miles
Indicated RPM at 60 MPH: 4,500
The compact instrument cluster gives loads of
important info to the rider.

This 650 engine is strong, versatile and smooth; a great middleweight-class mill.

Upgrading the brake package to include ABS adds only $400 to the bottom line.

2015 Kawasaki Vulcan S on the Dyno