BRP's Can-Am three-wheelers have come a long way since the first model was introduced back in 2007. What started out as a single Spyder roadster powered by a 998cc V-Twin has grown into three distinct platforms that include a total of 10 models, with base prices ranging from $8,999 to $29,999.
There's the light, sporty Ryker platform, which includes a base model available with a 600cc parallel-Twin or 900cc inline-Triple, plus 900cc Sport and Rally models. Each has a Sport or Rally ride mode that allows playful drifting on pavement or dirt.
Next up is the feet-forward, cruiser-touring Spyder F3 platform, with four models powered by a 1,330cc in-line Triple, including the F3, the F3-S Special Series, the F3-T with saddlebags, and the F3 Limited full-dress tourer. For luxury touring, there is the Spyder RT platform, with three models also powered by a 1,330cc Triple: the RT, the RT Limited, and the ultra-primo RT Sea-To-Sky.
The "Y" in the Spyder and Ryker names refers to the two-wheels-in-front, one-wheel-out-back configuration. Unlike trike conversions or sidecar rigs where a third wheel is grafted onto a two-wheeled motorcycle, Can-Am Spyders and Rykers were designed from the ground up as three-wheelers. With two wheels in front and three automotive-size contact patches, they are incredibly stable.
We've tested many Spyder and Ryker models, but our last test of a Spyder RT Limited was back in 2013. Upgrades to the platform over the years made us eager to reacquaint ourselves with Can-Am's big tourer.
Ace In The Hole
Propelling the RT Limited down the road is a liquid-cooled, 1,330cc ACE (Advanced Combustion Efficiency) inline-Triple that's made in Austria by BRP-owned Rotax. Its 120-degree crankshaft gives it perfect primary balance, and a gear-driven counterbalancer offsets the secondary and rocking-couple vibrations. Maintenance is minimized with self-adjusting valves and belt final drive. Claimed output is 115 hp at 7,250 rpm and 96 lb-ft at 5,000 rpm, modest figures for a machine said to weigh 1,021 lbs dry (the engine alone weighs 246 lbs).
GEAR UP
Helmet: Arai Regent-X
Jacket: Dainese D-Air Smart Jacket LS
Gloves: Dainese M1G C2 Gloves
Pants: Rev'It Piston Jeans
Boots: Wolverine 1000 Mile
Given that its power-to-weight ratio is about half that of many motorcycles, one might think the Spyder's acceleration would suffer accordingly. But you'd be wrong. With ample torque on tap throughout the rev range, the big RT blasts away from stops and launches out of corners, delivering smile-inducing exhilaration. Jackrabbit starts can even break the rear tire loose briefly before the traction control kicks in.
Using paddle shifters on the left switchgear, the 6-speed semi-automatic transmission delivers lightning-fast upshifts. When ridden hard, each shift delivers a visceral power surge that eggs riders on. You can manually paddle shift into lower gears, or the electronically controlled transmission will do it automatically as you slow down, and it shifts into neutral at a stop. The Spyder has an electrically actuated parking brake, and when it comes time to back out of a downhill parking space, the reverse mode is a huge benefit.
The Spyder uses a throttle-by-wire system that sometimes delivers delayed responses. Both the standard and Eco ride modes exhibited a noticeable hitch in initial throttle application, and irregular power pulses plague the fuel-efficient Eco mode at lower speeds. Those issues fall to the wayside once the Spyder gets rolling, and the big Triple remains ultra-smooth throughout the rest of the rev range.
Out on the open road, the RT Limited gallops along with ease. In 6th gear, the Spyder maintains 70 mph at 3,600 rpm, nowhere near its 8,100-rpm redline, and its relaxed engine speed keeps vibration and harshness to a minimum. A couple taps on the paddle shifter gets the engine closer to its torque peak to make a quick pass. Or you can set the cruise control, lean back, and enjoy the ride.
Stable Is As Stable Does
In addition to its Y-architecture, one of the Spyder's early innovations was its Vehicle Stability System (VSS), which integrates ABS, EBD (electronic brake-force distribution), TCS (Traction Control System), and SCS (Stability Control System). As far back as the original 2007 Spyder, based on inputs from an array of steering, engine speed, wheel speed, and other sensors, VSS would reduce engine power or brake individual wheels to keep the vehicle under control. Those early models were also equipped with Can-Am's Dynamic Powering Steering.
The Spyder's electronic rider aids have evolved steadily over the last 15 years. The same basic systems described above are used on current models, but they are more advanced, so they respond more quickly and intervene more gradually. Also standard on the RT Limited is hill-hold control, which maintains brake pressure on inclines to make it easier to pull away from a stop.
Suspending the Spyder is a trio of Sachs shocks, with two non-adjustable Big-Bore shocks in front and a self-leveling air shock out back. Thanks to double A-arms with an anti-roll bar in front, each wheel moves independently and the vehicle stays planted over irregular pavement and off-camber turns. The shocks are calibrated to deliver a comfortable ride, and they soak up a lot of abuse without upsetting the chassis. With three separate wheel tracks, however, it can be a challenge to dodge big potholes or debris in the road.
Lean In
The Spyder's reverse-trike layout maximizes stability and traction, but the additional wheel also changes the steering dynamics. For riders accustomed to countersteering on two-wheeled motorcycles, there can be an adjustment period. For those with experience on ATVs or snowmobiles, the Spyder's conventional steering will feel second-nature. To turn, you simply apply pressure to the outside handlebar. To hold a line, you need to maintain that pressure.
To help overcome the turning resistance of the Spyder's two big contact patches in front, the Dynamic Power Steering system provides more assistance at low speeds and less assistance at high speeds. Still, because those dinner plate-sized front contact patches grab onto more pavement than the single, small contact patch on a motorcycle, Spyders can be sensitive to small inputs at speed. Early models often felt darty, a tendency that has been reduced but not fully eliminated on newer models. As riders rack up miles, they adapt and adjust their steering inputs accordingly.
When cornering at speed, leaning one's body into the turn helps counteract centrifugal forces. It doesn't make the Spyder turn quicker, but it helps the rider feel more planted and in control. Whereas early Spyders had both a brake lever on the handlebar and a brake pedal – using either applied brake pressure to all three wheels – newer models use only a brake pedal. For riders used to the finer motor control of their right hand for modulating brake pressure, using only a foot pedal can take some getting used to. With those three big contact patches and triple-disc brakes, the Spyder scrubs off speed quickly and stops on a dime.
Lap of Luxury
The RT Limited and the RT Sea-To-Sky, the latter featuring exclusive styling upgrades, are Can-Am's top-of-the-line touring models. Standard equipment includes an electric windscreen, an integrated passenger backrest, heated grips, and heated pilot and passenger seats. The Spyder's side panniers, top case, and front trunk offer a prodigious total of 47 gallons (177 liters) of storage for long-distance adventures.
Can-Am's LinQ system allows the top case to be easily removed and reinstalled. The top case can also be swapped out with various LinQ accessories, such as a rear rack, a stand-alone passenger backrest, and bags of various sizes.
For those who want additional storage, the RT Limited has a towing capacity of 400 lbs. Can-Am's accessory catalog includes trailer hitches and other towing accessories. Can-Am no longer offers its Freedom trailer, but the RT Limited is calibrated to work with earlier versions, and it is compatible with aftermarket trailers.
Both rider and passenger seats provide ample comfort and support for extended road trips, and they have separate heating controls. The broad seat pan paired with generous plush padding and a lumbar-supporting rear bolster promote comfort in the saddle and hold the rider in place during cornering. The handlebars sweep back to the rider for relaxed, easy steering, while the large rider footboards and adjustable passenger footboards allow both pilot and pillion to adjust their foot positions and stretch their legs.
The Spyder's cozy confines encourage mile-munching journeys, but the infotainment system seems dated when compared to its contemporary counterparts. The 7.8-inch color LCD panel lacks the vibrance and visual detail of the TFT displays found on other luxury touring machines. It does provide a wealth of information, however, including a speedometer, a tachometer, a gear-position indicator, fuel level, ambient temperature, and other trip-related details.
Standard equipment on the RT Limited includes the BRP Audio Premium system with six speakers (four in front, two in back), a radio, and connectivity via USB and Bluetooth. The system can be controlled via buttons on the left switchgear, and the front storage compartment has a USB port for device connectivity and charging. The audio system envelopes the rider and passenger in sound, and volume automatically rises and falls in relation to the vehicle's speed.
Additional connectivity is available by pairing a smartphone via the BRP Connect app, which allows riders to view texts and make/receive calls or listen to music using a Bluetooth headset. BRP Connect integrates other apps as well, such as REVER, Pandora, and AccuWeather, and they can be controlled through the Spyder's switchgear.
Three Wheelin'
Starting at $27,499, the Spyder RT Limited is price competitive against luxury touring motorcycles such as the Honda Gold Wing (starting at $28,500) and Harley-Davidson Road Glide Limited (starting at $28,729), but it's significantly less expensive than Harley's factory trike, the Tri-Glide Ultra (starting at $35,699). All offer generous rider and passenger accommodations, ample storage capacity, infotainment systems, and smooth, torque-rich engines.
From its Y-architecture and Vehicle Stability System to its "frunk" (front trunk), paddle-shifting semi-automatic transmission, and foot-pedal-only combined braking system, the Spyder is a unique powersports vehicle. Two-wheel riders may dismiss it because it doesn't lean, but the Spyder offers an open-air riding experience for those who do not want to balance and manage a heavyweight touring motorcycle. The RT Limited offers a one-of-a-kind mix of comfort, stability, safety, and touring capability. Prepare to be impressed.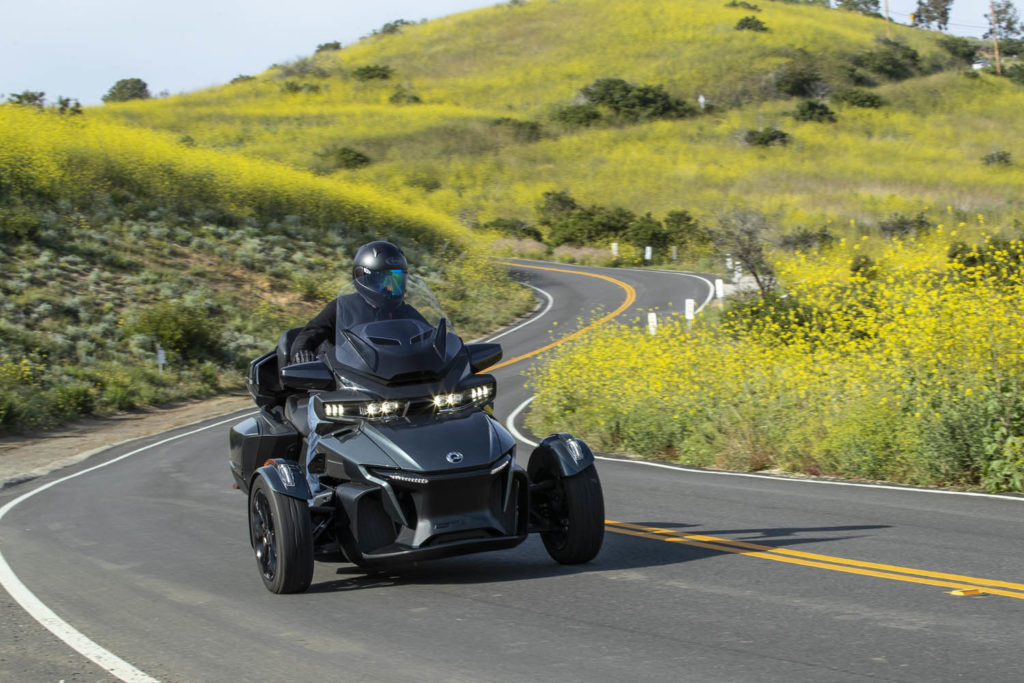 2022 Can-Am Spyder RT Limited
Base Price: $27,499
Warranty: 2 yrs., unltd. miles w/ roadside assistance
Website: can-am.brp.com
ENGINE
Type: Liquid-cooled, transverse in-line Triple, DOHC w/ 4 valves per cyl.
Displacement: 1,330cc
Bore x Stroke: 84.0 x 80.0mm
Compression Ratio: 12.2:1
Valve Insp. Interval: N/A (self-adjusting)
Fuel Delivery: Electronic fuel injection w/ throttle-by-wire
Lubrication System: Dry sump, 5.0 qt. cap.
Transmission: 6-speed, semi-automatic w/ reverse
Final Drive: Belt
CHASSIS
Frame: Surrounding Spar Technology steel center beam
Wheelbase: 67.5 in.
Rake/Trail: N/A
Seat Height: 29.7 in.
Suspension, Front: Double A-arm w/ anti-roll bar & dual shocks, no adj., 6.9 in. travel
Rear: Single shock w/ self-leveling air preload adj., 6.0 in. travel
Brakes, Front: Dual 270mm discs w/ 4-piston fixed calipers & ABS
Rear: Single 270mm disc w/ 1-piston floating caliper, integrated parking brake & ABS
Wheels, Front: Cast aluminum, 5.0 x 15 in.
Rear: Cast aluminum, 7.0 x 15 in.
Tires, Front: 165/55-R15
Rear: 225/50-R15
Dry Weight: 1,021 lbs
Load Capacity: 494 lbs
PERFORMANCE
Horsepower: 115 hp @ 7,250 rpm (claimed)
Torque: 96 lb-ft @ 5,000 rpm (claimed)
Fuel Capacity: 7 gals.
Fuel Consumption: 32 mpg
Estimated Range: 224 miles