The Sportster is one of most iconic and successful Harley-Davidson motorcycles, and it's one of the longest-running motorcycle models in history. Introduced in 1957 – the same year Wham-O introduced the Frisbee and Elvis Presley's "All Shook Up" topped the Billboard charts – the Sportster was a response to the light, fast OHV British bikes that took the American motorcycle market by storm after WWII.
An evolution of the side-valve KHK, the XL (the Sportster's official model designation) was powered by an air-cooled, 883cc, 45-degree "ironhead" V-Twin with pushrod-actuated overhead valves. It made 40 horsepower, weighed 495 pounds, and had a top speed around 100 mph, more than enough performance to outrun most British 650s of the day. In 1959, Harley unleashed the XLCH, a 55-horsepower, 480-pound hot rod that cemented the Sportster's go-fast reputation.
Today, 65 years after the XL's debut, there's still an air-cooled 883cc Sportster in Harley-Davidson's lineup: the Iron 883. Making 54 horsepower and weighing 564 pounds, it has a lower power-to-weight ratio than a '59 XLCH, and by modern standards, the Sportster is no longer sporty.
YOU SAY YOU WANT A REVOLUTION
Harley-Davidson puts its air-cooled Sportsters – the Iron 883 and the 1,200cc Forty-Eight – in its Cruiser category. Last year it added a new category – Sport – that includes only one model: the Sportster S. Designated RH1250S rather than XL, the new Sportster occupies a distinct branch of the Harley family tree. It's built around a 121-horsepower "T" version of the liquid-cooled, 1,252cc Revolution Max V-Twin found in the Pan America adventure bike, and it weighs 503 pounds ready-to-ride. Compare that to Harley's Evo-powered Forty-Eight, which makes 66 horsepower and tips the scales at 556 pounds.
Both the Iron 883 and Forty-Eight are available as 2022 models, so air-cooled XLs aren't going away (yet). They appeal to cruiser traditionalists: those who want familiarity and simplicity, and those for whom the look, sound, and feel of an air-cooled 45-degree V-Twin are more important than outright performance.
The Sportster S carves out another niche in the market, appealing to a different sort of buyer: those who want a light, powerful, sophisticated American-made V-Twin. That sounds a lot like the Indian FTR S, the Sportster S' closest competitor. Both are powered by liquid-cooled, DOHC, 60-degree V-Twins that make about 120 horsepower (factory claims). Both are equipped with ride modes, cornering ABS and traction control, and other modern electronics, and their base prices are $14,999.
But the Sportster S is a low-profile, feet-forward cruiser, whereas the FTR S is a sport-standard with an upright seating position and rear-set footpegs. Not exactly apples to apples. Indian's Scout Bobber, on the other hand, more closely matches the Harley's cruiser layout, so we've included it here. It's also powered by a liquid-cooled, DOHC, 60-degree V-Twin, but with less displacement and a lower state of tune than the FTR's motor. Making a claimed 100 horsepower, the Bobber's engine output is well below the others, and its only electronic riding aid is ABS (a $900 option), but its base price is $4,000 below that of the Sportster S and FTR S.
CURB APPEAL
These bikes are tightly packaged machines, with bodywork kept to an absolute minimum. They all have radiators, and designers did their best to keep hoses and associated plumbing tucked away. The Scout has a tall, narrow radiator wedged between the rectangular downtubes of its cast-aluminum frame. The sportier FTR and Sportster have shorter, wider radiators with small shrouds on the sides that help them blend in.
More differences are apparent when looking at them parked side by side. With the lowest seat height (by 4 inches), longest wheelbase (by 2 inches), and stacked exhaust pipes that extend just past the trailing edge of the rear tire, the Scout is more slammed and stretched out than the others. And as the most traditionally styled of the three, it has the proportions and stance one expects from a cruiser.
The FTR is at the other end of the spectrum. With the most ground clearance, longest rear suspension travel (by 2.7 inches), and loftiest seat height (by 2.8 inches), it stands much taller than the others. Mirrors perched above the handlebar on antenna-like stalks further add to its height, while the others have bar-end mirrors. Upswept brushed-aluminum Akrapovič mufflers, an exposed rear shock with a red spring, and 17-inch wheels with matching red pinstripes give the FTR the sportiest appearance of the three.
The Sportster has a unique cut to its jib. It has a mix of glossy, matte, and brushed surfaces, and a mix of styling influences. Its high pipes and tidy tailsection are inspired by XR750 dirt trackers. Its pill-shaped LED headlight and chunky tires take a page out of the Fat Bob's playbook, while its elongated teardrop tank is a big departure from the peanut tanks of other Sportsters. And its tubular-steel trellis frame, swingarm, and license-plate hanger hew fairly close to what's found on the FTR.
BEHIND BARS
Differences in dimensions and stance affect ergonomics. With its long-and-low profile, 25.6-inch seat height, forward-set foot controls, and minimal pullback to the handlebar, the Scout Bobber puts the rider in a classic "clamshell" seating position with a tight hip angle, even more so for those with long legs. The Scout's solo seat is reasonably plush, but with one's legs and arms stretched out, style trumps comfort. As the lowest bike of the bunch, it also has less cornering clearance than the others – just 29 degrees vs. 34 degrees for the Sportster and 43 degrees for the FTR. Boot heels touch pavement first, but on some right turns the bottom of the lower exhaust pipe scraped, leaving an unsightly scar of raw metal on the matte-black finish.
To accommodate its greater lean angles, the Sportster's forward controls are positioned higher than the Scout's (Harley offers mid-mount controls as a $660 accessory). Its solo seat is perched 29.6 inches above the pavement, which is on the tall side for a cruiser. The narrow, thinly padded saddle had us seeking relief long before the low-fuel light came on, exacerbated by the fact that the Sportster, like the Scout, locks the rider in place and has minimal rear suspension travel. Of the three, the Sportster has the most cramped cockpit, limiting its appeal among tall riders.
With a sport-standard seating position, the FTR feels altogether different than the two cruisers. The rider sits more upright, with a comfortable reach to the wide handlebar and a moderate forward lean to the upper body. Rear-set pegs put the rider's feet directly below their hips, opening the hip angle at the expense of more knee bend. Our test riders were unanimous in declaring the FTR the most comfortable of the three, and it felt the most natural at a sporting pace. The 32.2-inch seat height may be a challenge for some, but the saddle has the thickest padding and it's the only one here that accommodates a passenger (without digging into the accessory catalogs).
THE SOUND & THE FURY
There's a reason nearly every motorcycle made in America has a V-Twin. The engine configuration delivers a visceral pulse that engages the rider, producing a rhythmic sound that can be both felt and heard. There's nothing lazy about the 60-degree V-Twins that power these three. At idle, they emit a steady staccato rather than a loping beat. None of the stock exhausts are especially loud, but the Scout's pipes play a deep rumbling tune that was sweetest to our ears.
The Harley's Revolution Max engine is the only one here with variable valve timing, which optimizes power delivery across the rev range. Despite the Sportster's added tech and 49cc displacement advantage over the FTR (1,252cc vs. 1,203cc), when strapped to Jett Tuning's rear-wheel dyno, they generated nearly identical peak horsepower (116.0 vs. 115.7). Where VVT delivers the goods, however, is in the heart of the rev range – the Sportster makes 5-10 more horsepower than the FTR between 4,000 and 7,000 rpm. The Harley also doesn't trail off as quickly after the peak as the FTR and it revs out further. In terms of torque, the Sportster clearly dominates the FTR, generating the highest peak (89.0 vs 82.7 lb-ft) and a 5-12 lb-ft advantage from 4,000-7,000 rpm.
The Scout is outgunned by the Sportster and the FTR, maxing out at 85.2 horsepower and 64.5 lb-ft of torque, but its 1,133cc mill is perfectly suited for cruiser duty. What the Scout lacks in sheer grunt it makes up for in simple enjoyment. Unlike the others, it doesn't have throttle-by-wire or ride modes, and there's a pleasant analog connection between the right grip and the rear wheel. The Scout is the only bike here without a slip/assist-type clutch, and squeezing its lever requires the heaviest pull. Clutch action is lightest and gear changes are easiest on the Sportster. Compared to the Harley, the FTR felt less refined, with inconsistent clutch engagement (especially when the engine is cold), uneven fueling at steady throttle, and a coarser feel at higher revs.
'ROUND THE BEND
Apart from ergonomics and engine performance, these three bikes offer distinct riding experiences. As the longest, lowest, and heaviest (by 45-50 pounds) of the three, it's not surprising that the Scout Bobber requires the most effort to steer through a series of tight turns. It rolls on 16-inch wheels front and rear, and the semi-knobby tread on its Pirelli MT60RS dulls response and feedback. Up front, the Scout's single 298mm disc is squeezed by a 2-piston caliper, with hydraulic fluid sent through an axial master cylinder and braided steel lines. Braking power is adequate, but the Scout's front lever doesn't provide the precise feedback found on the Sportster and FTR, both of which are equipped with Brembo radial master cylinders. Furthermore, since it doesn't have an IMU like the others, the Scout's ABS does not compensate for lean angle.
One of the Scout's biggest limitations, which it shares with the Sportster, is a mere 2 inches of rear suspension travel. The Scout has dual shocks that are adjustable for spring preload only, while the Sportster has a single, fully adjustable piggyback reservoir shock with a linkage. Even though the Harley has more premium suspension with better damping, there's only so much that can be done with so little travel. Few bumps pass unnoticed and big ones can be jarring, unsettling the chassis and sapping confidence, especially on the Scout.
At first glance, one would think that the fat front tire on the Sportster – a 160/70-17 that's wider than the Scout's 150/80-16 rear tire – would be an impediment to handling, but it has a triangular profile that helps it turn in. The Harley slices and dices confidently, with reasonably light steering and a solid, planted feel when on the edge of its tires. At higher speeds, however, the added weight of the front tire slows steering. The Sportster feels more eager than the Indians, especially in Sport mode, and it launches itself out of corners.
As part of its 2022 update, Indian sensibly shifted the FTR away from its flat-track origins and amped up its street-readiness. The 19-/18-inch wheels with quasi-knobby tires were replaced with 17-inch hoops shod with grippy Metzeler Sportec M9 RR tires, steering geometry was tightened up, and suspension travel was reduced by more than an inch. The changes made the FTR a better corner carver in every respect. Although the Sportster will quickly pull away from the Scout on a tight, twisting road thanks to its superior power-to-weight ratio, the FTR has a definite edge on the Harley in terms of cornering clearance and braking performance.
With 4.7 inches of travel front and rear, the FTR's fully adjustable suspension has more leeway than the Sportster's to absorb the inevitable imperfections on public roads. With more fork and shock stroke to work with, as well as the best damping among this trio, the FTR's chassis stays more composed, allowing its rider to stay focused on the road ahead rather than avoiding bumps. The FTR also has the best brakes of the bunch, delivering impressive stopping power and feel at the lever. It's the only bike here with dual discs up front, a pair of 320mm rotors clamped by radial 4-piston calipers. The Sportster makes do with a single 320mm front disc that's gripped by a monoblock 4-piston caliper, and its braking performance is a close second to the FTR.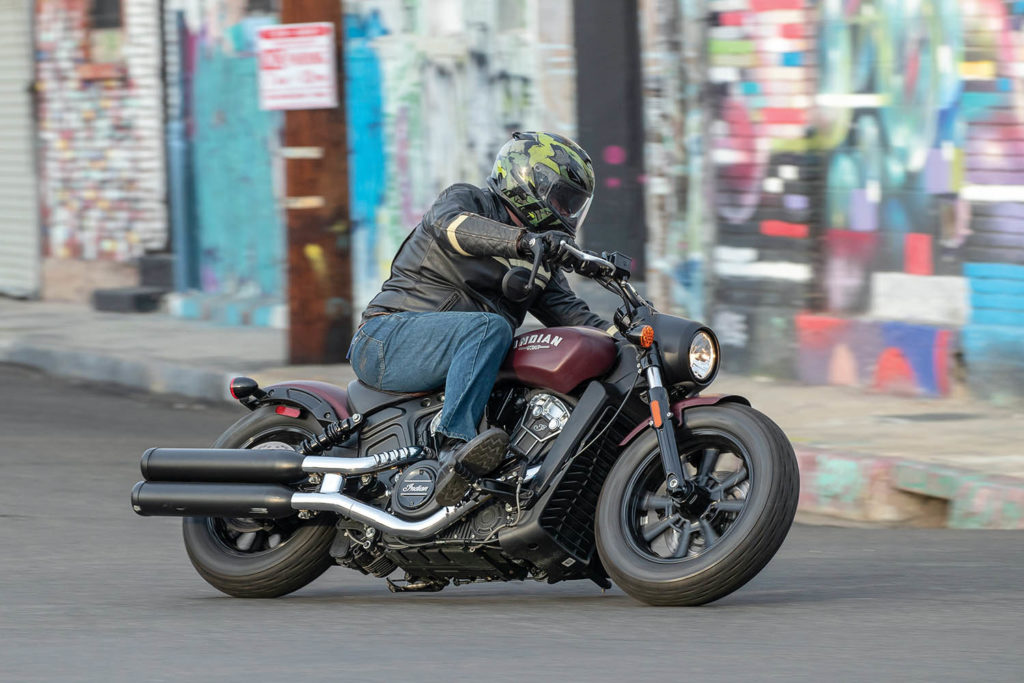 COMING OUT ON TOP
This is not your typical comparison test. These three bikes have as many differences as they do similarities, but there are some common threads. They're made in America by companies that were fierce rivals in the past and became direct competitors again nearly a decade ago. And they have liquid-cooled, 60-degree V-Twins that depart from air-cooled tradition. Beyond that, the threads begin to unravel.
Both the Scout and Sportster carry historic nameplates originally associated with speed, but more recently have come to represent smaller, more affordable cruisers in their respective lineups. The Scout Bobber, a darker, lower variation of the standard Scout, best represents cruiser tradition. Its styling is more elemental than the Sportster or FTR, appearing old-school even though its engine architecture, cast-aluminum frame, and optional ABS are contemporary. The Bobber delivers more performance than most typical cruisers, yet its no-frills spec sheet helps keep its base price to just $10,999–$4,000 less than the others. That's a trade-off plenty of buyers are more than happy to make.
The new Sportster S, like the Pan America with which it shares the Rev Max engine platform, represents the future of Harley-Davidson. Street Glides, Road Glides, Softails, etc. are – and will continue to be – the bread and butter of The Motor Company's dominant on-highway market share in the U.S. But today's motorcycle manufacturers think on a global scale, and high-tech engines and electronics that can satisfy increasingly stringent emissions and safety standards are essential.
There is, at best, a tenuous connection between the Sportster S and the iconic XL line, but H-D hopes its instantly recognizable name will help it succeed in the marketplace. Its fat tires, high pipes, bulldog stance, and mash-up of styling influences won't appeal to everyone, but there's no denying the performance of its engine or the capability of its chassis. The Revolution Max V-Twin is the Sportster S' greatest attribute. Limited rear suspension travel, on the other hand, is its greatest limitation.
As a motorcycle we'd want to live with every day, the Indian FTR S is the clear winner here. Its street-tracker styling either appeals to you or it doesn't (count us as fans), but from the standpoint of functionality and rider engagement, the FTR S checks all the right boxes. Compared to the Sportster S, the Indian's engine is weaker in the midrange and feels rougher around the edges, but the FTR handles better, has the best brakes, is the most comfortable, and has standard passenger accommodations. Like the Sportster S, it has ride modes, modern electronic rider aids, cruise control, a USB charging port, Bluetooth connectivity, and a color TFT display, with the added convenience of a touchscreen.
With the FTR platform's recent update, Indian has had a few years to work out the kinks, and the current iteration is a much better streetbike than the original. In addition to the FTR S tested here, there are three other variants to choose from: the base-model FTR ($12,999), the scrambler-styled FTR Rally ($13,999), and the top-of-the-line FTR R Carbon ($16,999). Harley-Davidson won't rest on its laurels, and there will surely be updates to the Sportster S and spin-off models in the years ahead.
---
2021 Harley-Davidson Sportster S Specs
Base Price: $14,999
Price as Tested: $15,349 (Midnight Crimson)
Warranty: 2 yrs., unltd. miles
Website: harley-davidson.com
Engine
Type: Liquid-cooled, transverse 60-degree V-Twin, DOHC w/ 4 valves per cyl.
Displacement: 1,252cc
Bore x Stroke: 105.0 x 72.0mm
Compression Ratio: 12.0:1
Valve Insp. Interval: NA (self-adjusting)
Fuel Delivery: Electronic Sequential Port Fuel Injection (ESPFI)
Lubrication System: Semi-dry sump, 4.75 qt. cap.
Transmission: 6-speed, cable-actuated slip/assist wet clutch
Final Drive: Belt
Chassis
Frame: Tubular-steel trellis w/ forged aluminum mid-structure & engine as stressed member, tubular-steel swingarm
Wheelbase: 59.8 in.
Rake/Trail: 30 degrees/5.8 in.
Seat Height: 29.6 in.
Suspension, Front: 43mm USD fork, fully adj., 3.6 in. travel
Rear: Single shock w/ linkage, fully adj., 2.0 in. travel
Brakes, Front: Single 320mm disc w/ radial 4-piston monoblock calipers & ABS
Rear: Single 260mm disc w/ floating 1-piston caliper & ABS
Wheels, Front: Cast, 4.5 x 17 in.
Rear: Cast, 5.0 x 16 in.
Tires, Front: 160/70R17
Rear: 180/70R16
Wet Weight: 502 lbs.
Load Capacity: 420 lbs.
GVWR: 922 lbs.
Performance
Horsepower: 116 hp @ 8,300 rpm (rear-wheel dyno)
Torque: 89 lb-ft @ 6,000 rpm (rear-wheel dyno)
Fuel Capacity: 3.1 gals.
Fuel Consumption: 34.4 mpg
Estimated Range: 107 miles
---
2022 Indian FTR S Specs
Base Price: $14,999
Price as Tested: $14,999 (White Smoke)
Warranty: 2 yrs., unltd. miles
Website: indianmotorcycle.com
Engine
Type: Liquid-cooled, transverse 60-degree V-Twin, DOHC w/ 4 valves per cyl.
Displacement: 1,203cc (73 ci)
Bore x Stroke: 102.0 x 73.6mm
Compression Ratio: 12.5:1
Valve Insp. Interval: 20,000 miles
Fuel Delivery: Closed-loop EFI w/ 60mm throttle bodiesx 2
Lubrication System: Semi-dry sump, 4.4 qt. cap.
Transmission: 6-speed, cable-actuated slip/assist wet clutch
Final Drive: O-ring chain
Chassis
Frame: Tubular-steel trellis w/ engine as stressed member & tubular-steel swingarm
Wheelbase: 60.0 in.
Rake/Trail: 25.3 degrees/3.9 in.
Seat Height: 32.2 in.
Suspension, Front: 43mm USD fork, fully adj., 4.7 in.
Rear: Single shock, fully adj., 4.7 in.
Brakes, Front: Dual 320mm discs w/ radial 4-piston calipers & ABS
Rear: Single 260mm disc w/ 2-piston caliper & ABS
Wheels, Front: Cast, 3.5 x 17 in.
Rear: Cast, 5.5 x 17 in.
Tires, Front: 120/70ZR17
Rear: 180/55ZR17
Wet Weight: 514 lbs.
Load Capacity: 434 lbs.
GVWR: 948 lbs.
Performance
Horsepower: 116 hp @ 7,900 rpm (rear-wheel dyno)
Torque: 83 lb-ft @ 5,700 rpm (rear-wheel dyno)
Fuel Capacity: 3.4 gals.
Fuel Consumption: 34.0 mpg
Estimated Range: 116 miles
---
2022 Indian Scout Bobber Specs
Base Price: $10,999
Price as Tested: $12,399 (Maroon Metallic Smoke, ABS)
Warranty: 2 yrs., unltd. miles
Website: indianmotorcycle.com
Engine
Type: Liquid-cooled, transverse 60-degree V-Twin, DOHC w/ 4 valves per cyl.
Displacement: 1,133cc (69 ci)
Bore x Stroke: 99.0 x 73.6mm
Compression Ratio: 10.7:1
Valve Insp. Interval: 20,000 miles
Fuel Delivery: Closed-loop EFI w/ 60mm throttle bodies x 2
Lubrication System: Semi-dry sump, 4.5 qt. cap.
Transmission: 6-speed, cable-actuated wet clutch
Final Drive: Belt
Chassis
Frame: Cast aluminum backbone w/ engine as stressed member & oval-section steel swingarm
Wheelbase: 61.5 in.
Rake/Trail:29 degrees/4.7 in.
Seat Height: 25.6 in.
Suspension, Front: 41mm fork, no adj., 4.7 in. travel
Rear: Dual shocks, adj. for spring preload, 2.0 in. travel
Brakes, Front: Single 298mm disc w/ 2-piston caliper & ABS (as tested)
Rear: Single 298mm disc w/ 1-piston caliper & ABS (as tested)
Wheels, Front: Cast, 3.5 x 16 in.
Rear: Cast, 3.5 x 16 in.
Tires, Front: 130/90B16
Rear: 150/80B16
Wet Weight: 555 lbs.
Load Capacity: 433 lbs.
GVWR: 988 lbs.
Performance
Horsepower: 85 hp @ 8,100 rpm (rear-wheel dyno)
Torque: 65 lb-ft @ 5,700 rpm (rear-wheel dyno)
Fuel Capacity: 3.3 gals.
Fuel Consumption: 35.4 mpg
Estimated Range: 117 miles