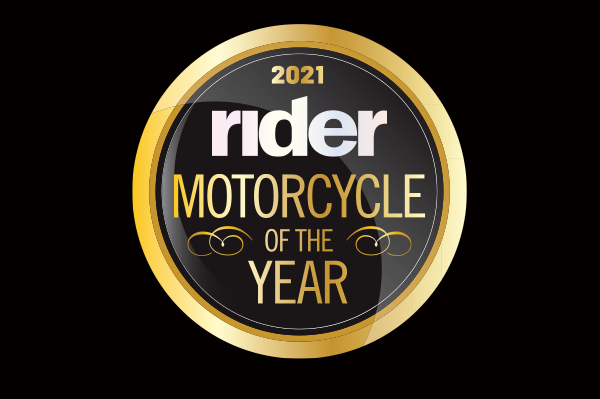 Our first Motorcycle of the Year was awarded to the 1990 BMW K1, and for the past 31 years we've limited contenders to current model-year motorcycles that are new or significantly updated. In recent years, however, production timing and model-year designations have become more fluid.
And then there's the economic shutdown last year caused by the pandemic, which disrupted the global supply chain for everything from toilet paper to semiconductors. Some manufacturers were forced to delay the release of certain models, while others skipped the 2021 model year altogether.
We've posted announcements of new/updated 2022 models as early as January of this year. And so far, we've ridden 2022 motorcycles from BMW, Honda, Indian, Kawasaki, Suzuki, and Yamaha. To give all makes and models a fair shake during the calendar year when they are released and most relevant, eligible contenders for this year's MOTY include any new/updated motorcycle released since last year's award that are available for testing.
2021 Motorcycle Buyers Guide: New Street Models
2022 Motorcycle Buyers Guide: New Street Models
There were plenty of motorcycles to consider, and we've narrowed them down to 10 finalists and one winner. Without further ado…
THE FINALISTS
1) BMW R 18 B/Transcontinental
BMW entered the traditional cruiser segment in 2021 with the standard R 18 and windshield-and-saddlebags-equipped R 18 Classic, built around the 1,802cc "Big Boxer." The 2022 R 18 B "Bagger" and R 18 Transcontinental are touring-ready with a batwing-style fairing, infotainment system, hard saddlebags, and a passenger seat, and the TC adds a top trunk with a passenger backrest.
Read our 2022 BMW R 18 B / Transcontinental review
2) Harley-Davidson Pan America 1250/Special
Yes, pigs – or more accurately, hogs – can fly. The Motor Company shook up the hyper-competitive ADV segment when it introduced the 2021 Pan America 1250/Special. Powered by a 150-horsepower V-Twin and fully equipped with all the latest bells and whistles, it proved itself to be highly capable on- and off-road, and the optional Adaptive Ride Height is its killer app.
Read our 2021 Harley-Davidson Pan America 1250 Special review
3) Honda Gold Wing Tour/DCT
Honda's GL1800 won Rider's MOTY when it debuted in 2001 and again when it was thoroughly overhauled in 2018. Updates for 2021 may seem minor, but they make all the difference when it comes to the two-up touring the Wing was designed for. The larger trunk holds more stuff, the improved passenger accommodations are appreciated, and the audio and styling updates add refinement.
Read our 2021 Honda Gold Wing Tour DCT review
4) Honda Rebel 1100/DCT
The all-new Rebel 1100 is the sort of cruiser only Honda could make. It has styling like its smaller Rebel 300/500 siblings, a powerful engine adapted from the Africa Twin CRF1100L (including an optional 6-speed automatic Dual Clutch Transmission), ride modes and other electronics, well-damped suspension, good cornering clearance, modest weight, and a base price of just $9,299 (add $700 for DCT).
Read our 2021 Honda Rebel 1100 DCT review
5) Kawasaki KLR650
The KLR is dead, long live the KLR! After a two-year absence, Kawasaki's legendary dual-sport returns for 2022 with fuel injection (at last!), optional ABS, and other updates aimed at improving reliability, comfort, stability, load capacity, and user-friendliness. It remains one of the best deals on two wheels with a base price of $6,699.
Read our 2022 Kawasaki KLR650 Adventure review
6) KTM 890 Adventure R
KTM's street-oriented 790 Adventure and off-road-ready 790 Adventure R shared Rider's 2019 MOTY. Just two years later, the folks in Mattighofen kicked it up a notch with a larger, more powerful engine from the 890 Duke R, chassis updates, and tweaks to the suspension, brakes, and electronics, all of which contribute to the 890 Adventure R's all-terrain capability.
Read our 2021 KTM 890 Adventure R review
7) Indian Super Chief Limited
To celebrate the 100th anniversary of the original Chief, Indian revamped its entire Chief lineup, with six models that strike a balance between old-school style and new-school technology. Powered by the Thunderstroke 116 V-Twin, the all-new Super Chief Limited has a quick-release windscreen, saddlebags, a two-up seat, ABS, and a Ride Command-equipped display.
Read our 2022 Indian Super Chief Limited review
8) Royal Enfield Meteor 350
Yes, the Meteor 350's air-/oil-cooled Single makes just 18 horsepower and 18 lb-ft of torque. But rarely have we encountered a motorcycle that offers so much substance for so little money. In top-spec Supernova trim, the Meteor comes with ABS, turn-by-turn navigation, a two-up seat with a passenger backrest, a windshield, and a two-tone paint scheme for just $4,599.
Read our 2021 Royal Enfield Meteor 350 review
9) Suzuki Hayabusa
The former winner of the late-'90s top-speed wars got its first major update since 2008. Thanks to more grunt in the midrange, the Hayabusa's updated 187-horsepower 1,340cc inline-Four helps it accelerate faster than ever before. Refined and reworked from nose to tail, the 'Busa has more aerodynamic bodywork, a full suite of IMU-enabled electronics, and much more.
Read our 2022 Suzuki Hayabusa review
10) Yamaha Ténéré 700
Designed to be equally capable on- and off-road, Yamaha's middleweight adventure bike is powered by a liquid-cooled, 689cc CP2 parallel-Twin and has a durable tubular-steel frame, adjustable long-travel suspension, switchable ABS, and spoked wheels in 21-inch front/18-inch rear sizes. Contributor Arden Kysely liked the T7 so much, he bought our test bike from Yamaha.
Read our 2021 Yamaha Ténéré 700 review
And the winner is…
Yamaha Tracer 9 GT
For the better part of the past decade, the adventure bike segment has been the darling of the motorcycle industry, growing while other segments have been flat or declining and siphoning off R&D resources. With some adventure bikes making 150 horsepower or more, traditional sport-tourers have been all but neglected. Stalwarts such as the Honda ST1300, Kawasaki Concours 14, and Yamaha FJR1300 haven't been updated in years.
That's what makes the Yamaha Tracer 9 GT such a breath of fresh air. At less than 500 pounds fully fueled, it's much easier to handle than the 600-plus-pound S-T bikes on the market. And with a claimed 115 horsepower on tap, there are few motorcycles that will leave it behind.
We first tested the bike that would evolve into the Tracer 9 GT when Yamaha introduced the FJ-09 for 2015. At its heart was the liquid-cooled 847cc CP3 Triple from the FZ-09 – an absolute ripper of a motor. It had an ADV-ish upright seating position and wind-blocking handguards but rolled on 17-inch wheels with sport-touring rubber, while its windscreen, centerstand, and optional 22-liter saddlebags added touring capability. The FJ-09 was light and fun to ride, but it was held back by fueling issues, poorly damped suspension, and weak brakes.
Yamaha did its homework and gave its middleweight sport-tourer an overhaul for 2019, renaming it the Tracer 900 GT in the process. Updates included better throttle response, a longer swingarm for more stability, higher-quality suspension, a new TFT color display, and a larger, one-hand-adjustable windscreen. The saddlebags were made standard as were other features, such as cruise control, heated grips, and a quickshifter.
Two years later, Yamaha went even further. For 2021, the new Tracer 9 GT gets the larger 890cc CP3 Triple from the MT-09, which is lighter, more fuel efficient, and more powerful. An all-new lightweight aluminum frame is made using a controlled-fill diecast process that reduces mass and increases rigidity. A new aluminum swingarm is longer and stronger, and a new steel subframe increases load capacity to 425 pounds and allows an accessory top trunk to be mounted along with the larger 30-liter saddlebags. New spinforged wheels reduce unsprung weight, and they're shod with grippy Bridgestone Battlax T32 GT sport-touring tires.
In addition to updated throttle response modes and all-new KYB semi-active suspension, the Tracer 9 GT now has a 6-axis IMU that enables a suite of electronic rider aids adapted from the YZF-R1, including lean-angle-sensitive traction control, ABS, slide control, and lift control. It also has full LED lighting (including cornering lights) and a new dual-screen TFT display. The rider/passenger seats have been upgraded, and the rider's ergonomics are adjustable.
We had an opportunity to test the Tracer 9 GT just before the MOTY polls closed, and it swept the field. Thanks to steady evolution and improvement over three generations, Yamaha has demonstrated just how good a modern sport-tourer can be, especially for riders who value agility over couch-like luxury. Performance, sophistication, comfort, versatility, load/luggage capacity – the Tracer checks all the right boxes and leaves nothing on the table.
Congratulations to Yamaha for the Tracer 9 GT, Rider's 2021 Motorcycle of the Year!