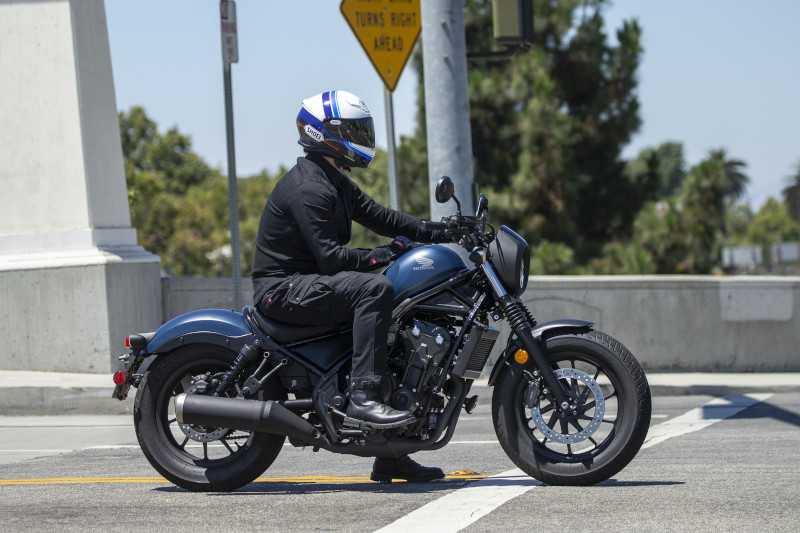 In The Beginning…There was the Rebel
The first motorcycle you own is the most important motorcycle you will ever own. On that bike you will earn key motorcycling merit badges — learning proper throttle and clutch control, shifting, cornering techniques and brake application, to name a few. Those foundational riding skills need to be cultivated somewhere and it helps if they're acquired on a bike as welcoming as the 2020 Honda Rebel 500 ABS.
The Honda Rebel line is an unsung hero of the motorcycling world. Originally launched in 1985 with the Rebel 250, the spritely little cruiser was virtually unchanged over its 32-year run on the market and quickly became one of the quintessential beginner bikes due to its durability, unintimidating power, low seat height and user-friendliness. For those reasons, it was the bike of choice for numerous basic riding courses, allowing countless would-be motorcyclists to receive their motorcycle endorsements.
Above all, it was cheap and built to take the harsh punishment that new riders dish out. Yes, the Rebel also helped riders earn other notable merit badges, such as learning the importance of fully extending your kickstand, or not overfilling your fuel tank and spraying gas everywhere.
In 2017, the Rebel line was significantly updated with the introduction of the Rebel 300 and 500, continuing the tradition of approachability and dependability for a new generation of riders. For model year 2020, several helpful updates come in the form of an assist-and-slip clutch, retuned suspension, LED lighting, a new instrument panel layout and a beefed-up seat. In many ways, these updates have enhanced the Rebel's quality fit-and-finish.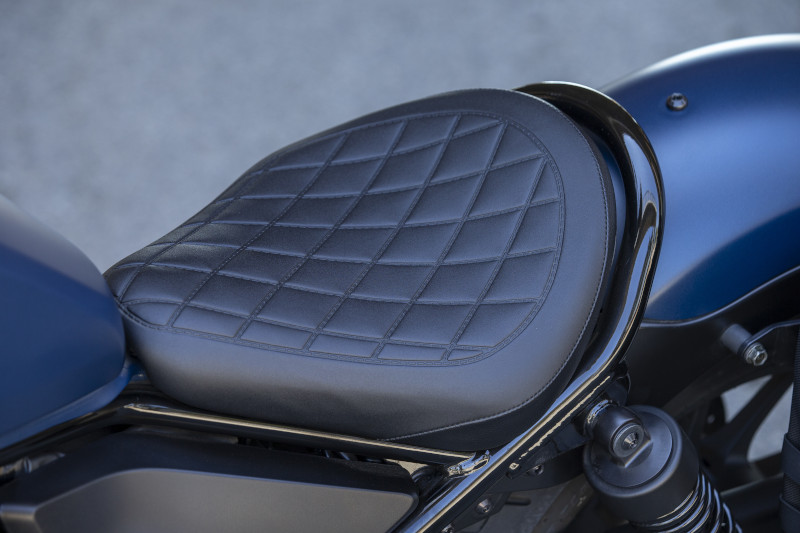 Toss a leg over the Rebel 500 and you're met with a comfortable, north-of-neutral riding position, narrow backswept handlebars and mid-mount footpegs. The ultra-low 27.2-inch seat height and lean chassis give the Rebel a petite stature, which has made it popular with shorter riders, since it allows them to firmly plant their feet on the ground. Honda also added more and denser foam to the saddle, improving comfort. Even at 5-foot 10-inches, I fit it comfortably. If you're creeping into the 6-foot range, you may feel differently.
The round LCD instrument panel is updated with a gear position indicator, which is handy for riders of any skill level, though the LCD could be brighter as it's difficult to read in direct sunlight. Those aren't the only aesthetic changes — the Rebel line now features bright LED lighting from front to back and a smart-looking tail tidy. The headlight is also repositioned and our test unit is equipped with a snazzy accessory headlight cowl that'll set you back $95.95.
Sitting at the heart of the Rebel 500 ABS is the playful 471cc liquid-cooled parallel-twin engine pilfered from Honda's sporty CB500R. It offers performance that new or returning riders can sink their teeth into, without being overwhelmed or quickly tiring of it, thanks to its perfectly predictable torque curve and healthy pep. Aided by great throttle response, this plucky parallel twin will have you happily darting around surface streets and canyon roads, or twisting the grip on the freeway with the roll-on power left above 65 mph.
Some vibration can be felt if you wring the engine's neck, but short shifting will hide all of it, and the rubber pads on the footpegs keep it from reaching your feet. Honda says the new assist-and-slip clutch reduces clutch pull by an impressive 30 percent, and its wide friction zone makes setting out from stops a snap. Combine that with the slick six-speed gearbox and shifting is effortless. Freshly minted riders will also appreciate the slipper function, which reduces wheel-hop should you downshift too aggressively.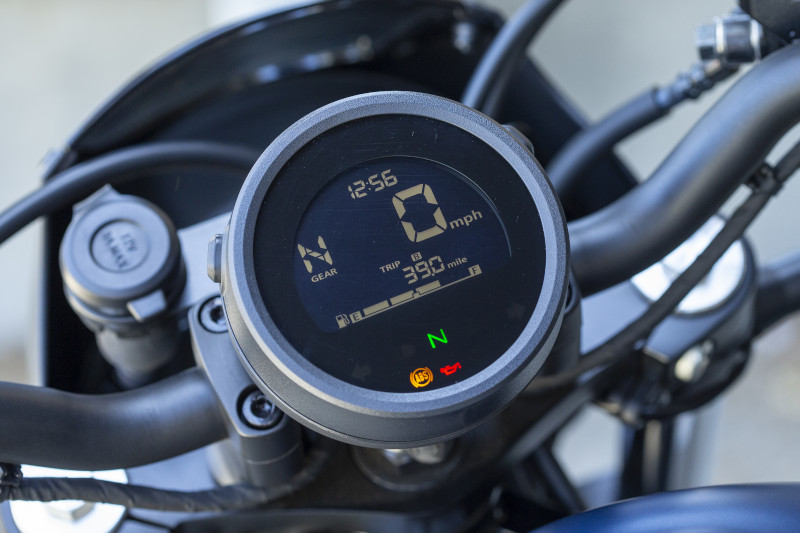 Thanks to stiffer springs and a higher oil level in the non-adjustable fork, suspension dive under hard braking is a thing of the past and damping is much more controlled, allowing the 4.8-inches of travel to gobble up potholes nicely. The spring rate of the preload-adjustable twin shocks is also increased and nitrogen gas is used in the damper tubes to help with compliance. In practice, a minimal 3.8-inches of travel will keep the rear end of the bike composed over most road impurities, but hard-hits from expansion joints and sharp-edged potholes deliver a solid jolt.
At 418 pounds full of fluids, the Rebel 500 has a low center of gravity, making it feel light and nimble at any speed. It tips into corners with little input from the rider, and the mid-mount footpegs will accommodate a decent amount of lean angle before the peg-feelers touch down.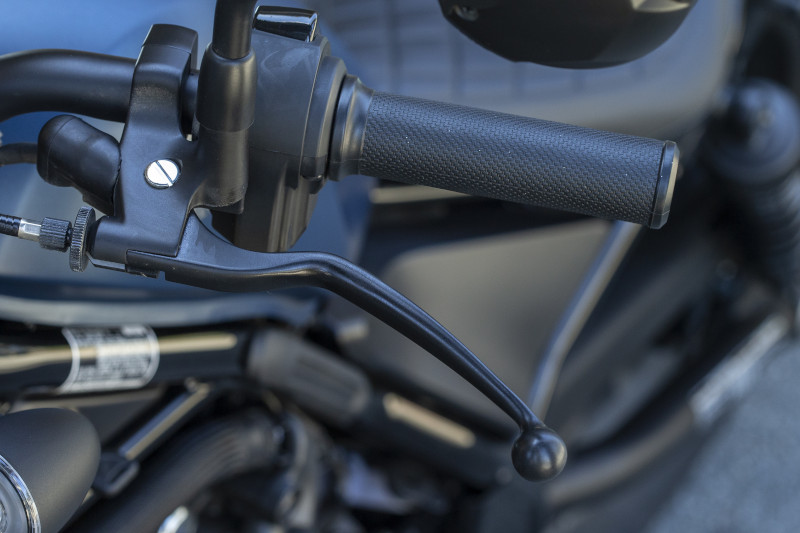 With its updated suspension, the Rebel can get sportier; push it too hard and you will introduce some instability, but it's perfectly adequate for its intended audience. Toss in an extra $29.95 for the accessory fork boots to protect the exposed fork stanchions, which also kick it up a notch visually.
A single 296mm disc and two-piston floating Nissin caliper handle braking duties up front, accompanied by a single 240mm disc and single-piston Nissin caliper in the rear. There is plenty of braking power on tap and a linear pull up front, without an aggressive initial bite, which is great for new riders. However, feel is on the vague side. The rear brake has good feel and stopping power. A non-ABS model is available and will save you $400 at the till, but we strongly recommend anti-lock brakes, especially for anyone starting out.
Honda did a solid job of addressing some of the issues we had with the 2017 iteration of the Rebel 500, improving on a solid package for rider's new to the saddle. The Rebel is undeniably friendly, fun, and will make a rider out of you yet. Here's to another 32 rebellious years.
Nic's Gear:
Helmet: Shoei RF-1200
Jacket: Pando Moto Capo Cor 01
Pants: Pando Moto Mark Kev 01
Boots: TCX X-Blend WP
Gloves: Racer Soul
2020 Honda Rebel 500 ABS Specs:
Website: powersports.honda.com
Base Price: $6,499
Price as Tested: $6,909.79 (accessories)
Engine Type: Liquid-cooled, transverse parallel twin, DOHC, 4 valves per cyl.
Bore x Stroke: 67.0 x 66.8mm
Displacement: 471cc
Transmission: 6-speed, cable-actuated wet clutch
Final Drive: O-ring chain
Wheelbase: 58.7 in.
Rake/Trail: 28 degrees/4.3 in.
Seat Height: 27.2 in.
Wet Weight: 418 lbs. (as tested)
Fuel Capacity: 3.0 gals., last 0.58 gal. warning light on
MPG: 86 octane min (high/avg/low) 64.3/49.2/43.1
2020 Honda Rebel 500 ABS Photo Gallery: