All right, so you want to go far but you also want go fast, and you need some carrying capacity and comfort while doing it. Asking the world, aren't we? Maybe your supersport days are behind you, although not too far, and only street riding is on the menu now. Ah, friend, then you're looking for a true sport-touring machine like the 2020 Kawasaki Ninja 1000SX.
Now, let's complicate this further. You also want IMU-supported cornering ABS and traction control, ride modes, cruise control, an up/down quickshifter and a full-color TFT display. Those amenities are easy to come by on the upper end of the sport-touring segment, where MSRPs have risen without remorse. But you're not like most customers; you want it all at a reasonable price.
The Ninja 1000SX is a machine that's received continual honing on the engineering whetstone with subtle but crucial updates, and now, it's been refined to a sharp point. This year, engineers focused on improving throttle response, handling, suspension, and rider and passenger comfort, while also tossing in an up/down quickshifter, cruise control and a TFT display…with only a $200 increase in the list price.
Sitting at the heart of the Ninja 1000SX is a lovely, torque-rich 1,043cc in-line four-cylinder engine. Internally, this is the same powerplant in the previous model, but now it boasts new electronic throttle valves and a throttle sensor to make its throttle-by-wire virtually faultless in any mode.
Put the Ninja into one of four ride modes: Sport, Road, Rain (low power) or a customizable Rider mode, and the Kawi's lump will eagerly grab you by the scruff with its notable low-end grunt. From there, the massive mid-range takes over and leads you into serious top-end power that will see you quickly hauling the mail in comfort. On the Jett Tuning dyno the 1000SX churned out 124.3 horsepower at 9,500 rpm and 75.4 lb-ft of torque at 8,000 rpm at the rear wheel. Therefore fret not, recently retired sportbike rider—you can still land yourself in front of a judge easily.
The Ninja 1000SX's in-line-four is a smooth runner, too, thanks to twin counterbalancers, and now revised camshaft profiles have also reduced tappet noise. What truly hides engine buzz now are new dampers beneath the seat, turning the formerly buzzy SX into something quite serene.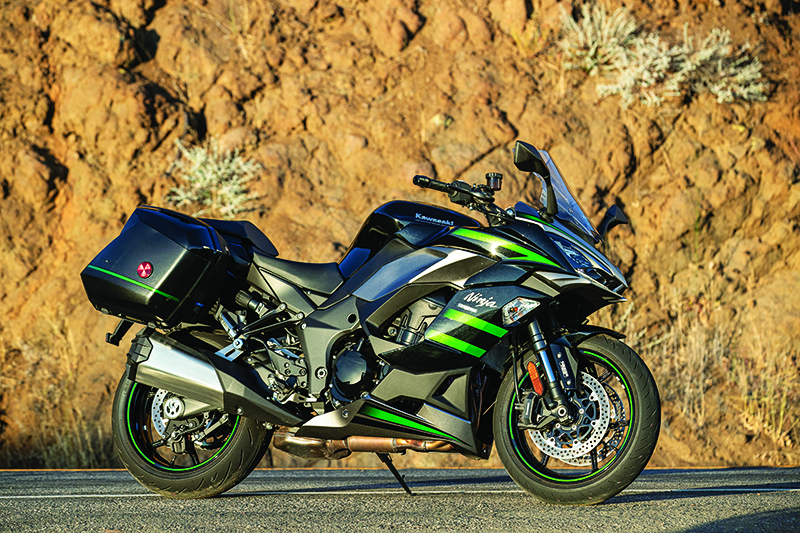 All of the aforementioned mid-range puff takes a load off the new up/down quickshifter, since you're able to settle into a gear and simply work the grip. The quickshifter itself shifts commendably on the upshift, letting you bang through that slick six-speed gearbox, but can lurch a tad when auto-blipping at lower rpm. Clutch pull at the adjustable lever is nice and light thanks to the slip-assist clutch, which also helps make sure things don't get squirrely during aggressive downshifts.
To help the bike meet Euro 5 emissions regulations the intake and exhaust have been updated, beginning with two shorter 45mm intake funnels on cylinders one and four. Coupled with that change is an all-new 4-2-1 exhaust system that has additional catalyzers to ensure emissions standards are met and ditches the dual muffler setup, saving a claimed 4.4 pounds.
Kawasaki's Bosch IMU-supported rider aid package is up to snuff with the best of them, featuring cornering ABS (KIBS) and lean-angle-sensitive traction control (KTRC). Save for a bit of overzealous ABS intervention while trail braking in corners, those systems work as intended. TC can be disabled in the Rider mode, but ABS cannot, per Euro 5 requirements.
I will gripe about the actual selection of ride modes, as it takes an inordinately long time to complete when riding. Press and hold the mode button for one-Mississippi and do be sure to annunciate. Touch the throttle in any way and the process is interrupted with no indication. On most bikes these days, the indicated ride mode blinks or the rider is instructed to close the throttle to confirm the selection.
While on the subject of electronic doodads, we can speak about the 4.3-inch full-color TFT display that indicates everything you could ever want, along with maximum lean angle and brake pressure, for a bit of extra fun. It also supports Bluetooth connectivity. Tech savvy riders will be interested in Kawasaki's Rideology app, which once paired to your bike features a riding log complete with your route, trip and bike telemetry data. Owners can also customize motorcycle settings as well.
The Ninja 1000SX's communicative aluminum parameter chassis and sporty 56.7-inch wheelbase are unchanged, but in order to improve the SX's handling, rake and trail have been tightened up slightly to 24 degrees and 3.9 inches. The updated 1000SX tips in with more eagerness than before, especially at low speed, which it definitely needed. Tight, slow twisties don't impede the 1000 like they used to and it still holds a line beautifully, with loads of front-end feel.
Low-speed bleed ports have been added to the damping circuits of the fully adjustable 41mm Showa fork, relieving negative pressure during an initial hit and making the ride that much more plush. In the rear, a Showa Horizontal Back-Link shock featuring a remote preload adjuster and rebound damping adjustment helps keep the bike in shape.
In practice, the Showa kit offers up a luxurious ride, hiding everything except the most egregious of compression bumps from your senses. It also does a good job of keeping the bike's 512-pound wet weight in control while cranked over on its seriously grippy new Bridgestone Battlax S22 tires. The shock, in particular, might protest if you start reliving your superbike days—but you aren't giving up much, and I bet you can guess who will fare better on the ride home.
Kicking the fit-and-finish up a notch is a freshly designed ZX-10R-inspired three-piece fairing set with integrated turn signals. This update paved the way for a new four-position windscreen that achieves a more vertical position. Just don't try to adjust it while riding, as the release button is precariously placed between the upper triple clamp and instrument panel. In the uppermost position, it directs air toward the top of my helmet on my 5-foot, 10-inch frame—any position below that I felt a good amount of buffeting. Height-blessed riders may want to opt for the taller accessory-touring screen.
Those coming from touring machines with picnic table-sized fairings may feel somewhat exposed on the SX, but I actually enjoy feeling the breeze. The fairings also boast internal venting, redirecting hot air from the rider. It seems to work well on the left side of the bike. On the right side, the clutch cover obstructs airflow if you're one to tuck your boot against the frame. At temperatures below 90, it wasn't something I noticed and the bike does well in the heat.
Of course, we'd be remiss to omit the new LED lighting that provides much more visibility at night. If that night is particularly chilly, the $298.95 accessory heated grips may be to your liking.
Riser handlebars offer a comfortable reach that doesn't put excessive weight on your wrists and create a riding position residing on the sporting side of neutral. It's appreciated in the twisty bits and comfortable for freeway mile munching. The comfort hits continue with rider and passenger seats that have been redesigned with denser foam and an improved shape. The seat height is raised marginally to 32.3 inches, which helps reduce knee-bend, making the rider triangle more agreeable on longer outings. There are also accessory low and high seats to help suit your needs.
Long-distance riders will undoubtedly grumble about the lack of a centerstand. Currently, Kawasaki doesn't offer one, but I say toss a jack stand in the bags and pack a plug kit.
Added to the scrap pile are the former petal-style rotors, which have been replaced with traditional 300mm discs and four-piston Tokico calipers. Feel at the adjustable lever is good, with plenty of power on tap, but could certainly be enhanced by upgrading to steel braided lines. In the rear, a single 250mm disc and single-piston Tokico caliper allow for decent modulation.
The true advantage of a proper sport tourer is its luggage options, and the Ninja 1000SX is equipped with rails to accommodate 28-liter factory saddlebags. At $1,129.95, you'll get color and ignition key-matched bags that'll pack away a large size lid when it's positioned just so. Interestingly, these bags are compatible with all bikes in the Ninja H2 SX and Versys lines. There is an accessory top box option as well, but it can't be used simultaneously with the side bags due to weight concerns.
Where Kawasaki goes from here with the Ninja 1000SX is something of a conundrum. Save for remedying a few minor quirks, the evolution of the SX is complete. Totally reinventing the SX will undoubtedly drive the price higher, upsetting its appealing cost-to-benefit ratio. For 2020, Team Green has taken a good sport-touring machine and made it a great one, while also ensuring that it's still one of the best overall values in the segment.
Nic's Gear:
Helmet: Arai Corsair-X
Jacket: Alpinestars GP Plus R V3
Pants: Alpinestars Cooper 
gloves: Alpinestars GPX
Boots: Alpinestars Jam Drystar
2020 Kawasaki Ninja 1000SX Specs:
Base Price: $12,399
Price as Tested: $13,529 (28-Liter Hard Saddlebags)
Warranty: 1 yr., unltd. miles
Website: Kawasaki Motors Corp., U.S.A.
Engine
Type: Liquid-cooled, transverse in-line four
Displacement: 1,043cc
Bore x Stroke: 77.0 x 56.0mm
Compression Ratio: 11.8:1
Valve Train: DOHC, 4 valves per cyl.
Valve Insp. Interval: 15,000 miles
Fuel Delivery: DFI with 38mm ETV throttle
bodies x 4
Lubrication System: Wet sump, 3.2-qt. cap.
Transmission: 6-speed, cable-actuated slip-
and-assist clutch
Final Drive: X-ring chain
Electrical
Ignition: TCBI with digital advance
Charging Output: 341 watts max.
Battery: 12V 8Ah
Chassis
Frame: Aluminum twin-spar perimeter w/
engine as stressed member, aluminum subframe & swingarm
Wheelbase: 56.7 in.
Rake/Trail: 24.0 degrees/3.9 in.
Seat Height: 32.3 in.
Suspension, Front: 41mm USD fork, fully adj., w/ 4.7-in. travel
Rear: Horizontal back-link shock, adj. for spring preload (remote) & rebound damping w/ 5.4-in. travel
Brakes, Front: Dual 300mm semi-floating discs w/ opposed 4-piston radial monoblock calipers & ABS
Rear: Single 250mm disc w/ 1-piston pin-slide caliper & ABS
Wheels, Front: Cast, 3.50 x 17 in.
Rear: Cast, 6.0 x 17 in.
Tires, Front: 120/70-ZR17
Rear: 190/50-ZR17
Wet Weight: 512 lbs.
Load Capacity: 435 lbs.
GVWR: 947 lbs.
Performance
Horsepower: 124.25 horsepower @ 9,500 rpm (as tested)
Torque: 75.40 ft-lbs of torque @ 8,000 rpm (as tested)
Fuel Capacity: 5.0 gals., last 1.1-gal. warning light on
MPG: 90 AKI min (low/avg/high) 39.6/37.6/33.9
Estimated Range: 185 miles
Indicated RPM at 60 MPH: 4,000
Photography by Kevin Wing
2020 Kawasaki Ninja 1000SX Photo Gallery: