California is one of those rare states where you can throw a dart at its map, and the needle's point is very likely to land on something that two-wheeled enthusiasts will greedily rub their glove-covered hands together over. Luckily, I happen to have a few of those roads in my backyard, namely California Routes 33 and 58, which will garner a nod of approval from any motorcycle enthusiast.
If you have the time and inclination, a rider can do a nice single-day loop covering roughly 400 miles on these roads. Beginning at the beaches of Ventura, heading through the harsh oil lands of Taft and up to the vast Carrizo Plain, you skirt along the Central California coast before arriving home.
I set off to take on these well-beaten paths aboard the new 2020 BMW S 1000 XR sport-adventure-tourer, which has a job description up to the day's task.
This Beemer gets plenty of updates for model year 2020, with refinements aimed at making it lighter, faster, more agile and more user friendly. Although we couldn't measure a base weight since our test bike was heavily accessorized, BMW claims wet weight is 498 pounds. Even with all of the bolt-ons our XR still tipped our scale at a commendable 511 pounds, giving it a light feeling when lifting it off the kickstand and setting off toward U.S. Route 101.
Views of rolling waves while traveling on scenic 101 north through Ventura will get your neurons firing, especially on a chilly morning. Once in the saddle, I was able to get my first sampling of the 999cc in-line four-cylinder powerplant adapted from the S 1000 RR superbike.
For use in the XR, BMW wanted to make this engine more streetable, so the XR's lump features a proprietary camshaft design and exhaust manifold aimed at providing more mid-range puff while sacrificing some top-end. To that end, the rev limit is lowered from 14,500 to a more sensible 12,000. BMW stated that its Shift-Cam variable valve timing technology was unnecessary in this application, as it feels that what it gives up in the top-end is made up in the middle.
Gears 3-6 have had their ratios lengthened as well to improve fuel economy, barely working the XR's engine on the initial freeway drag up Highway 33 and into Ojai, even when you're riding at a good clip.
This engine has a classic four-cylinder engine feel—a bit of low-end power and palpable mid-range strongly eclipsed by staggering top-end might, kicking off at 7,000 rpm and never relenting until you're banging off the rev limiter. On the Jett Tuning dyno the XR laid down an eye-opening 158 horsepower at 11,300 rpm and 79 lb-ft of torque at 9,500 at the rear wheel.
The fun bits of Highway 33 are where this engine can come into its own, staying above 7,000 rpm to lunge out of corners while winding my way up the mountain. The power delivery is smooth, predictable and completely controllable. While I might appreciate a little more midrange for the sake of street riding, once you've cracked the whip and gotten into the thick of the powerband, it's quite a hoot. I had numerous opportunities to stretch the bike's legs as I passed the Rose Valley Recreation Area, and the 33 opened up.
You'd be wise to add the optional up/down quickshifter, which works excellently in either direction at anything above 3,000 rpm. A bike of this price really should come with this as a standard feature, though. The XR features the latest Bosch IMU supported rider aids, including cornering ABS, lean angle detecting traction control, wheelie control, and hill start assist. Thanks to the throttle-by-wire, that rider aid package is seamlessly tied to three selectable ride modes; Rain, Road, and Dynamic. If you spring for the optional Dynamic Pro mode, you'll have the privilege of tailoring or, in some cases, disabling those aids.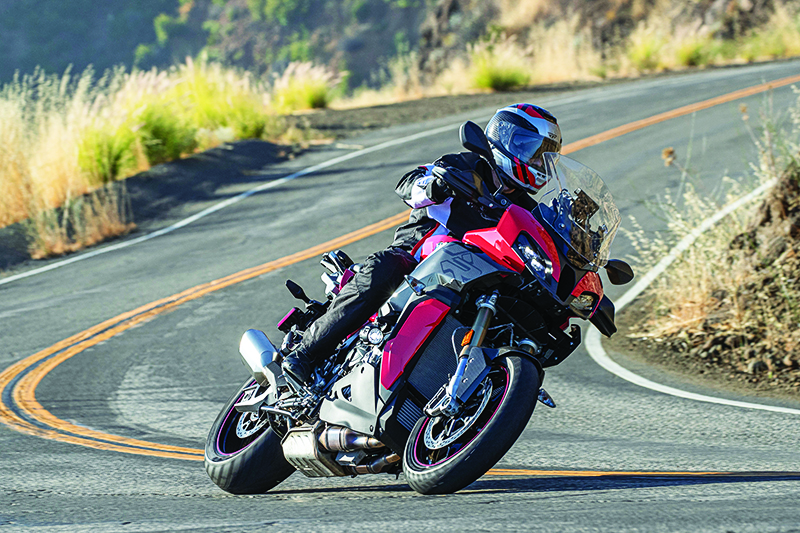 Save for a bit of a dead-zone in the throttle when initially releasing the clutch (I even stalled it the first few times), and when rolling on the gas while using cruise control, the throttle connection is good. What is more impressive is that each riding mode represents the level of ABS and TC intrusion that you'd associate with it, making them well suited for their intended purpose.
Once off the mountain, we barreled through a sparse area known as Ventucopa, offering a perfect opportunity to assess the XR's accommodations. The two-position windscreen creates some buffeting in the lower position, but my 5-foot 10-inch frame gets along with it when raised. The rider triangle is moved up slightly, moving the handlebar position forward 20mm and down another 10mm, along with a new mounting bracket that's successfully quelled much of the XR's vibratory tendencies. At high rpm, it's still felt, but you'll be entirely too focused on riding. That rider position update also distributes more weight over the front end for better feedback.
With a lofty 33-inch seat height, a bike like the XR is welcoming to taller riders, and the narrowed chassis helps my 32-inch inseam get the balls of my feet on the ground a little more securely. However, the thinly padded seat is designed for the narrowest of derrieres. It always feels as if I'm sliding into the 5.3-gallon fuel tank, creating serious pressure points and making the first pit-stop at the Santa Barbara Pistachio Company a mandatory one.
Feeling refreshed and with a backpack full of pistachios, it's time to connect to Highway 166 momentarily before rejoining the 33 and ripping through the sleepy western town of Maricopa and the oil-derrick spotted landscape of Taft. Be sure to top off in Taft, as the 58 has no service stations.
The 58 is as equally diverse as the 33, with tight hairpin corners, fast sweepers and everything in-between. The same can be said of the road quality, which makes it a keen place to discuss the bike's new chassis and semi-active suspension.
BMW redesigned the XR's chassis and swingarm, not only lightening but also tightening up its geometry. The wheelbase is a stability enhancing 61 inches while the rake is steepened to 24.9 degrees, and the trail shortened to 4.5 inches, allowing the XR to showcase its impressive agility and greatest strength. It requires virtually no effort to get onto the edge of the tires, at any speed, and transitions just as effortlessly, making the first well-paved dozen miles of the 58 a treat.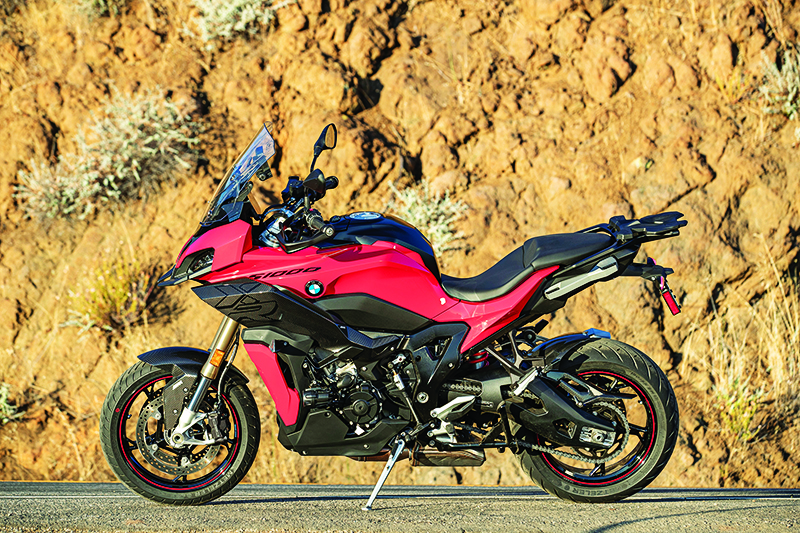 Suspenders come in the form of an electronically adjustable 45mm Marzocchi fork and Marzocchi single shock. Our test unit boasts the Dynamic ESA Pro upgrade, which gives us the choice of two suspension modes, Road and Dynamic. It also automatically adjusts preload to compensate for the load on start up and can be set in a minimum preload mode as well.
Road mode is the softer damped of the two modes, and is particularly adept for casual riding or long slogs near the Carizzo Plain National Monument but can become bouncy once the pace picks up. Dynamic mode cranks the damping up high, turning the XR into a taught, pointed weapon—at the cost of outright comfort. The more abused sections of the 58 will become taxing.
Another gripe is that there isn't a manual mode for the suspension. When compared to Ohlins or Showa semi-active systems, we're often given a manual option that will let riders dial in settings as they see fit, which could have given me a happy medium between Road and Dynamic.
Of course, it's important to remember that the spring rates are designed to compensate for luggage and passengers (which we didn't have), and the uncomfortable seat is playing a role in my feelings toward the suspension.
After 71 miles on blissful Highway 58, it was time to roll through the quaint town of Santa Margarita and head south on 101 toward Santa Maria. Here you have the choice of slogging two hours down the freeway back to Ventura or breaking off and heading through some choice roads in Central California wine country. To do the latter, get off at Betteravia Road and split off to Foxen Canyon Road.
Darting through the farmland and abrupt 90-degree turns, I relied on the dual BMW-branded Hayes 4-piston calipers and 320mm rotors up front, as well as the matching single-piston caliper and 220mm rotor out back. Feel at the lever is superb, giving me the ability to trail brake deep into the tree-shaded corners of Foxen Canyon Road with confidence. This should come as no surprise, since the XR has always had commendable firepower at the brake lever.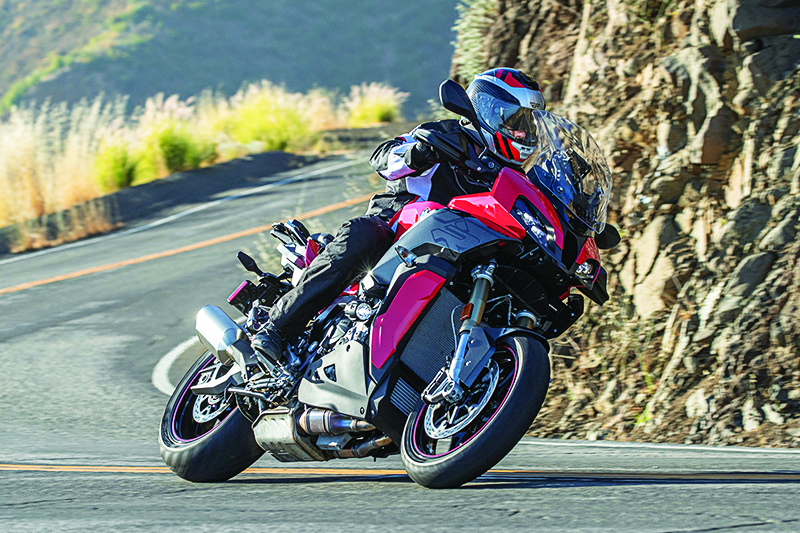 I also made sure to check out the old Sisquoc Store, which is no longer open these days. A staple stop in Sisquoc, the 100-year-old building was long a convenience store, then converted into an antique shop before it closed its doors not long ago. From there, I hooked up with State Route 154 and railed past Lake Cachuma, a stone's throw away from Santa Barbara and the 101, which would take me back to Ventura.
With the Pacific Ocean on my right, it was time to ponder pricing. At $17,645, the S 1000 XR plays in the luxury-end of the market. That point becomes underlined when we consider that our optioned test unit ballooned to $23,090. Costly, yes, but not out of the norm for bikes in this class. What we get is a sport-adventure-touring motorcycle that's distilled the lightning-quick agility of the S 1000 RR and translated that to the XR, accompanied by an impressive electronics package, and an engine with silly amounts of top-end power (although, I would happily trade some of it for more midrange.) Seat comfort is the Achilles heel of this otherwise impressive bike.
Nic's Gear:
Helmet: Fly Sentinel
Jacket: Fly Strata
Pants: Fly Terra Trek
Boots: TCX Roadster 2
Gloves: Racer mickey
2020 BMW S 1000 XR Specs:
Base Price: $17,645
Price as Tested: $23,090 (numerous accessories)
Warranty: 3 yrs., 36,000 miles
Website: BMW Motorrad USA
Engine
Type: Liquid-cooled, transverse in-line 4
Displacement: 999cc
Bore x Stroke: 80.0 x 49.7
Compression Ratio: 12.5:1
Valve Train: DOHC, 4 valves per cylinder
Valve Adj. Interval: 18,000 miles
Fuel Delivery: BMS-O EFI
Lubrication System: Wet sump, 4.2-qt. cap.
Transmission: 6-speed, cable-actuated multi-plate anti-hopping wet clutch
Final Drive: O-ring chain
Electrical
Ignition: BMS-O
Charging Output: 493 watts max
Battery: 12V 9AH
Chassis
Frame: Aluminum composite bridge frame, self-supporting engine, aluminum double-sided swingarm
Wheelbase: 61.0 in.
Rake/Trail: 24.9 degrees / 4.5 in.
Seat Height: 33.1 in.
Suspension, Front: USD 45mm telescopic fork, Dynamic ESA & electronically adjustable damping, 5.9 in. travel
Rear: Single shock w/ Dynamic ESA, electronically adjustable damping & 5.9 in. travel
Brakes, Front: Dual 320mm floating discs w/ opposed 4-piston radial calipers & ABS
Rear: Single 220mm disc w/ 1-piston floating caliper & ABS
Wheels, Front: Cast, 3.5 x 17 in.
Rear: Cast, 6.0 x 17 in.
Tires, Front: 120/70-ZR17
Rear: 190/55-ZR17
Wet Weight: 511 lbs. (as tested)
Load Capacity: 481 lbs. (as tested)
GVWR: 992 lbs.
Performance
Horsepower: 158.63 horsepower @ 11,3000 rpm (as tested)
Torque: 79.68 ft-lbs @ 9,500 rpm (as tested)
Fuel Capacity: 5.3 gals, last 1.1 gal. warning light on
MPG: 91 PON Min (low/avg/high) 31.4/35.0/42.3
Estimated Range: 223 miles
Indicated RPM at 60 MPH: 4,000
Photography by Kevin Wing
2020 BMW S 1000 XR Photo Gallery: