The Suzuki V-Strom 1000 is an old lion of the adventure-touring world. When it debuted for 2002, there weren't many liter-class adventure bikes to choose from, and the few you could buy were European. There was the standard-bearer BMW R 1150 GS plus a handful of others like the Aprilia ETV1000 CapoNord, Cagiva Gran Canyon, Moto Guzzi Quota and Triumph Tiger 955i. Back then adventure touring was still a niche segment, and most of these models faded away after a few years.
When it launched the DL1000 V-Strom, Suzuki became the first Japanese manufacturer to offer a big adventure bike in the U.S., and its domestic competitors stayed on the sidelines until Yamaha introduced the Super Ténéré for 2012. The V-Strom had a 996cc liquid-cooled, 90-degree V-twin derived from the TL1000S/R sportbikes and a twin-spar aluminum frame, and it delivered impressive horsepower, torque and handling. Although it had a 19-inch front wheel and tallish suspension, the DL1000 was best suited to the paved roads where most adventure bike owners spend most of their time.
The DL1000 underwent few changes until 2014, when it got a larger, more powerful engine, Suzuki's first-ever traction control system and updates to its chassis, styling and ergonomics. Four years later, Suzuki gave the V-Strom 1000 another refresh, bringing its appearance in line with the V-Strom 650 and adding IMU-based cornering ABS, which Suzuki calls the Motion Track Anti-lock and Combined Brake System. Here we are just two years later with yet another update, and the big V-Strom looks and performs better than ever.
Although engine displacement remains the same at 1,037cc, for 2020 Suzuki decided to change the name to V-Strom 1050 and offer three versions—a standard model, the V-Strom 1050XT and the V-Strom 1050XT Adventure. All have a revised engine that's Euro 5 compliant and produces more horsepower and torque at higher revs thanks to larger throttle bodies, new fuel mapping and cam timing, higher-compression pistons and a revised exhaust. Claimed output has increased from 99 horsepower at 8,000 rpm to 106 at 8,500 rpm, whereas peak torque is down a bit, from 75 lb-ft at 4,000 rpm to 74 lb-ft at 6,000 rpm, though there's more grunt at high rpm. New throttle-by-wire has enabled the Suzuki Drive Mode Selector, which offers three throttle response modes (A, B and C). Other changes include an updated traction control system with three levels of intervention, new instrumentation and LED lighting, a lighter, reshaped tapered aluminum handlebar, wider footpegs and new Bridgestone Battlax Adventure A41 tires.
Ichiro Miyata, who designed Suzuki's DR-Z Paris-Dakar racer and DR-Big dual-sport in the 1980s, also designed the V-Strom 1050, and its sharp beak and geometric lines are very similar to those found on the old DRs. The cool retro styling, unfortunately, gets lost on the standard V-Strom 1050 ($13,399) because it's only available in Glass Sparkle Black/Solid Iron Gray. The V-Strom 1050XT ($14,799), on the other hand, looks fantastic in either throwback color combos—Champion Yellow No. 2 with a blue seat and blue accents or Pearl Brilliant White/Glass Blaze Orange. Spending the extra $1,400 for the XT replaces the base model's cast wheels with tubeless spoked wheels and adds the Suzuki Intelligent Ride System, a different windscreen with toolless height adjustment, more stylish hand guards and mirrors, a height-adjustable seat, a centerstand, engine guards and a lower engine cowl. The V-Strom 1050XT Adventure ($16,999) adds quick-release aluminum panniers and heated grips, but it's only available in Glass Sparkle Black; for my money, I'd buy a colorful XT and buy the panniers and heated grips separately (there are nearly 60 items on the accessory list).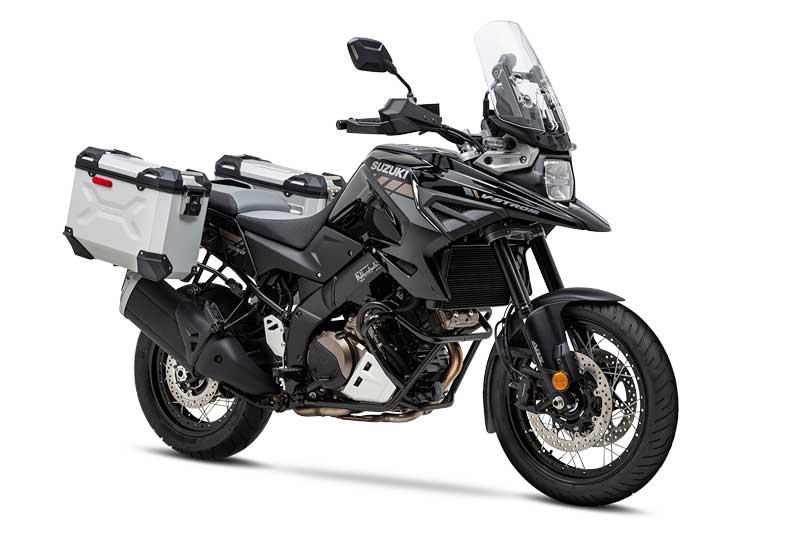 The big upgrade for 2020 is the Suzuki Intelligent Ride System, a comprehensive electronics package that uses a new six-axis (up from five) IMU and includes cruise control, cornering/combined ABS, hill hold control, slope dependent control (which mitigates rear wheel lift when braking downhill) and load dependent control (which adjusts brake pressure based on rider/passenger/luggage weight). Connecting all of the control units and sensors is a new Controller Area Network (CAN), which simplifies the wiring harness and offers faster data transmission.
Greg's Gear
Helmet: Arai XD4
Jacket & Pants: Aether Divide
Boots: Sidi Gavia Gore-Tex
What has made the V-Strom 1000 a perennial favorite over the years is its user-friendliness. It has always been an approachable, versatile, dependable motorcycle that's blessedly free of quirks. With its new electronics, the V-Strom 1050XT is the most technologically advanced V-Strom to date but it retains its welcoming disposition. During the press launch we rode the XT on some of southern Spain's best paved roads, with a few miles of dirt thrown in for good measure. From seating comfort and wind protection to throttle response, engine performance and handling, the V-Strom 1050XT felt well rounded and satisfying to ride. About the only thing missing on that cool January day were the accessory heated grips.
As we left the coastal town of Marbella on our test ride and ascended into the Sierra Nevada range on the fast, winding and damp A-366, I started out in mode A, which offers direct throttle response and was just on the cusp of being too abrupt for my taste. The mode button and large rocker switch next to the left grip make it easy to navigate through the various modes for throttle response, traction control and ABS, as well as operate cruise control (which only works in gears 4-6 from 31-99 mph). Mode B felt just right, and the fueling was consistent and never stumbled in on/off transitions. The V-Strom still pulls strongly in the low- to midrange, while the revised engine's newfound liveliness at high revs rewards exuberant grip twisting. And thanks to the assist-and-slipper hydraulic clutch, even aggressive shifting of the 6-speed transmission was drama-free.
The new V-Strom uses the same fully adjustable 43mm upside-down fork and rebound- and (remote) preload-adjustable link-type rear shock, both with 6.3 inches of travel, as before, though damping is softer in the front and stiffer in the rear. Those changes weren't readily apparent from the saddle, and the 1050XT was pleasantly compliant on fast, smooth pavement and bumpy, rocky dirt. Also unchanged are the Tokico monoblock 4-piston front calipers and Nissin 2-piston rear caliper, which exhibited good initial bite but felt rather vague otherwise even though there was plenty of stopping power. The cornering/combined ABS now has two modes, offering more or less intervention, but it cannot be turned off.
The XT's new windscreen deflects air well and is height adjustable over a two-inch range, but because the quick-release lever is on the lower front of the windscreen, just above the headlight, adjustments must be made while the bike is parked. Behind the windscreen is an accessory bar that's ideal for mounting a smartphone or GPS, and there's a new USB outlet on the left side of the dash (there's also an SAE 12V socket under the seat). The new seat is comfortable and height adjustable (33.5/34.3 inches), but the adjustment process requires swapping out bolts under the seat using the wrench in the toolkit. The brake lever, clutch lever, shifter and rear brake pedal are all adjustable, so riders should have little difficulty dialing in the V-Strom to suit their preferences.
With three major updates in the past six years, the V-Strom 1000/1050 has evolved quickly. What was once a fun and competent but rather basic adventure touring motorcycle has become sophisticated and refined. The V-Strom 1050XT offers a higher margin of safety, more versatility and more touring features while retaining the fun, go-anywhere spirit of the original.
Check out Rider's 2020 Guide to New/Updated Street Motorcycles
2020 Suzuki V-Strom 1050XT Specs
Base Price: $14,799
Website: suzukicycles.com
Engine Type: Liquid-cooled, transverse 90-degree V-twin, DOHC w/ 4 valves per cyl.
Displacement: 1,037cc
Bore x Stroke: 100.0 x 66.0mm
Transmission: 6-speed, hydraulically-actuated wet assist-and-slipper clutch
Final Drive: O-ring chain
Wheelbase: 61.2 in.
Rake/Trail: 25.3 degrees/4.3 in.
Seat Height: 33.5/34.3 in.
Claimed Wet Weight: 545 lbs.
Fuel Capacity: 5.3 gals.
MPG: NA