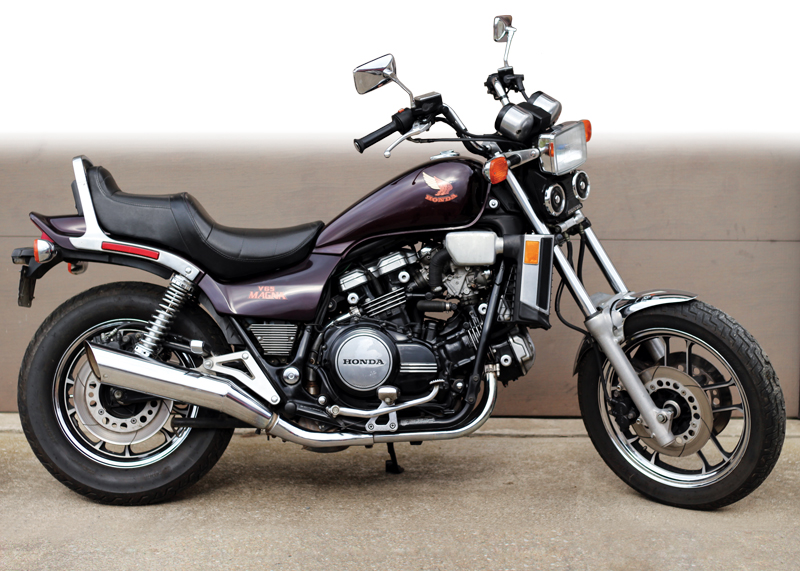 The motorcycling world looked upon this machine in absolute amazement — a cruiser putting out more than 100 horsepower. Unheard of! Sure, sportbikes like Honda's CB1100R were knocking out that many ponies, but those were for riders who liked leaning into corners at insane speeds. But a cruiser with feet-forward pegs and wide handlebars — and a shaft drive no less? This was nutso!
If this bike could be put in a category, it would be Power Cruiser. Harleys were the standard cruisers of the day, and they were lucky to get 55 horses to the rear wheel, using a pushrod V-twin that had been around for the better part of half a century. Whereas this bruiser was a V-4 with two overhead camshafts and four valves per cylinder. And liquid cooling to boot, so no worries about overheating when cruising down Main Street on a crowded Saturday evening. Except for that mildly unaesthetic radiator up front.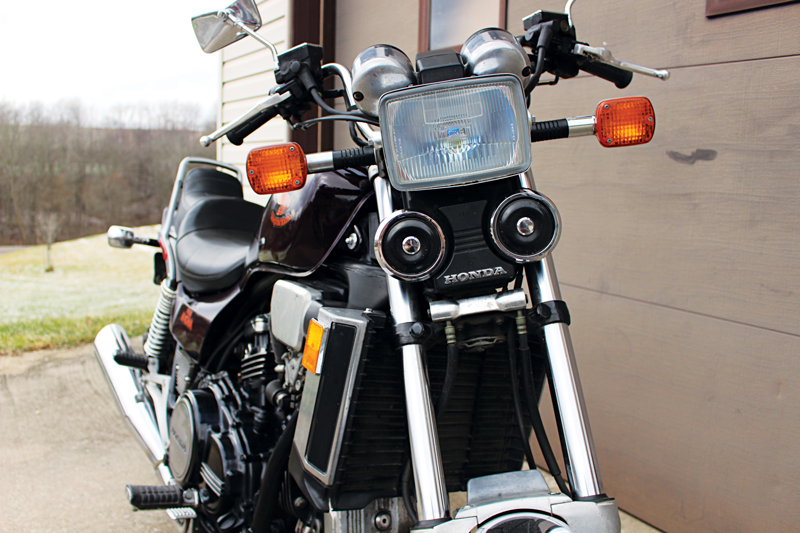 What was Honda thinking? The company had a whole bunch of bikes in the showrooms that year, 40 different models covering all the bases, from shopping-friendly Passports to huge Gold Wing touring platforms. Even a V-twin cruiser, the 750 Shadow. And a second V-4, the 750 V45 Magna, introduced the year before.
This all began with Soichiro Honda's wanting to again be celebrated for putting an entirely new machine on the market. The world remembers (although this may be news to some of the younger generation) when he introduced the overhead camshaft, in-line four back in 1969, beginning the evolution of the UJM — Universal Japanese Motorcycle. Now the V-4 would do it again…he hoped.
But the backroom boys wanted to create a jaw-dropper, knock the American public back on its heels, as they used to say. The 750cc V45 was just a starting point for creating a machine the likes of which the motorcycle crowd had never seen. The V65's majorly oversquare engine, with a 79.5mm bore and 55.3mm stroke, would cheerfully rev to 10 grand, with maximum rear-wheel power of 105 horses coming on at 9,500, redline at 10,000. A lot could go wrong with 16 valves popping up and down 10,000 times a minute, but Honda's engineers made sure nothing untoward would happen.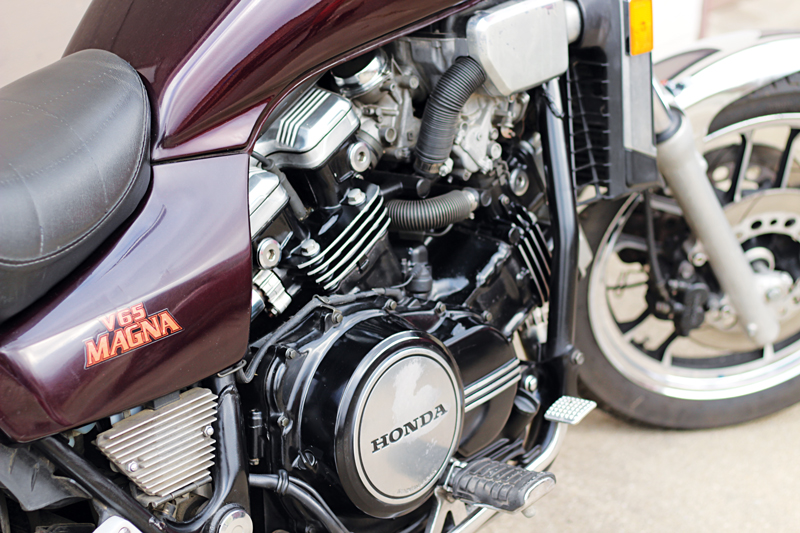 These horses came from using some appropriate fiddling inside the head, with the four valves having a rather narrow 38-degree included angle. This and the shape of the combustion chamber effectively put the fuel as close to the spark plug as possible, compressed 10.5 times. Bang, bang, bang, bang — and the crankshaft spins.
Four constant-vacuum 36mm carbs, by Keihin, were accessible by lifting the gas tank. These had an easily changeable paper air cleaner. Fuel consumption was less than 40 mpg, but range was no problem as most riders wanted to get off after an hour or so. And at the time the U.S. was blessed (cursed?) with the 55-mph speed limit, so highway riders on the V65 had an excuse for not going very fast. With the V65 ergonomics city traffic was preferable to the interstates.
Power ran via straight-cut gears back to a hydraulically operated clutch. This had a diaphragm spring as an essential part of the device, which the engineers knew would be much abused, with the single diaphragm offering more consistent control than a multi-spring unit.
The gearbox had five speeds plus an overdrive sixth. If the bike could have pulled 10 grand in sixth gear, its top speed would be better than 170 mph. A more practical (!!) top speed was 140 in fifth. If the rider could hang on!
A full-cradle frame, with double downtubes, held this unit-construction herd semi-firmly in place, as rubber mounts were used to keep any vibrations hidden away. Which were few as the 90 degrees between the two pairs of cylinders presumed good balance, enhanced by that short 55mm stroke. A shaft final drive went out the left side, so those Levi's would be nice and clean on cruise night, not having to put up with an oily chain. An air-adjustable 41mm fork suspended the front end, with an anti-dive unit. Rake was a pretty lazy 30.5 degrees with more than four inches of trail, and while this was OK in town, it was best not to get too optimistic out on the twisties. At the back a pair of shock absorbers had all the adjustments: spring preload, rebound and compression damping. The fork had almost six inches of travel, the swingarm a little more than four inches. Axle to axle measurement was just shy of 63 inches.
Cast wheels were 18 inches at the front and 16 at the back, with two discs at the front and a single at the back, all three squeezed by twin-piston calipers.
This power cruiser was designed by the Los Angeles boys for the American market, because the rest of the motorcycling world was not much interested in cruiser styling, preferring standard or sport. Honda hoped that the numbers would blow the Harley riders into the weeds.
Which they did. Quarter-mile times? Don't even think about them. The 1,338cc Harley was in the 14-second category, and couldn't break 100 mph. While the 1,098cc V65? In the 10s!! At 125 mph! More numbers? At $4,000 this V65 was at least three grand less expensive than a Harley.
What Honda had failed to realize was that in the cruising world of the 1980s, style was far more important than performance. Power cruisers would be a passing fancy, whereas Honda's Fury model of today is a V-twin.
One final note: apparently somebody in the 1980s was selling a supercharger kit for the V65 Magna. Boggles the mind!