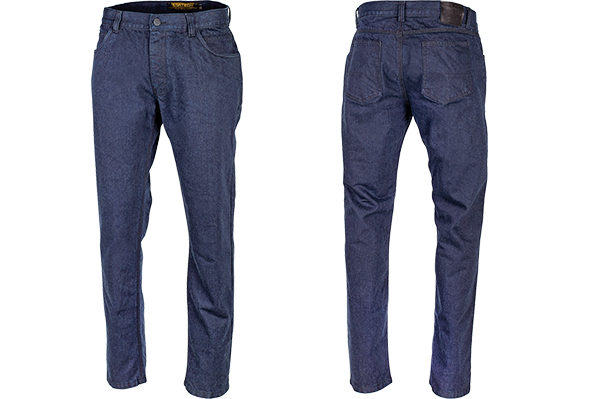 From Marlon Brando and Steve McQueen to Brad Pitt and George Clooney, wearing jeans while riding a motorcycle has long been an essential part of being "cool," because jeans are relaxed, comfortable and stylish. Plenty of people who aren't famous movie stars wear jeans while riding for the same reasons. We get it — some textile riding pants look dorky, and pulling them on and off can be a hassle. But when it comes to crash protection, plain old Levis or Wranglers aren't much better than wearing nothing at all.
Fortunately, modern textile engineering and manufacturing make it possible for us to have the best of both worlds. For years there have been riding jeans made with heavy-duty stitching and liners in impact areas made of tough, heat- and abrasion-resistant aramid fabric, such as DuPont Kevlar. As effective as Kevlar-lined jeans are, the extra layer of fabric can make them much heavier and warmer than regular jeans.
Cortech recently introduced two types of riding jeans: "The Standard" ($129.99), which are made of 14-ounce 100-percent cotton denim lined from waist to shin with Kevlar, and "The Primary" ($199.99), which are made of fabric that's a special blend of 13.5-ounce denim, Cordura Nylon and Kevlar, eliminating the need for a two-layer design. Both types of Cortech jeans have pockets for optional Sas-Tec CE-approved knee and hip armor ($24.99-$29.99).
"The Primary" jeans are thicker and heavier than regular jeans, but not excessively so; to me, the extra heft is worth it for added protection. Cortech says the high-tech denim/Cordura/Kevlar fabric has up to 350% higher tensile strength, up to 200% more tear strength and 500% more abrasion resistance than standard cotton denim. The jeans are constructed using "high strength 3-ply tex-75 nylon thread" with "triple over-lock safety stitched critical seams and added internal safety stitching." They have six pockets and a button closure with a YKK fly zipper.
With a relaxed-fit seat and thighs and a straight-leg cut, these jeans are ideal for swinging legs over motorcycle seats, enjoying freedom of movement in various seating positions and walking/sitting comfortably when off the bike. The optional knee armor, which is height-adjustable over a 6-inch range, is unobtrusive and hardly noticeable from the outside. During the warm spring and summer months, Cortech's "The Primary" have been my go-to riding jeans, especially during my daily commute. And rolling up the bottom cuff reveals a Scotchlite reflective tab for nighttime conspicuity.
With "The Primary" jeans, which are available in Midnight Blue only in men's waist sizes 32-40 (all with 32-inch inseam), you can look cool and be protected.
For more information, see your dealer or visit cortech.net.