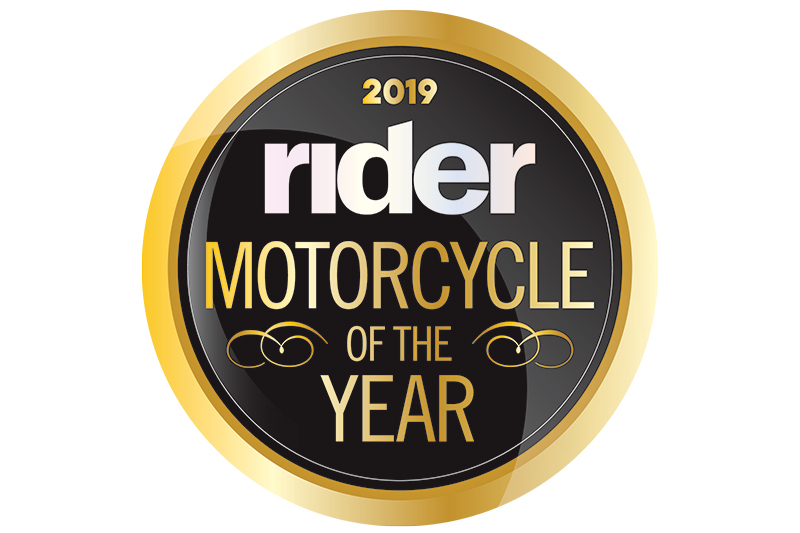 It's seldom (if ever) easy to pick a Motorcycle of the Year…not that anyone ever feels sorry for us and our "but we had to ride so many motorcycles" tale of woe. For example, we took our initial ride on the first of this model year's crop of Contenders, the Yamaha Niken, way back in May of 2018. We can't even remember what we had for dinner last Tuesday, but fortunately Yamaha jogged our memories of the bike by unveiling the tour-ready GT version of its three-wheeled LMW (Leaning Multi-Wheel) in April 2019.
In the interim, Royal Enfield released a pair of highly anticipated 650 twins, designed, tested and engineered at its brand-spanking-new R&D facility in England and built at one of its sprawling factories in India. Triumph showed off its truly off-road capable yet still pleasantly retro Scrambler 1200 XC and XE. Harley-Davidson, meanwhile, was creating a lot of very different noise with its LiveWire electric motorcycle, but as a 2020 model it's not eligible for this year's award. The rightful successor to the dearly departed V-Rod, the dragbike-inspired FXDR 114, is a 2019 contender though. At the decidedly non-dragbike-inspired end of the motorcycle spectrum, Honda, which celebrates its 60th anniversary in the U.S. this year, brought us two absolutely adorable throwback models designed to both tug at Boomer heartstrings and appeal to vintage-loving Millennials, the Monkey and the Super Cub. Indian tapped into another vein of nostalgia and good ol' Americana with its FTR 1200 S flat-track replica, one of the best-performing American bikes we've ridden in a while. Meanwhile BMW managed to improve once again on its bestseller by introducing the R 1250 GS, and Suzuki did the same with its venerable V-Strom 650 XT Touring.
So no, it's never easy. That said, one machine stood out above the rest as our pick for the 2019 Motorcycle of the Year, and not just because it's capable of scrabbling to the top of a mountain—then carrying you and your stuff comfortably home again. Our choice, as always, goes to a machine that succeeds best at its intent and could be considered a game-changer in its category. We celebrate all new motorcycles, as they each represent the opportunity to get more people on two wheels, experiencing this great adventure we know and love. Congratulations to all the manufacturers, and thank you for keeping our passion alive!
Check out Rider's 2018 Motorcycle of the Year
The Contenders…
BMW R 1250 GS
Read our 2019 BMW R 1250 GS First Ride Review
BMW's big GS gets ShiftCam variable valve timing that broadens the powerband, increases fuel efficiency and decreases emissions, a full-color TFT display, updated electronics and a bump in displacement (and power) from 1,170 to 1,254cc, making what was already arguably one of the best all-around motorcycles even better.
Harley-Davidson FXDR 114
Read our 2019 Harley-Davidson FXDR 114 First Ride Review
The V-Rod is dead, long live the V-Rod! Well, sort of. The newest member of the Softail family is a long, lean power cruiser that channels the spirit of the VRSC V-Rod, with a 114ci Milwaukee-Eight V-twin, raked-out cartridge-style USD fork, 33 degrees of lean angle and a 240-section rear tire wrapped around a solid-disc rear wheel.
Honda Super Cub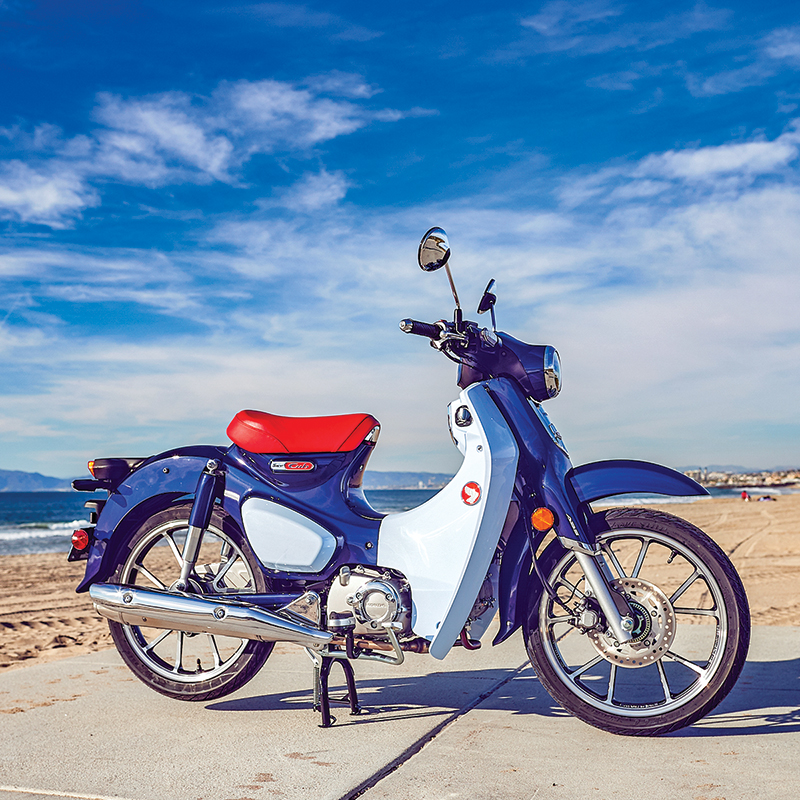 Read our 2019 Honda Super Cub C125 ABS First Ride Review
Sixty years ago, the original Super Cub proved that motorcycles needn't be feared by the masses, and this new version continues to make good on that promise, with a 4-speed semi-automatic gearbox, 244-pound wet weight, timeless styling and modern conveniences like keyless ignition and ABS on the front brake.
Indian FTR 1200 S
Read our 2019 Indian FTR 1200 S First Ride Review
The FTR 1200 S is a light, fast, agile street tracker inspired by Indian's championship-winning race bike. It's also a breath of fresh, young air in the cruiser orthodoxy that's dominated American-made motorcycles for decades, and features include a liquid-cooled, DOHC V-twin and a six-axis IMU-based electronics package.
Royal Enfield 650 Twins
Read our 2019 Royal Enfield Continental GT and Interceptor 650 Road Test Review
The Interceptor 650 and Continental GT are completely new, the first global models for India-based Royal Enfield and the first to be designed, tested and engineered at its new facility in England. Powered by an air/oil-cooled 648cc parallel twin, both bikes manage to evoke the simple pleasure of riding for riding's sake.
Suzuki V-Strom 650 XT Touring
Read our 2018 Suzuki V-Strom 650XT vs V-Strom 1000XT Comparison Review
While we haven't yet ridden the 2019 version, we've spent many thousands of miles aboard Wee Stroms, and this is the best-equipped one yet. With tubeless spoked wheels, locking side cases, hand guards, a centerstand, cruise control, ABS, Easy Start and Low RPM Assist, it's ready to take on almost any adventure for just $9,999.
Triumph Scrambler 1200 XC/XE
Read our 2019 Triumph Scrambler 1200 XE First Ride Review
Most modern scramblers talk the talk, but don't walk the walk of off-road capability. Enter the Scrambler 1200, a full-on adventure bike with minimalist, retro styling—and a 21-inch front, nearly 10 inches of Öhlins suspension travel on the up-spec XE model, multiple riding modes, switchable ABS and traction control.
Yamaha Niken/Niken GT
Read our 2019 Yamaha Niken First Ride Review
Read our 2019 Yamaha Niken GT First Ride Review
They're a bold, groundbreaking move from Yamaha, and they nearly snagged our top honor. The Niken and Niken GT, based around the Tracer 900—a fantastic bike in its own right—work surprisingly well, with ridiculous front-end grip that must be experienced to be believed and that lovely 847cc in-line triple at their hearts.
And the winner is….
KTM 790 Adventure
Read our 2019 KTM 790 Adventure/R First Ride Review
It's no secret that adventure bikes are exploding in popularity, as riders discover the utility and versatility of their combination of upright seating position, decent ground clearance and suspension travel, wind protection, the ability to carry luggage and, to varying degrees, venture off-pavement. ADV bikes have been getting increasingly bloated, however, bigger, more powerful—and heavier—each model year. Hard-core ADV-ers have been clamoring for years, begging for a bike that returns adventure riding to its truly adventurous roots. Something lightweight and trail-capable, yet with enough elemental protection, power and luggage capacity to comfortably travel cross-country, and modern fuel injection and electronic rider aids wouldn't hurt.
At long last, KTM answered the call, and what an answer it is. The 790 Adventure and its even more off-road-oriented R sibling manage to check all the boxes: light weight at a claimed 417 pounds dry, a state-of-the-art 799cc liquid-cooled, DOHC LC8 parallel twin that produces a claimed 95 horsepower and 65.6 lb-ft of torque delivered low in the rev range for optimum grunt, and spoked tubeless wheels in 21-inch front/18-inch rear sizes. The standard, more touring-oriented model has a still-respectable 7.9 inches of travel from its WP Apex suspension and a fairly accessible, adjustable seat height of 32.7/33.5 inches. Multiple riding modes (Street, Offroad and Rain) adjust throttle response and lean-angle sensitive Motorcycle Traction Control (MTC) settings, and power reaches the rear wheel by way of an assist-and-slipper clutch, a 6-speed transmission and chain final drive. The more off-road-oriented R model gets a Rally ride mode, fully adjustable WP Xplor suspension with 9.4 inches of travel and a 34.6-inch rally-style seat.
A defining characteristic of the 790 Adventure is its rally racer-inspired, 5.3-gallon horseshoe-shaped gas tank, which keeps the bike's center of gravity low, creates less bulk between the knees for stand-up riding and makes air filter, battery and fuse access easy, plus it does double-duty as engine protection in case of a tip-over.
On paper the 790 Adventure is impressive, and riding it is confirmation; the seat is flat, spacious and comfortable, the wide handlebar is six-position adjustable and the long-travel suspension soaks up road irregularities at high and low speeds. Bosch 9.1 MP cornering ABS backs up powerful brakes and many useful features are standard, such as an aluminum skid plate, a 12V dash socket and an underseat USB port. Cruise control, a centerstand, a quickshifter, heated grips and TPMS are optional.
At long last, the empty slot between a street-legal enduro and an open-class ADV tourer has been filled, and that sound you hear is the cheering of all those riders looking for a bike to rule both mountain and highway.
Congratulations KTM, for the 2019 790 Adventure, Rider's Motorcycle of the Year!