"Win on Sunday, sell on Monday" has been an adage of the motorcycle industry as long as there has been a motorcycle industry. By investing in racing, manufacturers not only develop new technologies that trickle down to their production models, they also elevate their brand in the eyes of potential customers. After an absence of more than 60 years from flat track racing, Indian created the FTR750 race bike, signed top-name racers to recreate the legendary Wrecking Crew and won back-to-back American Flat Track Twins titles in 2017 and 2018.
Not only do those wins help Indian sell cruisers, baggers and tourers, they give it credibility when it comes to building a high-performance motorcycle. That's where the new-for-2019 FTR 1200 comes in–a light, fast, agile street tracker inspired by Indian's championship-winning race bike that breaks free of the cruiser orthodoxy that has dominated American-made motorcycles for decades.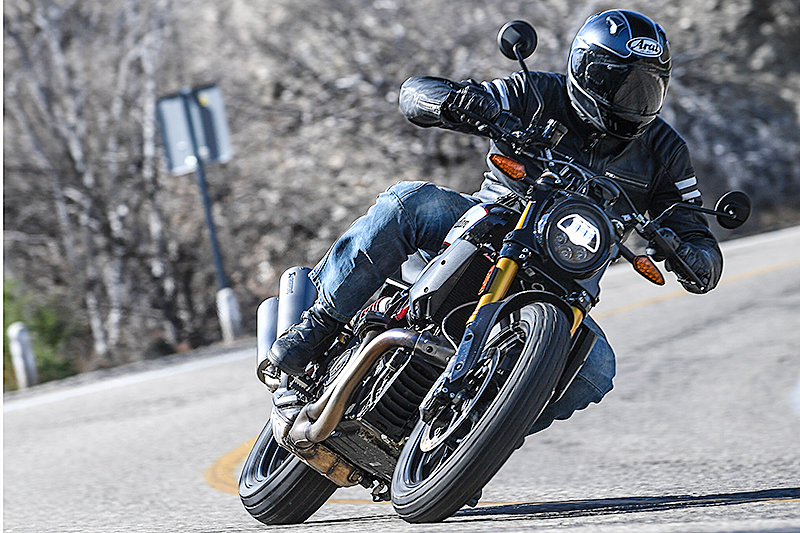 Greg's Gear
Helmet: Arai Defiant-X
Jacket: Joe Rocket Classic '92
Pants: Spidi Furious Tex Jeans
Boots: Sidi Scramble
With a liquid-cooled, DOHC V-twin that makes 123 horsepower and 87 lb-ft of torque (claimed), a lightweight tubular-steel trellis frame, Brembo brakes, Sachs suspension, an aggressive riding position and a wet weight said to be 518 pounds, the FTR 1200 has more in common with European and Japanese naked sportbikes than it does with anything else in Indian's or Harley's lineups. The higher-spec FTR 1200 S further raises the bar, with fully adjustable suspension, a 4.3-inch Ride Command LCD touchscreen display with Bluetooth, a six-axis IMU and an electronics package that includes three riding modes and lean angle-sensitive ABS, traction control, stability control and wheelie mitigation control.
The FTR 1200 has been a long time coming. Teased with the high-piped FTR1200 Custom at the Milan show in 2017, the FTR 1200 and FTR 1200 S were finally shown to the public at the Cologne show last October. Perhaps, like us, you had a chance to throw a leg over an FTR at a motorcycle show and had visions of sugar-plum hooligans dancing in your head. Especially on the FTR 1200 S Race Replica, with its red-painted frame and swingarm, there's no doubt that Indian nailed the styling.
Like the FTR750 it's based on, the FTR 1200 has a bulldog stance with a tank that flows smoothly into the seat (on the 1200, fuel is carried below the seat so the "tank" is primarily an airbox cover with a fuel filler and removable side panels), a sharply pointed tail section, cast wheels with dirt track-style tires and chain final drive. When the FTR 1200 was unveiled, some complained that it didn't have the high pipes of the FTR750 or the FTR1200 Custom, but, according to Indian, for a street-legal motorcycle high pipes aren't practical due to heat and the added width up high where the bike should be narrow. As it is the FTR 1200 has a 33.1-inch seat height, so a set of double pipes just below the rider's right thigh would make it even harder to get both feet on the ground.
After months of anticipation, Indian hosted a press launch for the FTR 1200 on the southern tip of Mexico's Baja peninsula, where we got two full days of riding not-quite-production-ready FTR 1200 S Race Replicas. For those accustomed to the low-seat, feet-forward riding position on cruisers like the Indian Scout, the FTR is very different. With its high seat located close to the center of the bike and midmount footpegs, the rider sits on top of the bike rather than down in it, leaned forward in an aggressive stance. The seating position reminds me of a scrambler, where moving forward on the seat to weight the front wheel makes it easier to hang the tail out in a slide. Since the FTR 1200 is based on a race bike whose primary purpose is to slide around corners, the seating position makes sense.
Early in our test ride, we rode 40 miles on a sandy, rocky road that wound its way along the coast, providing countless opportunities to power slide around corners. Although the folks at Indian strongly insist that the FTR is a street bike and not designed to be scrambled off-road, the low-traction conditions gave us a chance to evaluate the bike's balance, maneuverability and power delivery. With the FTR in Rain mode (less horsepower with softer throttle response) and ABS and TC turned off, it proved to be imminently capable and easy to ride. I slid forward on the seat, kept a light grip on the wide ProTaper handlebar and used the throttle to help steer around corners, right-now torque breaking the rear tire loose with a flick of the wrist. The Dunlop DT3-R tires, which are modeled after flat track race tires and were developed for the FTR 1200, hooked up well and their 19-inch front, 18-inch rear diameters rolled over bumps and washboard with ease. Even though the Brembo M4.32 monoblock front calipers are superbike-strong, they offer precise modulation and even if I overcooked a corner I was able to rein in the FTR with control.
Although the FTR shares a 60-degree Vee angle and 73.6mm stroke with the Scout, its engine is all new. With a larger 102mm bore (the Scout's is 99mm), the FTR displaces 1,203cc (73ci) and it has a 12.5:1 compression ratio, high flow cylinder heads and dual throttle bodies. A low-inertia crankshaft helps the FTR rev up fast to its 9,000-rpm redline, and the Race Replica's Akrapovic exhaust is assertive without being too loud. Throttle-by-wire enables cruise control as well as riding modes that adjust horsepower, throttle response and traction control (full 123 horsepower in Sport and Standard; 97 horsepower in Rain). Being able to change displays or riding modes, turn off ABS/TC and adjust settings using the LCD touchscreen was so intuitive that I wonder why more motorcycles don't offer such a familiar, smartphone-like interface (there are also buttons on the switchgear so changes can be made without taking a hand off the handlebar).
Since most FTR 1200 owners will never take their bikes off-road, the 260 miles of pavement on our two-day route were ideal for testing the FTR in its intended environment, including mountain roads, straight-line highways and potholed city streets. Attacking curves at a fast pace, the FTR was in its element. Plenty of torque throughout the rev range launches the FTR like a cannonball off the line and out of corners, and its chassis is robust and responsive. Stock suspension settings are on the stiff side, good for spirited cornering but a tad firm for cruising around town; adjust as you see fit. An assist-and-slipper clutch makes it easy to change gears even when riding aggressively, but the lever has a very narrow friction zone. A quickshifter would be a great addition to Indian's extensive list of accessories, which offers a wide range of customization options with Tracker, Rally, Sport and Tour collections.
The Indian FTR 1200 S is the make-no-excuses, American-made performance bike we've been waiting for. It's not perfect—there's too much vibration in the grips, which repeatedly left my throttle hand numb and tingling (cruise control to the rescue!), and the engine radiates a fair amount of heat, which roasted my thighs during the hottest part of the day and when riding at a slow pace. But a few rough edges hardly diminish what the FTR 1200 S represents—a cool-looking, hard-charging, corner-carving street tracker with state-of-the-art technology that's made right here in the good 'ol U.S. of A.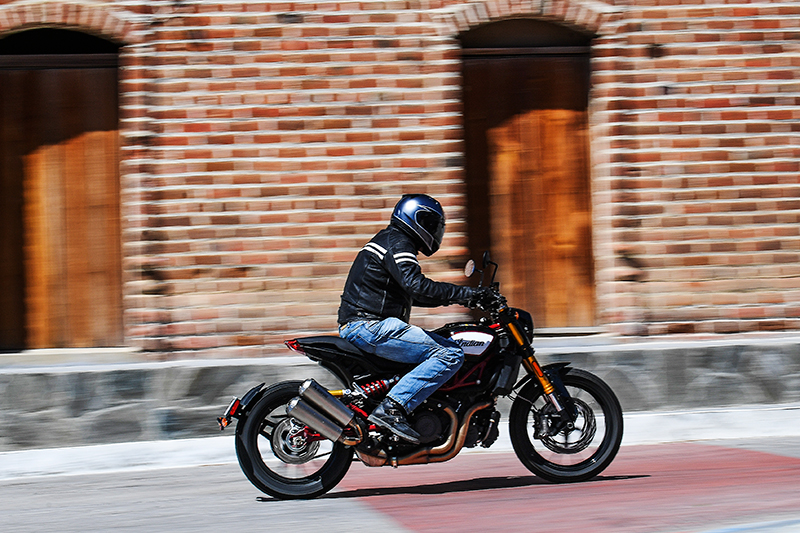 Check out Rider's Guide to New/Updated Street Motorcycles for 2019
2019 Indian FTR 1200 S Specs
Base Price: $13,499 (FTR 1200)
Price As Tested: $16,999 (FTR 1200 S Race Replica)
Website: indianmotorcycle.com
Engine Type: Liquid-cooled, transverse 60-degree V-twin, DOHC, 4 valves per cyl.
Displacement: 1,203cc
Bore x Stroke: 102.0 x 73.6mm
Transmission: 6-speed, cable-actuated assist-and-slipper clutch
Final Drive: O-ring chain
Wheelbase: 60.0 in.
Rake/Trail: 26.3 degrees/5.1 in.
Seat Height: 33.1 in.
Claimed Wet Weight: 518 lbs.
Fuel Capacity: 3.4 gals.
MPG: NA