Scramblers are hot right now, with well over a dozen models available from five different manufacturers. With rough-and-ready retro styling, the appeal of scramblers–that freewheeling, desert-racing spirit of the '60s, embodied by the King of Cool himself, Steve McQueen–is hard to deny. Most modern scramblers, however, are street-oriented models that talk the talk more than they walk the walk of off-road capability.
Triumph's Hinckley-era, Bonneville-based scramblers, starting with the air-cooled, 865cc Scrambler produced from 2006-2016 and continuing with the liquid-cooled, 900cc Street Scrambler, are more suited to pavement than dirt. But that changes with the introduction of the Scrambler 1200. Rather than just a styling exercise built around the larger 1,200cc parallel twin, Triumph created a full-on adventure bike with classic minimalist styling. No windscreen, no bodywork, just a steel tank, a wide handlebar and a round headlight.
Read our 2019 Triumph Street Scrambler first ride review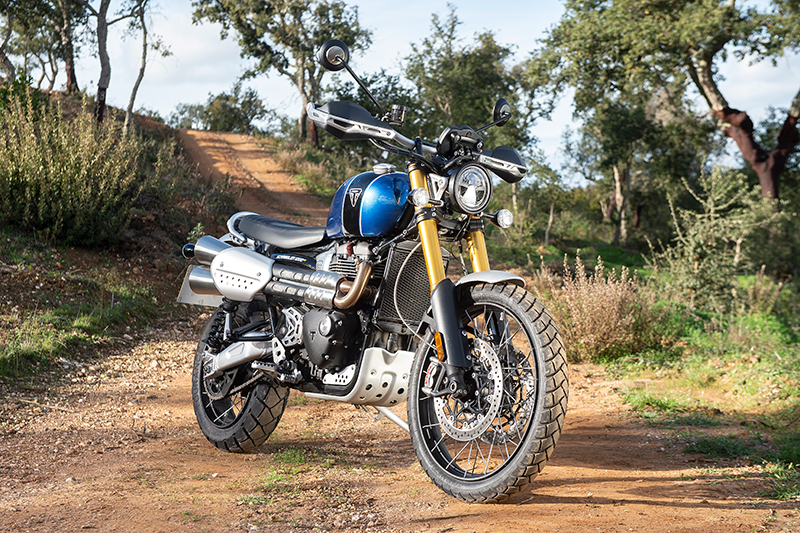 I'll admit, when it was announced last October, I was skeptical that the Scrambler 1200 would be truly capable off-road. Sure, it has some impressive specs–tubeless spoked wheels with a 21-inch front, nearly 10 inches of suspension travel on the higher-spec XE model, fully adjustable Öhlins rear shocks and an Off-Road ride mode–but I expected it to be a handful in the dirt. On the first day of the press launch, hosted at Wim Motors Academy, an off-road training facility in rural southwestern Portugal, we were told to "warm up" with a few laps on a dirt oval cut into sloping field–under the watchful eyes of a photographer and a videographer. No pressure.
Doing my best impression of a flat track racer, I scooted forward on the seat, weighted the outside peg, stuck out my left leg and went for it. After the first tentative lap, I used the throttle more assertively, spinning the rear wheel and letting the bike rotate beneath me. Plenty of torque was on tap, and in Off-Road mode it was easy to manage and the traction control–which is programmed to allow more rear-wheel spin when hard on the gas–allowed the tail to kick out for power slides without going too far. By the third lap, I was hooked!
Greg's Gear
Helmet: Bell Moto III
Jacket: Rev'It Zircon
Pants: Reax Ridge
Boots: Sidi Scramble
My veins pumping with confidence and adrenaline, our five-bike group took off on a loop ride on unpaved roads between farms and through forests. I was amazed at how easy it was to ride the Scrambler 1200 XE off-road, how planted it felt on uneven terrain and how forgiving it was of ham-fisted inputs and the abuse that comes from hammering rough roads at a fast pace. The Scrambler's lack of a windscreen and bodywork reduced the sense of visual mass from the cockpit, making the bike seem smaller than it actually is. Its weight–a claimed 465 pounds dry; probably around 500 pounds ready to ride–felt nicely balanced, and the well-padded, vinyl-covered bench seat made it easy to move around. Gravel, hard pack, sand, mud–we blitzed through it all, got filthy dirty and had fun in a way that only carefree motorcycling can provide.
Knowing that adventure riders segment themselves into two groups–those who ride primarily on the street but enjoy occasional off-roading, and those who prefer to ride off-road as much as possible–Triumph created two versions of the Scrambler 1200. Aimed at the first group, the base-model XC has 7.9 inches of suspension travel, a lower 33.1-inch seat height, a narrower handlebar, a shorter wheelbase, tighter steering geometry, five riding modes (Sport, Road, Rain, Off-Road and Rider customizable) and switchable ABS and traction control. Aimed at serious off-roaders, the XE has 9.8 inches of suspension travel, a 34.25-inch seat, a wide adjustable-height handlebar, multi-mode cornering ABS and traction control, a sixth riding mode (Off-Road Pro), hand guards and heated grips.
Read our 2019 Triumph Speed Twin first look review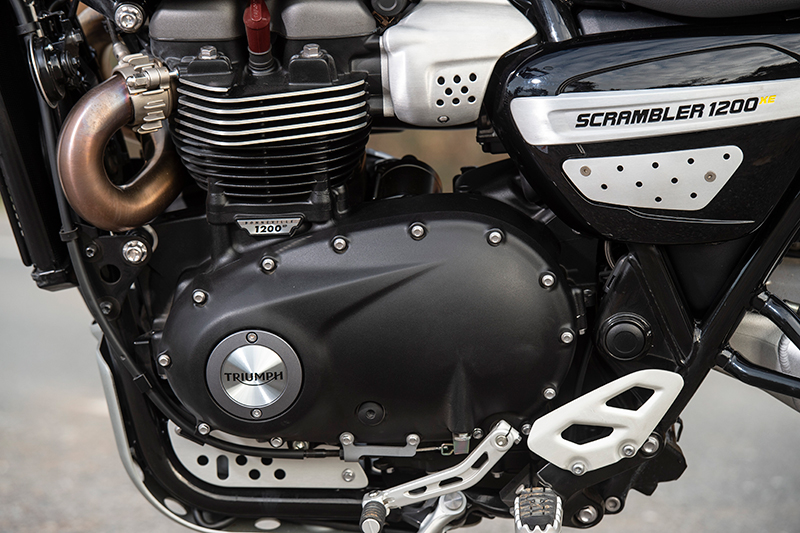 Both are powered by a revised version of the liquid-cooled, 1,200cc, SOHC, 8-valve parallel twin shared across most of the Bonneville family. The Scrambler 1200s get a "high power" version of the engine with a dedicated scrambler tune that generates a claimed 90 horsepower at 7,400 rpm and 81 lb-ft of torque at just 3,950 rpm. Other engine tweaks include lightweight balance shafts, engine covers and cam cover, a low-inertia crankshaft, a lighter alternator and a revised clutch assembly, and it is held in place by a dedicated tubular-steel frame with aluminum cradles. To keep the Scrambler's high pipes tucked in Triumph used a single throttle body assembly, and the pipes curve inward above the footpegs for a narrow profile between the knees when standing up. Thanks to the high-performance tune and 270-degree crank, the brushed stainless-steel twin pipes emit a throaty bark. However, even with their heat shields, the pipes get very hot after spirited riding due to the integrated catalytic converter.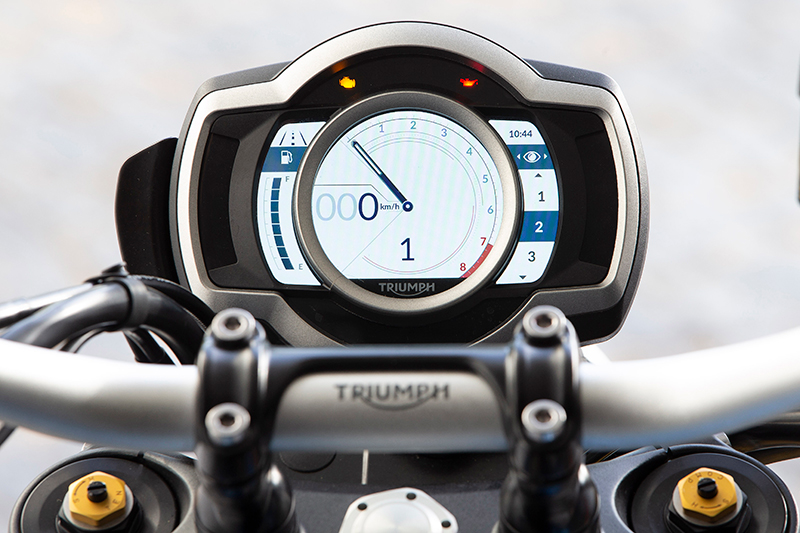 The Scrambler 1200 may have classic curb appeal, but it's modern through and through, with throttle-by-wire, a full electronics package, cruise control, an assist-and-slipper clutch, a customizable TFT display, full LED lighting, keyless ignition, a USB charging port and an optional tire-pressure monitoring system. An accessory Bluetooth module provides turn-by-turn navigation, phone and music functions, and GoPro integration, allowing a paired camera (sold separately) to be operated using the bike's switchgear.
Fitted with Pirelli Scorpion Rally knobbies for the off-road test, I kept the XE in Off-Road mode, which adjusts throttle response, traction control and ABS (turning it off at the rear wheel). Off-Road Pro mode turns ABS and TC off completely, but I'm not a pro so I prefer the peace of mind of an electronic safety net, especially with superbike-spec Brembo M50 Monobloc 4-piston radial front calipers pinching 320mm discs. With a radial master cylinder and Brembo MCS front lever, the front brakes were easy to modulate and provided good feedback, but I still wanted insurance against tucking the front due should my enthusiasm outrun my skills. One of the XE's greatest strengths is suspension performance. With a fully adjustable, upside-down Showa cartridge fork and a pair of fully adjustable Öhlins piggyback shocks, the bike soaked up hard hits from rocks, ruts, dips and even jumps on a motocross track at the training camp, keeping the chassis stable and wheels planted.
Heading out on day two's street ride, a light drizzle gave way to a steady downpour, giving me a chance to test Rain mode. With throttle response dialed back, cornering ABS and TC cranked up, and Metzeler Tourance 90/10 adventure tires providing good grip, the XE exhibited no untoward behavior. With mostly dry streets after lunch, I switched over to Road and Sport modes and wicked it up. With its 21-inch front wheel and chassis geometry favoring stability over nimbleness, the XE wasn't exactly flickable, but its wide handlebar provided good leverage and the bike behaved with confidence and certainty. And with a generous amount of torque spread throughout the rev range, I never felt like I was in the wrong gear.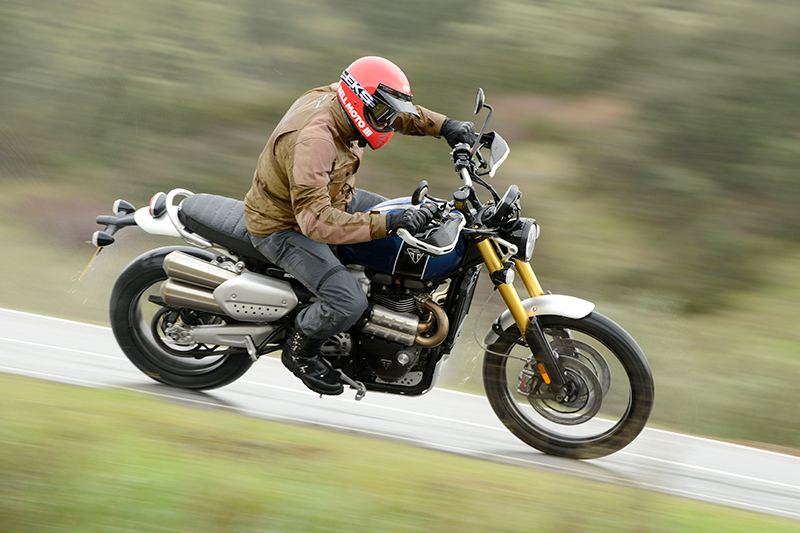 In my review of the 2017 Street Triple RS, written after nearly a decade of riding and testing nearly every model produced by Triumph, I made the claim that the British manufacturer's "greatest unsung virtue is the baked-in user-friendliness that characterizes many bikes in its lineup." At the Scrambler 1200 launch, I reiterated my opinion to Stuart Wood, Triumph's Chief Engineer. He smiled and told me that Triumph puts considerable effort into making its motorcycles accessible and predictable, from throttle response to steering behavior, gear changes, braking and so on. They don't dumb them down to the point of being boring; quite the contrary–most Triumphs are full of character and vitality. Rather they design and engineer motorcycles to respond to inputs in a consistent manner, freeing the rider to be more engaged with the experience than with concerns about what might happen next.
At the end of the all-day street ride, even though I was cold and wet and tired, I didn't want it to end. To me, that's a measure of a great motorcycle, one that goes beyond being a machine or vehicle and becomes a companion, a time capsule, an object of desire. I'm glad I was wrong. I'm glad the Scrambler 1200 XE wiped the smug look of skepticism of my face and replaced it with a big, mud-splattered smile.
Check out Rider's Guide to New/Updated Street Motorcycles for 2019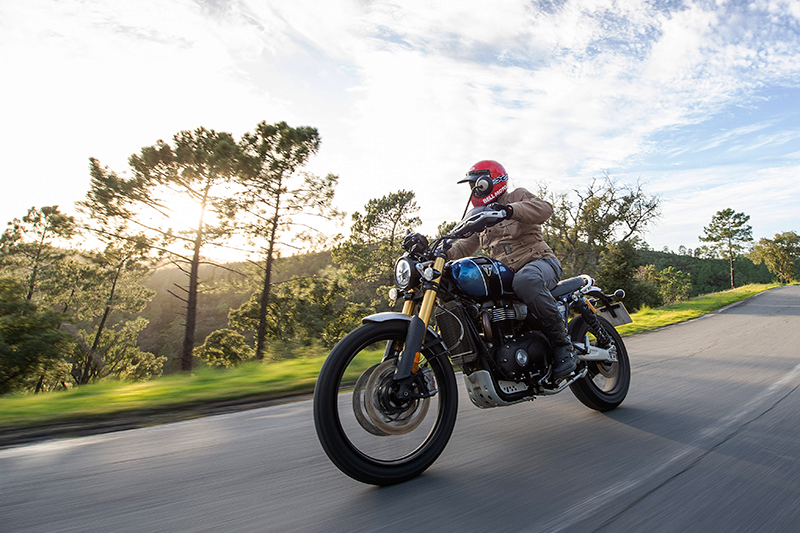 2019 Triumph Scrambler 1200 XE Specs
Base Price: $14,000 (XC model)
Price as Tested: $15,400 (XE model)
Website: triumphmotorcycles.com
Engine Type: Liquid-cooled, transverse parallel twin, SOHC w/ 4 valves per cyl.
Displacement: 1,200cc
Bore x Stroke: 97.6 x 80mm
Transmission: 6-speed, cable-actuated assist-and-slipper wet clutch
Final Drive: X-ring chain
Wheelbase: 61.8 in. (as tested)
Rake/Trail: 27 degrees/5.1 in. (as tested)
Seat Height: 34.25 in. (as tested)
Claimed Dry Weight: 456 lbs. (as tested)
Fuel Capacity: 4.2 gals.
MPG: NA