A decade ago BMW had the bright idea to introduce a middleweight, twin-cylinder adventure tourer that was equally adept at on-road touring and off-road exploring. At the time, middleweight options were limited to 650cc single-cylinder dual-sports, which were plenty capable off-road but felt crude on the street, or the Suzuki V-Strom 650, which was more suited to pavement than dirt.
All-new for 2009, the F 800 GS was powered by a liquid-cooled 799cc parallel twin that made 77 horsepower and 54 lb-ft of torque at the rear wheel. With 21-/17-inch spoked wheels with tube-type tires, 9.0/8.5 inches of front/rear suspension travel and 8.5 inches of ground clearance, it had off-road bona fides and was a lighter, less expensive alternative to the R 1200 GS. Impressed by the F 800 GS's off-road prowess and on-road performance, we named it Rider's Motorcycle of the Year for 2009. And for those without off-road aspirations, that same year BMW introduced a more accessible, street-oriented model called the F 650 GS, which featured less power, a lower seat height and cast wheels with a 19-inch front and tubeless tires. Despite its name, which was later changed to F 700 GS, it was powered by a detuned version of the 799cc twin.
Greg's Gear
Helmet: Scorpion EXO-AT950
Jacket: Spidi Globetracker H2Out
Pants: Rev'It Sand 3
Boots: Alpinestars Corozal Adventure Drystar
For 2019 BMW has overhauled both F-GS models–now called the F 750 GS and F 850 GS–and left (almost) no stone unturned. I rode both models at BMW's press launch in Colorado, which included a mix of on- and off-road riding over the course of two days. After the event I rode the F 850 GS on a 1,000-mile scenic, southwesterly route back to Southern California, allowing me to evaluate its touring capability and fuel economy, as well as put it on Rider's scales and Jett Tuning's dyno.
Read our 2019 BMW F 850 GS Adventure and R 1250 GS Adventure first look review
There are big changes to the engine. Increasing bore from 82 to 84mm and lengthening stroke from 75.6 to 77mm bumped up displacement to 853cc, and the compression ratio was raised from 12:1 to 12.7:1. Claimed output for the F 750 GS is 77 horsepower and 61 lb-ft of torque (up from 75 and 57, respectively), and for the F 850 GS is 90 horsepower and 63 lb-ft of torque (up from 85 and 61). On the dyno, the F 850 GS generated a linear increase in horsepower that peaked at 85.2 at 8,900 rpm and a flat torque curve that topped out at 55.6 lb-ft at 6,500 rpm.
The added power and torque is readily apparent on both bikes and response from the throttle-by-wire is direct, but the most noticeable improvement is to the engine's character. With its 0-degree crankpin offset and 360-degree firing interval, the previous engine felt like a buzzy appliance. Switching to a 90-degree crankpin offset and 270-degree firing interval has given the twin a richer, throatier sound and feel, and new dual counterbalancers all but eliminate unwanted vibration. Furthermore, to improve control and low-speed maneuverability, BMW reduced engine braking, added an assist-and-slipper clutch and gave the 6-speed transmission a lower first gear, and to improve fuel economy it revised the combustion chamber and reduced the overall gear ratio.
Replacing the previous tubular-steel trellis main frame is a steel bridge frame, and the cast aluminum swingarm and subframe are also new, the latter being much narrower since the fuel tank was moved from under the seat to the conventional location on top of the engine. Moving the tank, which is now made of steel instead of plastic, allowed the seat to be made slimmer and lower (seat height has been reduced from 32.3 to 32.1 inches on the 750 and from 34.6 to 33.8 inches on the 850; accessory seats and low-suspension kits can reduce seat height to as low as 30.3 inches on the 750 and 32.1 inches on the 850) while also bringing the front/rear weight distribution closer to 50/50.
Although the F 750 GS may be biased toward street riding, BMW had more adventurous plans. Four miles into our test ride, we turned onto a dirt road that cut across a sandy wash and climbed steeply from the valley floor to the top of Colorado's Uncompahgre Plateau on an old mining road. Our Premium package-equipped test bikes had Riding Modes Pro (which adds Enduro and Dynamic riding modes in addition to standard Road and Rain modes), lean angle-sensitive Dynamic Traction Control and ABS Pro (which replaces standard Anti Spin Control and ABS) and semi-active Dynamic Electronic Suspension Adjustment (ESA) for the rear shock.
Read our 2018 BMW K 1600 Grand America road test review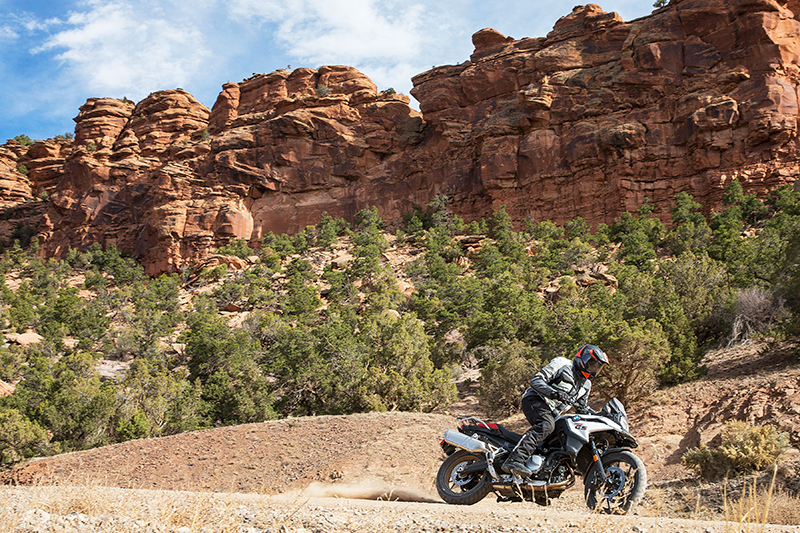 Even with its 90/10 adventure tires at street pressures, the F 750 GS handled the loose, rocky, sandy terrain confidently at a moderate pace. After 50 miles off-road, we blitzed our way through the winding Unaweep Canyon on Highway 141 for another 25 miles, where I was able to test Road and Dynamic modes. Due to the non-adjustable fork's soft spring, the front end dives sharply during hard braking. With its shorter wheelbase, sportier steering geometry and smaller front wheel, the F 750 GS is better suited for pavement than the 850, and it's a comfortable, compact, responsive machine.
To showcase the improved capabilities of the F 850 GS, BMW fitted the new, stronger cross-spoke, tubeless wheels with no-cost optional knobbies (Continental TKC80s or Metzeler Karoo 3s) and plotted an even more challenging route for the second day. It took us all morning to tackle 50 challenging off-road miles—up John Brown Canyon and into Utah, across high mesas on technical two-track and down into the narrow red-rock canyon of Onion Creek, which we splashed across 38 times in 10 miles.
Our 850s were equipped with a special encoding plug that enables Enduro Pro mode, which deactivates ABS at the rear wheel, adjusts throttle response, front ABS sensitivity, rear damping and DTC for off-road conditions and allows settings to be customized, with everything saved when the ignition is turned off. With its wide handlebar offering ample steering lock, the 850 felt balanced and well planted when standing on the pegs on steep, technical, sand- and rock-strewn trails and switchbacks. The Dynamic ESA-equipped shock performed admirably regardless of terrain or pace, but the non-adjustable 43mm USD fork, like the 41mm conventional fork on the 750, compressed too much under braking.
Read our 2018 BMW G 310 GS vs Kawasaki Versys-X 300 vs Royal Enfield Himalayan comparison review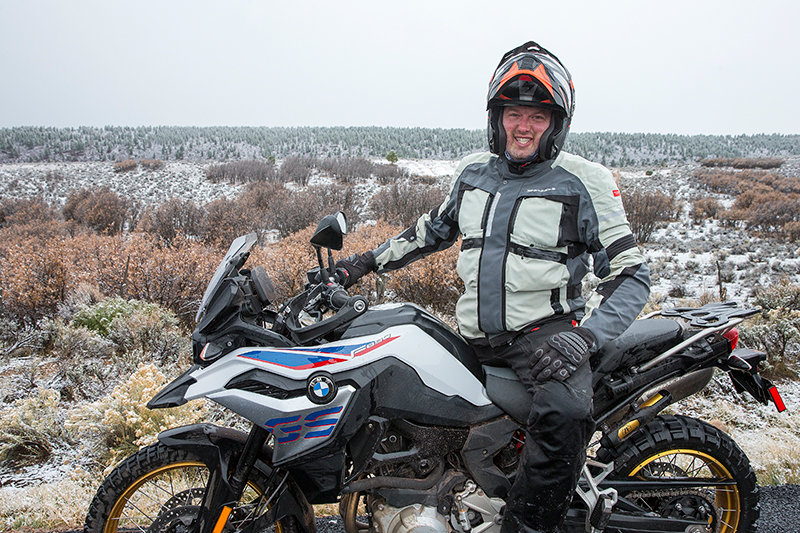 Light snow and wet pavement on La Sal Loop Road above Moab provided a white-knuckle opportunity to test Rain mode as well as the heated grips and freeze-warning indicator, which hovered around 34 degrees and flashed a blue snowflake. Back in Colorado, it warmed up to a balmy 40 degrees and we traded snow for pouring rain, and the F 850 GS soldiered on dutifully. Conditions were much better, if not warmer, during my 2-day, 1,000-mile ride home on the 850.
With an upright riding position and a supportive seat, long days were pleasant instead of painful, and even though the new windscreen is shorter, it parts the air cleanly with minimal helmet buffeting. Heated grips, hand guards, cruise control, an up/down quickshifter, tire-pressure monitor, centerstand, large luggage rack and full-color TFT display made it easy to tour with comfort and confidence, from the twisty pavement of Colorado's Dolores River canyon to the 17-mile dirt/gravel loop through Utah's Valley of the Gods to hundreds of Interstate miles through Arizona and California, in temperatures ranging from 31 to 78 degrees.
The new F 750 GS and F 850 GS are much better than their predecessors, with more power and character, lower seat heights, more functionality and greater versatility. They're also heavier and more expensive, but their added standard features more than make up for the increase in price. Their soft, non-adjustable forks are their greatest weakness, which is a surprise since nearly every other feature of these bikes works so well. How will they stack up against the competition? A thorough comparison test is the only way to find out.
(Scroll down for scenic photos from our 1,000-mile ride on the BMW F 850 GS)
Check out Rider's Guide to New/Updated Street Motorcycles for 2019
2019 BMW F 750 GS / F 850 GS Specs
Base Price: $10,395 / $13,195
Price as Tested: $14,020 (Premium package, centerstand) / $17,095 (Premium and Rally style packages, centerstand)
Warranty: 3 yrs., 36,000 miles
Website: bmwmotorcycles.com
Engine
Type: Liquid-cooled, transverse parallel twin
Displacement: 853cc
Bore x Stroke: 84.0 x 77.0mm
Compression Ratio: 12.7:1
Valve Train: DOHC, 4 valves per cyl.
Valve Insp. Interval: 12,000 miles
Fuel Delivery: BMS-M EFI, 48mm throttle valves x 2
Lubrication System: Dry sump, 3.2-qt. cap.
Transmission: 6-speed, hydraulically actuated wet assist-and-slipper clutch
Final Drive: O-ring chain
Electrical
Ignition: BMS-M computer controlled
Charging Output: 416 watts max.
Battery: 12V 10AH
Chassis
Frame: Steel bridge frame w/ engine as stressed member; cast aluminum swingarm
Wheelbase: 61.4 / 62.7 in.
Rake/Trail: 27 degrees/4.1 in. / 28 degrees/4.9 in.
Seat Height: 32.1 / 33.8 in.
Suspension, Front: 41mm stanchions, no adj., 5.9-in. travel / 43mm USD, no adj., 8.0-in. travel
Rear: Single shock, semi-active electronic adj. (as tested), 6.9-in. travel w/ conventional spring / 8.6-in. travel w/ progressive spring
Brakes, Front: Dual 305mm discs w/ 2-piston pin-slide floating caliper & ABS
Rear: Single 265mm disc w/ 1-piston pin-slide floating caliper & ABS
Wheels, Front: Cast, 2.5 x 19 in. / Spoked, 2.15 x 21 in.
Rear: Cast, 4.25 x 17 in. / Spoked, 4.25 x 17 in.
Tires, Front: 110/80-R19 / 90/90-21 (tubeless)
Rear: 150/70-ZR17 / 150/70-R17 (tubeless)
Wet Weight: 533 lbs. (F 850 GS, as tested)
Load Capacity: 448 lbs. (F 850 GS, as tested)
GVWR: 981 lbs.
Performance
Fuel Capacity: 4.0 gals., last 0.9 gal. warning light on
MPG: 87 / 91 PON min. (F 850 GS, low/avg/high) 40.9/43.6/48.4
Estimated Range: (F 850 GS) 174 miles
Indicated RPM at 60 MPH: 3,600