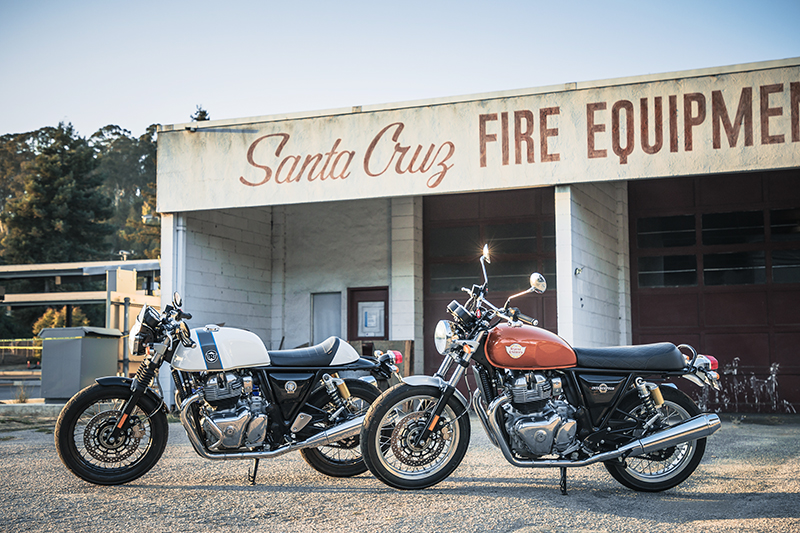 Every now and then a motorcycle comes along that's just right. Looks right, sounds right and feels right. Not too powerful, too complex nor too expensive. A motorcycle that evokes the simple pleasure of riding for riding's sake.
Well, make that two motorcycles.
Royal Enfield's new 650 Twins share a rolling chassis, but each has a different personality and both are modern takes on legendary models from the company's past. With upright seating and a relaxed style, the Interceptor takes its name from a model built for the American market in the 1960s, which was a lighter, higher-performance version of Royal Enfield's vertical twin-powered Constellation. (Editor's Note: Due to a trademark dispute, Royal Enfield changed the name to INT650.)
Like the original, the new INT650 has a wide handlebar, a teardrop tank, a bench seat and dual exhausts. Its fraternal twin is the Continental GT, a classic cafe racer with clip-ons, rear-set pegs, a sculpted tank and a solo humpback seat that replaces the 535cc single-powered model that's been in Royal Enfield's lineup since 2014. Both modern-day GTs were inspired by the 1965 Continental GT 250, Britain's first production café racer and one of the fastest 250s of its day.
Royal Enfield's Long History in Brief
At the 650 Twins press launch in Santa Cruz, California, I put more than 100 miles on each bike, the lone Yankee in a fast group of British and French riders. Although the INT650 better suited my size and disposition, both were easy and satisfying to ride, with a burbling sound from the exhaust, linear throttle response, intuitive handling and an assist-and-slipper clutch and a 6-speed gearbox that were so effortless to use that I never gave them a second thought. The view from the cockpit is straight out of the '60s — round mirrors, twin analog gauges and an actual ignition key instead of one of them newfangled electronic fobs. Over the course of two days, we chased each other through the redwoods and up and down winding mountain roads like kids playing a game of tag. And when it was all said and done, Rider got test bikes of each model for further testing on home turf.
Related: 2018 Royal Enfield Himalayan | First Ride Review
Designed from a clean sheet of paper, the INT650 and Continental GT are the first truly global models for Royal Enfield, which is on track to build nearly one million motorcycles next year, mostly for its home market in India. CEO Siddhartha Lal is a die-hard enthusiast; at the launch, he held his own when he joined our group for part of the GT test ride, entertaining us with the sound of the S&S pipes on his accessorized bike. Lal is also more hands-on that your typical chief executive. He was involved in every step of the development and testing of the Twins, and he personally performed the 1,000-point quality control inspection on one of the first bikes to roll off the production line.
"Royal Enfield has British roots, an Indian soul, and a global approach," said Lal, addressing more than 100 moto-journalists from around the world at the Twins launch. "We make motorcycles that we really want to ride. We want to bring back romance and fun to motorcycling with classic, characterful, uncomplicated but engaging motorcycles that work in everyday conditions—on twisty roads, on highways, on city roads. We made the Twins for people around the world who appreciate these values."
Amen to that.
At the heart is an all-new air/oil-cooled, 648cc parallel-Twin with large cooling fins and hand-polished aluminum covers that give it a period look. A single overhead cam actuates four valves per cylinder, and the valves have screw-and-locknut adjusters. Thanks to a single-piece forged, counterbalanced crankshaft with a 270-degree firing interval, the Twin revs up smoothly and emits a pleasant, rumbling exhaust note. The engine happily burns regular fuel, with a mild 9.5:1 compression ratio and Bosch fuel injection and engine management to keep everything running like clockwork. Designed for a broad range of riders, the engine feels understressed and churns out user-friendly power and a broad spread of torque. Claimed output is 47 horsepower at 7,250 rpm (redline is 7,500) and 38 lb-ft of torque at 5,250 rpm, enough oomph to make both bikes entertaining yet nonthreatening.
Designed in conjunction with chassis specialists Harris Performance, the Twins share a tubular-steel double cradle frame that contributes to their no-nonsense styling and provides hammer-like durability. A short wheelbase, sharp steering geometry, narrow tires and modest weight (473 pounds for the INT650, 461 for the GT) bestow the Twins with effortless maneuverability, yet when tucked in and going for the ton, they're reassuringly stable. Built to meet aggressive price targets, certain concessions had to be made, such as non-adjustable levers, fenders made of plastic instead of metal and suspension adjustment limited to five steps of preload on the dual rear shocks. But by no means do these bikes feel cheap. Even when ridden aggressively with my 200-plus pounds in the saddle, front and rear damping is quite good with no harshness, wallowing or pogoing. Single-disc brakes front and rear with calipers made by Bybre (a subsidiary of Brembo) provide sufficient braking power, certainly enough for these bikes' weight and slender Pirelli Phantom Sportcomp tires, and Bosch 2-channel ABS is standard on both models.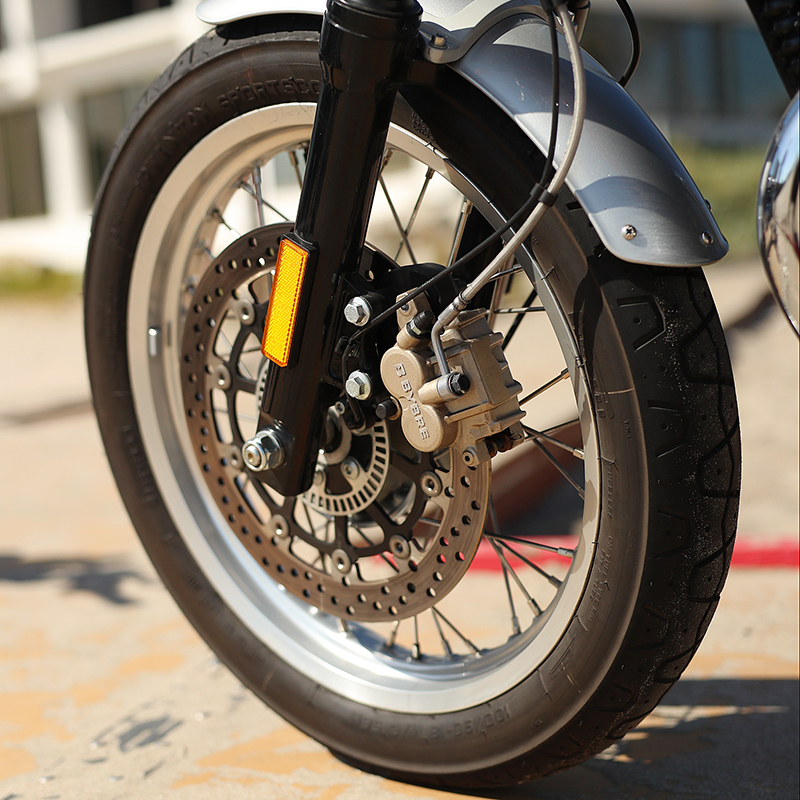 Comfort is about what you'd expect on bikes such as these. The Interceptor's higher handlebar, midmount footpegs and wider, longer seat offers a relaxed, eyes-up riding position. The Continental GT's lower clip-on handlebars, higher rear-set pegs and narrow solo seat put more weight on the wrists and arch in the back — sporty but not overly aggressive or stretched-out. Both bikes have chain final drive and 18-inch spoked wheels with tube-type tires, but only the INT650 has a centerstand.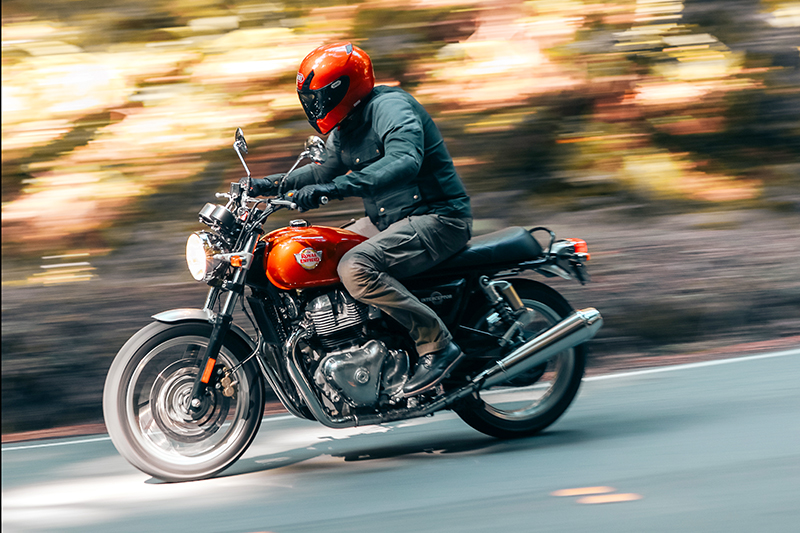 After years of selling its 350cc and 500cc Bullets and Classics–three million in India alone–and adding the affordable Himalayan adventure bike to its lineup, Royal Enfield has positioned itself to be a major player in the middleweight segment. The new 650 Twins have a real magnetism, especially when admired up close and even more so when ridden. They're the genuine article and they're a real value, with a base price of $5,799 for the Interceptor and $5,999 for the Continental GT, which includes a three-year, unlimited-mileage warranty with free roadside assistance. For that price, I'd gladly park one of each in my garage.
Related: Rider's Guide to New/Updated Street Motorcycles for 2019
2019 Royal Enfield INT650 / Continental GT Specs
Base Price: $5,799 / $5,999
Warranty: 3 yrs., unltd. miles
Website: royalenfield.com/usa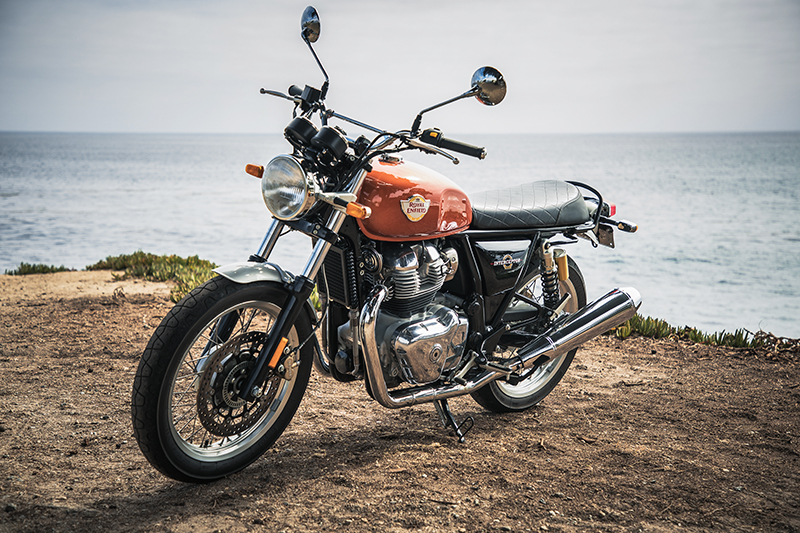 Engine
Type: Air/oil-cooled, transverse parallel-Twin
Displacement: 648cc
Bore x Stroke: 78.0 x 67.8mm
Compression Ratio: 9.5:1
Valve Train: SOHC, 4 valves per cyl.
Valve Insp. Interval: NA miles
Fuel Delivery: EFI
Lubrication System: NA
Transmission: 6-speed, cable actuated assist-and-slipper wet clutch
Final Drive: Chain
Electrical
Ignition: TCI
Charging Output: NA
Battery: NA
Chassis
Frame: Tubular-steel double-cradle w/ steel box-section swingarm
Wheelbase: 55.1 in.
Rake/Trail: 24 degrees/4.2 in.
Seat Height: 31.6 in. / 31.1 in.
Suspension, Front: 41mm stanchions, no adj., 4.5-in. travel
Rear: Dual shocks, adj. for spring preload, 3.5-in. travel
Brakes, Front: Single 320mm disc w/ 2-piston pin-slide caliper & ABS
Rear: Single 240mm disc w/ 1-piston pin-slide caliper & ABS
Wheels, Front: Spoked, 2.5 x 18 in.
Rear: Spoked, 3.5 x 18 in.
Tires, Front: Tube-type, 100/90-18
Rear: Tube-type, 130/70-18
Wet Weight: 473 / 461 lbs.
Load Capacity: 402 / 414 lbs.
GVWR: 875 lbs.
Performance
Fuel Capacity: 3.6 / 3.3 gals.
MPG: 87 PON min., 50.8 (avg)
Estimated Range: 183 / 168 miles
Indicated RPM at 60 MPH: 3,900