Ducati's free-spirited, user-friendly Scramblers have been a playful departure from the company's hard-edged, gotta-go-fast motorcycles. Even the diminutive Monster 696, which was Ducati's most accessible model before the Scramblers came on the scene in 2015, had a committed riding position, stiff suspension and an aversion to low revs. Available in various styles and colors along with a burgeoning catalog of apparel and accessories, Scramblers have had broad appeal—nearly 50,000 have been sold worldwide since the line was launched.
The new Scrambler 1100s offer more power and sophistication, but the lighter, less expensive 800s are the heart of the Scrambler lineup. An early version was the rugged looking Urban Enduro, outfitted with a high fender, fork protectors, a headlight grill, a handlebar cross-brace, a skid plate and spoked wheels.
Read our first ride review of the 2018 Ducati Scrambler 1100
Like other Ducati Scramblers, the Urban Enduro was aimed primarily at street riding, but its replacement—the Desert Sled—has off-road bona fides. Named after '60s- and '70s-era street bikes modified for the rigors of desert racing, the Desert Sled isn't just a styling exercise. In addition to many of the same bolt-on protective parts found on the Urban Enduro, the Desert Sled has a beefed-up frame, a longer reinforced swingarm, a stronger triple clamp and larger-diameter tubes for the upside-down fork (46mm, up from 41). Intended to be flogged, jumped and skidded where the pavement ends, the adjustable suspension offers more travel (7.9 inches front and rear, up from 5.9) and the 19-inch front/17-inch rear spoked wheels are shod with Pirelli Scorpion Rally STR dual-sport tires.
Extra brawn and extra suspension travel means the Desert Sled is a taller, longer, heavier machine than its Scrambler stable mates. Seat height has been boosted from 31.1 inches to 33.9, wheelbase has been extended from 56.9 inches to 59.3 and wet weight has increased from a feathery 411 pounds (for the last base-model Scrambler Icon we tested) to 477 pounds—an extra 67 pounds on a bike aimed at an environment where light makes right.
While exploring some gravel roads (after digging into the setup menu to turn off the ABS), the Desert Sled was more than willing to get frisky and do rock-spitting power slides. And when I encountered a step-up on a stretch of two-track, I wicked it up and launched the bike off the lip. The Sled raised no red flags and it was so much fun that I did it again and again.
The suspension absorbed big hits without pogoing or bottoming out, but there was no escaping the Desert Sled's weight, nor its street bike origins. Light-duty scrambling is fine, but I'd think twice before taking it through a deep sand wash or down a technical trail.
Greg's Gear
Helmet: Shoei Hornet X2
Jacket: Rev'It Zircon
Pants: Spidi Furious Tex Jeans
Boots: Sidi Scramble
Despite the name, where Desert Sleds will spend most of their time–as we did for this test–is on pavement, and there it feels much more capable. Revised ECU settings and a progressive throttle tube have eliminated the snatchy throttle response of earlier Scramblers, and the air-cooled, 803cc Desmodue L-twin is a lively powerplant.
Although it's pretty sleepy below 5,000 rpm, keep it spun up and you'll be rewarded with rapid-fire power pulses and a nice bark from the stubby, low-slung exhausts. On Jett Tuning's rear-wheel dyno, the Desert Sled made 63 horsepower at 8,100 rpm (redline is at 9,000) and 42.4 lb-ft of torque at 5,600 rpm. Modest output in the grand scheme of things, but plenty for a knock-around, retro-style middleweight.
A high, wide handlebar makes it easy to pitch the Desert Sled into corners, the tighter and nastier the better. Its added weight rarely felt like a liability, there's ample cornering clearance and, being overbuilt for off-road abuse, it has the toughest chassis in the Scrambler lineup.
To keep up a good head of steam I rowed through the gears frequently, but the easy-shifting 6-speed transmission and light-action clutch meant that I never gave it much thought. At times, however, the Desert Sled was short-leashed by the limited stopping power of its single front disc brake and the limited grip of its knobby tires, which are designed for a fairly even split of on-/off-road use. Those Pirellis look great, but when pushed hard on the street they get squirmy.
As a daily rider, the Desert Sled is fun to ride, easy on the eyes and good for about 140 miles of range (we averaged just under 40 mpg, and fuel capacity is 3.6 gallons). It certainly adds some spice to mundane commuting, though with that wide handlebar and no wind protection, you're in the elements come what may.
The broad, flat seat may look inviting, but after about a half hour of riding I found myself looking for excuses to put the kickstand down and take a break. Other considerations are excessive engine heat when the Sled gets a workout, spoked wheels that require tubes and chain final drive with no centerstand. Also, the single, all-digital gauge cluster lacks a fuel gauge and has a nearly useless tachometer, and the crossbar pad blocks the rider's view of the high beam and oil temp indicator lights.
Perhaps the coolest thing about Ducati's Scrambler lineup is the degree to which you can customize them above and beyond whatever style you choose. If the Desert Sled were mine, I'd go the retro supermoto route by spooning on a set of sticky sport tires and installing the factory accessory Termignoni high-mount exhaust ($1,599). A stylish add-on that looks perfect on the Sled is Ducati's Urban Enduro roll-top waterproof saddlebags ($411 with mounting kit). Although our test bike has only the smaller 5-liter right saddlebag installed, Ducati assures us that they come as a set (the left side bag holds 11 liters).
Compared to Ducati's other Scrambler 800s, which include the Icon, Café Racer, Full Throttle, Mach 2.0, Classic and Street Classic, the Desert Sled is the one with the chops for true scrambling. If you love the look of old-school desert racers but prefer new-school engineering, it could be right up your alley.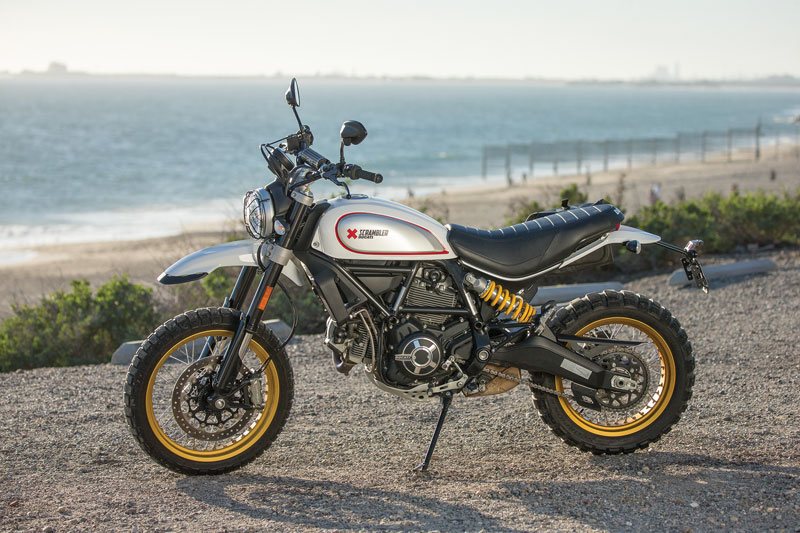 2018 Ducati Scrambler Desert Sled Specs
Base Price: $11,695
Price as Tested: $11,895 (color)
Warranty: 2 yrs., unltd. miles
Website: ducati.com
Engine
Type: Air-cooled, transverse 90-degree L-twin
Displacement: 803cc
Bore x Stroke: 88.0 x 66.0mm
Compression Ratio: 11.0:1
Valve Train: Desmodromic SOHC, 2 valves per cyl.
Valve Insp. Interval: 7,500 miles
Fuel Delivery: EFI w/ 50mm throttle body
Lubrication System: Wet sump, 3.4-qt. cap.
Transmission: 6-speed, cable-actuated wet clutch
Final Drive: O-ring chain
Electrical
Ignition: Electronic digital
Charging Output: 487 watts max.
Battery: 12V 10AH
Chassis
Frame: Tubular-steel trellis w/ engine as stressed member, aluminum swingarm
Wheelbase: 59.3 in.
Rake/Trail: 24 degrees/4.4 in.
Seat Height: 33.9 in.
Suspension, Front: 46mm USD, fully adj., 7.9-in. travel
Rear: Single shock, adj. for spring preload & rebound damping, 7.9-in. travel
Brakes, Front: Single 330mm floating disc w/ radial-mount 4-piston opposed caliper & ABS
Rear: Single 245mm disc w/ floating 1-piston caliper & ABS
Wheels, Front: Spoked aluminum, 3.00 x 19 in.
Rear: Spoked aluminum, 4.50 x 17 in.
Tires, Front: Tube-type, 120/70-VR19
Rear: Tube-type, 170/60-VR17
Wet Weight: 477 lbs. (including right saddlebag)
Load Capacity: 361 lbs.
GVWR: 838 lbs.
Performance
Fuel Capacity: 3.6 gals., last 0.8 gal. warning light on
MPG: 90 PON min. (high/avg/low) 36.9/39.2/44.0
Estimated Range: 140 miles
Indicated RPM at 60 MPH: 4,100