We Americans are sometimes (accurately) accused of erring on the side of "bigger is better". But the rest of the world has long understood that the bigger-is-better approach isn't always best; that lightweight and inexpensive bikes are more approachable and accessible, and that 1,000-plus cc's are not necessary for adventure.
We're starting to come around though, and manufacturers are responding enthusiastically, bringing smaller models to our shores and transcending the "beginner bike" label, building competent machines that will please even experienced riders.
A few years ago in its Indian homeland, Royal Enfield quietly began selling its first purpose-built adventure bike, the 411cc Himalayan, and when word got out the American ADV community begged Royal Enfield North America to bring it stateside. Kawasaki got here first with its pint-sized version of the popular Versys street-biased ADV series, the Versys-X 300, last year. Then BMW, with its GS line of ADV bikes continuing to lead its U.S. sales, teased a tiny GS, the G 310, finally bringing it to market earlier this year and narrowly beating the Himalayan to American dealerships.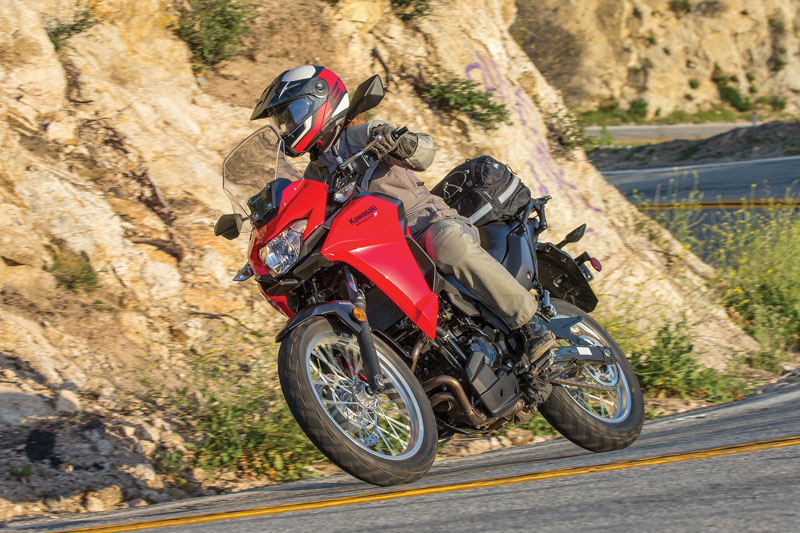 Brienne's Gear
Helmet: Schuberth E1
Suit: Aerostich Roadcrafter 3
Boots: TCX
Tail Bag: Chase Harper
So here we are, with three variations on the mini-ADV theme: a liquid-cooled, racy 296cc parallel twin (Versys-X 300), an air-cooled, SOHC, 411cc single (Himalayan) and a sophisticated, liquid-cooled 313cc single (G 310 GS). Deciding who does it best will likely depend on what exactly you want "it" to be, as each machine definitely has its own personality and approach to adventure "touring".
Befitting their do-it-all natures, our test involved just about everything: long freeway drones, commuting and grocery-getting, ripping up the canyons and, of course, some rough dirt roads and truck trails. With sub-400-pound load capacities (and pint-sized engines), we figure few Americans are likely to ride them two-up, but we strapped on soft tail bags to assess capacities and attachment point convenience.
To that end, the BMW and Kawi both offer a wide, long, flat pillion seat/rear rack platform with plenty of tie-down points (though the Beemer might have a slight edge), while the Himalayan's small pillion and even smaller rack offers much less space. Adding Royal Enfield's or other accessory side racks for saddlebags would be the best option.
Jenny's Gear
Helmet: Shoei Hornet X2
Jacket & Pants: Olympia Expedition
Boots: Sidi Deep Rain
Tail Bag: Firstgear
It's also worth noting that while these are small bikes, they aren't all necessarily "beginner" bikes. The BMW especially, with its 32.9-inch seat, rev-happy engine and off-road handling that might be described as either nimble or skittish, depending on experience, is likely to be more appealing to an intermediate rider than to one who is brand new to dirt riding.
The Himalayan, on the other hand, inspires confidence both on- and off-road with its long, low stability and broad, easy to modulate torque curve. On the off-road portion of our photo shoot day, which took place in a local OHV area, our path went from rough hardpack to loose, rocky ascents and descents, and our photo model with the least dirt experience gravitated to the tractor-like Himalayan. Thanks to a low center of gravity, it's easy to maintain balance even when crawling along at jogging speed. On pavement, the Himalayan is just as stable and forgiving as it is off-road, and its counterbalanced single is surprisingly smooth all the way to its 6,500 rpm redline.
The Kawi is another beginner-friendly ride, and EIC Tuttle with his 29-inch inseam is able to touch with both feet at stops, but its tallish 32.1-inch seat could be daunting to others more vertically challenged. Off-road its shorter suspension travel and high-revving engine hold it back.
After getting dirty at the OHV park we hunted down some twisties, where the Versys-X 300 and G 310 GS showed their stuff. The Kawi's shorter, stiffer suspension and steeper rake promise quickness, but I felt faster on the BMW, perhaps due to its short wheelbase and a more front-loaded weight distribution. The G 310 GS's engine uses a unique (among street bikes) design, rotating the cylinder 180 degrees and canting it backwards, pushing the heavy, rotating mass of the engine down and forward. Brakes on both are decent, with the edge going to the sporty BMW and its 4-piston radial-mount ByBre (Brembo's Indian subsidiary) front caliper, although the Kawi's 2-piston floating Nissin does the job too.
Both bikes leave the Himalayan behind in the twisties; even though the Indian beast out-pulls both of them, it's just too slow-steering. Its long-stroke single makes less horsepower than the BMW and Kawasaki—a claimed 24.5 at redline compared to 34 on the BMW and 39 on the Kawi—but its torque advantage is significant: a claimed 26 lb-ft, which is about 27 percent more than the others. This is most noticeable when churning up hills and over rocks off-road, and cruising around town or squirting through traffic.
Cristi's Gear
Helmet: Arai XD4
Jacket & Pants: Rev'It Tornado 2
Boots: Sidi Deep Rain
Tail Bag: Cortech
While both the BMW and Kawi require a "ride it like you stole it" wrist-twisting mentality (and their resulting howls attract more attention than I'd prefer), the RE burbles its way around with easy confidence. It offers up its torque when you need it and doles most of it out before the Kawi's powerband has even kicked in at 6,000 rpm.
Out on the open road though, it's the horsepower-happy Versys-X 300 that shines. Its parallel twin, lifted directly from the Ninja 300, is geared quite high, and in sixth gear it will cruise happily at 80 mph (and 9,800 rpm!) with more on tap if you need it. The rock-hard seat is the only detriment to an otherwise freeway savvy machine. The 5-speed Himalayan is smoother, loping along buzz-free at 70 mph—it'll give you more, but is tapped out at 85. The 6-speed, naked BMW, meanwhile, will cruise in the 80s or above, but after an hour of chest-pounding wind the rider might not be as keen to continue,
So which mini-ADV is "best?" All are competent and comfortable on-road. Serious off-roaders who aren't in a hurry should look closer at the Himalayan (but do consider the distance to your nearest dealer—RE currently has 75 nationwide and says it's adding 2-3 per month, and has taken steps to improve reliability). For a 50/50 mix of street and dirt the G 310 GS is a good pick, and for its street chops the Versys-X 300 (with ABS) is hard to beat.
Get a closer look at each bike below:
2018 Kawasaki Versys-X 300
2018 BMW G 310 GS
2018 Royal Enfield Himalayan