American Honda has announced that the Monkey and Super Cub C125 ABS models will be made available to U.S. customers for the 2019 model year. First unveiled in concept form last September at the Tokyo Motor Show, the models are both closely based on iconic motorcycles from Honda's past, like the Mini Trail, the Z50, the more recent Grom and the original Super Cub 100.
"With the 2019 Monkey and Super Cub C125, we're continuing the tradition of offering American customers machines that are simultaneously nostalgic and up-to-date, and that beg to be ridden and personalized," said Lee Edmunds, American Honda's Manager of Motorcycle Marketing Communications.
MONKEY
Beginning with a Japanese amusement-park ride nearly 60 years ago, Honda's Z series has offered enjoyable, accessible mobility through a likable design, tiny dimensions and low weight. The 2019 Monkey has classic style that includes simple, curved surfaces, and a trapezoid silhouette highlighting the compact length. The glossy fuel tank, finished in the same color as the frame, swingarm and shocks, wears a historical 3-D "Old Wing"-design Honda logo. Chrome steel high-mount fenders—plus the stamped exhaust shield, circular mirrors, and high-rise handlebar—all pay homage to the original. The Monkey is powered by a modern, reliable 125cc single-cylinder four-stroke engine, and is available with ABS brakes.
Colors
Monkey: Banana Yellow, Pearl Nebula Red
Monkey ABS: Pearl Nebula Red
Price
Monkey: $3,999
Monkey ABS: $4,199
Availability: October 2018
Info: https://powersports.honda.com/2019/monkey.aspx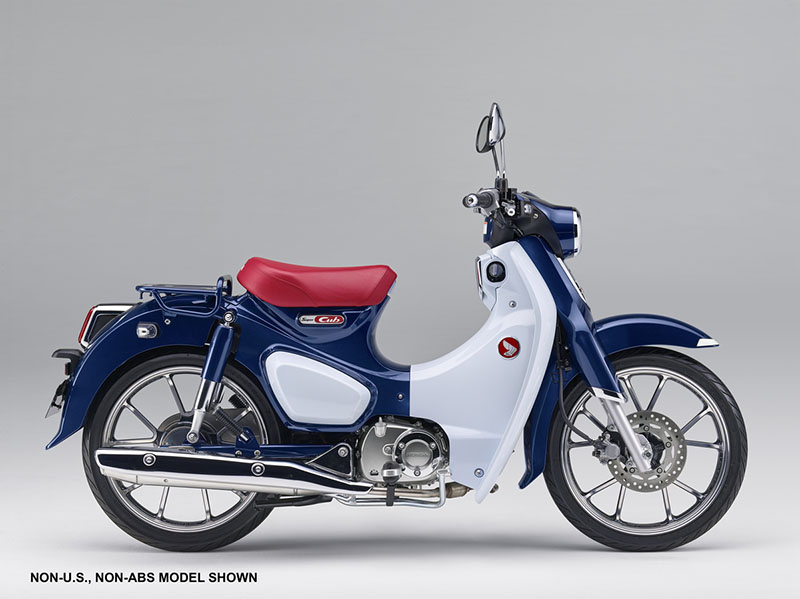 SUPER CUB C125 ABS
Since the 1958 introduction of the first Super Cub C100 (one year before the launch of the American Honda Motor Company), the iconic model and its descendants have brought armies of new riders to motorcycling. The Super Cub even inspired a Beach Boys song, its worldwide popularity carrying it to a production milestone of 100 million units in 2017, making it the highest-selling motor vehicle in the world. Although U.S. importation of the model ended in 1974, American Honda is offering the 2019 Super Cub C125 ABS in celebration of its 60th anniversary. Featuring classic Super Cub styling with an S-letter silhouette and step-through design, the little motorcycle has a fuel-efficient and quiet 125cc air-cooled single-cylinder engine, fuel injection, a comfortable seat and ABS brakes.
Colors: Pearl Niltava Blue
Target Price: $3,599
Availability: January 2019
Info: https://powersports.honda.com/2019/super-cub-c125-abs.aspx