A funny thing (well, two things actually) happened as I rounded turn 7, a 180-degree hairpin that catapults you down the backstretch of the hilly Sonoma Raceway, on the new 2018 Kawasaki Ninja 400. It was late afternoon, the last session of the day, and the mild early February sun was backlighting the massive green hill guarding the west side of the track.
Thing One was that I even noticed said sunlight or the hill at all. In fact, I noticed all kinds of things that wouldn't normally show up on my radar when I'm riding about as hard as I can around a racetrack. Oh, look at that bird up there! Is that a hawk? Gosh, the sunlight looks pretty on those hills. And…are those sheep? Yep, those are sheep.
Thing Two was that I realized I'd spent all day flogging a 399cc motorcycle around a track, and not once had I thought, "I wish this thing had more power."
In a nutshell, I was having an absolute blast.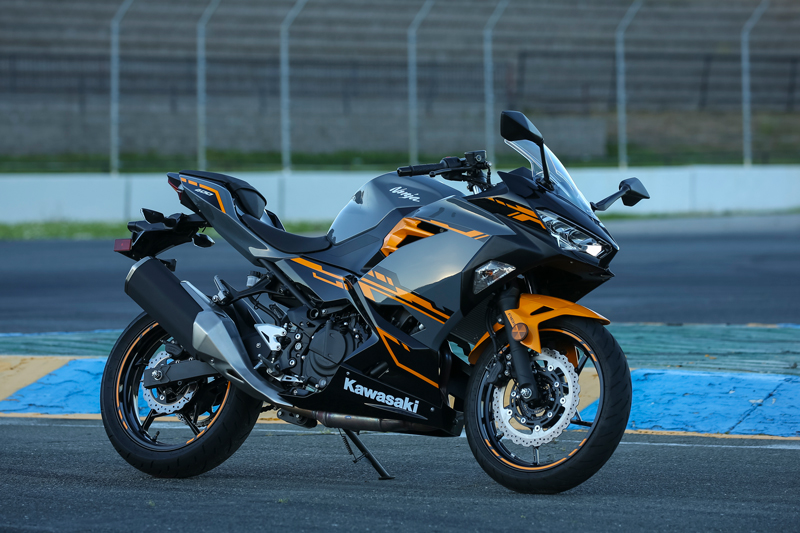 Walk through the paddock at your local track day and ask the riders (many of whom likely also race at the club level) about their first sportbike. Many will tell you that it was a Ninja 250R. The trouble with a 250, though, is that it can be easy to outgrow, and for many riders it's just not powerful enough to cope with freeway traffic. Plus bigger's always better, right? Not quite—500 or even 650cc "entry level" sportbikes have existed in all four Japanese OEM lineups at some point, but they are often perceived (correctly or not) as dumbed-down versions of the "real" sportbikes. Three of the Big Four have already bumped up their quarter-liter machines to 300cc, including Kawasaki, but with the 2018 Ninja 400, Team Green is throwing down the gauntlet.
The Ninja 400 is all-new, from its larger 399cc, DOHC parallel twin, to its assist-and-slipper clutch, to its steel trellis frame that uses the engine as a stressed member, and a swingarm that bolts directly to the back of the engine a la the Ninja H2 hypersport models.
In addition to the extra 103cc, Kawasaki says that the new engine's improved performance is due in large part to its downdraft intake and large, 5.8-liter airbox. It spins up quickly, with most of the fun happening above 6,000 rpm. It's not as dependent on high rpm as its 250 or 300cc brethren—executing a quick pass at highway speed still requires dropping a gear and grabbing a handful, but if you've got more room a downshift is no longer a requirement.
On paper, the Ninja 400 is a rock star in its class. Kawasaki claims an output of 44.8 horsepower and 28 lb-ft of torque, which is on par with the racy KTM RC 390 and should handily best any of the Japanese 300s. Verification will have to wait until we can pull together a comparison test, but Kawi brags that the Ninja 400 will out-accelerate Yamaha's R3 to the tune of seven bike lengths from zero to 200 meters, and in a 6th-gear roll-on from 75 mph, it will be 4.5 bike lengths ahead after 200 meters.
Despite the increased engine displacement, the Ninja 400 weighs in at a svelte 362 pounds (claimed, wet; the ABS model adds 4 pounds). That's more than 17 pounds lighter than the Ninja 300, 9 pounds less than the Yamaha R3, and about the same as the single-cylinder CBR300R. Only the KTM RC 390 (also a single) tips the scales with less weight.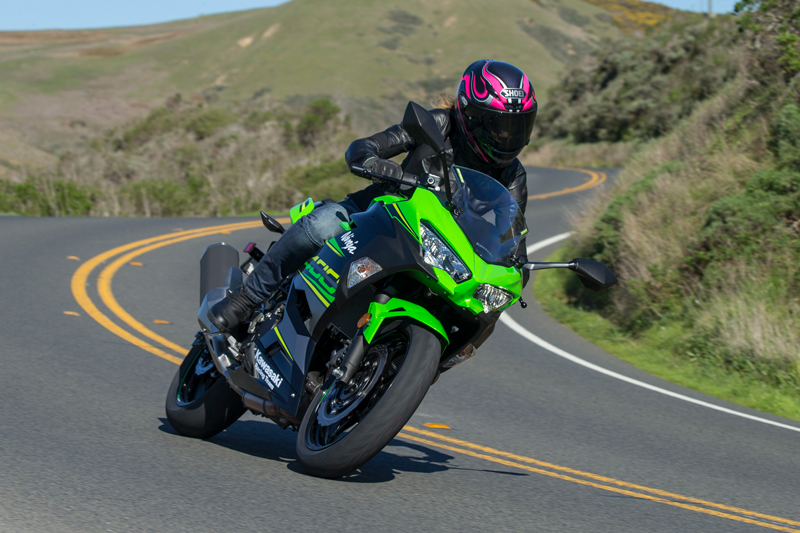 A largest-in-class 310mm brake disc, the same size as that used on the Ninja ZX-14R, provides stopping power up front, and a 2-piston caliper squeezes the 220mm rear disc rather than the single piston used on its Japanese competition.
The bike's suspension was upgraded as well, with a 41mm Showa fork and a new bottom-link rear shock with 5-position preload adjustment (requires the toolkit, which is included). I found it to be stiffer but more compliant than the previous model—ideal for the track and much better on gnarly roads than before, although larger testers still managed to bottom out over the worst bumps.
So why start a leap-frogging displacement war? When does a small bike stop being small and start being a middleweight? Kawasaki's reps didn't answer those questions directly; instead they referred us to their Ninja 250 and 300 owner data, while also pointing out that these models represent half of Kawi's total sportbike sales in the U.S. Predominately male (80 percent) and mostly new riders (55 percent have been riding for a year or less), their wish list was simple: give us more speed, a larger engine and supersport looks. No real surprises there.
After spending two days on the Ninja 400, one on the street and one on the track, it's clear that Kawasaki has not only delivered on its owners' requests, it really knocked this one out of the park. There's a new line drawn in the small bike sand that the other Japanese OEMs likely won't ignore.
Jenny's Street Gear
Helmet: Shoei RF-1200
Jacket: Alpinestars Stella Vika
Pants: Spidi J&Racing Denim Jeans
Boots: Sidi Gavia Gore-Tex
This being a sensible, beginner-friendly bike, Kawasaki paid some attention to everyday comfort and ergonomics. The rider triangle is fairly neutral for a sportbike, with clip-ons mounted to the top of the fork tubes, and handlebars that sit 15mm closer to the rider than the Ninja 300 for a shorter reach and easier handling when riding aggressively. Supersport-style aluminum footpegs are 9mm farther forward and 9mm farther down than the 300's, contributing to a riding position that should be more welcoming to riders of all sizes.
The well-padded seat is a reasonable 30.9 inches off the ground, and narrow enough in front that even smaller riders should be able to touch down easily. A redesigned radiator fan cover redirects hot air down and away from the rider, which also helps keep the parts the rider's legs and knees touch from getting hot. Crawling from stoplight to stoplight at the end of our street ride, I reached down and could feel the hot air being blown down, while the tank and frame remained cool to the touch.
The attractive backlit LCD/analog display (borrowed from the Ninja 650) is easy to read at a glance and includes a bunch of useful info—a clock, gear position, engine rpm (analog), fuel level, coolant temperature and speed are continuously displayed, and the odometer/dual tripmeters and range/fuel consumption data are switchable.
Jenny's Track Gear
Helmet: Shoei RF-1200
Suit: Spidi Poison 2-Piece
Boots: Sidi Vertigo Lei
Kawasaki's owner data indicates that its Ninja 250 and 300 owners spend more than 50 percent of their riding time commuting, so it makes sense that we spent a full day on the street, riding a combination of freeways, country roads and grinding stop-and-go city traffic. With an easy clutch lever pull and wide engagement point, the stoplights were no problem, but I did notice some annoying vibration in the right grip when we were cruising at higher speeds (indicated rpm at 75 mph was 7,500). The seat and riding position were all-day comfortable, however, and I also appreciated the luggage hooks integrated into the tail.
On the track, however, we were able to get a complete picture of the Ninja 400's abilities. In short, it doesn't feel like a small bike. It's easy to fling it around, but its short wheelbase/long swingarm design also makes it quite stable and forgiving. There obviously isn't enough power to get you into serious trouble, but it performs well enough to keep even a pack of jaded superbike-racing journalists (yours truly not included) grinning and having fun all day.
Between the Ninja 400's weight, performance and handling, I found it to be a Goldilocks combination that should keep experienced everyday sport riders happy, as well as provide an excellent entry point for new riders that won't be quickly outgrown. The price is right, too; non-ABS Ninja 400 models are $4,999 in Metallic Spark Black and Candy Plasma Blue, and the ABS models come in at $5,299 (Metallic Spark Black) and $5,499 (Pearl Solar Yellow/Pearl Storm Gray/Ebony or the KRT Edition Lime Green/Ebony).
2018 Kawasaki Ninja 400 ABS Specs
Website: kawasaki.com
Base Price: $4,999 (non-ABS)
Price as Tested: $5,499 (KRT Edition)
Engine Type: Liquid-cooled parallel twin, DOHC, 4 valves per cyl.
Bore x Stroke: 70.0 x 51.8mm
Displacement: 399cc
Transmission: 6-speed w/ positive neutral finder, cable-actuated assist-and-slipper clutch
Final Drive: O-ring chain
Wheelbase: 53.9 in.
Rake/Trail: 24.7 degrees/3.6 in.
Seat Height: 30.9 in.
Claimed Wet Weight: 366 lbs.
Fuel Capacity: 3.7 gals.
Claimed MPG: NA
SaveSave
SaveSave