What's the right motorcycle to ride across America? The one you have. I fell in love with the Honda CBR250R when I tested one for The New York Times in 2012. It is the boiled-down essence of vehicular joy—everything you need to have the maximum amount of moveable fun, and nothing you don't.
When Honda rolled out the 2013 model in a nasty nail-polish red, I was hooked. My big brother and I share our old family lake house in the Adirondack Mountains of New York, and the CBR would be the perfect summertime playbike. The problem was, I bought the bike in California. Let's see, how to get it there…
Let's Get Tall
I found myself on The Strand in Manhattan Beach, California, at 7:12 a.m. on July 5, my CBR loaded down with too many tools, too much camping gear and too much Dexter. My only modification for the trip was gearing The SeaBee 13-percent taller than stock (one tooth more on the front, two teeth fewer on the back), which let the little engine—and me—relax on the straights, with just a little loss in acceleration. The CBR250R has almost no power, but it makes that lack of power over a wide not-quite-a-powerband.
To the Left of Hell
Death Valley was roasting at 129 degrees that week. I decided to ride around the frying pan, rather than touring through the fire. I circled the inferno on U.S. Route 395, on the east side of the Sierra Nevada. As I rolled through Lone Pine I could see 14,505-foot Mount Whitney on my left, a jagged gray shark's tooth. And to my right, less than 100 miles downhill, smoldered Badwater Basin, 282 hot feet below sea level.
In tiny Big Pine I veered off on California State Route 168 over lonely, roller coaster Westgard Pass, through Tonopah, Nevada, and up Big Smoky Valley. The sky was darkening by the minute, with tendrils of virga—rain that evaporates before it hits the ground—hanging beneath the clouds, when I pulled into Eureka, Nevada.
Stuck in the Middle
In the morning I took a shortcut, angling past Diamond Mountain and into the lovely Ruby Valley. The road turned out to be a part of the original Pony Express route, a well-traveled dirt double-track. Then the mud started. At first, damp spots in each gully. Then longer stretches, one of which had me paddling. The last bog stretched a hundred feet, as slippery as a barrel of buttered eels. The CBR would slither a few feet forward, then stop against the dam of mud piled up before the front wheel. I would pull the bike back a few inches, take another little run and gain a few more feet. Or not.
When I finally arrived, muddied but not bloodied, Ruby Valley was gorgeous. I'll go back there some day and kayak down lush, meandering Ruby Lake. But I think I'll take another route.
I plowed into a huge thunderstorm as I blasted past the Bonneville Salt Flats, the purple mountains to the north mirrored in the water pooled on the salt. I rolled into Salt Lake City as the wind hit full force, whipping the lake into a mass of white. My iPhone was playing Ornette Coleman's tortured, frantic sax, a perfect soundtrack for the chaos around me.
Talking 'bout Jackson
From SLC I wound northeast through Emigration Canyon, heading toward Jackson Hole, Wyoming. It was achingly beautiful, banking through turns high above the Snake River. I rolled into tourist-clotted Jackson with no idea of where I was going to spend the night, but the nice guy at the visitor's center found me one of the last campsites at the Gros Vente campground in Grand Teton National Park. The afternoon thunderstorm held off until I pitched my tiny $29 tent. When the clouds parted, the breathtaking Teton Range broke cover to the west, soaring above the grassy, bison-studded plain. There was talk of a moose sighting down by the Gros Vente River that day, but no mention of a squirrel wearing aviator goggles.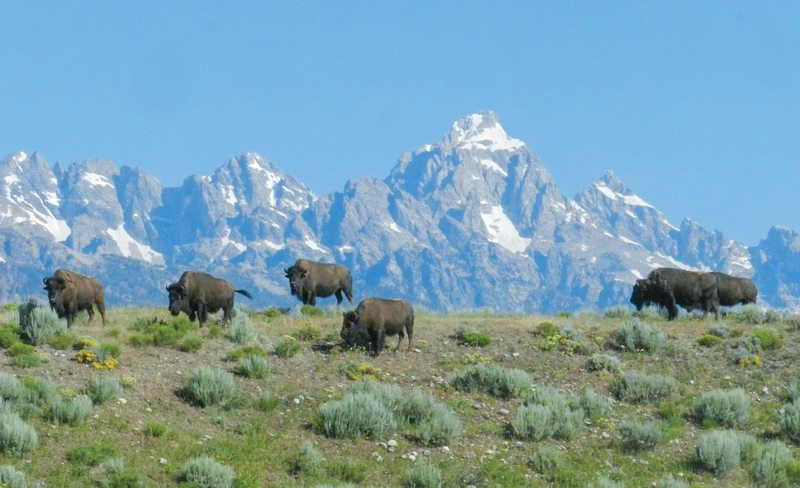 Livestock Gridlock
Yellowstone is just north of Grand Teton National Park. I had no campsite—this was a "go as the spirit moves me" trip, and my spirit is not great at advance planning. I lucked out—the sign said "Campground Full," but I managed to snag a nice site overlooking Yellowstone Lake.
I wanted to explore the park but I also wanted to see how much mileage I could squeeze out of each gallon. The conditions were perfect: 8,000 feet of altitude for reduced drag, and low speeds—with bison nearly everywhere, including the roads, the park speed limits of 35-45 mph were, for once, entirely reasonable.
I managed 91 mpg for two full tanks. And learned that a Yellowstone bison jam is just as frustrating as rush hour on Interstate 405 in California. Every offspring-filled SUV stops at each and every cud-chewing roadside bison, to let each human inside take an identical picture, no matter how many other SUVs—and CBR250Rs—are stacked up behind.
Duel in Dakota
Approaching Sturgis, South Dakota, I saw a sign for Spearfish Canyon. How can you not ride down a thing called Spearfish Canyon? I came up behind a Harley-riding hard guy straight out of central casting. Everything about this man, from the Captain America helmet strapped to his sissy bar to his mirrored sunglasses screamed, "Don't mess with me."
So I messed with him. I blasted—OK, whirred—past and disappeared down the road, expecting to leave him far behind. But when I looked in my mirrors, there he was, a couple of corners back, his pegs trailing sparks.
He pulled up beside me at the next stop light, grim faced. We raced up the mountain toward Deadwood like two wheezing marathoners, his Harley grinding in the corners, my Honda sucking wind on the straights. I finally put him behind me in a long series of downhill sweepers.
The afternoon storm hit on the outskirts of Sturgis. I darted into a gas station with a sheltered bench. Captain America circled, then parked in front of me. I was half expecting a knife fight, but when he saw me without my helmet, revealed as a fellow graybeard, he just laughed.
His name was Randy, and he had ridden all the way from Alabama. Like Rossi and Viñales exchanging fist-bumps after a hard MotoGP, we bonded on the bench, exchanging road-trip stories until my internal clock got me off my ass, back on the bike and into the rain.
Indian Territory
I had been dreading the long straights of the plains, but staying off the Interstates kept the scenery interesting all the way from Sturgis to Duluth, Minnesota. In Dupree, South Dakota, I stumbled into a rodeo and a Native American dance festival—my first clue was a fierce, cordovan-skinned warrior at the local Kwikee Mart, fueling his pickup wearing nothing but white gym shorts and terrifying red-and-white face paint.
Few regard a CBR250R as a tourer, but it works for me. The riding stance is perfect, the throttle spring light, the airflow management excellent. More powerful motorcycles get boring very quickly on straightaways, but the Honda's limited power demands attention. I'd shift down to fourth to climb minor hills, and up to sixth for downwind downhills. It's like sailboat racing—you're always adjusting something to make progress, and I'd much rather have my brain spinning than sleeping. Over 3,500 miles, I never wished for a bigger, thirstier, manlier motorcycle.
South Dakota feels like the West, but Minnesota, with its glacier-scrubbed profusion of trees, rocks and lakes, feels more like the East I grew up in. I stopped in Duluth for a couple nights to visit my old friend Andy Goldfine, of Aerostich fame.
Canadian Club
I traversed Michigan's Upper Peninsula, the environs changing from forests and farms to Great Lakes, beaches and bikinis. I made the crossing into Canada at Sault Ste. Marie, or "The Soo" as Michiganders call it. It was about midnight when I hit the border. It took me a minute to fumble for my passport, but the border guard and I were the only living humans in sight. I got the feeling he appreciated the company.
In the morning I headed toward Sudbury, Ontario, its arsenic-spewing smokestack rising 1,250 feet above the barren ground. Ontario is a lot like Michigan, and once outside the toxic plume east of Sudbury the houses are better kept, the cars less rusty, the restaurants busier, the blue road signs brighter.
I was getting closer to our summer cabin now—I could make it without stopping, if I kept at it through the night. During the first 10 days of the trip I wandered where my CBR wanted to go, with little urge to pack more miles into less time. It had been a wonderful feeling, but now it was lost, a casualty of the growing desire to do less riding, pay fewer hotel bills and do more arriving.
After waiting out the obligatory 4 p.m. thunderstorm I veered south, then east, winding through the lake-studded forests south of Algonquin Provincial Park. It was sunset when I reached Belleville, where the Moira River meets Lake Ontario.
Hiding from the Hoppers
Out on Ontario Highway 401, dodging shining, roaring semis in the hot night wind, I found I could pick up a few free mph, drafting the bellowing trucks as they plowed through the night.
Low on fuel, I looked from the border across the Thousand Islands Bridge into New York and saw a distressing lack of light, let alone gasoline. The first gas station was blacked out, but the pumps were still running. In the glow of my headlight I popped in my debit card, topped her off and set out into the dark, damp night.
The air was so wet that my face shield and glasses fogged over, forcing me to peer under the shield and over the specs, which left me vulnerable to every flying, suicidal life form. I was bobbing and weaving my head, trying to dodge each oncoming airborne missile.
A local pickup truck roared past me and into the clouds of juice-filled grasshoppers. I realized that the truck was a perfect bug-catcher, clearing the air before me as I drafted it through the night, dead bugs bouncing under the truck visible in my yellow goo-covered headlight.
It was 3 a.m. when I crunched onto my gravel driveway. My knees were wooden, my brain buzzing from 18 hours of riding. From the deck overlooking Piseco Lake I was showered by ancient light from the Milky Way. A pair of loons warbled, echoing off Piseco Mountain. My family has been coming to this place for more than 130 years. This night, 12 days and 3,500 miles from where I started, it was easy to understand why.