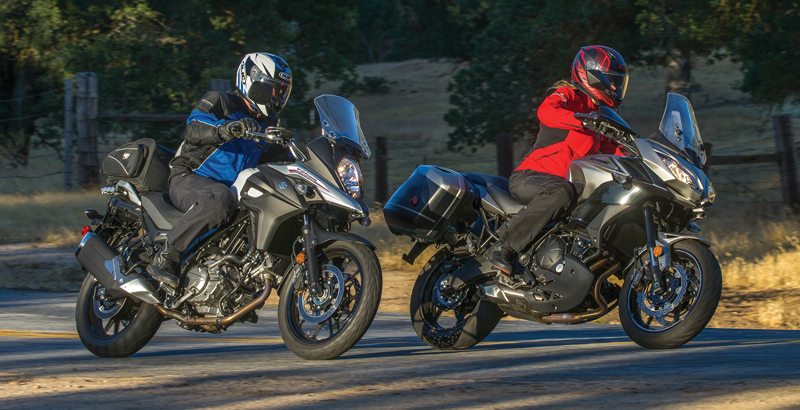 In his Rider Test of the 2017 V-Strom 650, Rider's Senior Editor Drevenstedt mentions The Question: "If you could only own one motorcycle, what would it be?" After the requisite moaning and gnashing of teeth, for many riders (including some of the Rider staff) the answer comes down to one of these two: the Kawasaki Versys 650 or Suzuki's V-Strom 650. Inexpensive, versatile and fuel-efficient, they are the Swiss Army knives of the motorcycling world.
With the V-Strom 650 getting a facelift and updates for 2017, and our last comparison test between the Strom and the Versys having taken place back in November 2012, we figured it's high time to pit these two do-it-alls against one another in a one-on-one, mano a mano showdown. Given how closely contested the 2012 comparison was, plus the glowing reviews the Versys 650 LT gathered from staffers in 2015, it promised to be an interesting matchup.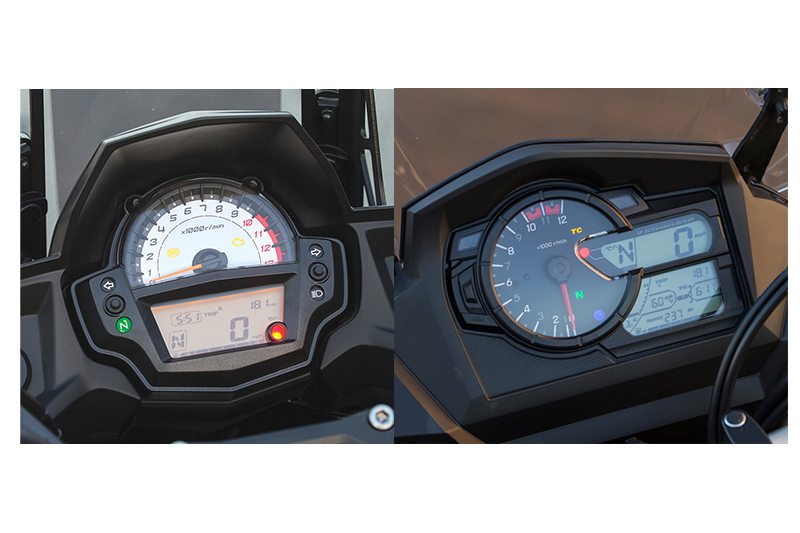 In the first corner, wearing Pearl Glacier White trunks we have the Suzuki V-Strom 650, which seems to be gradually settling further into its role as a bona fide adventure-sport tourer. It was always the more dirt-oriented of the two, with a 19-inch front wheel, 90/10 on-/off-road tires and uncanny balance. For 2017, its rock-solid 645cc V-twin was tweaked for Euro4 compliance and more power, and it has new features like 3-position (two modes plus off) traction control, Easy Start and Low RPM Assist, new optional quick-release hard luggage and a redesign that includes an ADV-style beak.
In the second corner, wearing Metallic Flat Raw Titanium trunks we have the Kawasaki Versys 650 LT, which comes standard with color-matched quick-release hard luggage and black hand guards. Arguably the better looking of the two, the Versys is sporty and compact, with street-oriented Dunlop Sportmax-shod 17-inch wheels and a dual-headlight fairing that bears a strong family resemblance to Kawasaki's Ninja sportbike lineup. Much of the Versys' compactness can be attributed to its 649cc parallel-twin engine, which remains unchanged from previous models. It's relatively short on electronic aids and whiz-bang features; there's no traction control, although the analog tach/LCD display now includes a helpful gear indicator.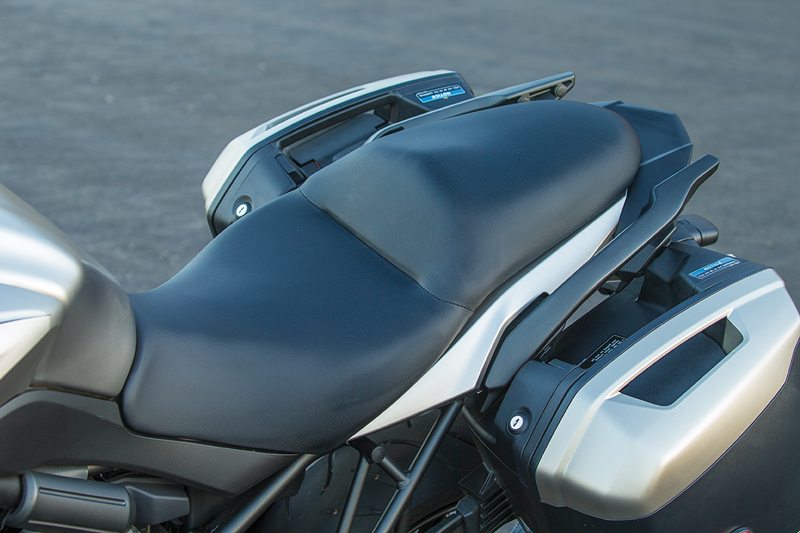 For two bikes that look so different, it's no surprise that they also feel different from the moment the rider swings a leg over the seat. The V-Strom, thanks to the 90-degree V-twin slung beneath it, feels long and narrow, with a wheelbase that's more than 5.5 inches longer than the Versys. Although its seat is 0.2 inch lower, it feels more spacious, and the longer reach to the handlebar means smaller riders might feel more comfortable on the Versys—if they can handle its 33.1-inch seat. Speaking of seats, neither bike's is particularly comfy, with the Suzuki's being too hard and the Kawi's too soft. I found that I could more easily live with the Strom's, however, since the Versys cants the rider forward with no support, making me feel like I was perpetually rolling forward on my pelvis.
Both the Versys and V-Strom have remote preload adjuster knobs for the rear shock, a real convenience especially when loaded with side luggage. The Versys' fork features preload and rebound damping adjustment but preload only at the rear, while the V-Strom is the opposite, with preload only on the fork and rebound and preload at the rear. Neither bike's suspension could be called "great," and considering their modest power output they're probably at their best on one-up touring rides anyway. That said, Drevenstedt remarked that the V-Strom maintained its composure even at his…"spirited"…pace, and EIC Tuttle was pleased to find that the rear shock on the Versys had enough preload to comfortably handle him and his wife on a two-up day ride.
As we droned north along Interstate 5 on our way to the deliciously twisty Caliente-Bodfish Road near Lake Isabella, California, each bike's road-going personality became clear. The Versys needs some prodding to keep up with the typical SoCal lead-foot freeway traffic, and the resulting buzz from its parallel twin is tamed somewhat by the rubber-clad footpegs and large bar end weights. Meanwhile the Strom holds both a power and torque advantage, besting the Versys' 61.2 peak horsepower at 8,300 rpm with 68.7 at 9,100 on the Jett Tuning dyno, and reaching its 44.2 lb-ft peak at 6,500 rpm compared to the Kawi's 42 lb-ft peak at 7,300. Its V-twin is smooth, full of character and sounds great, although at higher speeds (around 80 or so), some vibes creep into the grips.
Wind protection on both bikes is adequate, with the V-Strom's wider windscreen creating less buffeting around the rider's head but allowing more air in around the torso, and the Versys' toolless screen being easier to adjust and providing better torso protection at the expense of more head buffeting. While we weren't able to get Suzuki's optional quick-release luggage for the V-Strom in time for the test, we can say that the Versys' luggage is one of the most well designed, easy to use systems out there. Our only complaint was that the plastic internal strap fasteners aren't as robust as we'd like; one broke on day two of our test.
It was when we exited the Interstate and hit the twisties that a clear winner began to emerge. On the Versys, the rider is forced to juggle the smooth, gentle inputs required of a grabby clutch and an abrupt open/closed throttle response with wheezy mid-range power that demands plenty of wrist twisting. It's also challenging to balance the compact Versys' flickability with its tendency to fight the rider when ridden hard, as it wants to stand up under heavy braking into corners. Meanwhile the V-Strom, with its baked-in user friendliness, is a willing and confident mount. Everything about it is reassuring and easy, from the positive gearbox to the smooth clutch and throttle. Mid-corner corrections? No problem. And if the rear end decides to come loose, the traction control is there to step in. Should you find yourself staring down a gravel or rocky dirt road, the Bridgestone Battlax Trail Wing tires, 19-inch front wheel, long wheelbase, low center of gravity and decent suspension travel (5.9 inches at the front, 6.3 inches at the rear) make the V-Strom a capable adventurer.
Neither bike is perfect; both have suspension and brakes that are "OK," and neither one comes with a centerstand. Electronics and rider aids are basic—heated grips are optional on both and cruise control isn't available at all. But these are Swiss Army knives, built to be attractive in both price and utility. And if we had to choose one—and only one—the adventure-ready, canyon-carving, freeway-flying, fuel-sipping 2017 V-Strom 650 would be it.
Jenny's Gear
Helmet: Nolan N84
Jacket: iXS Finja
Pants: Joe Rocket Alter Ego
Boots: Tour Master Trinity
2017 Kawasaki Versys 650 LT Specs
Base Price: $8,999
Warranty: 2 yr. limited warranty
Website: kawasaki.com
ENGINE
Type: Liquid-cooled, transverse parallel-twin
Displacement: 649cc
Bore x Stroke: 83.0 x 60.0mm
Compression Ratio: 10.8:1
Valve Train: DOHC, 4 valves per cyl.
Valve Insp. Interval: 15,000 miles
Fuel Delivery: DFI w/ 38mm throttle bodies x 2
Lubrication System: Wet sump, 2.4-qt. cap.
Transmission: 6-speed, cable-actuated wet clutch & Positive Neutral Finder
Final Drive: O-ring chain
ELECTRICAL
Ignition: TCBI w/ digital advance
Charging Output: 372 watts max.
Battery: 12V 12AH
CHASSIS
Frame: High-tensile steel trellis frame, steel gullwing swingarm
Wheelbase: 55.7 in.
Rake/Trail: 25 degrees/4.3 in.
Seat Height: 33.1 in.
Suspension, Front: 41mm USD fork, adj. rebound & preload, 5.9-in. travel
Rear: Horizontal back-link shock, adj. preload (remote), 5.7-in. travel
Brakes, Front: Dual 300mm petal-type discs w/ 2-piston calipers & ABS
Rear: Single 250mm petal-type disc w/ 1-piston caliper & ABS
Wheels, Front: Cast, 3.50 x 17
Rear: Cast, 5.0 x 17
Tires, Front: 120/70-R17
Rear: 160/60-R17
Wet Weight: 496 lbs.
Load Capacity: 443 lbs.
GVWR: 939 lbs.
PERFORMANCE
Fuel Capacity: 5.5 gals., last 1.0 gal. warning light on
MPG: 87 PON min. (low/avg/high) 40.5/51.3/56.0
Estimated Range: 282 miles
Indicated RPM at 60 MPH: 4,500
2017 Suzuki V-Strom 650 Specs
Base Price: $8,799
Warranty: 1 yr., unltd. miles
Website: suzukicycles.com
ENGINE
Type: Liquid-cooled, transverse 90-degree V-twin
Displacement: 645cc
Bore x Stroke: 81.0 x 62.6mm
Compression Ratio: 11.2:1
Valve Train: DOHC, 4 valves per cyl.
Valve Insp. Interval: 14,500 miles
Fuel Delivery: DFI w/ SDTV & 39mm throttle bodies x 2
Lubrication System: Wet sump, 2.7-qt. cap.
Transmission: 6-speed, cable-actuated wet clutch
Final Drive: O-ring chain
ELECTRICAL
Ignition: Electronic
Charging Output: 390 watts max.
Battery: 12V 10AH
CHASSIS
Frame: Cast aluminum twin-spar, cast aluminum swingarm
Wheelbase: 61.4 in.
Rake/Trail: 25.3 degrees/4.3 in.
Seat Height: 32.9 in.
Suspension, Front: 43mm stanchions, adj. preload, 5.9-in. travel
Rear: Single link-type shock, adj. rebound & preload (remote), 6.3-in. travel
Brakes, Front: Dual 310mm discs w/ 2-piston calipers & ABS
Rear: Single 260mm disc w/ 1-piston caliper & ABS
Wheels, Front: Cast, 2.50 x 19 in.
Rear: Cast, 4.00 x 17 in.
Tires, Front: 110/80-R19
Rear: 150/70-R17
Wet Weight: 467 lbs.
Load Capacity: 448 lbs.
GVWR: 915 lbs.
PERFORMANCE
Fuel Capacity: 5.3 gals., last 1.1 gals. warning light on
MPG: 87 PON min. (low/avg/high) 41.0/46.9/58.5
Estimated Range: 248 miles
Indicated RPM at 60 MPH: 4,400